How Do I Reset Hard Drive on My Own? Here Is the Complete Guide
Work to: Reset SATA hard drive, reset hard drive in Windows 10/8/7, reset hard drive for PS4, reset HDD/SSD, etc.
How do I reset a hard drive to gain its full storage space for saving new data? Can you reset a hard drive for PS4? How do you manage to erase all data and reset a hard drive for sale? 
On this page, I'll include all these needs in 3 types of hard drive resetting tutorial guides. If you need help to make your hard drive like a brand new disk, follow me. And here is the complete guide.
PAGE CONTENT:
1. Reset Hard Drive to Full Storage - For Save New Files 2. Reset Hard Drive to Empty & Unallocated - For Repartition Disk 3. Reset Hard Drive to Original State - For Sale
Prerequisites: Back-Up Files Before Resetting Hard Drive
Note that resetting hard drive will remove all saved files and data on your hard drive. No matter what your goal is, to save new data, repartition the disk, or sell, you should create a backup of the disk in advance.
How to back up the hard drive files? Here is a brief guide:
Step 1. Connect an empty external hard drive with enough free space to your computer.
Step 2. Open the hard drive that you want to reset, copy all useful files and save them to the external hard drive.
Repeat the process until you've moved all useful data to the external hard drive. 
If you prefer a one-time file backup plan, turn to file backup software like EaseUS Todo Backup for help.
With all important files backed up, you can follow to reset hard drive on your own now.
#1. Reset Hard Drive to Full Storage - For Save New Files
Work to: Restore hard drive to full size, fix hard drive showing with wrong capacity. 
When you only want to regain the full storage capacity on a hard drive, you can directly reset the hard drive by formatting. Here is the complete process:
Step 1. Right-click "This PC" and choose "Manage".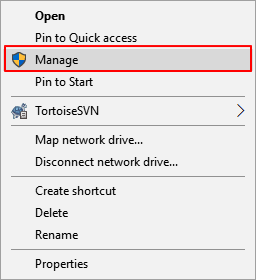 Step 2. Click "Disk Management" and open it in the Device Manager window.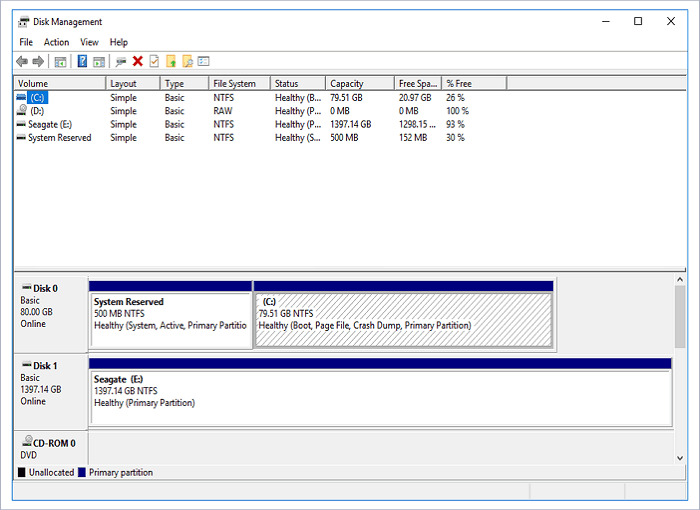 Step 3. Right-click the target hard drive partition and choose "Format" to reset it.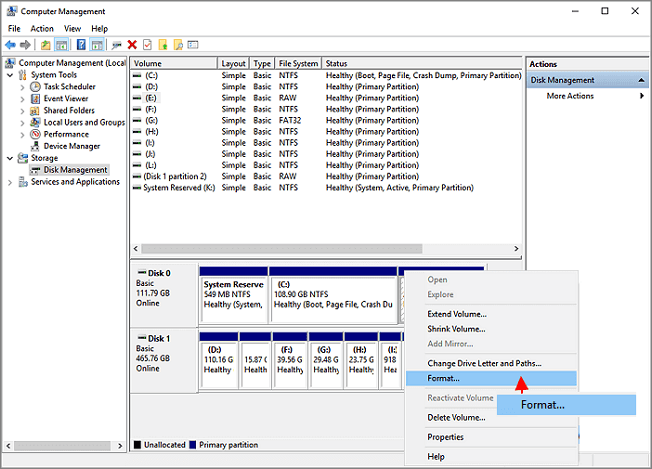 Step 4. Follow the onscreen guide to reset the hard drive with its partition label, file system, and tick "Perform a quick format". 
Click "OK" to start formatting and reset the drive.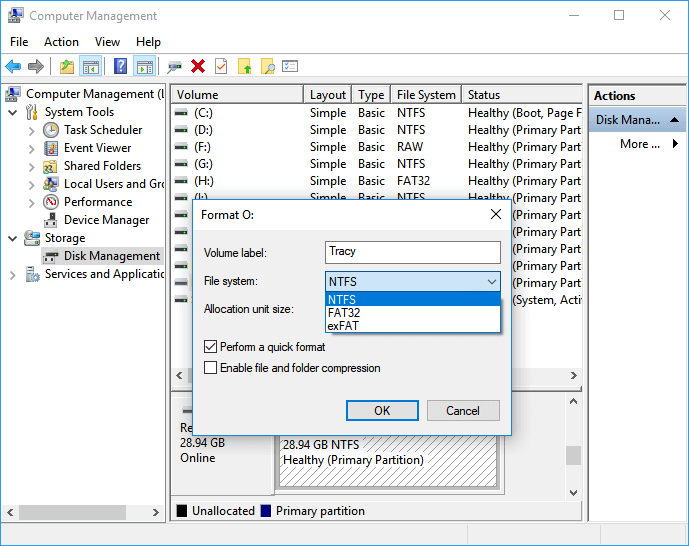 #2. Reset Hard Drive to Empty & Unallocated - For Repartition Disk
Work to: Remove all partitions, reset hard drive for manage disk space, reset hard drive for PS4.
To repartition a hard drive or reset a hard drive for gaming like PS4, you may need to reset the disk to unallocated and create new partitions on it.
To do so, you'll have two procedures to complete. Here, EaseUS partition manager software - Partition Master with its "Delete All" and "New Disk Guide" can help.
1st. 1-Click to Reset Hard Drive to Unallocated - Delete All Partitions
Step 1. Launch EaseUS Partition Master on your computer.
Step 2. Select to delete partition or delete all partitions on hard drive.
Delete single partition: right-click on a partition that you want to delete and choose "Delete...".
Delete all partitions: right-click a hard drive that you want to delete all partitions, and select "Delete All...".
Make sure that you've backed up the important data on the selected partition because this manner will compeletely remove data.
Step 3. Click "OK" to confirm the deletion.
Step 4. Click "Execute xx Operation" on the top menu and then click "Apply" to save the change.
0:00 - 0:39 Delete single volumes; 0:39 - 1:09 Delete all partitions.
2nd. 1-Click to Repartition Disk as a New
If you need a smart guide to regenerate partitions on the hard drive, try the New Disk Guide in EaseUS Partition Master. You can repartition the hard drive in 1-click:
Step 1. Open EaseUS Partition Master, once it detects the new disk, it will pop up a New Disk Guide window, and select "Partition the drive" next to the "I have a new HDD/SSD, I want to" section. 
Step 2. You can continue customize how many partitions you want to create, and set the partition style you want, MBR or GPT.
Or, you can accept the default setting offered by EaseUS Partiton Maste. Once the customization is done, click "Proceed".
Step 3. Click "Execute 1 Operation" on the top menu and then "Apply" to finalize partitioning the new HDD/SSD or external disk.
Note that if you only want to create one volume in the disk for gaming, like PS4, follow this guide:
#3. Reset Hard Drive to Original State - For Sale
Work to: Fully erase hard drive, set hard drive to factory settings, no data, no volume.
Note that both delete or formatting partitions will remove the existing data but they are still recoverable. If you tend to erase a drive, restoring it to the original state, 100% clean with no partitions on it, you can try the tips listed below.
EaseUS Partition Master with its Wipe feature can help.
The Wipe feature in EaseUS Partition Master can fully erase all the data and partitions on the drive, making your privacy information all cleaned up.
We've set two options for you to wipe data. Choose the one you need.
Option 1.  Wipe Partition
Right-click the partition you want to erase data from, and choose "Wipe Data".
In the new window, set the time for which you want to wipe your partition, then click "OK".
Click the "Execute Operation" button in the top-right corner, check the changes, then click "Apply".
Option 2. Wipe Disk
Select the HDD/SSD. And right-click to choose "Wipe Data".
Set the number of times to wipe data. (You can set to 10 at most.) Then Click "OK".
Check the message. Then click "OK".
Click "Execute the operation" and then click "Apply".
Resetting Hard Drive Is Not Complex, Follow to Make Your Disk Like A New Condition Now
On this page, we provided 3 ways to help you reset a hard drive for different needs:
To restore full size for saving new files, you can format it.
To repartition or re-allocate disk space, you can delete all partitions on it.
To reset hard drive to its original state with 0 bytes of data, you can wipe it.
Note that, no matter which method you're about to try, don't forget to back up all the useful files to an external hard drive in advance. Otherwise, you'll have to suffer a data loss issue after then.

Roxanne is one of the main contributors to EaseUS and has created multiple posts on digital devices like PCs, Mobile phones, tablets, Mac, etc. She loves to share ideas with people of the same interest.
Written by Tracy King 
Tracy joined in EaseUS in 2013 and has been working with EaseUS content team for over 7 years. Being enthusiastic in computing and technology, she writes tech how-to articles and share technical solutions about Windows & Mac data recovery, file/system backup and recovery, partition management and iOS/Android data recovery.
I love that the changes you make with EaseUS Partition Master Free aren't immediately applied to the disks. It makes it way easier to play out what will happen after you've made all the changes. I also think the overall look and feel of EaseUS Partition Master Free makes whatever you're doing with your computer's partitions easy.

 Read More

Partition Master Free can Resize, Move, Merge, Migrate, and Copy disks or partitions; convert to local, change label, defragment, check and explore partition; and much more. A premium upgrade adds free tech support and the ability to resize dynamic volumes.

 Read More

It won't hot image your drives or align them, but since it's coupled with a partition manager, it allows you do perform many tasks at once, instead of just cloning drives. You can move partitions around, resize them, defragment, and more, along with the other tools you'd expect from a cloning tool.

 Read More
About EaseUS Partition Master
All-round disk & partition management software for personal and commercial use. Let it manage your storage drive: resize, format, delete, clone, convert, etc.
Video Tutorial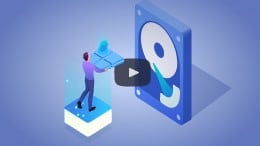 How to Partititon a Hard Drive on Windows 10/8/7
Was This Page Helpful
How Can We Help You
Find answers to common questions below.