
About the Author
Hot Topics in 2022
How to Remove USB Partition on Windows 10/11
Page Content
Method 1. Delete USB Partition by EaseUS Partition Master
Method 2. Use Diskpart to Remove Partitions from USB Drive
Method 3. Remove Partition from USB by Disk Management
Why Remove USB Partition?
Partitioning a USB drive or other storage device can be a convenient way to manage files and protect sensitive data. Still, removing partitions when they are no longer needed is equally important.
Removing partitions helps keep your storage devices organized and clutter-free, as old partitions can quickly become outdated and clog up the memory. It also lessens the risk of accidental errors that could damage the USB drive's contents.
Additionally, removing partitions allows for faster transfer speeds, as the unpartitioned space on your USB drive can now be used more efficiently.
Furthermore, a lack of partitions improves the overall security of your system; leaving behind old partitions invites possible malware attacks that could harm your system.
In summary, for these reasons and more, it is essential to remove unnecessary USB partitions to maximize disk space and preserve the safety of your data.
 Warning

Deleting the volume of your USB drive will erase all data on it. Please back up important data.
How to Remove Partition on USB Windows 10/11?
If you've ever wanted to remove a USB partition but are unsure of the best way to go about it, then EaseUS Partition Master Free is the perfect tool for you.
Method 1. Delete USB Partition by EaseUS Partition Master
EaseUS Partition Master is the go-to software tool for quickly deleting partitions. With this free partition manager, users can delete a wide array of partition types, including FAT/FAT32, NTFS, EXT2/EXT3, and other file systems.
EaseUS Partition Master is a comprehensive partitioning solution that enables users to customize their hard drive partitions as required. It can be used to create, format, resize, clone, and move partitions, allowing advanced users to quickly perform complex operations like merging or splitting partitions with one button click. 
Step 1. Launch EaseUS Partition Master, and click "Partition Manager".
Make sure that you've backed up the important data before deleting any partition on your disk.
Step 2. Select to delete partition or delete all partitions on hard drive.
Delete single partition: right-click on a partition that you want to delete and choose "Delete".
Delete all partitions: right-click a hard drive that you want to delete all partitions, and select "Delete All".
Step 3. Click "Yes" to confirm the deletion.
Step 4. Click "Execute xx Task" and then click "Apply" to save the change.
0:00 - 0:26 Delete single volumes; 0:27 - 0:53 Delete all partitions.
Method 2. Use Diskpart to Remove Partitions from USB Drive
This command-line utility, Diskpart, lets you partition and remove partitions on USB drives quickly and easily. All you need to do is open up Command Prompt and type the diskpart command followed by remove USB partition.
How to Remove Partition from USB Drive:
1. Type "cmd" on the search box and click "Run as administrator".
2. On the diskpart window, enter the commands:
Type diskpart and click Enter
Type list disk and click Enter
Type select disk N and press Enter (N is the correct number of the disk.)
Type list partition and click Enter (It will list all the accessible partitions on your USB drive.)
Type select partition N and (N stands the targeted partition number, such as "select partition 2".)
Type delete partition and press Enter.
3. Continue to create a partition:
Type create partition primary and click Enter
Type exit
Method 3. Remove Partition from USB by Disk Management
The easy way to remove any USB partition is to use Disk Management. Accessible through the Control Panel or Settings menu, this tool can be used to view all hard drives and removable storage devices attached to the computer. 
How to Remove Partition on USB Drive:
1. Right-click the Start icon and select Disk Management from the list.
2. Locate your USB drive and right-click it.
3. Select "Delete Volume..." from the list. (If you want to delete all partitions on a USB drive, you can repeat Steps 1-3 to remove volume one by one.)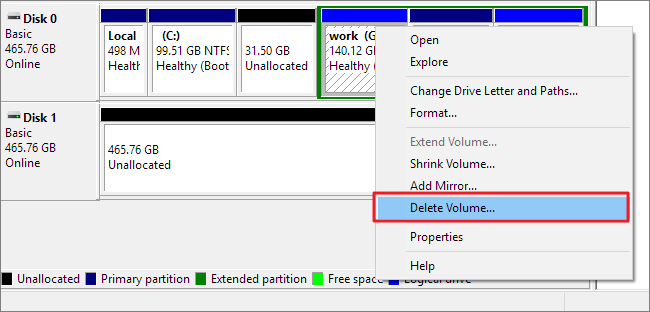 4. The targeted partition on the USB will be deleted. And the space will be marked as Unallocated. Now you can create a partition.
To create a new partition:
1. Right-click the unallocated space and select New Simple Volume.
2. Click "Next" on the "New Simple Volume Wizard". 
3. Set the partition size you want to create and click "Next". Assign the drive letter and choose "Next".
4. Choose "Next" to format the partition and click "Finish".
FAQs about Removing USB Partition
How do I unpartition a USB drive?
To unpartition a USB drive:
Open cmd and enter the following commands:
diskpart
list disk
select disk X
list partition
select partition N
delete partition
create partition primary
exit
How do I merge partitions on a USB drive?
To merge partitions in Disk Management:
Step 1. Type Command Prompt on the search box.
Step 2. Then type a command line and press the "Enter" key each time.
diskpart
list disk
select disk X
list partition
select partition X
delete partition
extend
Try other "merge" methods:
How do I remove EFI partition from USB?
Step 1. Open Disk Management and then right-click the USB drive.
Step 2. Click "Delete Volume". Follow to confirm the process.
About the Author

Roxanne is one of the main contributors to EaseUS and has created multiple posts on digital devices like PCs, Mobile phones, tablets, Mac, etc. She loves to share ideas with people of the same interest.
Product Reviews
I love that the changes you make with EaseUS Partition Master Free aren't immediately applied to the disks. It makes it way easier to play out what will happen after you've made all the changes. I also think the overall look and feel of EaseUS Partition Master Free makes whatever you're doing with your computer's partitions easy.

 Read More

Partition Master Free can Resize, Move, Merge, Migrate, and Copy disks or partitions; convert to local, change label, defragment, check and explore partition; and much more. A premium upgrade adds free tech support and the ability to resize dynamic volumes.

 Read More

It won't hot image your drives or align them, but since it's coupled with a partition manager, it allows you do perform many tasks at once, instead of just cloning drives. You can move partitions around, resize them, defragment, and more, along with the other tools you'd expect from a cloning tool.

 Read More