Can I delete the EFI system partition
Usually, you can easily delete a partition in Disk Management. But sometimes, you can't remove EFI system partition in Windows 10/8.1/8/7/XP/Vista because the "Delete Volume" feature is grayed out.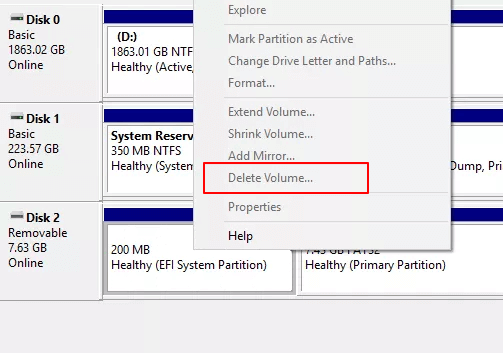 The "Delete Volume" may also gray out when you try to delete OEM partition, recovery or system reserved partition. If you are having this question of "can I delete the EFI system partition" or "how do I remove an EFI partition", stay here.
This page will talk about what is an EFI system partition, what will happen if you delete an EFI partition and how to remove, delete EFI system partition on Windows 10/8.1/8/7/XP/Vista in 3 parts.
Part 1. What is EFI system partition (ESP)
Usually, when you successfully install Windows OS on a GPT disk of your computer, an EFI system partition (ESP for short) will be created. It takes about 100M or 200MB or so with no drive letter.
What is an EFI system partition?
According to Wikipedia, "EFI system partition (ESP) is a partition on a data storage device which is used computers adhering to UEFI (Unified Extensible Firmware Interface). When a computer is booted, UEFI firmware loads files stored on the ESP(EFI system partition) to start installed operating system and various utilities."
What are in EFI partition? It includes 4 main components:
Boot loaders
Device drivers
System utilities
Data files
Part 2. What will happen if you delete an EFI system partition (ESP)
Do you know why that you can't delete the EFI system partition? What will happen if you delete the ESP on your hard drive?
According to Part 1, the EFI partition is like an interface for the computer to boot Windows off. It's a pre-step that must be taken before running the Windows partition. Without the EFI partition, your computer won't be able to boot into Windows.
In a word, deleting EFI system partition will cause the installed system unbootable. Therefore, EFI system partition is usually protected and locked by the Windows operating systems to prevent and avoid accidental deletion. That's why you can't see the EFI partition in Windows File Explorer nor delete it using the Windows Disk Management.
 Important

1. If you want to keep your Windows OS running smoothly, don't do anything to the EFI system partition.
2. If your hard drive is getting full, follow to learn what is taking up space on the hard drive and use the right ways to free up disk space.
3. If you installed two Windows systems on your PC and want to delete the ESP, freeing up disk space and just keeping one OS, follow methods in Part 3 for help.
4. If you want to delete the EFI partition and install a new Windows OS, you can directly reinstall the OS. The ESP will be automatically removed.
Part 3. How to delete EFI system Partition (ESP) - [2 Methods]
In order to avoid unnecessary file loss, make sure you have backed up valuable files from the ESP to another secure storage device in advance.
Method 1. Delete EFI system partition with Diskpart
As a command-line utility, DiskPart is sort of complex for average users to understand due to its non-graphical interface. Please be very careful while following below Diskpart command lines to delete EFI partition:
Step 1. Open DiskPart on your PC
1. Hit "Windows Key + R" to open the run dialogue box.
2. Enter diskpart and click "OK" to open a black command prompt window.
Step 2. Change EFI system partition ID and set it as a data partition
Type the below command lines and hit Enter each time:
"list disk" (It displays all the disks of your computer. )
"sel disk 0" (It identifies which disk you need to work with. Here 0 stands for the disk letter.)
"list partition" (It displays all partitions and EFI system partitions on the selected disk.)
"sel partition 1" (Select the EFI partition that you want to delete. Here, 1 stands for the volume number of EFI.)
"SET ID=ebd0a0a2-b9e5-4433-87c0-68b6b72699c7"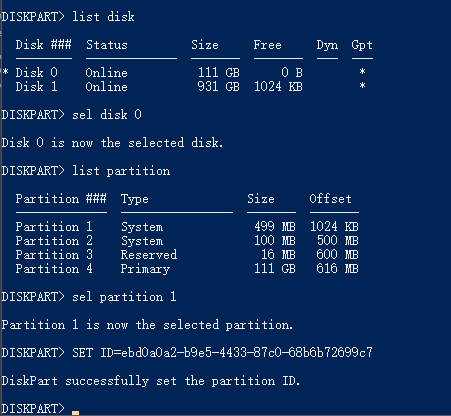 By doing so, it will make the EFI system partition deletable. Continue with the following steps to remove this partition on your hard drive.
Step 3. Delete EFI partition with command line
Type the below command lines and hit Enter each time:
"list partition" (It displays all the volumes on the hard drive.)
"sel partition 1" (It identifies which partition you want to remove. Here 1 stands for the volume letter.)
"delete partition override" (It removes the EFI partition from Windows disk.)
Step 4. Complete EFI deleting process
Finally, type "exit" to close the windows when you receive the message says, 'DiskPart successfully deleted the selected partition'.
Method 2. How to delete EFI system partition with EaseUS free partition manager
DiskPart does help you remove EFI partition in Windows, but is it the best choice? Of course not. Besides DiskPart, third-party partition manager software works more flexible and reliable in dealing with this issue.
Professional partition manager software - EaseUS Partition Master simplifies the process of deleting EFI partition in Windows 10/8.1/8/7/XP/Vista as easy as 1-2-3. Now you can learn the detailed guide.
# First. Create a bootable disk with EaseUS Partition Master
Before you take actions, prepare an empty USB flash drive and use EaseUS Partition Master to create a bootable disk first.
Step 1: Prepare a disc or drive
To create a bootable disk of EaseUS Partition Master, you should prepare a storage media, like a USB drive, flash drive or a CD/DVD disc. Correctly connect the drive to your computer.
Launch EaseUS Partition Master, go to the "WinPE Creator" feature on the top. Click on it.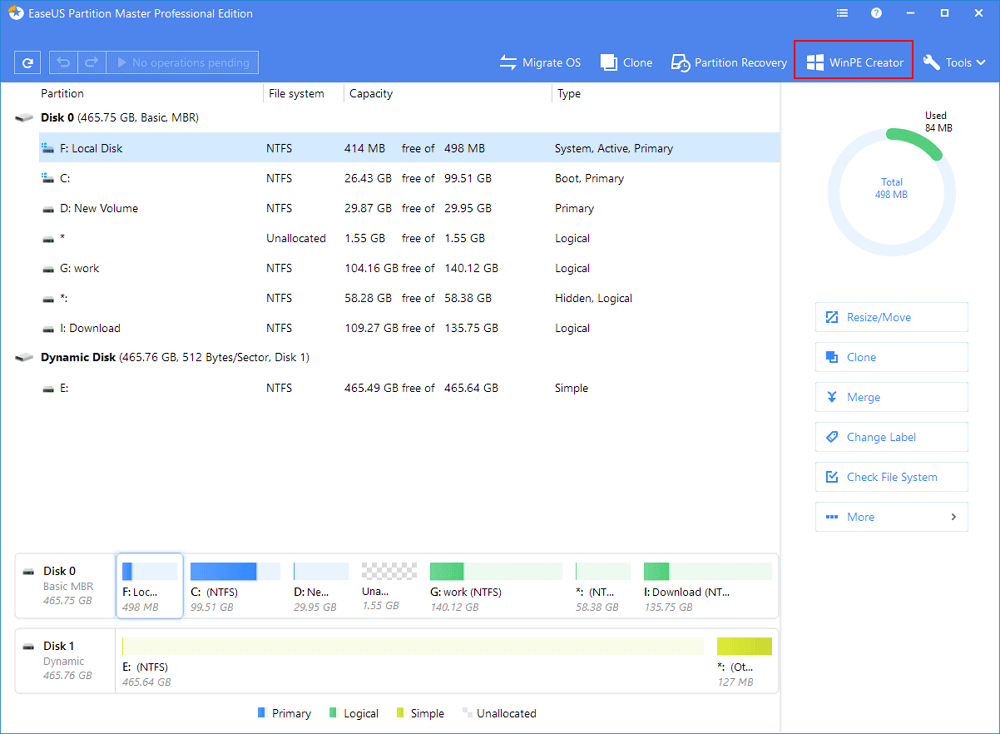 Step 2: Create EaseUS Partition Master bootable drive
You have created an EaseUS Partition Master WinPE bootable disk now. You can manage your hard disks and partitions through the bootable drive whenever the computer fails to boot normally.
If you have RAID drives, load the RAID driver first by clicking Add Driver from the menu bar, which can help you add the driver of your device under WinPE environment, as some specific device cannot be recognized under WinPE environment without drivers installed, such as RAID or some specific hard disk.
Then connect the bootable disk to your PC, restart the computer and set to boot from the bootable disk, enter EaseUS Partition Master.
# Next. Delete EFI system partition
 Notice:

If you saved important data in the partition which you want to delete, move and save those data to another secure location in advance.
Step 1: Select partition to delete
On EaseUS Partition Master, right-click on the hard drive partition which you want to delete and select "Delete".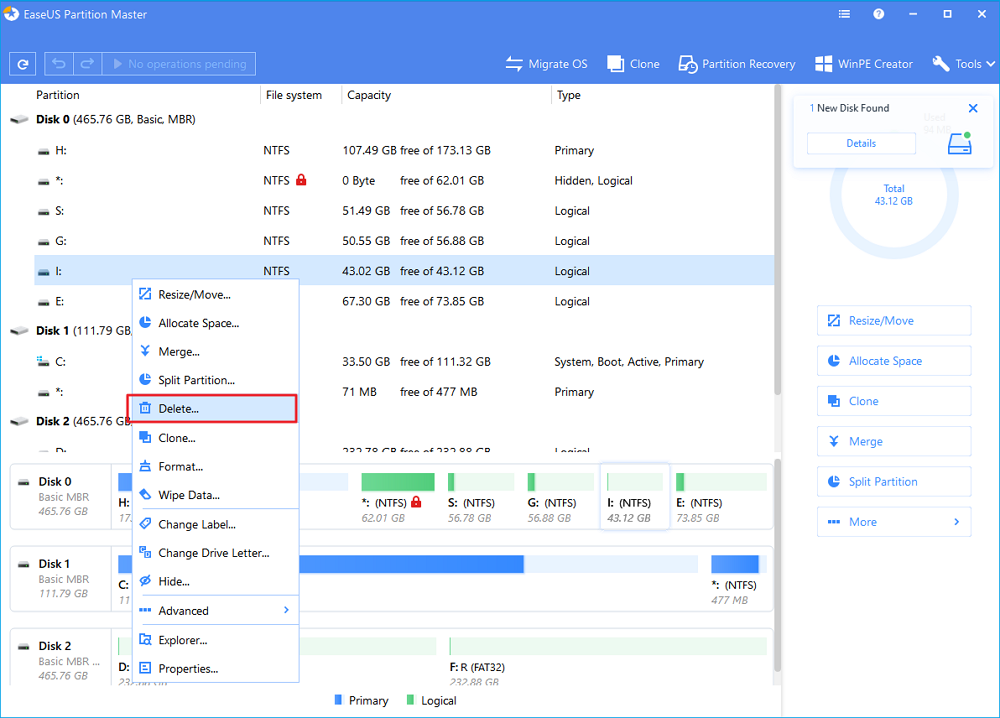 Step 2: Confirm the deletion
Step 3: Execute to delete the partition
Final Word
When you've successfully deleted EFI partition on your PC, you can create a new partition with the unallocated space to use it as a data partition or add the free space to other existing partitions.
If you are having some more questions about EFI partitions, you may refer to the below links for help:
100% of people found this article helpful.
Frequently Asked Questions
Why Choose EaseUS Partition Master?

"I've used Partition Master Professional many times to create, delete, format, move, rename, and resize partitions." —PCWorld

"Partitioning tools have come a very long since the days of complicated command line utilities and EASEUS Partition Master is one of the most advanced programs available." —TECH ADVISOR

"I love that the changes you make with EaseUS Partition Master Free aren't immediately applied to the disks. It makes it way easier to play out what will happen after you've made all the changes." —Lifewire
Will the "Migrate OS" feature transfer the Windows system files only or the whole C drive?

To ensure that the migrated system will boot normally, the Migrate OS feature will transfer all the files in the system and the boot partitions. Generally, the boot partition is the C drive so the transfer will include all the files in C.
Does EaseUS Partition Master license apply to multiple computers?

The license of Partition Master Professional and Server editions can be used on 1 computer only, while that for for the Technician and Unlimited editions can be used on multiple machines.
What is the difference between EaseUS Partition Master Trial version and the Free version?

Free is for home users only, with most basic functions available such as partition resize and clone. While trial can help you understand how this product works and test what a full license can do on a business or server OS machine.
Will it cause any data loss after resizing the partition in EaseUS Partition Master?

Generally, it will not cause any data loss or boot issue by resizing a partition. However, in order to protect your data, we suggest that you backup the partition before resizing, in case of any unexpected situations such as power outages, computer hardware failures, etc. You can use EaseUS Todo Backup to backup the partition and its trial version is fully functioned for 30 days.
What should I prepare before resizing the partition?

On the partition that is going to be operated, there might be some files being occupied by other programs. To ensure a successful operation, we suggest that you close all the unnecessary software before resizing that partition. Otherwise, EaseUS Partition Master will detect the partition being locked by the other software and require a reboot to resize the partition under boot mode.
About EaseUS Partition Master
All-round disk & partition management software for personal and commercial use. Let it manage your storage drive: resize, format, delete, clone, convert, etc.