
About the Author
Hot Topics in 2022
How to Resize EFI System Partition on Windows 11/10/8/7
Workable Solutions
Step-by-step Troubleshooting
Fix 1. Resize EFI partition with EaseUS Partition Master
Step 1: On EaseUS Partition Master, right-click the target GPT partition and choose "Resize/Move"...Full steps
Fix 2. Identify EFI Partition in Windows 11/10

Method 1. As a practical matter, EFI partitions are found on GPT formatted drives and are used to boot...Full steps

Method 2. Go and check in the system information window. Type MSInfo32in the Run box and open the window...Full steps
EFI System Partition Too Small
"How do you make the EFI partition on your system bigger without losing data? My EFI is 99MB large, and I need it to be at least 200MB so that I can install Mac on this PC. I already have Windows 11/10 installed. The built-in Windows 11/10 Disk Management tool won't allow me to operate on the EFI partition because the extend volume option is grayed out."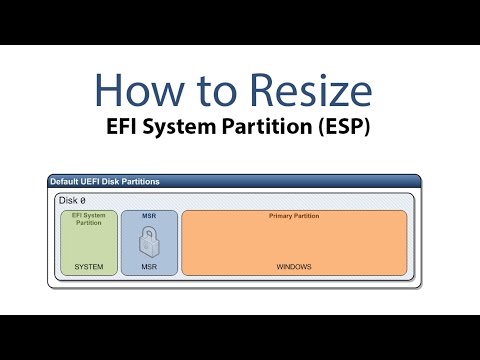 The EFI system partition (ESP) is a partition on a data storage device, usually an HDD or SSD that is used by computers adhering to the Unified Extensive Firmware (UEFI). ESP contains the bootloaders or kernel images for all installed operating systems, so users are not allowed to operate on such a partition easily. However, sometimes resizing EFI partition is demanded. Now it's significant to have a partition manager program that can help realize the goal, meanwhile, with a simple solution.
Download EaseUS Partition Master to Extend or Shrink EFI Partition
To meet the huge demand of being able to resize EFI partition freely in the Windows operating system, EaseUS Partition Master is lately optimized and the new version now fully supports operation on EFI system partition. Click to learn in detail about the newest partition magic software that gives you the best experience to deal with your hard drive partitions, including the EFI partition, system partition, system reserved partition, and OEM partition.
How to resize EFI partition with EaseUS Partition Master
Make sure that the EFI partition is on a GPT disk. If not, convert MBR disk to GTP disk before any further operation. After that, you can resize your partition by shrinking or extending it. The guide below will show you how to resize or move a partition, and you can apply the steps to resize your EFI partition on a GPT disk.
Video tutorial:
Step-by-step guide:
Step 1: On EaseUS Partition Master, go to Partition Manager and right-click the target GPT partition, choose "Resize/Move".
Step 2: Resize the GPT drive.
#1. To Extend Partition:
Drag the GPT partition handle into the unallocated space. Click "OK" to confirm.
#2. To Shrink Partition
Drag the handle of the GPT partition to shrink its size. Click "OK" to confirm. 
Step 3: Click "Execute Task" and "Apply" to save the changes to resize the GPT partition.
How to Identify EFI Partition in Windows 11/10
By resizing the EFI system partition with EaseUS Partition Master, you easily solve the problem of EFI system partition too small to hold important boot files or Windows installation. Though it's possible to manage the EFI partition size by either shrinking, moving, or extending, do you know how to identify the EFI partition in Windows 11/10?
If you have a basic understanding of BIOS and UEFI (EFI), you'll surely know how to check, find and determine whether you are using it or not.
Method 1. As a practical matter, EFI partitions are found on GPT formatted drives and are used to boot the operating system. Although the UEFI spec and the GPT partitioning scheme are independent of one another, Windows requires that you use them together. You cannot boot Windows from an MBR formatted disk on a UEFI system, and you cannot boot from a GPT disk on a legacy BIOS system. That's how you should know how your system is configured.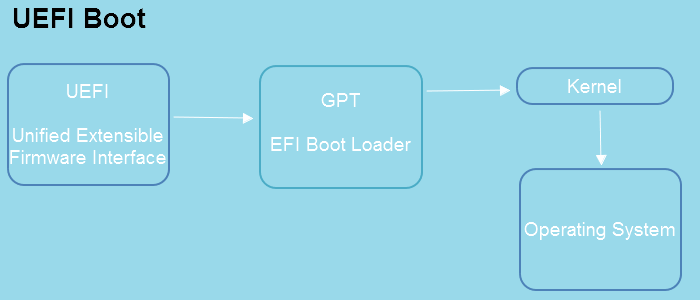 Method 2. Go and check in the system information window. Type MSInfo32in the Run box and open the window. Find the "BIOS Mode". If your PC uses BIOS, it will display Legacy. If it is using UEFI so it will display UEFI.
About the Author

Roxanne is one of the main contributors to EaseUS and has created multiple posts on digital devices like PCs, Mobile phones, tablets, Mac, etc. She loves to share ideas with people of the same interest.
Daisy is the Senior editor of the writing team for EaseUS. She has been working in EaseUS for over ten years, starting from a technical writer to a team leader of the content group. As a professional author for over 10 years, she writes a lot to help people overcome their tech troubles.
Product Reviews
I love that the changes you make with EaseUS Partition Master Free aren't immediately applied to the disks. It makes it way easier to play out what will happen after you've made all the changes. I also think the overall look and feel of EaseUS Partition Master Free makes whatever you're doing with your computer's partitions easy.

 Read More

Partition Master Free can Resize, Move, Merge, Migrate, and Copy disks or partitions; convert to local, change label, defragment, check and explore partition; and much more. A premium upgrade adds free tech support and the ability to resize dynamic volumes.

 Read More

It won't hot image your drives or align them, but since it's coupled with a partition manager, it allows you do perform many tasks at once, instead of just cloning drives. You can move partitions around, resize them, defragment, and more, along with the other tools you'd expect from a cloning tool.

 Read More