Need help to extend EFI system partition in Windows 10
"How do you make the EFI partition on your system bigger without losing data? My EFI is 99MB large, and I need it to be at least 200MB so that I can install Mac on this PC. I already have Windows 10 installed. The built-in Windows 10 Disk Management tool won't allow me to operate on the EFI partition because the extend volume option is grayed out."
The EFI system partition (ESP) is a partition on a data storage device, usually an HDD or SSD that is used by computers adhering to the Unified Extensive Firmware (UEFI). ESP contains the boot loaders or kernel images for all installed operating systems, so users are not allowed to operate on such a partition easily. However, sometimes resizing EFI partition is really demanded, it's significant to have a partition manager program that can help realize the goal, meanwhile, with a simple solution.
Download EaseUS Partition Master to extend or shrink EFI partition freely
To meet the huge demand of being able to resize EFI partition freely in Windows operating system, EaseUS Partition Master is lately optimized and the new version now fully supports operation on EFI system partition. Click to learn in detail about the newest partition magic software that gives you the best experience to deal with your hard drive partitions, including the EFI partition, system partition, system reserved partition, and OEM partition.
Step-by-step guide: resize EFI partition with EaseUS Partition Master
Launch EaseUS Partition Master on your PC. On the disk map, all disks and partitions are displayed. Make sure the EFI partition is on a GPT disk. If not, convert MBR disk to GTP disk before further operation.
Step 1. Right-click the EFI partition and choose "Resize/Move partition" feature.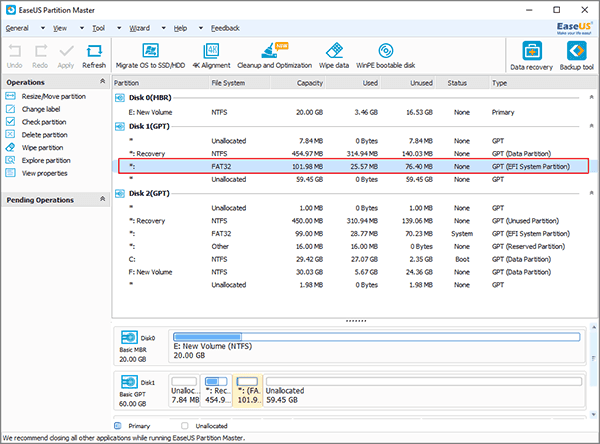 Step 2. The software will prompt a message if your EFI system partition is large enough, making sure you still want to continue with the extending or shrinking operation. Click "Yes" to go on with the task.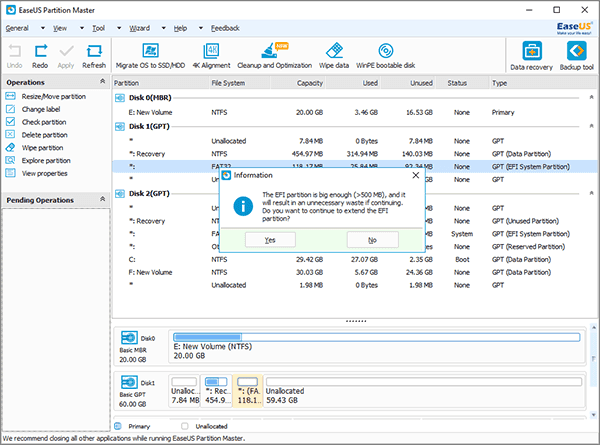 Step 3. Drag the mouse pointer to the direction where unallocated space locates, to extend EFI partition; or else place and drag the mouse pointer at either side of the partition bar to shrink it.
Step 4. Click "Apply" to complete the EFI partition resizing job.