MBR disks support only four partition table entries. That is to say, it only allows users to create four primary partitions at most. If more partitions are wanted, a secondary structure known as an extended partition is necessary. Considering that, many users might need to convert an MBR disk to a GPT disk. However, it is not an easy job for most users who are lack of computer knowledge and technical skills. So on this page, we would like to introduce you to three tools to undertake the task: a third-party free partition manager, the built-in Windows Disk Management, and the DiskPart utility.
EaseUS Partition Master - 3rd party MBR to GPT converter
EaseUS Partition Master Free allows you to directly convert an MBR disk to a GPT disk without causing data loss. It's the easiest method among the three, yet, the safest in protecting data from being erased.
Recommendation ★★★★★
Note: If it's about to convert the system disk from MBR to GPT, you need the commercial version called EaseUS Partition Master Professional.
Step 1. Launch EaseUS free partition software and select the MBR disk that you want to convert to GPT style. And then click "Convert MBR to GPT".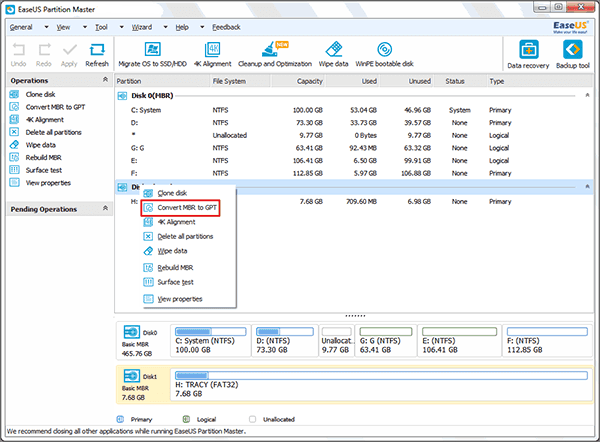 Step 2. Click Apply. You will see that the MBR has been converted to GPT without any data loss.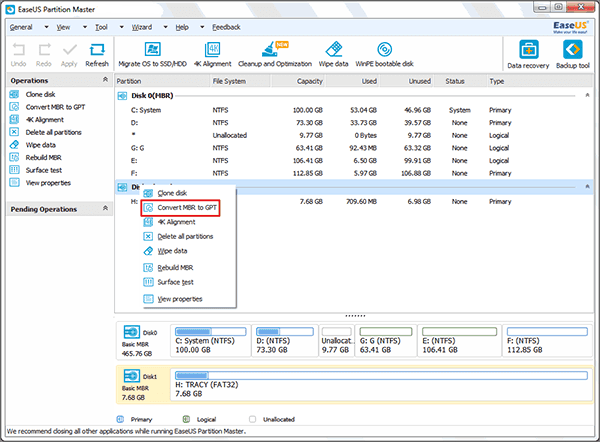 Windows Disk Management
Another totally free tool for you is the built-in program called Windows Disk Management, and it's also easy to use, only know that it deletes partitions. Give that truth, please back up important data in advance.
Recommendation ★★★
Step 1. Right-click My Computer and follow the path Manage -> Storage -> Disk Management.
Step 2. If the MBR hard disk which you want to convert to GPT disk contains several partitions or volumes, right-click one on the disk and then click Delete Partition or Delete Volume to delete them all.
Step 3. Right-click the MBR disk that you want to change into GPT disk, and then click Convert to GPT disk.
Diskpart command line
Take a glance at the guide and you will find the required command also deletes partitions if there are any on the hard disk, in the same way as the Windows Disk Management does. Likewise, make a full data backup if necessary. Moreover, do not easily follow this method, as it comes to the last part, and it's for higher-level computers users.
Recommendation ★★★
Open an elevated command prompt (right-click Command Prompt, and then click Run as Administrator) and type diskpart. If the disk does not contain any partitions or volumes, skip to step 5.
Step 1. Type list disk and press enter. Make note of the disk number you want to convert.
Step 2. Type select disk and press enter.
Step 3. Type clean and press enter to delete all partitions or volumes on the disk.
Step 4. Type convert gpt and press enter.
Step 5. Type exit and press enter.
Video tutorial on how to use Disk Management and EaseUS Partition Master