If you have accidentally deleted a volume in Disk Management or lost hard disk partitions due to unknown reasons, don't create new partitions on the unallocated space and add files into the partition. The data overwritten by new content is irrecoverable. Thus, to maximize the chance of recovering all your files, perform hard disk partition recovery as soon as possible once you've deleted a partition. However, even if you have created a new partition and put files in it, you still have the chance to recover your lost files following the paragraphs below.
Common Causes of Lost/Deleted Partitions
When you are faced with a lost partition, you receive this message: XX partition is missing. Why does this happen? There are a few factors that could cause lost or deleted partitions on your hard disk or SSD.
1. Accidental Deletion
In most cases, users get their hard disk partition lost by accidentally deleting a volume in Disk Management.
2. Partition Corruption
Another major reason for partition loss is partition table corruption. (The partition table is a system file that contains critical information about the hard disk drive partitions, including the start point and endpoint of the hard disk drive partition, file system, name, size, and other important information about the hard disk drive partition.)
3. System Reinstallation
Besides, operating system reinstallation, incorrect manipulation, and virus infection may also cause partition loss issues.
When your Windows 10/8/7 partition is lost, all your files and folders stored on the partition are lost, and you'll not be able to see any tracks of the hard disk drive partition in Windows Disk Management. Thus, how to restore lost hard disk drive partition becomes urgent.
Method 1. Recover Deleted/Lost Hard Drive Partition with Software
Actually, to recover your deleted partition in Windows 10, Windows 8, or Windows 7, you only need a reliable partition recovery tool. EaseUS Partition Recovery is a powerful partition recovery tool that you can use to recover lost or deleted partitions. This software is designed to recover files and partitions from lost or deleted partitions. This partition recovery software has many highlights.
EaseUS Partition Recovery Software
It fully supports all Windows systems such as Windows 10 /8/7 and you can restore whatever you've lost from the lost hard disk partition.
It will help you recover NTFS partitions lost due to accidental deletion, corrupted partition table, power failure, and bad sectors.
You can retrieve your precious files and partition within minutes.
Download and run this partition recovery software to get back the lost partition now.
You can use the software to scan the disk for lost partitions and then preview the files according to your needs before the recovery process.
Step 1. Run EaseUS Partition Recovery on your PC.
Select the disk or device where you lost partition(s), click "Scan" to continue.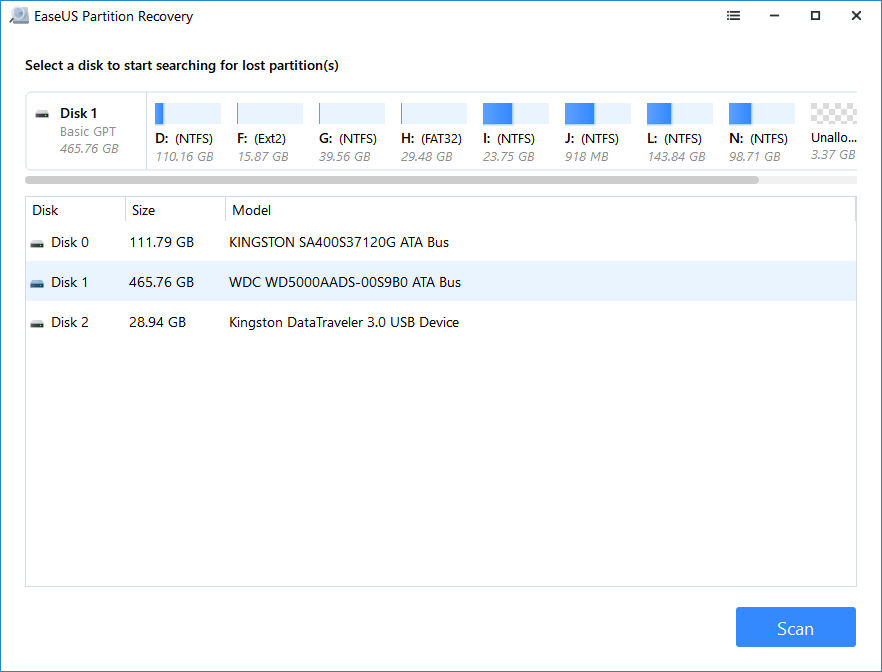 Step 2. Wait for the scanning process to complete.
Let the program scan the selected disk and find the lost partition(s).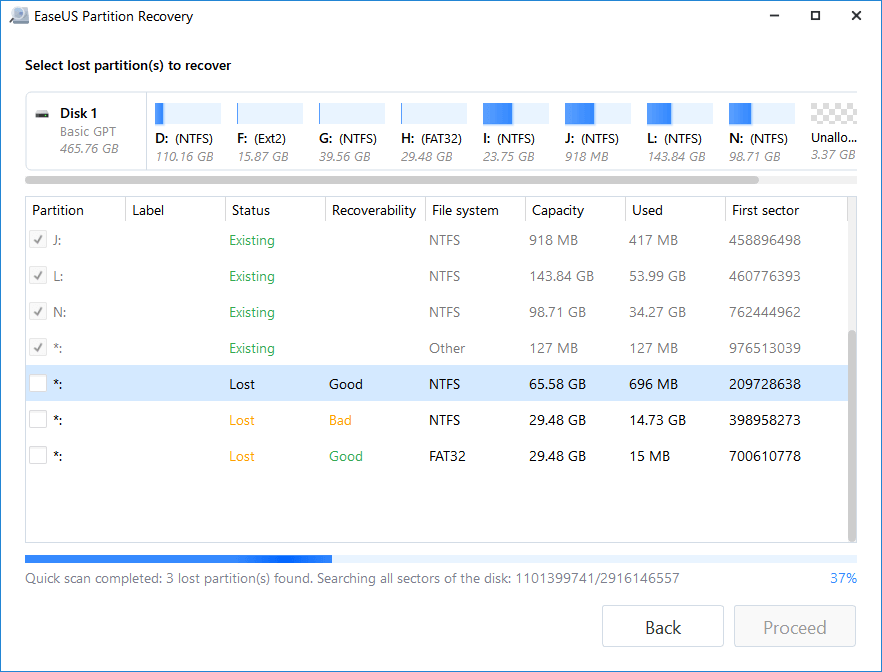 Step 3. Preview and restore the lost partition(s).
Double-click on the partition which is marked as "Lost" with "Good" recoverability.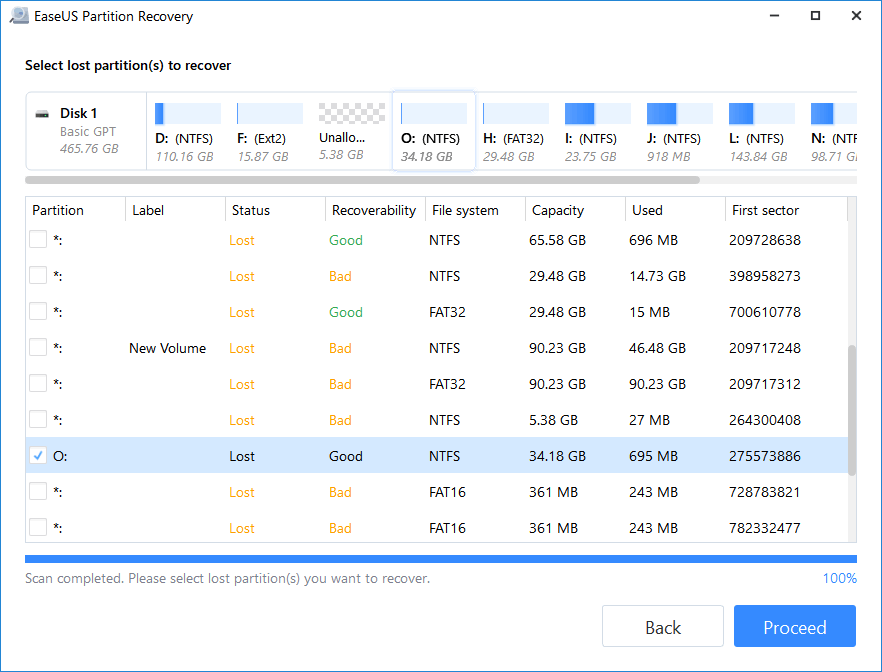 Preview the content of the lost partition. Click "OK" and click "Proceed" to start restoring the lost partition.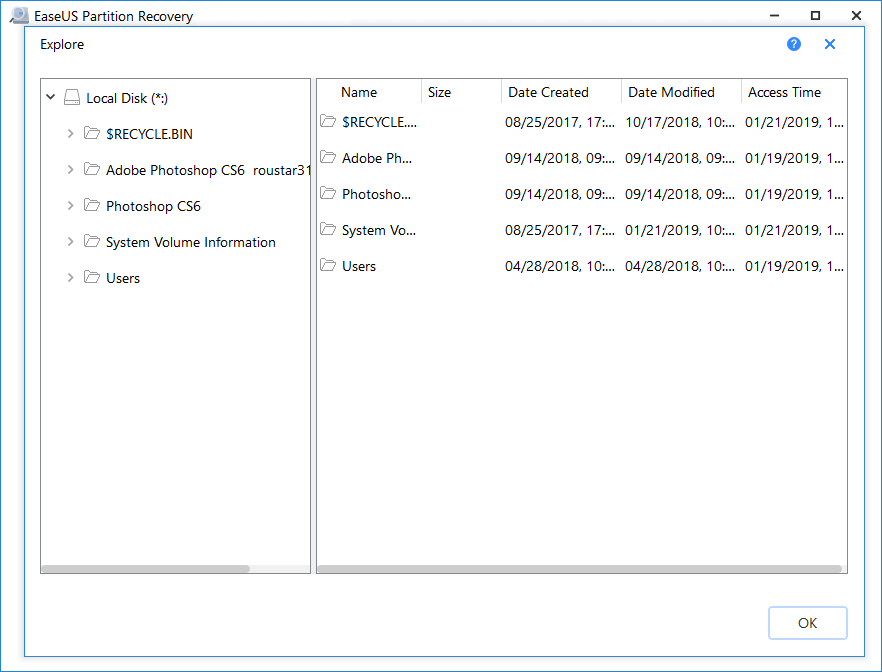 Step 4. Click "Recover Now" to finish the partition recovery process.
Note: If the program warns you that there is a conflict, back up the listed partition with essential data to an external hard drive first. Then execute the final operation to restore your lost partition.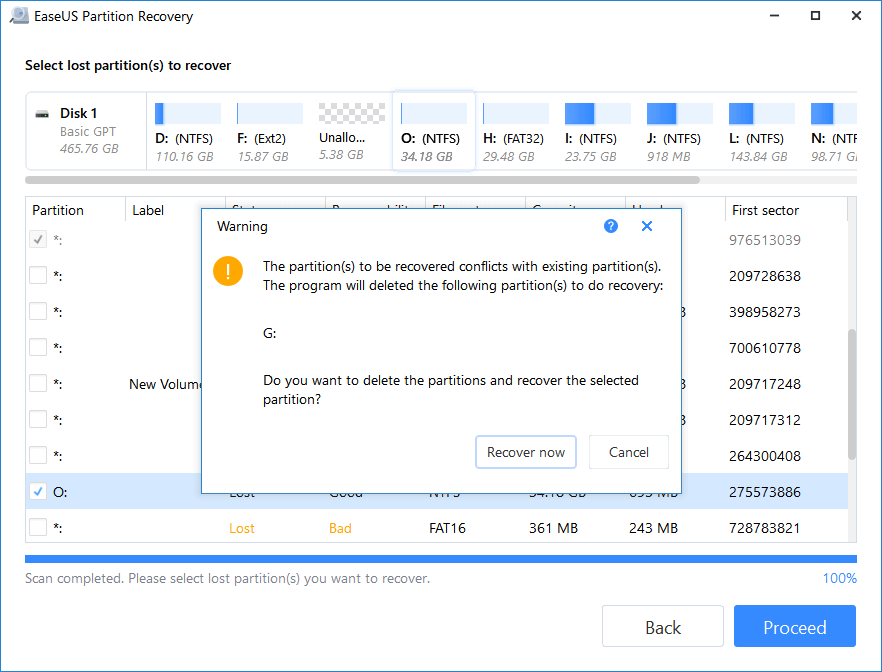 EaseUS partition recovery software will help you recover both the partition and the files on it. If you want to recover files from the lost partition only and create a new partition on the unallocated space by yourself, you can try another way to perform data recovery from lost partitions.
Method 2. Recover Deleted/Lost Hard Drive Partition with CMD
If you lose the partition because your volume label is missing, you can run CMD to fix your problem. Try to assign a drive letter to the drive and restore the lost partition.
Step 1. Press Windows + S to run the search box. Type cmd. When the command prompt appears, right-click and select "Run as administrator".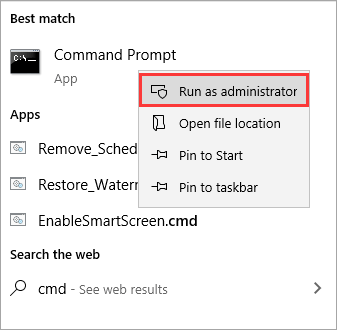 Step 2. Type diskpart at the command prompt. Press Enter.
Step 3. Type list volume, then press Enter.
Step 4. Type select volume. Substitute volume number by the number of the volume inside the <>.
Step 5. Type assign letter. Substitute the new drive letter with a new letter for the drive inside the <>.
Exit this window and see if you can access that partition.
How to Restore Lost Data and Create a New Partition
The trustworthy hard drive recovery software - EaseUS Data Recovery Wizard will help you recover all the files and folders in the lost partition, namely from the unallocated space. However, unlike EaseUS Partition Recovery, it won't recover the partition for you. Therefore, you can create new partitions on the unallocated space as you like after recovering the deleted files from the lost partition.
You can refer to the article about how to recover data from deleted/lost partition and then follow the steps below to create a new partition.
Step 1. Right-click on "This PC" and choose "Manage".
Step 2. Go to "Disk Management".
Step 3. Right-click on the unallocated space on your hard drive and choose "New Simple Volume..."
Step 4. Then follow the New Simple Volume Wizard to specify the volume size, assign a drive letter, format the partition...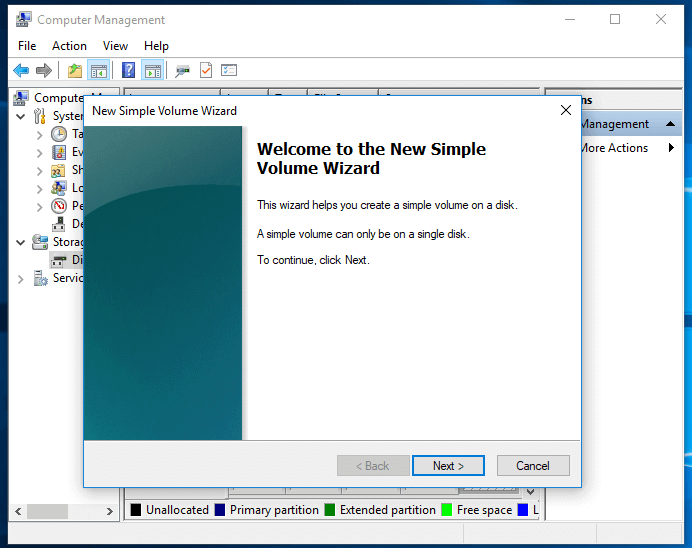 After creating a new partition, you can use it for data storage again.
The Bottom Line
Accidentally deleting a volume in Disk Management happens quite often. However, what occurs more frequently is accidentally deleting data on a computer hard drive, external hard drive, USB flash drive, memory card, and other storage devices. That's why you can't miss EaseUS data recovery software that will help to rescue your data whenever you get your data lost. If you don't want to lose files completely, it's highly advisable to back up your precious files regularly, either by manually copying files or using free backup software.
EaseUS Partition Recovery
Recover lost, deleted and missing partitions
Support partition recovery with multiple file systems
TRY IT NOW