| Workable Solutions | Step-by-step Troubleshooting |
| --- | --- |
| 1. Run Partition Recovery Software | Select the disk or device where you lost partition(s), click "Scan" to continue...Full steps |
| 2. Assign a Drive Letter | Try every USB port available; Determine you\'re using USB 2.0 or 3.0...Full steps |
| 3. Let Experts Help | Consult with EaseUS Data Recovery Experts for one-on-one manual recovery service...Full steps |
Partition VS Volume, What's the Difference?
A partition is a section of a hard drive that is given its identifier, or "letter." This allows the operating system to treat it as a separate entity from other partitions on the same drive. Important file systems for a partition:
A volume is a single continuous area on a hard drive that is used for storing data. It is typically composed of one or more partitions.
The main difference between a partition and a volume is that a partition can be created without having to format the entire drive, while a volume must be formatted before it can be used. If you're looking for a way to better manage your files and folders, consider dividing your hard drive into separate partitions or volumes to help keep everything organized and easily accessible.
Lost Partitions on Windows 10, What to Do?
How to recover a lost partition in Windows 10? Do you guys know any solutions to this case? I'm feeling really puzzled and helpless that one of my Windows 10 partitions were deleted by my little cousin's sister while she was playing games on it. I did not realize this serious case until this morning I started the computer, trying to write a paper file for one of my clients. Then all contracts and vital files which relate to my job were all gone.
"This is really serious and a terrible disaster for me. I tried some methods which I found in some data recovery blogs but found no one worked. I feel so anxious and it's really urgent. If you do have any great suggestions to help me restore or recover a lost partition in Windows 10, please help me."
1. Recover Lost Partition on Windows 10 with Software
A widely spread method to recover data is to get your device restored at a professional data recovery service center nowadays. Quite a lot of computer and storage device users thought highly of this method. But some users complain that not all data can be restored. But only part of them can be retrieved. And they feel anxious or worried about losing their private information or files there.
If this is not what you want, then here is a different solution for you. You can try to find a powerful partition recovery software to help you with partition recovery and restore NTFS/FAT hard drive partition data on your computer. EaseUS Partition Recovery makes everything simple and easy for all of you to handle data troubles. To recover the lost partition Windows 10 can be simply solved now.
Step 1. Run EaseUS Partition Recovery on your PC.
Select the disk or device where you lost partition(s), click "Scan" to continue.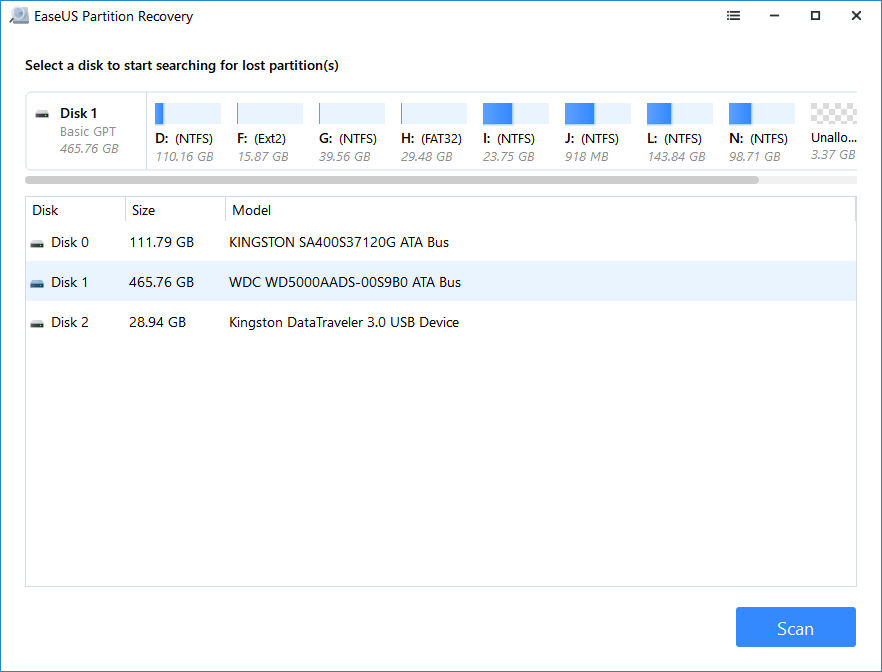 Step 2. Wait for the scanning process to complete.
Let the program scan the selected disk and find the lost partition(s).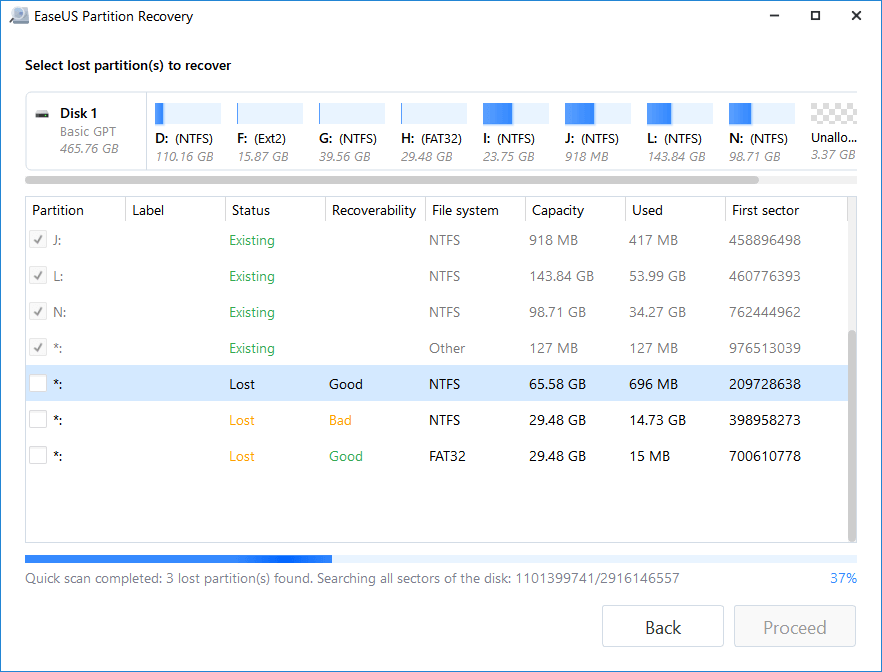 Step 3. Preview and restore the lost partition(s).
Double-click on the partition which is marked as "Lost" with "Good" recoverability.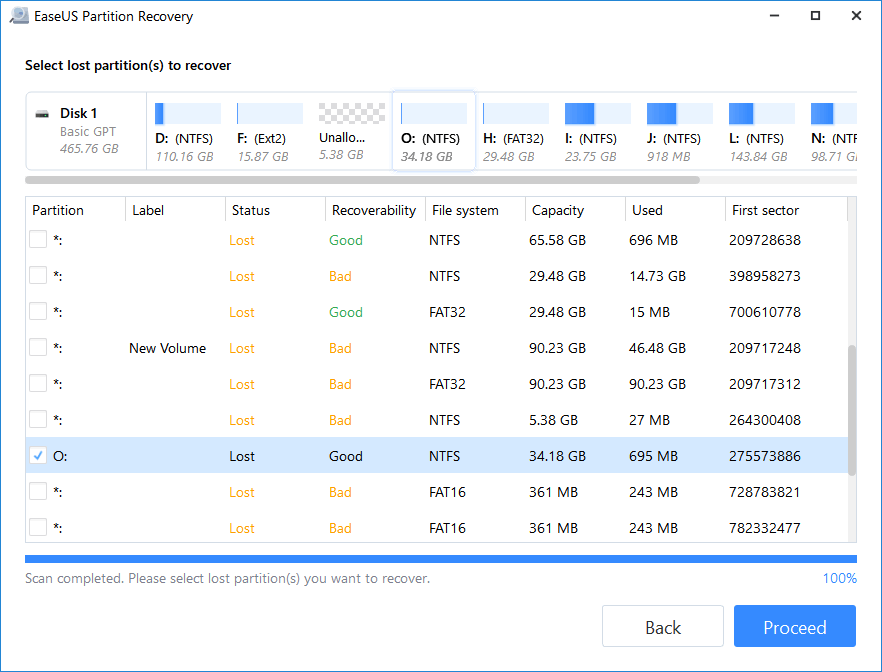 Preview the content of the lost partition. Click "OK" and click "Proceed" to start restoring the lost partition.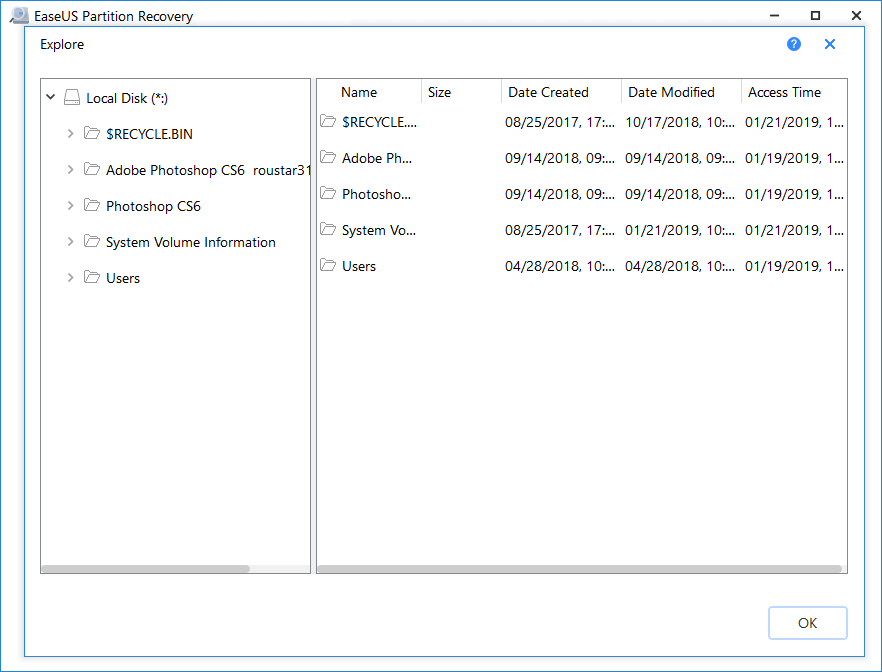 Step 4. Click "Recover Now" to finish the partition recovery process.
Note: If the program warns you that there is a conflict, back up the listed partition with essential data to an external hard drive first. Then execute the final operation to restore your lost partition.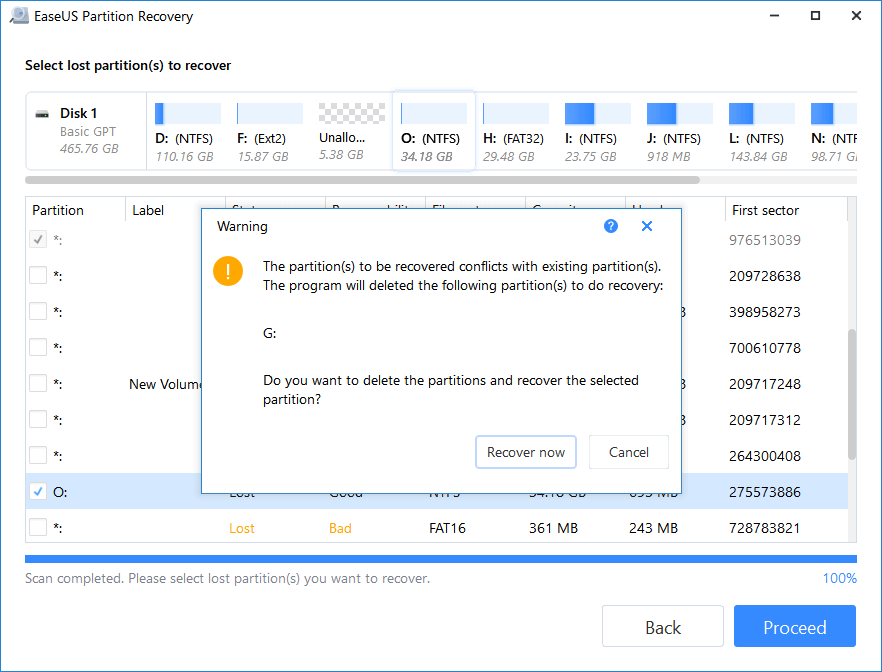 Now you can be your own data rescuer and solve diverse complex data cases by using this magnificent software. Other similar cases including how to recover lost partitions in Windows 7 can also be solved on your own directly. If you still have problems, never hesitate to contact us.
2. Assign a Drive Letter to the Lost Partition via Disk Management
If the partition is just vanished but has not been deleted, you can assign a drive letter to restore the lost partition. The best way to do this is by using Disk Management. To assign a drive letter to your lost partition, follow these steps:
Step 1. Right-click on the Start button, then choose "Disk Management".
Step 2. Right-click the partition you want to change or add a drive letter. Then click "Change Drive Letter and Paths".
Step 3. Pick "Change" to alter the drive letter. Or pick "Add" to add a drive letter for drives without one.
Step 4. Choose a new drive letter, and click "OK". The Disk Management will warn you that some programs might not run properly. Just close the window by clicking "Yes" to confirm.
3. Let Experts Repair/Recover the Lost Partitions
When you find it hard to recover lost partitions by yourself, you can let data recovery experts help. There are data recovery services that can help you recover your lost partition. One such service is EaseUS Data Recovery Services. This service can help you recover lost partitions from your hard drive or other storage devices with ease.
EaseUS Data Recovery Services
Click here to contact our experts and get the answers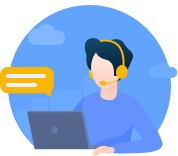 Consult with EaseUS Data Recovery Experts for one-on-one manual recovery service. We could offer the following services after FREE diagnosis
Repair corrupted RAID structure, unbootable Windows OS and corrupted virtual disk file (.vmdk, .vhd, .vhdx, etc.).
Recover/repair lost partition and re-partitioned drive.
Unformat hard drive and repair raw drive(Bitlocker encrypted drive)
Fix disks that become GPT protected partitions
Final Words
Overall, there are several different methods for recovering lost partitions on Windows 10. Whether you're dealing with accidental partition deletion, partition corruption, or some other issue, EaseUS partition recovery software makes it easy to get your partition back and get back to work. So if you're looking for an effective way to recover lost partitions on Windows 10, be sure to try out this software today.
EaseUS Partition Recovery
Recover lost, deleted and missing partitions
Support partition recovery with multiple file systems
TRY IT NOW