Recovery Partition Overview
The recovery partition is a special partition on system hard drive and is used to recover your system when the computer crashes. There are two types of recovery partitions. One is Windows recovery partition created by installing Windows on GPT disk. Windows recovery partition only takes up several hundred MB disk space, as it only contains the operating system.
The other one is the suppliers' recovery partition created by computer manufacturers like Dell, HP, Lenovo, and Asus. This sort of recovery partition also allows users to restore the computer to factory default settings, including OS, drivers, and some build-in applications. Hence, it takes more space than Windows recovery partition and is usually marked as OEM Partition.  
Asus Recovery Partition Missing, Lost or Deleted
When you need system recovery on Asus computer, you can access and start up the recovery partition by pressing F9. However, if the Asus recovery partition is missing due to the following reasons, you will find the F9 doesn't work when accessing the recovery partition.
Delete recovery partition by mistake
Hard drive fails, fully formatted
Corrupted partition table lead to recovery partition lost
Now, you might want to know, is it possible to recover deleted or lost Asus recovery partition, and how to do it? Read on and find useful solutions.
How to Fix Asus Recovery Partition Missing Problem
In this part, we provide you two available approaches to recover deleted or lost the Asus recovery partition.
Solution 1. Use a Professional Partition Recovery Tool
Here, you can try EaseUS Partition Recovery to recover lost or deleted hard disk partition automatically and effectively. This tool can be installed in multiple systems to restore missing partition, like recover lost partition in Windows 10, and Windows 8/7/Vista/XP/Server.
Now, download this easy-to-use partition recovery program, and restore the lost Asus recovery partition with a detailed guide.
 Tip

Stop writing new data on your PC or you better not create new partitions in the unallocated or free space released by the lost/deleted recovery partition. Otherwise, the original data saved in the recovery partition could be overwritten, and the chances of restoring partitions are slim.
Step 1. Run EaseUS Partition Recovery on your PC.
Select the disk or device where you lost partition(s), click "Scan" to continue.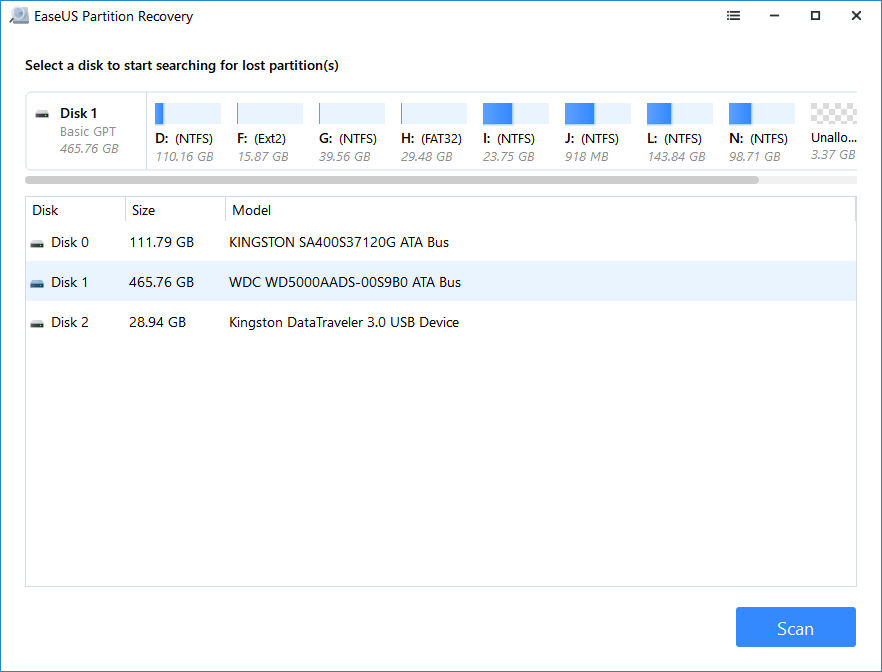 Step 2. Wait for the scanning process to complete.
Let the program scan the selected disk and find the lost partition(s).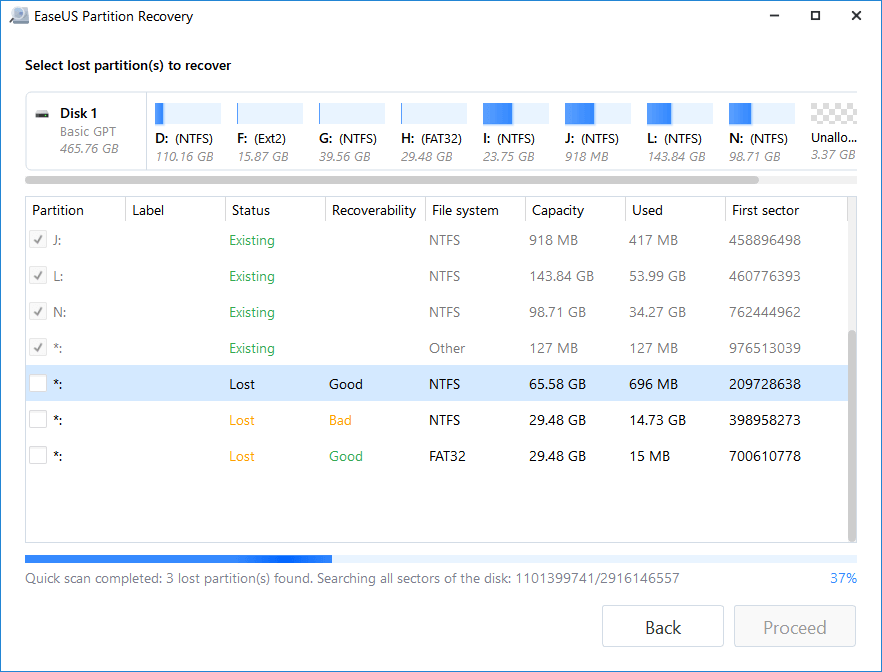 Step 3. Preview and restore the lost partition(s).
Double-click on the partition which is marked as "Lost" with "Good" recoverability.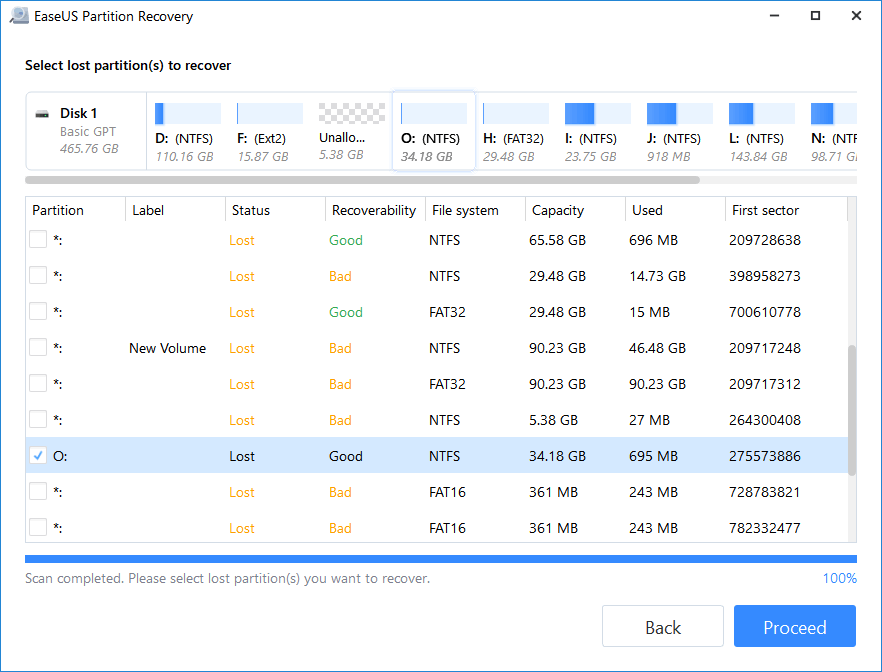 Preview the content of the lost partition. Click "OK" and click "Proceed" to start restoring the lost partition.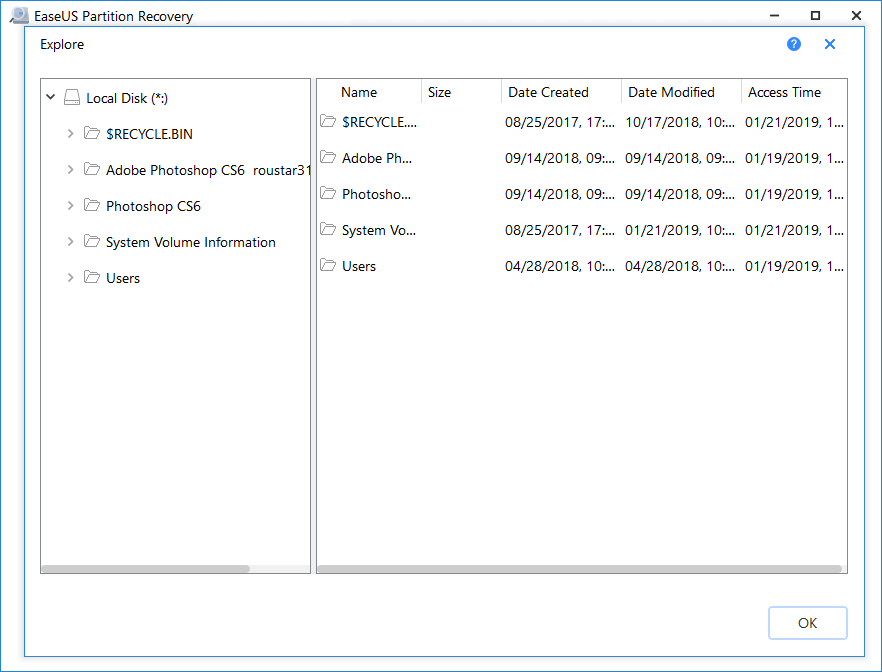 Step 4. Click "Recover Now" to finish the partition recovery process.
Note: If the program warns you that there is a conflict, back up the listed partition with essential data to an external hard drive first. Then execute the final operation to restore your lost partition.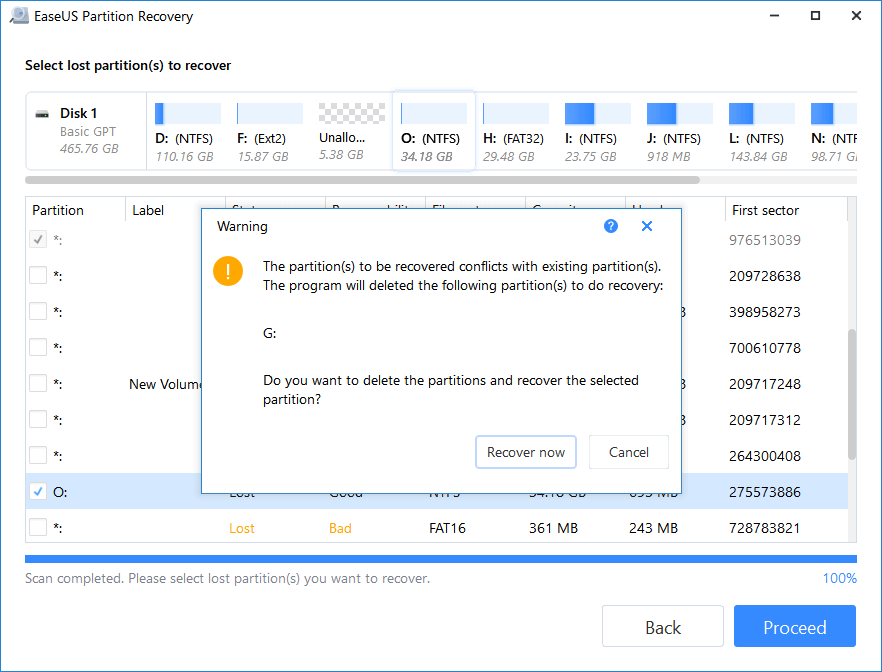 EaseUS Partition Recovery can not only recover the lost Asus recovery partition, but also the data on it. Except for partition recovery from HDD/SSSD, it still supports recovering USB partition and external hard drive drives.
Solution 2. Create a New Recovery Partition
If you don't want to use a third-party application to restore the Asus recovery partition automatically, you can try the following manual way to create a new recovery partition. Here, we take Windows 8 as an example.
1. Download an ISO file for Asus recovery disk from Microsoft, which will require your product key to install.
2. Use Microsoft's tool to create installation media for Windows.
3. Find install.esd in the Sources folder. This is the recovery partition that is currently useless. Move it to a location on your hard disk. Then, convert it from install.esd to install.wim via some converters like WimConverter tool. Next, copy the install.wim file to a new folder: C:\Win81-Recovery.
4. Register the file so that Windows can recognize. Type CMD in the search box. Right-click the Command Prompt and choose Run as administrator.  
5. Type the following command line to register the install.wim file and create a new recovery partition.
REAGENTC /SetOSImage /Path C:\Win81-Recovery\INSTALL.WIM /Index 1
6.Type REAGENTC /Info. And then type Exit.
Conclusion
After the Asus recovery partition missing, you can create a new recovery partition using the guides above. But it requires technical skills. And wrong operation in the command prompt may cause a more severe problem. Therefore, the easier way to recover deleted or lost Asus recovery partition is to use EaseUS Partition Recovery in Solution 1 to quickly restore the drive. 
EaseUS Partition Recovery
Recover lost, deleted and missing partitions
Support partition recovery with multiple file systems
TRY IT NOW