As we know, one physical disk can be divided into several partitions (the drive letters such as C: or D:), they are also called "volumes". Once a hard disk is divided into several partitions, directories and files of different categories may be stored in different partitions. More partitions provide more control but too many may become cumbersome. 
Actually, many users have the experience that the system can not find partitions. The problem can occur when the partition is deleted, lost, or get corrupted due to a virus attack, improper operation, damaged partition table, bad sectors, or abrupt power outage. In these situations, if you want to access files on a damaged partition, you have to recover data from corrupted partition and how to repair it. 
Next, we will show you how to perform partition repair and recovery in a few ways. 
How to Recover Corrupted Partition on Windows 10/11
How to do partition repair without data loss? We provide you with two easy ways to recover data from corrupted partition. 
Method 1. Recover Damaged Partition Using EaseUS Partition Recovery 
When you could not see the partition you need in Windows Disk Management, it might be lost and the data on it could be lost with the partition table. Actually, the partition was not really lost, even if the partition table was destroyed by a virus or deleted accidentally. Professional partition recovery software - EaseUS Partition Recovery can help you to do damaged partition recovery. 
EaseUS partition recovery software is exclusively designed to recover data from FAT, NTFS, and EXT file systems-based partition. It restores the data as well as the partition instruction together. What's more, RAW partition recovery is also supported.
Step 1. Run EaseUS Partition Recovery on your PC.
Select the disk or device where you lost partition(s), click "Scan" to continue.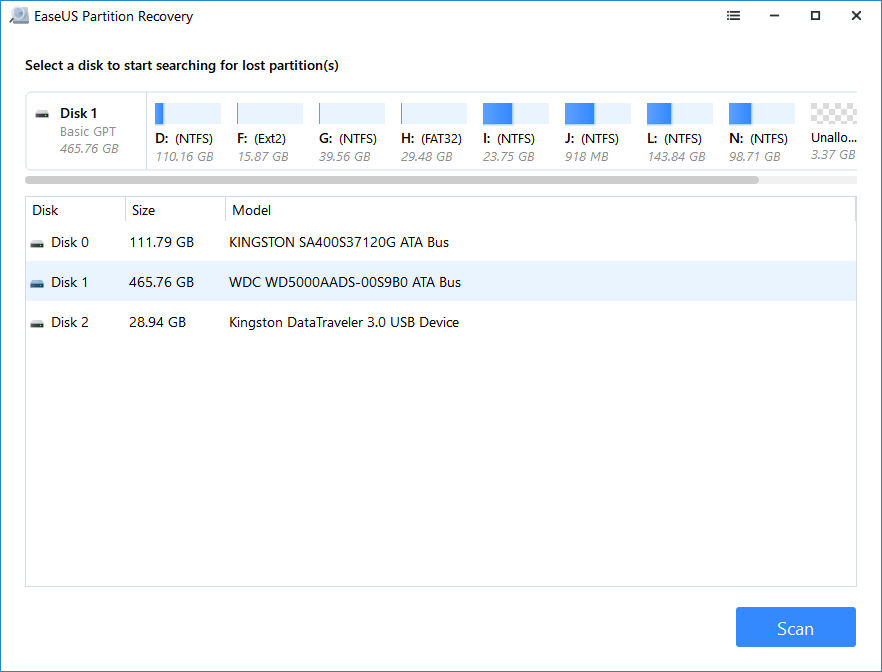 Step 2. Wait for the scanning process to complete.
Let the program scan the selected disk and find the lost partition(s).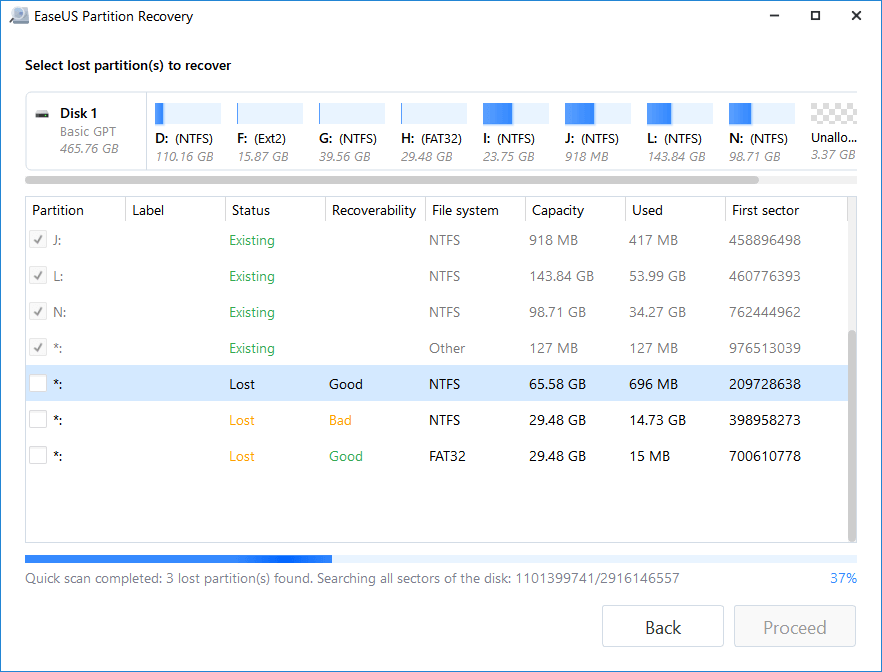 Step 3. Preview and restore the lost partition(s).
Double-click on the partition which is marked as "Lost" with "Good" recoverability.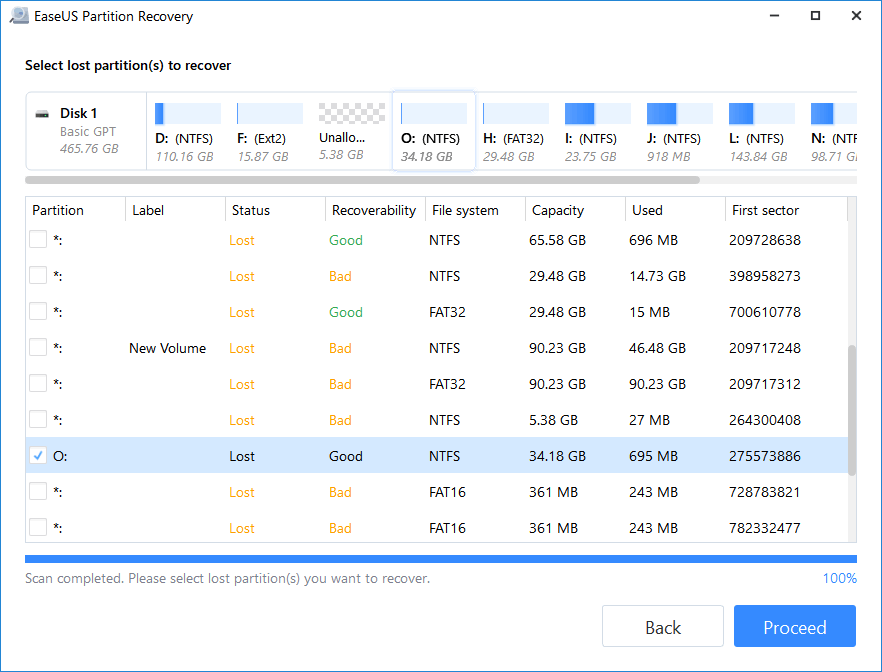 Preview the content of the lost partition. Click "OK" and click "Proceed" to start restoring the lost partition.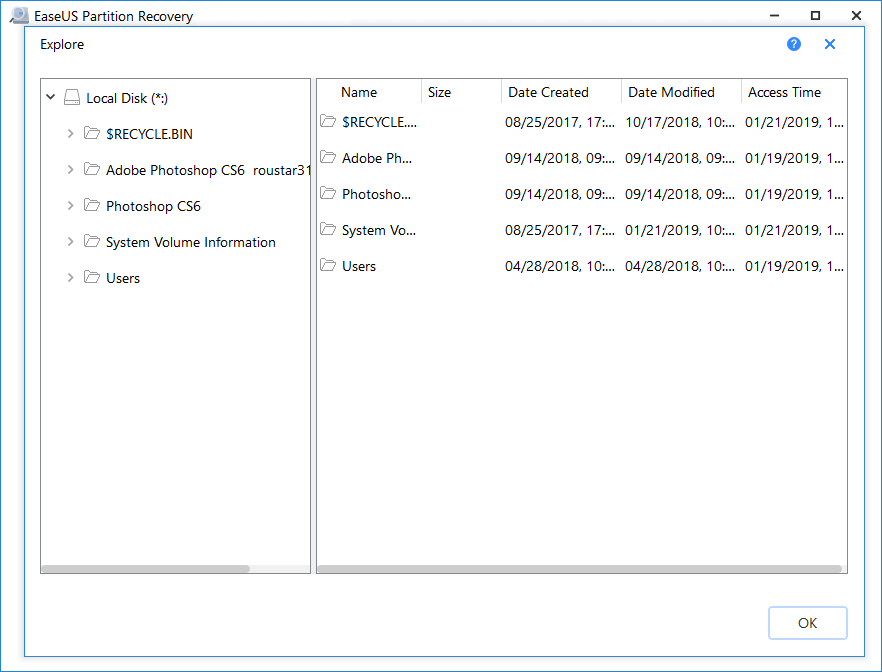 Step 4. Click "Recover Now" to finish the partition recovery process.
Note: If the program warns you that there is a conflict, back up the listed partition with essential data to an external hard drive first. Then execute the final operation to restore your lost partition.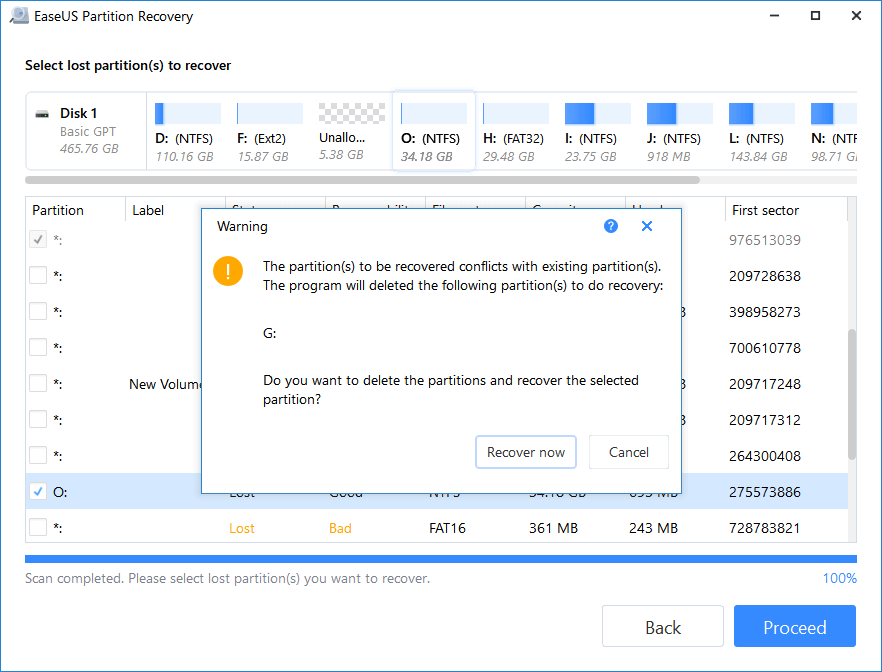 Method 2. Recover Data from Corrupted Partition with EaseUS Data Recovery Wizard 
Another popular partition recovery software is EaseUS Data Recovery Wizard, which can recover data from lost partitions on HDD, SSD, and external hard drives. The difference between the two programs is that this one restores data on a lost or damaged partition, while EaseUS Partition Recovery recovers data along with the partition.
Step 1. Select and scan the lost partition
Launch EaseUS Data Recovery Wizard, select "Lost Partition" and click "Scan" to search for all the lost data. If there are many lost partitions, you can identify them through its partition size.
Note: Since the Windows system doesn't support the Linux file system, the Ext2 or Ext3 partition will be recognized as lost partition with no drive letter in the software. If you want to recover data from Ext2/Ext3 partition, you can follow these steps.
Step 2. Filter the scanned results
Because there will be a lot of scanned files, you can choose a file category for quick filtering, such as Pictures, Videos, Documents, Audio, and Others. Or if you remember the file name, you can just look it up in the search box in the upper right corner.
Step 3. Preview and recover data from the lost partition
Before recovery, you can preview the file to make sure it is the data you need. Choose all the files you need and click "Recover" to restore them. 
How to Repair Partition on Windows 10/11 in 3 Ways
After data recovery, you can repair partition without worrying about data loss. Take the following three ways in order. 
Fix 1. Run CHKDSK to Repair Partition with Corrupted File System 
To fix corrupted partition with a damaged file system, Windows's built-in disk check tool can be helpful. 
Step 1. Go to Windows Search and type cmd.
Step 2. Right-click "Command Prompt" and choose "Run as administrator".
Step 3. Enter the following command and press Enter: chkdsk E: /f /r /x. "E" means the drive letter of the partition you want to repair.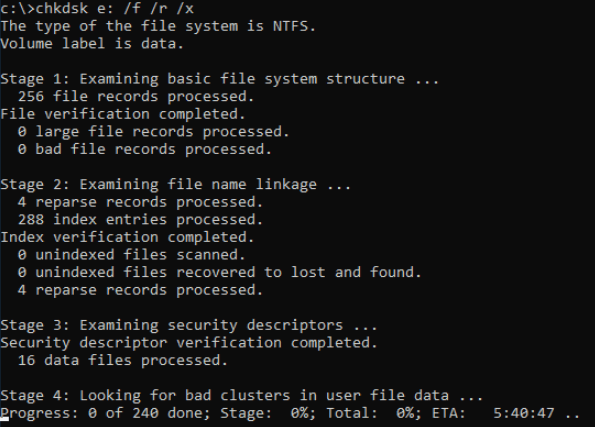 Fix 2. Fix Partition with Damaged MBR 
If the system partition is corrupted due to broken MBR, you can't boot your computer. To solve the problem and perform partition repair, you need to start your computer from the installation DVD/CD (or the recovery USB), then, follow the below steps to fix MBR. 
Step 1. On the Welcome screen, click "Repair your computer".
Step 2. Choose "Troubleshoot > Advanced Options > Command Prompt".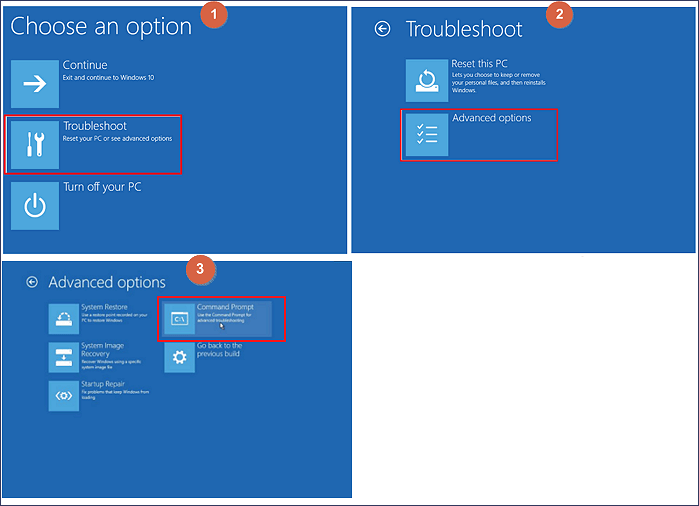 Step 3. When the Command Prompt opens, type the following commands and press Enter after each:
Bootrec.exe/fixmbr
Bootrec.exe/fixboot
Bootrec.exe/rebuildbcd
Step 4. Wait for the process to complete. After that, restart your computer and check if the partition works properly.
Fix 3. Repair Corrupted or RAW Partition with Disk Repair Services
If you can't fix a damaged partition yourself, you still have a greater chance to restore the partition with manual disk repair and recovery services.
EaseUS Data Recovery Services
Click here to contact our experts and get the answers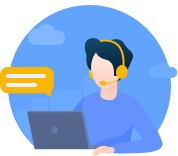 Consult with EaseUS Data Recovery Experts for one-on-one manual recovery service. We could offer the following services after FREE diagnosis
Repair corrupted RAID structure, unbootable Windows OS and corrupted virtual disk file (.vmdk, .vhd, .vhdx, etc.).
Recover/repair lost partition and re-partitioned drive.
Unformat hard drive and repair raw drive(Bitlocker encrypted drive)
Fix disks that become GPT protected partitions
Conclusion
A corrupted and inaccessible partition is a tough problem for us. When it happens, you can first recover data from damaged partition with EaseUS partition recovery software then repair partition by checking the file system, repairing corrupted MBR, or using disk repair services. 
Expanded Knowledge - What are the purposes for partitioning
We can conclude the purposes of partitioning as the following:
Keep operating system files, frequently used programs, and user data near each other.
Have an area for Operating System virtual memory swapping/paging.
Have cache and log files separate from other files.
Use of multi-booting setups, which allow users to have more than one. For instance, one could install Mac OS X, Microsoft Windows, or others on different partitions of the same hard disk.
Protect or isolate files, to make it easier to recover data from corrupted partitions. Other file systems won't be affected and the drive's data may still be salvageable if one of the partitions is corrupted.
Raise overall computer performance on systems with smaller partitions is more efficient.
Connect the device - external hard drive, USB, or SD card on which you lost partition to your PC in advance.
EaseUS Partition Recovery
Recover lost, deleted and missing partitions
Support partition recovery with multiple file systems
TRY IT NOW