Overview of Data/Partition Loss After Power Failure
"Partition disappears after a power failure, now shows 'Unallocated'."
Most of you have encountered power outage or power surge at one time or another. If you are working with your computer when such power issues happen, you may find your data or partition is lost or inaccessible after the accident. Generally, a power outage/surge may result in:
Files are lost on your computer or external hard drive
Disk Partition becomes unallocated
Disk Partition becomes inaccessible: The partition still exists, but you cannot open or access the file on it
Luckily, the files or partition are recoverable with the proper tools. Specify your situation and find the corresponding fixes provided below to get back your lost content with ease.
How to Recover Data/Partition After Power Outage
Do not put new files to your hard drive on which the data is lost to avoid data overwriting. Instead, perform data/partition recovery as soon as possible.
Solution 1. Recover Lost Data
If you lost some of your files on your computer or external storage devices after the power outage, you can use the free data recovery software - EaseUS Data Recovery Wizard to retrieve your data. For a detailed guide, you can refer to the article about how to recover lost files in Windows.
Solution 2. Recover Lost Partition
If your partition disappears after the power failure and becomes unallocated space, you can recover your partition and files on it using the partition recovery software - EaseUS Partition Recovery. It will help you recover partitions lost due to power failure, improper operation, corrupted partition table, bad sectors, repartition, and more.
To recover your partition after a power outage:
Step 1. Run EaseUS Partition Recovery on your PC.
Select the disk or device where you lost partition(s), click "Scan" to continue.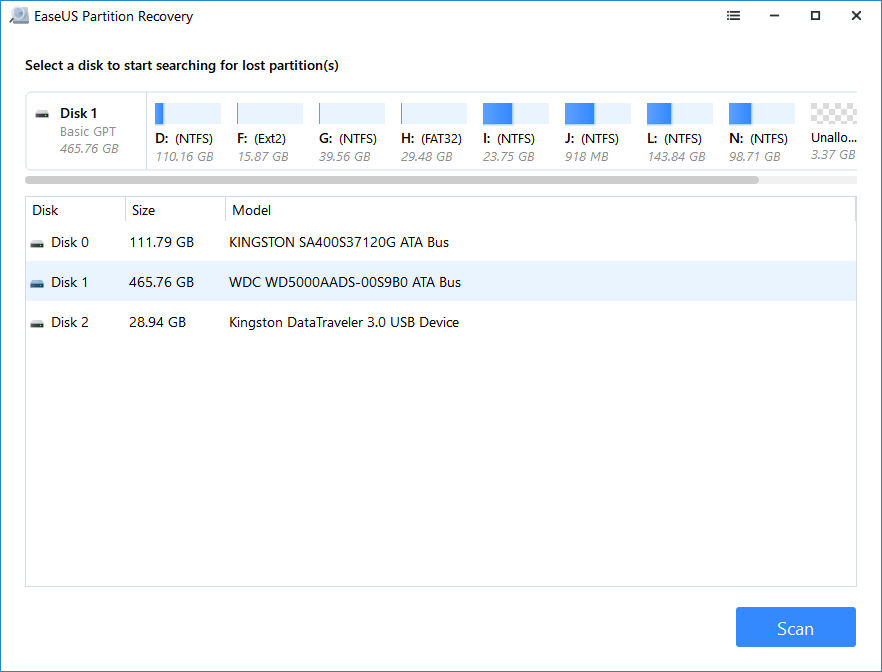 Step 2. Wait for the scanning process to complete.
Let the program scan the selected disk and find the lost partition(s).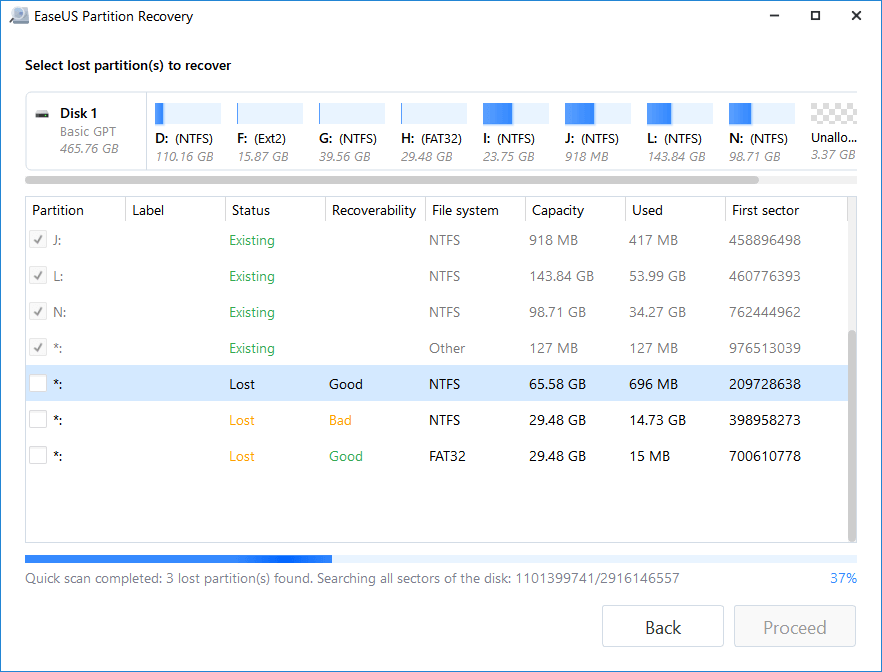 Step 3. Preview and restore the lost partition(s).
Double-click on the partition which is marked as "Lost" with "Good" recoverability.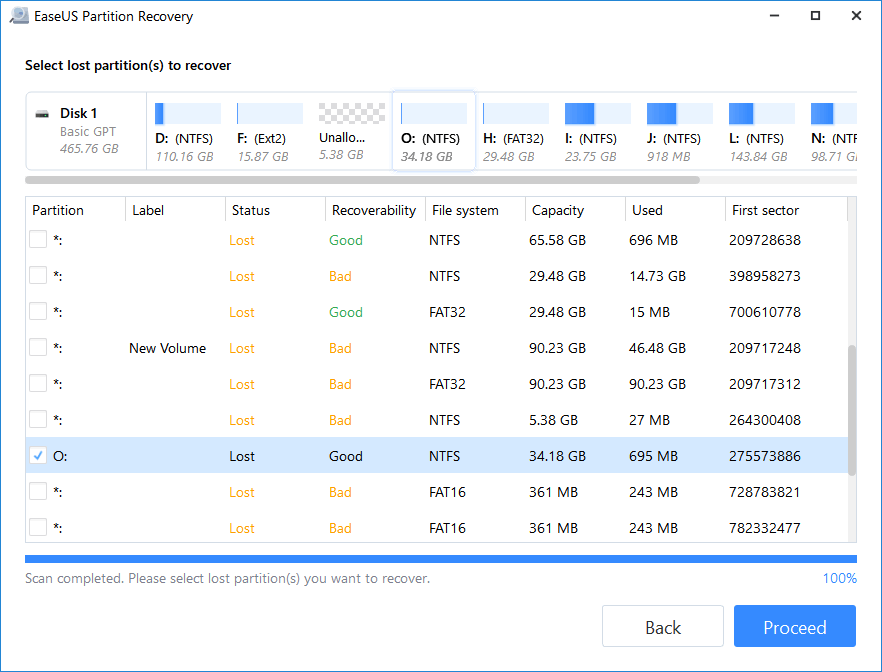 Preview the content of the lost partition. Click "OK" and click "Proceed" to start restoring the lost partition.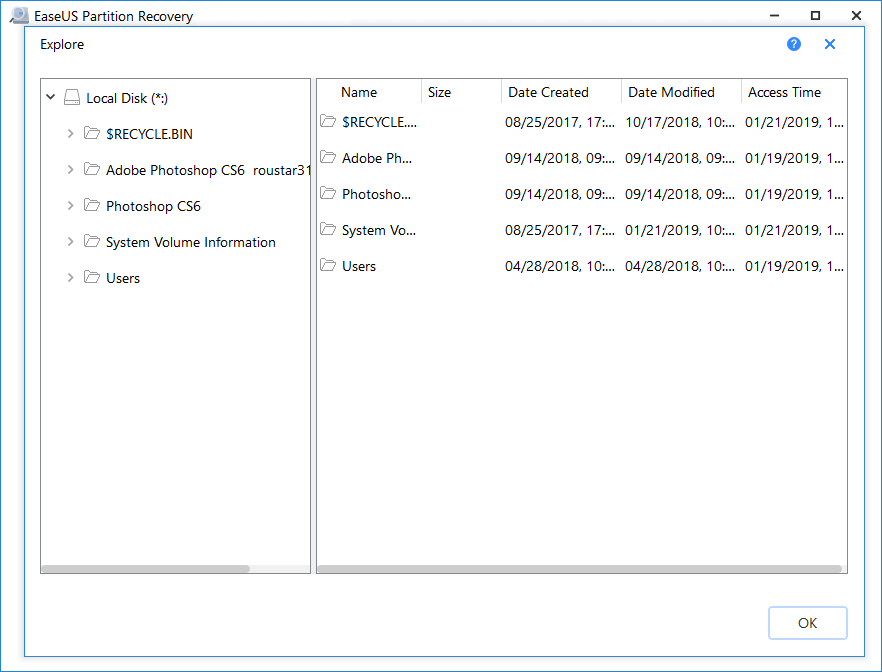 Step 4. Click "Recover Now" to finish the partition recovery process.
Note: If the program warns you that there is a conflict, back up the listed partition with essential data to an external hard drive first. Then execute the final operation to restore your lost partition.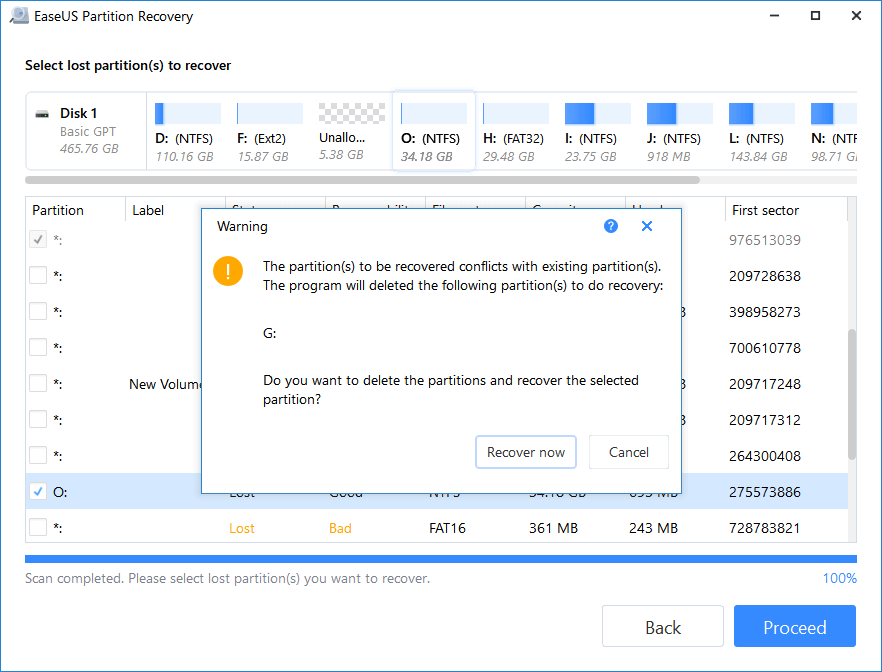 Solution 3. Restore Inaccessible Partition
Being different from partition loss, if your partition becomes inaccessible after the power failure or power surge, you will see it show up on your computer, but you cannot open it. Instead, you may see a prompt saying "you need to format the disk in drive before you can use it" after double-clicking the partition.
If you are in a situation in which Windows asks you to format your drive, don't format your partition at once. Formatting will erase all the existing files on your partition. Although formatted data recovery is possible in most of the cases, it's always more advisable to perform data recovery before the operation. When your partition becomes inaccessible and formatting is required, it's highly likely the file system of it has become RAW. You can recover data from a RAW drive successfully with EaseUS data recovery software.
Briefly speaking, the steps to restore an inaccessible partition are:
Step 1. Recover data from your RAW partition to somewhere else.
Step 2. Format the drive to make it usable.
Step 3. Copy the recovered files back to the partition.
The Bottom Line
In addition to direct file loss, you may lose the progress you are working on when a power outage occurs. That's when you need to recover unsaved files in Windows. Besides, if you have external storage devices connected, it may be corrupted after the power issue, be it external hard drive not detected or pen drive not showing data. We cannot prevent power failure, but we can grow a good habit of backing up our precious files regularly, which can reduce the chance of complete data loss.
Hope this guide can help you retrieve what you have lost.
EaseUS Partition Recovery
Recover lost, deleted and missing partitions
Support partition recovery with multiple file systems
TRY IT NOW