Are you faced with the "USB shows No Media in Disk Management" error on your computer? This guide will use "USB shows no media in disk management" as an example to fix related problems and make your storage devices appear and work with your Windows computer normally again without losing any data. Simply follow the methods outlined below to fix your problems.
USB Shows No Media in Disk Management
"I can not open the USB flash drive, and it says 'No Media' in Disk Management. Does anyone know how to resolve this issue?"
"Removable drive, my SanDisk USB pen drive, has a recognition problem in Windows 10 Disk Management. It's showing No Media so the access is denied. I have tons of important photos in it, so please help me fix it."

Do you know what the "No Media" error is? When a removable disk is defined as a no media disk, Windows does not recognize it and most likely displays the "There is no disk in the drive" error in File Explorer. When you go to check the drive status in DiskPart, it says "No Media 0 Bytes". Many reasons lead to a USB removable drive not working properly on a computer, and you need to be patient while following the troubleshooting procedures for these issues.
Quick Fix: Change USB Port to Fix USB Shows No Media
When the USB flash drive shows no media in Disk Management, you can first try changing the USB port and reconnecting it to your PC from a different USB port.
1. Unplug the USB from your computer properly.
2. Reconnect the USB flash drive to your PC using a different USB port.
3. Check if Disk Management detects your USB flash drive as a normal removable disk.
If the front USB ports did not solve the problem, it might be an insufficient power supply issue. Try to connect the USB drive to the rear USB port on the computer's motherboard, where the power supply is much higher.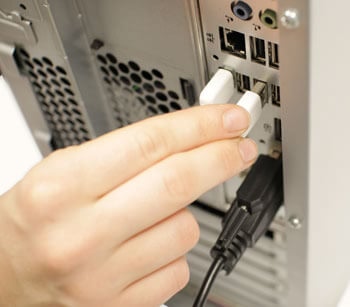 Complete Fixes for the 'USB Show No Media in Disk Management'
If the USB still says no media in Disk Management, follow the comprehensive fixes below to resolve your problem.
#1 - Export Useful Files from the USB Drive That Shows No Media in Disk Management
To thoroughly scan and find all media files and data on the USB flash drive, we recommend you try EaseUS free data recovery software. It specializes in restoring lost files, hidden files, and permanently removed files from Windows PC hard drives, external hard drives, USB, and other devices in a few clicks.
Step 1. Run USB Data Recovery Software
Connect the USB drive or pen drive to your computer and launch EaseUS USB data recovery software on your PC. Select the drive which is labeled as a External drives, and click "Scan" to start looking for lost files.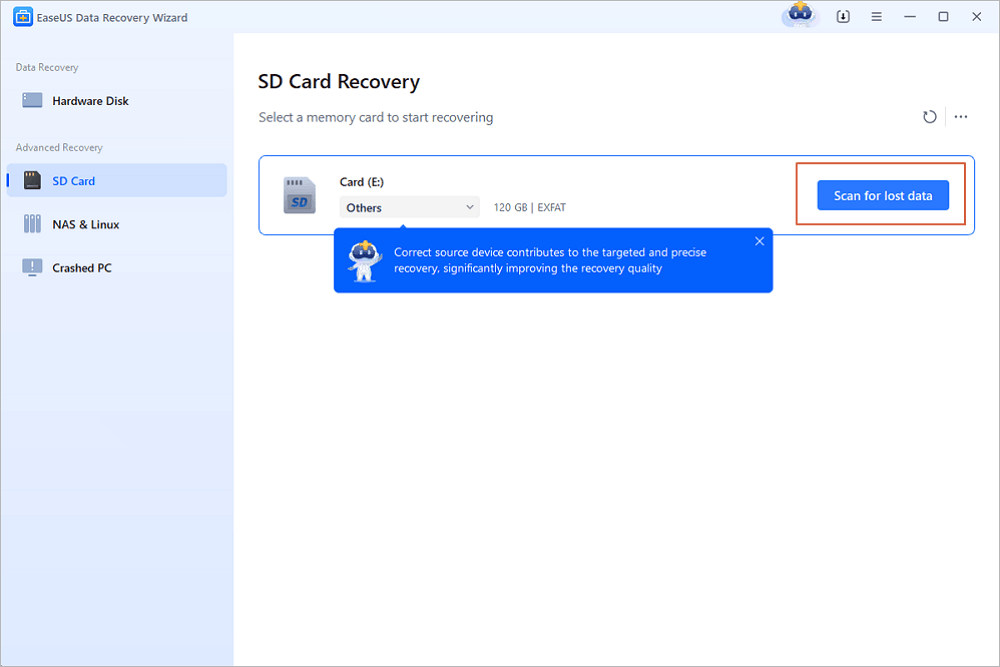 Step 2. Scan and Search Lost Files on a USB Drive
EaseUS Data Recovery Wizard will thoroughly scan your USB flash drive/pen drive and find all your lost data on it. When the scan process completes, use the Filter feature to find wanted files.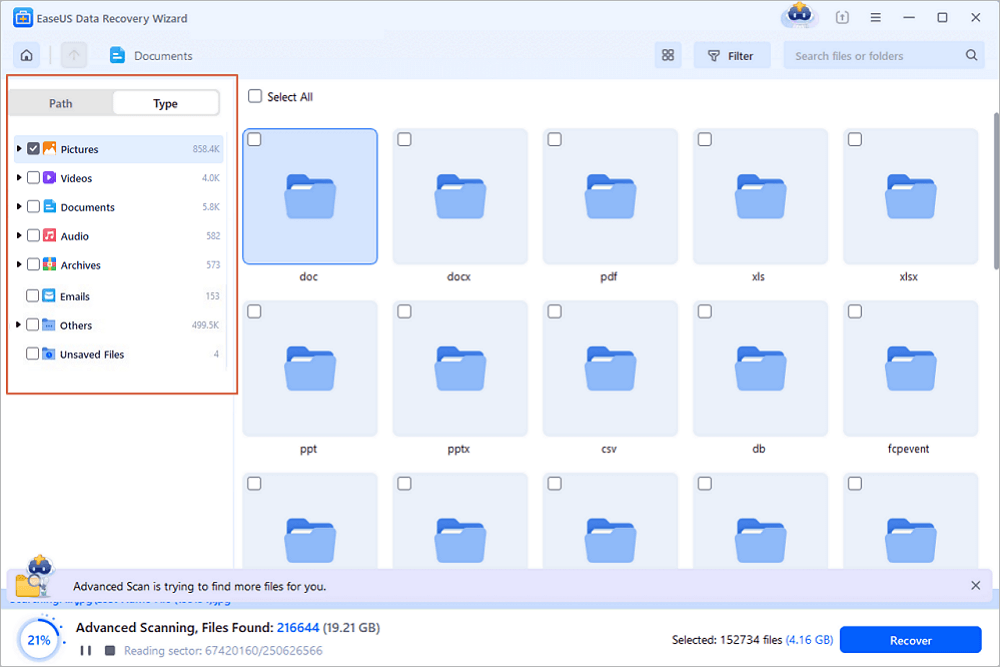 Step 3. Restore All Lost Files from USB
A double-click will allow you to preview the files. Select the target files to restore and click "Recover" to save them to a secure location on your PC or other external storage devices.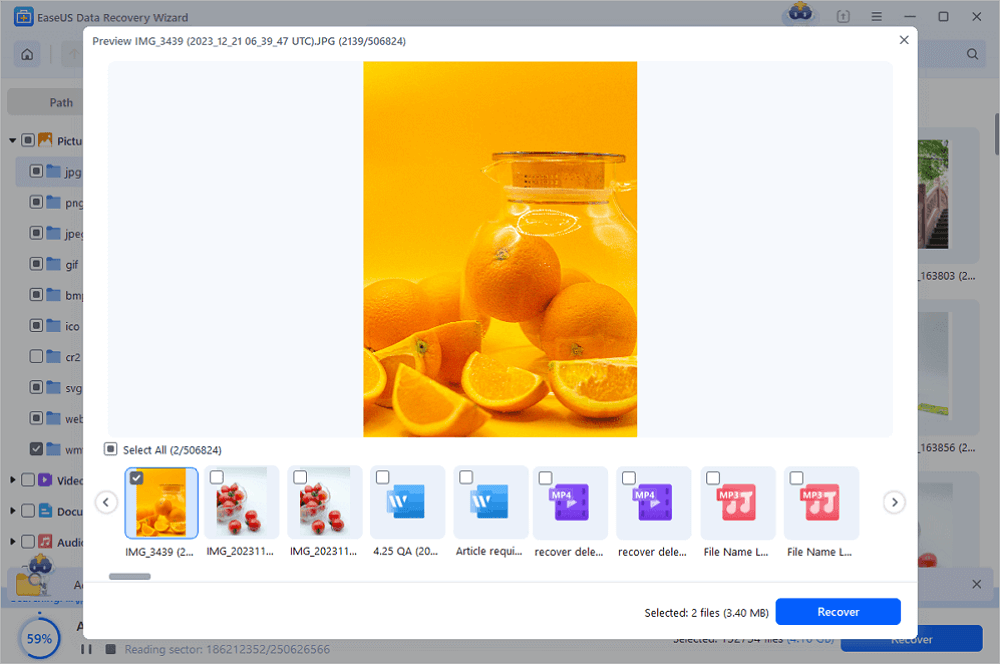 #2 - Turn to USB Drive Repair Services (Recommended)
The most effective way to fix "USB shows no media in Disk Management" is to use a USB repair service. DriveSavers provides data recovery and disk repair services. It can repair hard drives, USB drives, SD cards, and SSDs with experts. Contact the experts to fix your USB errors.
DriveSavers Recovery/Repair Services
Click here to contact experts for a free evaluation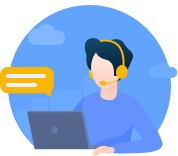 Consult with DriveSavers' experts to retrieve data from crashed, mechanically failed, experienced physical damage digital media of all brands and formats.
Certified ISO-5 class 5 cleanroom recovery
Free evaluation on Standard and Economy Services
Authorized by all leading storage device manufacturers
Support all encryption technologies for data protection
#3 - Find Entries of Disconnected Devices and Reconnect the USB to the PC
1. Find entries of disconnected devices in Device Manager
For Windows 10/8 users:
Click Start and search device manager, select Device Manager from the search result.
Click View and select Show Hidden Devices, expand all entries by double-clicking them.
Locate the greyed out devices and right-click on them, select Uninstall.
Restart your PC.
For Windows 7 users:
Click Start and type: cmd, hit Enter.
Type: set devmgr_show_nonpresent_devices=1 and hit Enter.
Type: cd\ and hit Enter.
Type: cd windows\system32 and hit Enter.
Type: start devmgmt.msc and hit Enter.
Click View and select Show hidden devices, expand all entries, and double-click on them.
Locate all greyed-out entries, right-click on each one, and select Uninstall.
Restart your PC.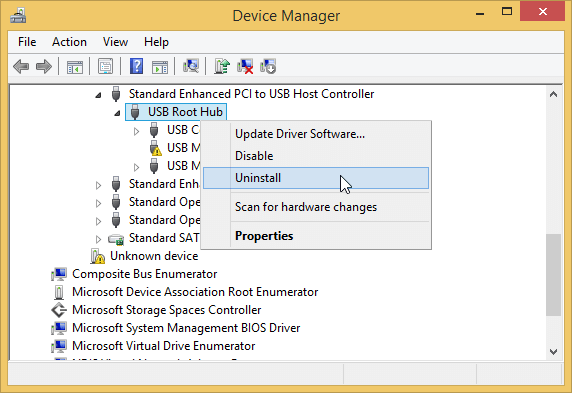 2. Reconnect USB to PC
After finding entries of all disconnected devices in Device Manager, restart your PC and try to reconnect the USB to your PC again. Check if the USB shows up in Disk Management. If not, follow the next solution.
#4 - Enable USB in the Device Manager
1. Right-click the Windows icon and select Device Manager.
2. Locate your USB flash drive under Universal Serial Bus Controller with the name USB Mass Storage.
3. If it's marked with a red mark or an arrow mark, right-click on it and select Enable.
4. If you can't see the Enable option, the drive has already been marked.
You can continue checking the Disk Drives in Device Manager to ensure that all drives are enabled.
#5 - Change the USB Drive Letter and Run CHKDSK to Repair USB Errors
1. Change USB drive letter
Right-click on Computer, select manage, and enter Disk Management.
Right-click on the USB flash drive, which shows no media there, and select Change Drive Letter and Paths...
Click Change and click Assign the following drive letter: to set a new drive letter to your USB flash drive which says no media now on your PC.
Click OK to confirm the operation.
2. Run CHKDSK to repair USB errors
Right-click on the Windows icon and select Command Prompt (Admin).
Click Yes if the system asks you to sign in as administrator. And sign in with your Administrator account.
Type: chkdsk E: /f /r /x and hit Enter. (Replace E: with the drive letter of your USB flash drive.)
EaseUS CleanGenius is a user-friendly computer fixing tool that is both safe and lightweight. It's a perfect alternative to CHKDSK command. Use this one-click tool to fix the damaged file system easily.
Step 1. DOWNLOAD EaseUS CleanGenius on your computer and complete the installation.
Step 2. Run the software. Click "Optimization", and then choose "File Showing" .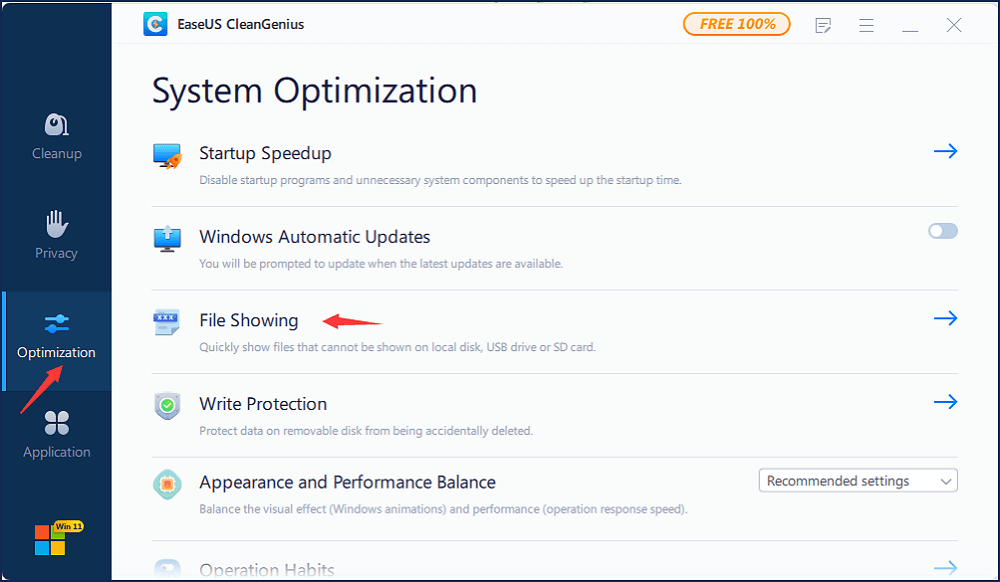 Step 3. Select the drive with a corrupted file system. Tick the "Check and fix file system error" option and click "Execute".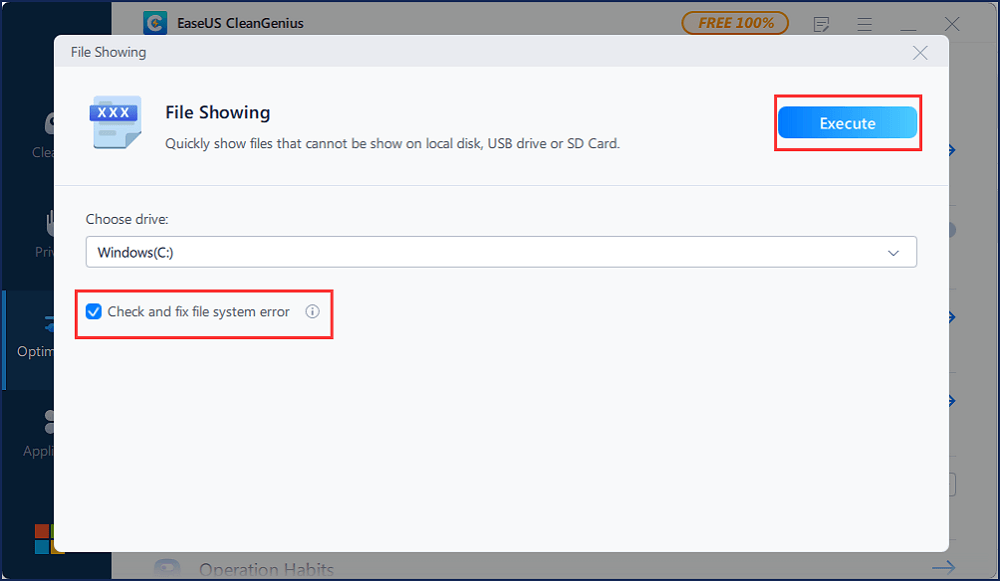 Step 4. Wait the tool performs the repairing task. After that, click the "here" button to check the drive.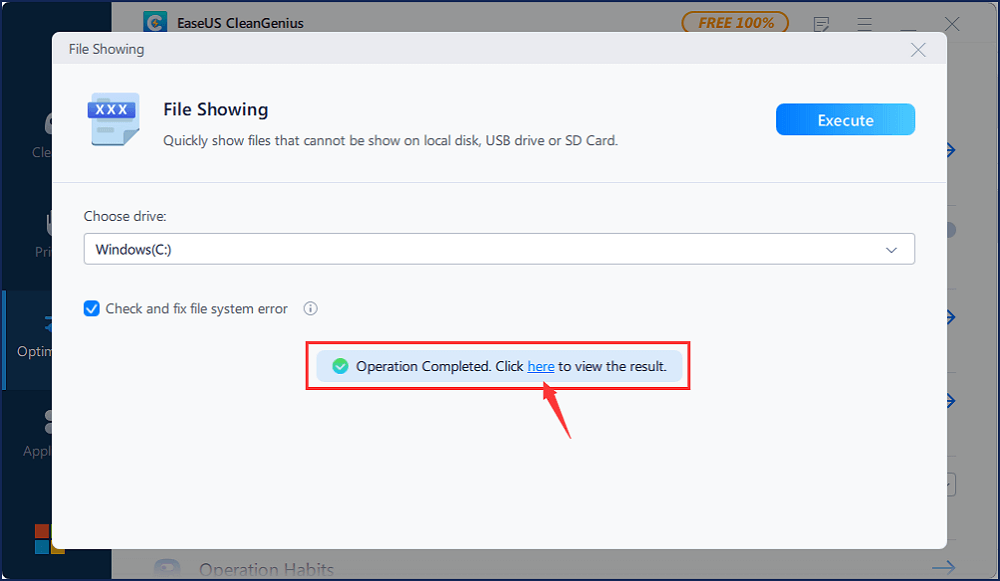 You can now check if the drive shows up as a regular storage device on your PC.
Conclusion
In the above guide, we have listed the most effective troubleshooting methods for USB no media error in Disk Management, including connecting the flash drive to a new USB port, to the computer's motherboard USB port, uninstalling and reinstalling the drive in Device Manager, changing the drive letter, and repair USB errors. Many other things can cause a USB flash drive to malfunction, including physical damage.
If you tried all the troubleshooting methods on this page and your problem is still not resolved, consider reading our other tutorials to look for answers to your queries.
People Also Ask About USB No Media Error
If you have other concerns related to USB shows no media error, check out the questions and answers section below to find an answer to your concern.
1. Why does my USB say no media?
 "No Media" means the flash memory controller cannot communicate with the NAND flash memory on the drive. Because of this, it appears to the computer as an empty disk drive. This is usually caused by the NAND flash failing.
This is why that USB appears as No Media on Disk Management.
2. How do I fix no media USB?
Here is a list of all possible ways to fix the No Media issue on your USB drive:
Try your USB in another port
Error-checking tool to fix USB no media
Update Your media drivers
Uninstall device driver to fix there is no media in the device
Change letter of your removable disk to fix no media error
If you found format option on your Pendrive or memory card do it 
Using chkdsk to fix there is no media in the specified device
Rebuilt MBR Partition using third party tool
Using attrib command to fix no media USB
Delete partition and create a new partition using disk management
For a step-by-step guide, we suggest you revert back to the Quick Fix and 4 Complete Fixes on this page and follow the tutorials there.
3. How do I open a flash drive that is not recognized?
Step 1. Connect the USB flash drive to the PC
Step 2. Navigate to "Control Panel" > "System" > "Device Manager" > "Disk drivers".
Step 3. Find and select your USB device, right-click and first choose "Uninstall" and then choose "Scan for hardware changes" to refresh the drivers.
Step 4. Restart your computer.
For more details, please refer to how to Fix USB Flash Drive Not Recognized or Detected. 

Brithny is a technology enthusiast, aiming to make readers' tech life easy and enjoyable. She loves exploring new technologies and writing technical how-to tips. On her spare time, she loves sharing things about her favorite singer - Taylor Swift on her Facebook or Twitter.

Approved by Mahesh Makvana 
Mahesh is an experienced computer tech writer. He's been writing tech how-to guides for about 8 years now and has covered many topics. He loves to teach people how they can get the most out of their devices.