Pen drive detected but not showing data, how to fix?
"When I insert my 64GB SanDisk USB pen drive in any computer, it is detected and shows the occupying space. But when I trying to access my data, it not showing files and folders. I have no idea about why the pen drive show empty even when data exists. I have very important data in that. Please help me to recover that data."
Why is USB pen drive not showing data but space used
Pen drive not showing data but using space is one of the main reasons for data loss disaster. It usually prevents you from seeing your data while checking the used space and unused space is showing correctly. And the most possible for this issue is a virus attack. Some unknown virus can not only infect your files but also makes them hidden. It creates an empty shortcut of your files and folders which lead to nowhere.
If you are annoyed by pen drive not showing data problem and trying to find a USB data recovery solution, congratulations, you come the right place! Here, we show you how to recover hidden files from virus infected pen drive to fix USB drive files or folders not showing but space used in two simple ways. By the way, the tutorials also work with the flash drive, external hard drive, SD card or other external USB devices.
When you meet the same problem on a Mac computer, follow this page and resolve flash drive not showing up on Mac issue and restore all lost files.
How to fix pen drive not showing data and retrieve files
Follow the two methods below to fix the error and restore data:
Method 1. Unhide files using CMD while pen drive not showing data
1. Connect the USB pen drive or flash drive to PC. Open Windows Explorer > Go to Tools > Folder Options > Go to View Tab > Check "Show Hidden Files". This will make sure that the files and folders are not in hidden mode.
2. Next, click on Start Menu -->Run --> Type cmd and press Enter. To make the pen drive data showing, type the commands: attrib -h -r -s /s /d k:\*.* and press Enter. Here, you need to replace "K" with your pen drive letter.
Now all your files will start showing in your USB flash drive or pen drive. If you see a folder without a name, rename it to recover its data.
Method 2. Recover files with EaseUS recovery software when pen drive not showing data
If the above steps failed to help, then try to retrieve your data with EaseUS disk data recovery, a popular third-party data recovery software. It performs well to recover shortcut files or hidden files from USB pen drive or flash drive. Here, if pen drive data not showing due to the virus, you should first scan your USB device for viruses to removes the virus.
Step 1: Run Pen Drive Recovery Software
First, please connect your pen drive to your computer.
Then you can run EaseUS pen drive recovery software - Data Recovery Wizard on your PC.
On the main interface, choose your pen drive under External Devices, and click Scan to start the pen drive recovery process.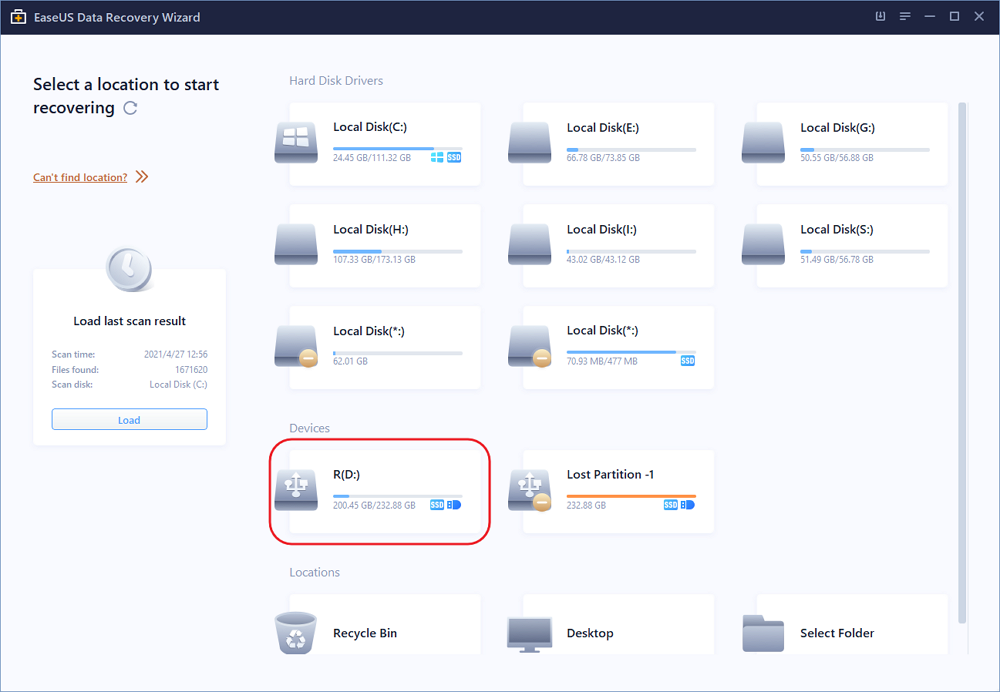 Step 2: Scan the Pen Drive
Let the program run to scan and find all your lost files.
All your files will be listed here:
Delete Files: It lists your deleted files.
Drive: It loads all your lost files there.
Lost Partition Files: Check it first if it's for formatted recovery.
Extra Files: Finds files that lost names or paths.
Filter: A quick way to your wanted files.
Search: e.g. File name/file extension.
Step 3: Recover Pen Drive Files
Check those three tabs - Deleted Files, Lost Partition Files or Extra Files to find your files, and you can double-click to preview them.
Finally, click "Recover" to save them to a secure location on your PC or another external storage device.