On this page, you can learn many types of SanDisk issues that require the corresponding solutions. For different problems on a SanDisk USB flash drive, pen drive, micro SD card, SDHC card or SDXC card, we categorized solutions by either choosing a disk-formatting method or using an advanced repair method. Locate the area which reflects your trouble, and follow the guide to make your SanDisk device work again.
Common issues developed by SanDisk cards and flash drives:
1st Category
2nd Category
SanDisk write-protected error in Windows. Can't write anything.
Old SanDisk flash drive has developed a few bad sectors, becoming corrupted, inaccessible, unreadable or damaged.
Troubleshooting file system errors similar to the first category via disk formatting
When facing SanDisk problems similar to the lists in the first category, please feel free to download EaseUS Partition Master, the most recommended SanDisk format tool, to have a quick fix with its "format" feature. Go to EaseUS free partition manager page so you can learn more and better about the software.
Guide: Format a Sandisk drive in Windows operating system
Step 1. Insert your SanDisk card or flash drive in a Windows computer. Launch the SanDisk format tool. On the main window, right-click the SanDisk drive partition and choose "Format partition".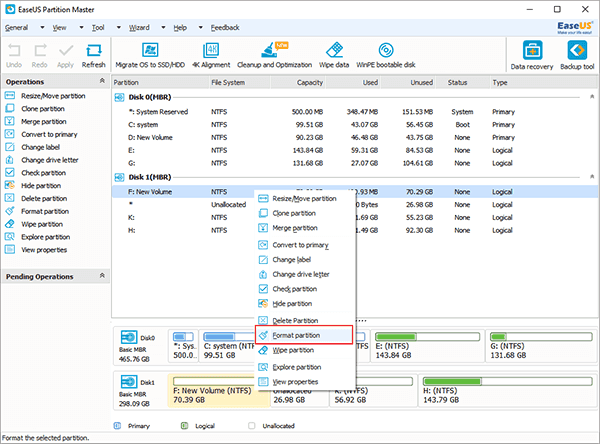 Step 2. A mini window pops out, on which you can edit the partition label and choose a file system such as FAT/FAT32, NTFS, EXT2/EXT3 for your SanDisk drive. Click "OK".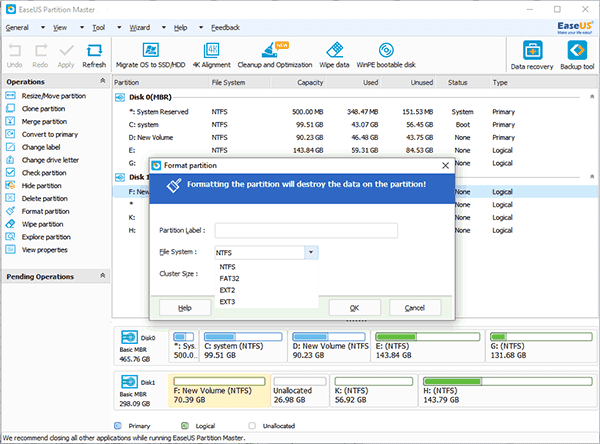 Step 3. Click "Apply" to confirm the format operation on the SanDisk card or flash drive.
Troubleshooting write protection and corruption errors via Regedit/Registry
But for other tricky situations in the second category, the disk formatting method probably won't work. Instead, we find the most advanced solutions for you.
# 1. Repair a write-protected SanDisk SD card or flash drive
If it's about removing the write protection on a micro SD card, there are three ideas to fix a write-protected SD card, including unlocking the lock switch, toggling the loss lock switch and changing the lock feature in the mobile device settings.
Since the USB flash drive doesn't have a lock switch, you can only try to fix a write-protected USB drive using the Regedit.
# 2. Repair SanDisk device not detected by a Windows PC
On the page of how to fix USB flash drive not showing up in Windows 10/8/7, you can learn three basic operations on a not detected drive on a Windows computer. In addition, we looked up the SanDisk knowledgebase and found that there is another Registry fix.
It said that a corrupt registry entry could cause your SanDisk product to not be detected by the computer. Removing the registry keys created on installation of your SanDisk product will allow the computer to fully reinstall the device and may resolve the issue.
Step 1. Backup the registry
1. Unplug the device from the USB port.
2. Run regedit.
Windows XP: Go to Start > Run, type in regedit and then click OK.
Windows 7, 8 and Vista: Click the Start button, type regedit in the search box, and then press Enter.
Window 10: Type regedit, in the 'Search the web and Windows' field (lower-right) and then select 'Regedit - Run Command'.
3. From the registry menu, choose File > Export.
4. Name the file SNDK.reg and save it to your desktop.
Step 2. Remove SanDisk info from the registry
WARNING: DO NOT delete any registry key other than keys that include VID_0781. Deleting registry keys other than keys that include VID_0781 MAY cause your computer to not boot properly.
1. From the registry menu, click Edit and choose Find.
2. Type in VID_0781 and click Find Next.
3. Once the search finishes, right-click the highlighted registry key and select delete.
4. Press the F3 key to find the next registry key that includes VID_0781.
5. Right-click the highlighted registry key and select delete.
6. Repeat this process until the search returns with No results Found.
NOTE: Under Windows 7, 8 and Vista, some registry keys may be protected and cannot be deleted. Simply skip over these keys if you receive a message that the key cannot be deleted.
7. Once all registry keys containing VID_0781 have been deleted, reboot your computer.
8. Plug the device into the computer after it's finished rebooting.