"I tried all methods that I know to connect my USB flash drive with PC. But my computer does not show up any signals of the drive. I have an important file in the drive, can I get it out?"
USB flash drive or SD card not showing up error in PC is a very common problem for many users under Windows system. And quite a lot reasons such as system error, improper operation or RAW disk may lead computer fail to read or detect the USB flash drive or other storage devices. If you are having such a problem, relax and follow below-offered tips to fix/solve USB flash drive not showing up in Windows 10/8/7 problem and get all valuable data back with ease.
Tip: Don't do anything before you find solution to fix USB not showing up error
It's highly recommended for all USB flash drive or other storage devices users to stop making any changes before finding solutions for USB not showing up or USB flash drive becomes undetectable issues in Windows 10/8/7. If you don't know how to fix this issue on your PC and get precious data out of your unreadable USB drive or SD card etc, you may follow below solutions to restore precious data and make your USB drive detectable again:
Now you can follow these offered solutions to fix USB flash drive not showing up or USB drive is missing error in PC without losing any data.
Part 1. Make unreadable or unrecognized USB flash drive detectable
When the USB flash drive does not show up in Windows 10/8/7 system, it means that the computer fails to read the USB drive. Therefore, before we start fixing the USB drive fail to show up issue, we must make it readable again. Here below we have two methods for you to force unrecognized USB drive to show up on PC: update USB flash driver or use disk management tool in Windows to detect the USB drive.
Method 1. Update USB flash drive driver
1. Connect the not working USB flash drive to PC, right-click on This PC/My Computer and choose Properties.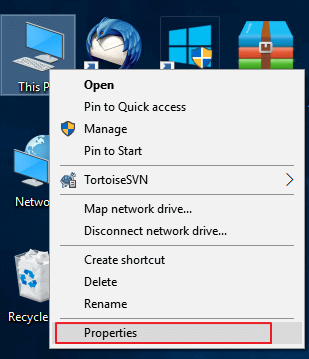 2. Click "device manager" on the left taskbar > Expand USB Serial Bus controller, then you'll see a yellow exclamation mark, and right click on it and select "Update driver" or "update driver software".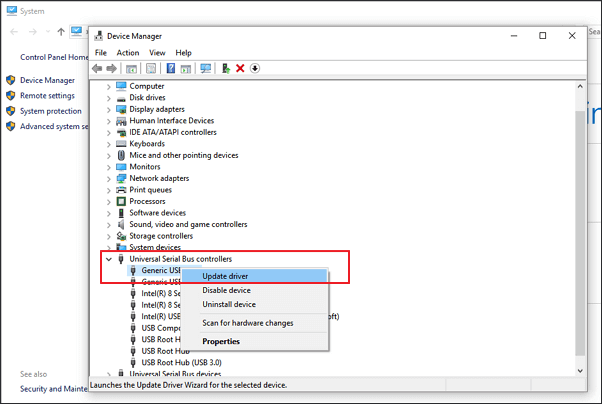 3. Click "automatically search for driver software online"...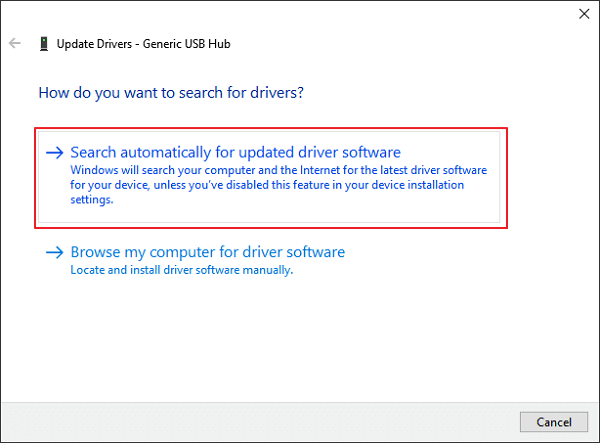 Wait patiently and let the driver to be installed and reboot your computer.
After doing so, you can try to reconnect your USB drive to PC and check whether the USB drive can be detected or not.
Method 2. Use Disk Management and make computer recognize USB flash drive
1. Right-click on Start icon and select Search > Type control panel and hit Enter > Tab on Control Panel.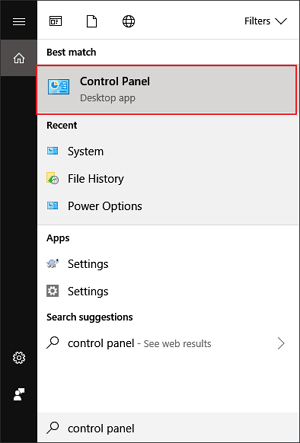 2. Click Administrative Tools > Select Computer Management.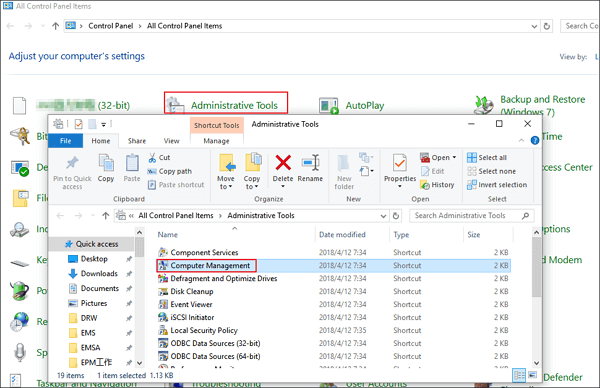 3. When the window opens, click on Disk Management and then find the device in the drive viewer.
4. Right click on the USB flash drive > Select Format to directly format the USB drive to reusable again.

In order to avoid data loss trouble, it's highly recommended for you to perform USB recovery, hard disk recovery or external hard drive recovery to restore data from the USB drive before you format it. If you've already done the format process, don't worry. Professional data recovery software can help you restore data before or after formatting the USB flash drive.
Extra Tip: reinstall disk driver for USB flash drive to make it show up on PC again
Sometimes, you may also try to reinstall the disk driver for USB drive when it fails to show up on your PC. This method works on any Windows systems - Windows 10/8/7 etc. Now, let's see how this works now:
1. Right-click This PC/Computer > Properties > Devices Manager.
2. Click on Disk driver > Right-click on General Flash Disk USB Drive (your USB flash drive) and choose Uninstall.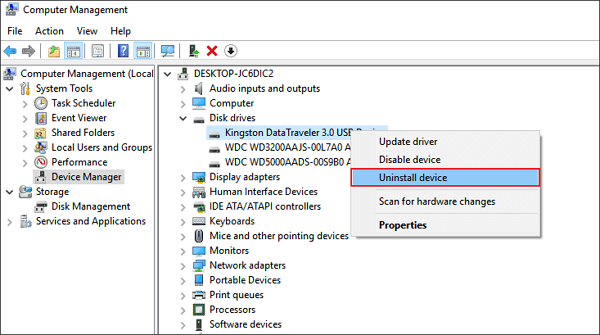 3. Make sure the driver you'll uninstall is named "Flash Disk".
4. Click OK.
Wait patiently to let the process to be finished. If it takes too long, you can remove the USB flash drive from the PC.
5. Reconnect the USB flash drive to the PC and it will now reinstall new device software.
Then PC will read and recognize your USB drive. Then you'll see the USB drive shows up in Windows 10/8/7 and you can even view data inside the drive again.
Part 2. Restore data from USB flash drive
If your computer can read the USB drive but unable to open the drive now or you've already formatted it, don't worry about the data inside the USB drive. EaseUS hard drive recovery software - EaseUS Data Recovery Wizard may help.
It allows you to restore data from undetectable, raw or formatted USB flash drive, hard disk or SD card etc devices with simple clicks under Windows 10/8/7. You can free download if and follow below simple guidance to restore data from USB flash drive now:
1. Connect USB flash drive to your PC and Launch EaseUS Data Recovery Wizard;
2. Run Quick and Deep Scan to find all lost data.
3. Preview and recover found USB drive data.
Do remember to use the Deep Scan recovery mode if you need to restore data from formatted USB flash drive.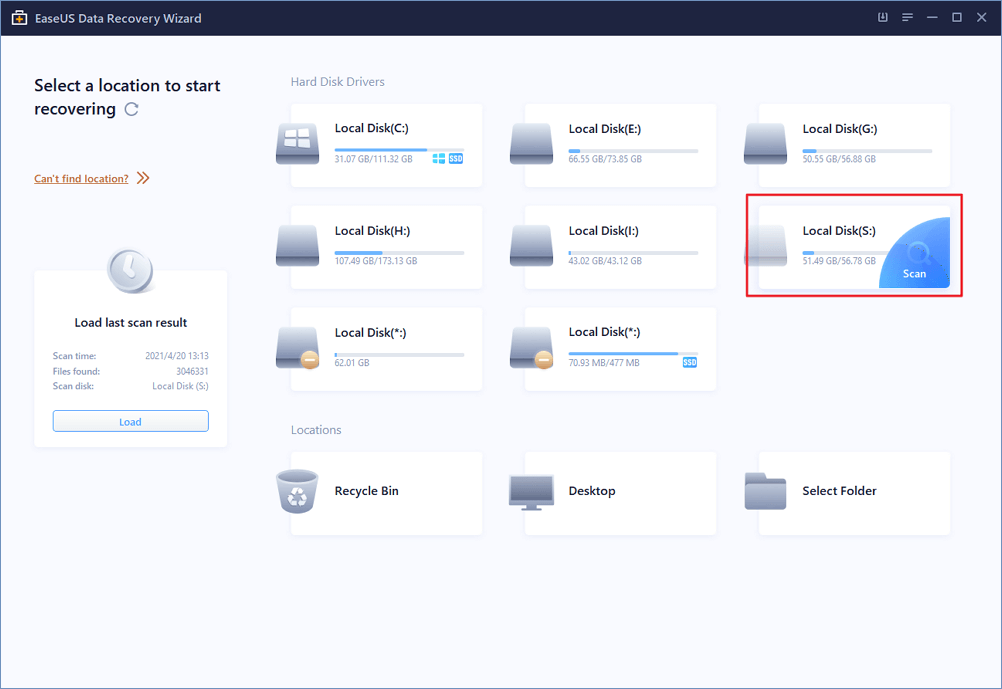 After getting all data back, you need to reformat the USB drive again so to convert the file system back to NTFS in the USB drive, allowing you to store data again.