Summary
You may receive the notification 'The volume does not contain a recognized file system' in USB/external hard drive/partition on your computer when there is something wrong with the file system of your device. Relax and just follow to recover data from the RAW hard drive or inaccessible USB/external hard drive/SD card and more with EaseUS RAW drive recovery software now and fix your device to make it usable again.
About "The volume does not contain a recognized file system" error
You may feel familiar with the following descriptions.
Symptoms
Sometimes, when you plugged in an external hard drive, USB flash drive, SD card or some other storage devices into your Windows computer, Windows prompts "You need to format the disk in drive G: before you can use it. Do you want to format it?"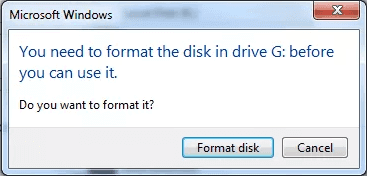 You might click Cancel to refuse to format the disk or card if there are some important data files. Then Windows will prompt "Drive G:\ is not accessible. The volume does not contain a recognized file system. Please make sure that all required file system drivers are loaded and that the volume is not corrupted." This is how usually "The volume does not contain a recognized file system" error occurs in Windows 10/8/7.
Causes
To fix "The volume does not contain a recognized file system" error in Windows 10/8/7 without losing data, you should first figure out why this error happens. Why you receive the error message?
As we know, the most possible reason is file system errors. When there is a file system error on your device, it will become RAW, which is not really a type of file system but presents a problem of your drive. It typically occurs when the file system type information is missing or inconsistent between several system tables. Simply speaking, the file system errors that may lead to the issue in the discussion include:
The file system of your storage device is not recognized by your computer
The file system of your device is missing
Your device is not correctly formatted or the file system is damaged
Such errors will happen if you have ever forcibly unplugged your external hard drive from the computer without "Safely removing" them first. After figuring out what results in "The volume does not contain a recognized file system" error, fixing it without data loss becomes quite easy.
Fix "The volume does not contain a recognized file system" error and recover data
The most effective way to fix file system related issues is to format the storage device. By formatting, you will assign a new file system to the device, which will make the device usable again. However, since formatting will erase all the existing files on your hard drive, you will need to perform data recovery before the fix if you don't want to lose them all. Therefore, to fix an external storage device that has file system errors, all you need to do is to:
First, find a reliable data recovery tool to get back the files
Second, format the device
And then copy the recovered data back to the device according to your needs.
Procedure 1. Recover data from devices with "The volume does not contain a recognized file system" error
Offering powerful and easy RAW recovery solution, EaseUS hard drive recovery software - EaseUS Data Recovery Wizard allows you to recover your data from the RAW drive before formatting the device to change RAW to NTFS/FAT32 file system. It is a proven way to solve "Drive is not accessible. The volume does not contain a recognized file system" issue in Windows 10/8/7/Vista/XP and Windows Server 2012/2008/2003.
Step 1. Connect your device to PC.
If you lost data on an external hard drive, USB or SD card, connect the device to your PC firstly.
Step 2. Run the data recovery software and scan lost data.
1. Run EaseUS Data Recovery Wizard on your PC.
2. Select the device where you lost data under "Hard Disk Drives", "External Devices" or "Specify a location".
3. Click "Scan" to start scanning the lost data now.
Step 3. Preview and restore data.
1. After the scanning, you can double-click each file to preview them from below tabs:
Delete Files: All your deleted files are listed here.
Drive (with your device name): It loads found files here.
Lost Partition Files: Check first if your hard drive is formatted or partition gets deleted.
Extra Files: All files that lost names or paths on your drive can be found here.
After this, you can even use "Filter" or "Search" to quickly find all your lost data.
2. Finally, you can choose those lost data and specify a safe location on your PC to complete the data recovery process by clicking "Recover" now.
Procedure 2. Fix and repair disk with 'the volume does not contain recognized file system' error
After restoring data from devices which are not accessible or cannot be recognized, you can now follow below steps to repair and fix devices such as external hard drive, USB drive, SD card or hard drive partition etc and repair the file system to be recognizable/detectable again:
Right-click "This PC"/"My Computer" > "Manage" > "Disk Management";
Right-click on the RAW drive, USB, SD card... > Format Volume > Reset File System (NTFS/FAT32 etc.) and rename the device;
Click "Finish" to complete 'the volume does not contain a recognized file system' error repair process on storage devices.
Procedure 3. Copy the files back to your storage device
After formatting your removable disk you can open it and use it for data storage again. You can copy the files you recovered back to your external hard drive, USB, memory card... to make it just like before.
The Bottom Line
If there is no data on the external storage device or you don't want to keep the files on it, you can format the device directly to remove the error message "The volume does not contain a recognized file system." But if you don't want to lose any item, you are highly recommended to retrieve the data first before the formatting. Although EaseUS data recovery software supports formatted data recovery, it's always better to rescue your files before the operation.
100% of people found this article helpful.
Frequently Asked Questions
1. Why cannot I recover 2GB data for free?

It is recommended to check the version installed is Free or Trial because they are different versions.

Trial has data preview function but cannot save any files, while the Free version enables to recover 2 GB files. The default free space is 500 MB and you may share the product on social media to get another 1.5 GB.
2. Why cannot the recovered files be opened?

A file is saved as 2 parts on the storage device: directory info (which is comprised by file name, time stamp and size info, etc.) and data content.

If the files with original file names and folder structures cannot be opened, one possible reason is the corrupted directory info. There is still a chance to recover the data content with the RAW Recovery method in our software.
3. Why isn't it suggested to recover the files back to the original drive?

The storage structure of the lost files would be altered or damaged by any changes on the drive. If you save the recovered files back to the same drive, the original data structures and data content would be corrupted or overwritten, which causes permanent data loss. So you should prepare another disk to save the files.
4. How can I check whether my data is recoverable or not before purchase?

The Free version helps you save 2GB files to better verify the recovery quality of our product before purchase.
5. How long does it take to scan the drive?

It strongly depends on the capacity of your hard drive and the performance of your computer. As reference,most drive recoveries can be completed in around 10 to 12 hours for a 1-TB healthy hard drive in general conditions.
About Data Recovery Wizard
It's super easy to recover 250+ types of files after deletion, disk formatting and virus infection. Click the links and compare the difference of each version.