PAGE CONTENT:
Solution 1. Click the provided link "Check the disk for errors"
Solution 2. Run System File Checker Scan (SFC) to fix corrupted system files
Solution 3. Run CHKDSK /F to check and repair disk errors
Solution 4. Perform disk defragment by choosing a proper method(software recommended)
Error Explanation
"Windows has detected file system corruption on local disk (C:). You must check the disk for errors before it can be restored."
It's a Windows 10/8/7 System Restore error that suggests either a file system corruption on the selected hard disk or corruption of Windows system files. By facing this error, you cannot perform any system restore point until the exact error was thoroughly resolved.
You may receive another two similar error messages: "The local disk (C:) has errors" and "The disk OS (C:) has errors."
Whenever you're faced with the above error messages, you can't run the System Restore to the end. Check this page's solutions because you need the help.
Solution 1. Click the Provided Link "Check the Disk for Errors"
Do not try too hard if it's the first time to get this error! On the dialogue box beneath the full error message, there is a link which says: "Check the disk for errors". This is where you can get the most straightforward troubleshooting solution from Microsoft. Click this link and let Windows run the disk check and do the repair for you. After this step, reboot your computer and try to perform the restore again.
Move on to the following advanced solutions if you're out of luck to overcome the trouble after the initial attempt.
Solution 2. Run System File Checker Scan (Sfc) to Fix Corrupted System Files
Follow the step-by-step instruction provided here to use the System System File Checker tool to scan system files and repair missing or corrupted system files. Those system files in question are prominent reasons for the Windows being unable to run System Restore properly.
1. Right-click the "Start" button and select "Command Prompt (Admin)".
2. Type sfc /scannow into the Command Prompt window and press Enter to run a full system scan.
Solution 3. Run Chkdsk/F to Check and Repair Disk Errors
Like we previously mentioned, the "Windows has detected file system corruption" is largely attributed to two factors. We provided you with solutions to deal with the system files issue in the second solution; now it's time to focus on the other suspicious factor which is related to hard disk errors.
1. Click "Start", and then Run.
2. In Open, type cmd, and then press ENTER.
3. To run chkdsk on C drive, type chkdsk c: /f, and then press Enter.
CHKDSK Alternative
If you don't have any technical know-how and want to minimize data risks, using third-party software could be a better choice. The Command line is suitable for computer professionals since wrong commands can cause severe problems. Therefore, we strongly recommend you to try an automatic command line alternative.
EaseUS Tools M is a practical computer fixing tool that is safe and light-weighted. It's a perfect alternative to CHKDSK command. Use this one-click tool to solve your computer issues.
To fix file system error or disk error:
Step 1:  DOWNLOAD EaseUS Tools M for Free and install it.
Step 2: Open the software and select "File Fixing" on the left pane.
On the right pane, choose the drive and check off the box at the bottom - "Check and fix file system error". Then, click "Fix" to start repairing the error.
Step 3: Wait until the operation completes. Wait until the operation completes. After the operation completes, click the "View" button to check the drive.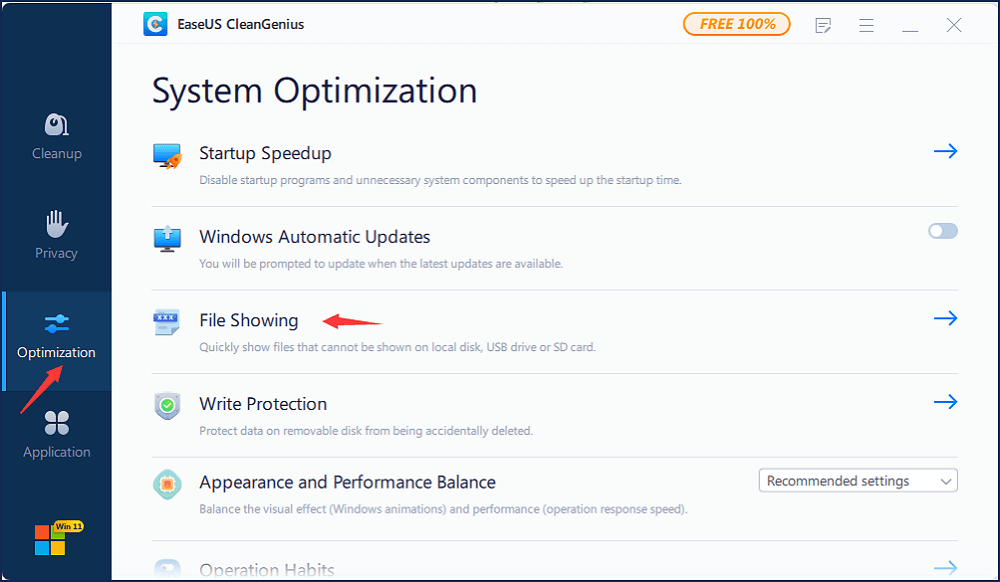 Tip:
1. If the Chkdsk gets stuck unfortunately at a certain percentage number, click this post to get over with it.
2. While performing chkdsk on the hard drive, if any bad sectors are found on the drive, the command will execute the operation to repair the sector. So, all data on that sector will be lost. If it's important data you don't want to lose, after all the repair was done, download EaseUS free file recovery software to recover files deleted by Chkdsk. It's easy and quick.
Select the hard drive after Chkdsk and click "Scan".
Scan all over the hard drive to find lost data.
Preview and select files you wish to restore and click Recover.
Solution 4. Perform Disk Defragment by Choosing a Proper Method
This is a final step to check if the hard drive errors were solved and optimize your hard drive as well. You can run a disk fragment from the command prompt or using a third-party free partition manager.
Option 1. Defrag a Hard Drive from the Command Prompt
Open Command Prompt and type defrag.exe c: -a and press Enter
 Notice:

Due to a different internal composition, this command prompt's way does not apply to SSD. If it's an SSD that Windows detected a file system corruption error, only the free partition manager can work.
Option 2. Defrag a Hard Drive with Partition Manager Software
Guide 1: how to defrag a hard drive?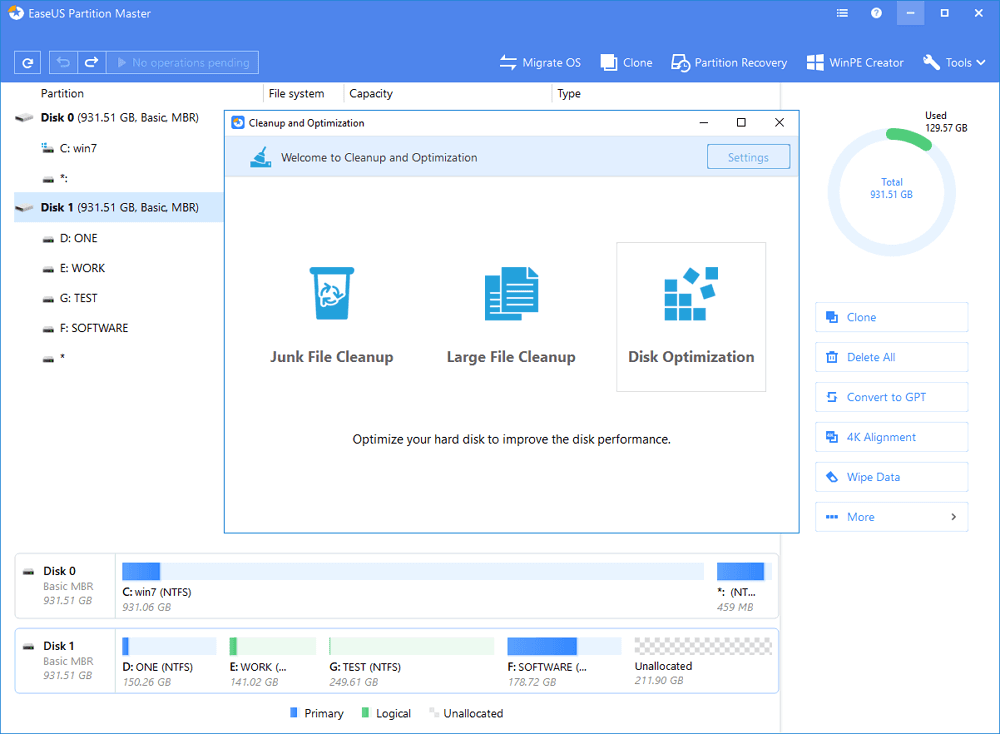 Guide 2: How to defrag an SSD without affecting its performance?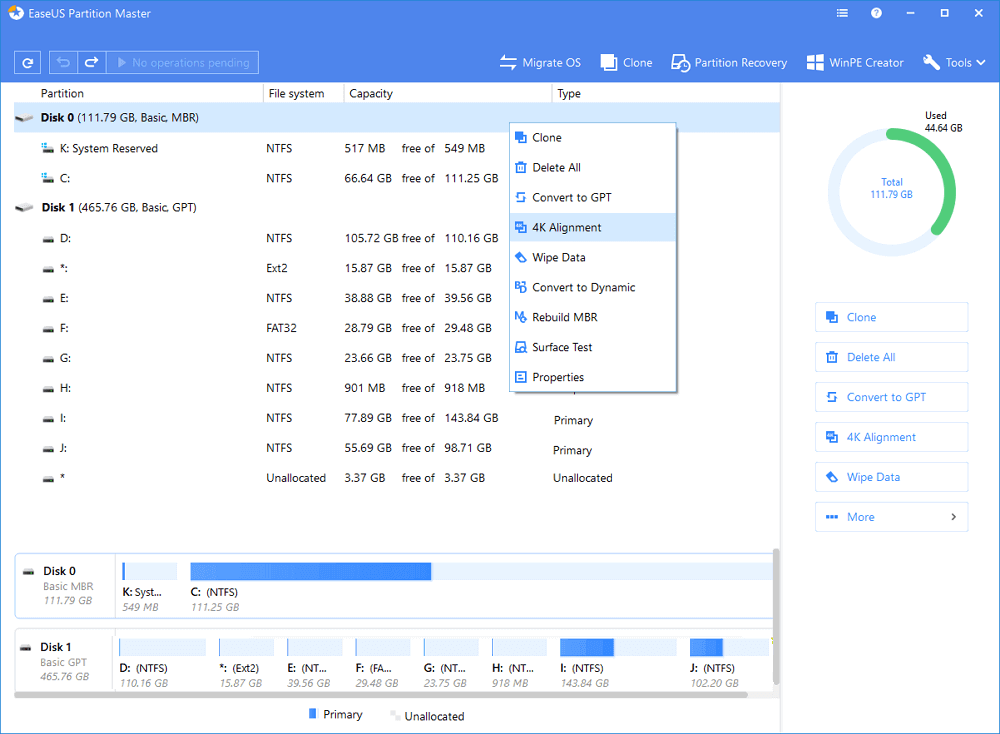 Make sure that you have tried at least one solution to work on "Windows has detected file system corruption" error. You can perform the system restore after taking the corresponding solutions many times.
100% of people found this article helpful.
Frequently Asked Questions
Why Choose EaseUS Partition Master?

"I've used Partition Master Professional many times to create, delete, format, move, rename, and resize partitions." —PCWorld

"Partitioning tools have come a very long since the days of complicated command line utilities and EASEUS Partition Master is one of the most advanced programs available." —TECH ADVISOR

"I love that the changes you make with EaseUS Partition Master Free aren't immediately applied to the disks. It makes it way easier to play out what will happen after you've made all the changes." —Lifewire
Will the "Migrate OS" feature transfer the Windows system files only or the whole C drive?

To ensure that the migrated system will boot normally, the Migrate OS feature will transfer all the files in the system and the boot partitions. Generally, the boot partition is the C drive so the transfer will include all the files in C.
Does EaseUS Partition Master license apply to multiple computers?

The license of Partition Master Professional and Server editions can be used on 1 computer only, while that for for the Technician and Unlimited editions can be used on multiple machines.
What is the difference between EaseUS Partition Master Trial version and the Free version?

Free is for home users only, with most basic functions available such as partition resize and clone. While trial can help you understand how this product works and test what a full license can do on a business or server OS machine.
Will it cause any data loss after resizing the partition in EaseUS Partition Master?

Generally, it will not cause any data loss or boot issue by resizing a partition. However, in order to protect your data, we suggest that you backup the partition before resizing, in case of any unexpected situations such as power outages, computer hardware failures, etc. You can use EaseUS Todo Backup to backup the partition and its trial version is fully functioned for 30 days.
What should I prepare before resizing the partition?

On the partition that is going to be operated, there might be some files being occupied by other programs. To ensure a successful operation, we suggest that you close all the unnecessary software before resizing that partition. Otherwise, EaseUS Partition Master will detect the partition being locked by the other software and require a reboot to resize the partition under boot mode.
About EaseUS Partition Master
All-round disk & partition management software for personal and commercial use. Let it manage your storage drive: resize, format, delete, clone, convert, etc.