Quick Navigation:
When you plug a new USB flash drive or external hard drive in the Windows computer, the system will automatically open a window saying that your device needs to be formatted, and providing three different file formats: NTFS, FAT32, exFAT. 
Many users know very little about these three file formats, they just operate according to the instructions of the pop-up window. Windows does not provide detailed explanations for the three formats, either. Don't worry, this article will explain these issues in detail.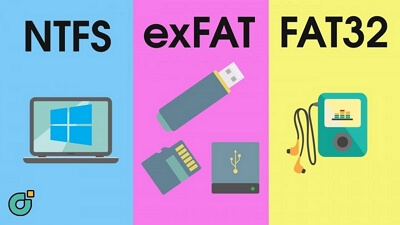 What is File System?
First of all, we'd like to introduce what is the file system. The file system is the way the system stores and arranges files. The differences between different file systems are related to how data is stored on the hard drive. Also, they differ from each other in file names, file permissions, and other attributes. 
The Windows operating system supports three different file systems: NTFS, FAT32, and exFAT. NTFS is the most widely used modern file system in recent years. Most of the built-in hard drives of Windows computers are in NTFS format. FAT32 has a longer history than NTFS. It cannot support some modern file format but is more compatible with different system platforms, such as Linux, Mac, and Android. exFAT is an alternative to the FAT32. Many devices and operating systems support this file system, but not many are currently used.

The Differences Between exFAT, FAT32, and NTFS
Now it's time to illustrate the differences between these three file formats.
NTFS: NTFS stands for New Technology File System. It is the default new file system created for HDD and SSD by Microsoft and was popularized after Win 2000. NTFS performs quite well in security, ease of use, and stability. Now it is the most widely used file system and supports MBR hard drives up to 256TB, GPT hard drives up to 128EB. On the computer, it is suggested to choose NTFS when you partition the hard drive. But it is not recommended to use NTFS for the USB flash drive, as it will greatly shorten the lifespan.
FAT32: FAT32 stands for File Allocation Table 32. It was first introduced in Windows 95 to replace the old FAT16 file system. Generally, all USB flash drives have a FAT32 file system. The biggest advantage of FAT32 is its compatibility, it can be applied to any operating system. But the main drawback is that it only supports transferring a maximum single file size of 4GB. If you want to transfer files larger than 4GB, you would receive the error message "The file is too large for the destination file system".
exFAT: exFAT stands for Extended File Allocation Table. It is a new file system created by Microsoft to replace the FAT32. The main difference between FAT32 and exFAT is that exFAT supports transferring files larger than 4GB. And it works well on both Windows and Mac computers, which is more compatible than NTFS. Its biggest disadvantage is that there is no file log function, so it can not record the disk modification record.
How to Convert Between exFAT and FAT32 and NTFS for Free
As every file system has its defect, sometimes users may want to convert one file system to another. Is there any tool that can help users convert between file systems? Yes! One such tool recommended is EaseUS Partition Master Free. 
As the name implies, EaseUS Partition Master Free is designed for users to manage partitions. It supports users to resize, move, merge, and create partitions. It also supports users to self-troubleshooting some simple problems, such as fix low disk space, check disk errors, and cannot extend volumes.
To convert between exFAT, FAT32, and NTFS, you just need simple clicks within EaseUS Partition Master Free. Now please download this free tool, and follow our guide to see how to convert one file system to another. Here we will take converting FAT32 to NTFS as an example.
Part 1. Convert FAT32 to NTFS
Step 1. Install and launch EaseUS Partition Master on your computer.
Step 2. On Partition Manager, right-click on a FAT32 partition and click "Advanced", select "NTFS to FAT".
Step 3. Click "Proceed" on the pop-up dialog box to continue.
Step 4. Click "Apply" to start the converting process. Wait until the operation process is finished.
Part 2. Convert exFAT to FAT32
If you want to convert exFAT to FAT32, you can follow the guide below to format your device to FAT32.
Step 1. Launch EaseUS Partition Master, right-click the partition you intend to format and choose "Format".
Step 2. In the new window, enter the Partition label, choose the FAT32/EXT2/EXT3/EXT4 file system, and set the cluster size according to your needs, then click "OK".
Step 3. Then you will see a warning window, click "Yes" in it to continue.
Step 4. Click the "Execute 1 Task(s)" button in the top-left corner to review the changes, then click "Apply" to start formatting the partition to FAT32/EXT2/EXT3/EXT4.
The Bottom Line
Some users might ask, which is better, exFAT, FAT32, or NTFS? Actually, there is no best choice. If you are formatting an HDD or SSD, then it is recommended to format it in NTFS. If you got a new USB flash drive, you'd better format it in FAT32 or exFAT. The main difference between FAT32 and exFAT is whether it can transfer files larger than 4GB. These three file systems have their advantages, flexible application of these file systems can help you better manage your partitions and drives.
Updated by Tracy King 
Tracy joined in EaseUS in 2013 and has been working with EaseUS content team for over 7 years. Being enthusiastic in computing and technology, she writes tech how-to articles and share technical solutions about Windows & Mac data recovery, file/system backup and recovery, partition management and iOS/Android data recovery.
Written by Gemma
Gemma is member of EaseUS team and has been committed to creating valuable content in fields about file recovery, partition management, and data backup etc for many years. She loves to help users solve various types of computer related issues.