
Table of Contents

About the Author

Reviews and Awards
Quick Fix to the 'Drive is not accessible' Error:
If you see an Access is denied error message, then it could be that you need to adjust the Owner's status in Windows. This doesn't sound very easy, but it's pretty simple. Here's what you need to do.
Right-click on the inaccessible hard drive and select Properties.
Go to the Security tab, hit Advanced, then click the Edit button.
On the Owner tab, modify the ownership of the specified account.
Drive is Not Accessible on Windows 10/8/7
Sometimes hard drives, external storage, and USB flash drives can be affected by viruses or power failures, rendering them inaccessible by Windows. If the disk has become corrupted, reformatting the partition can be a quick fix. However, all data on that partition will be erased during the reformatting.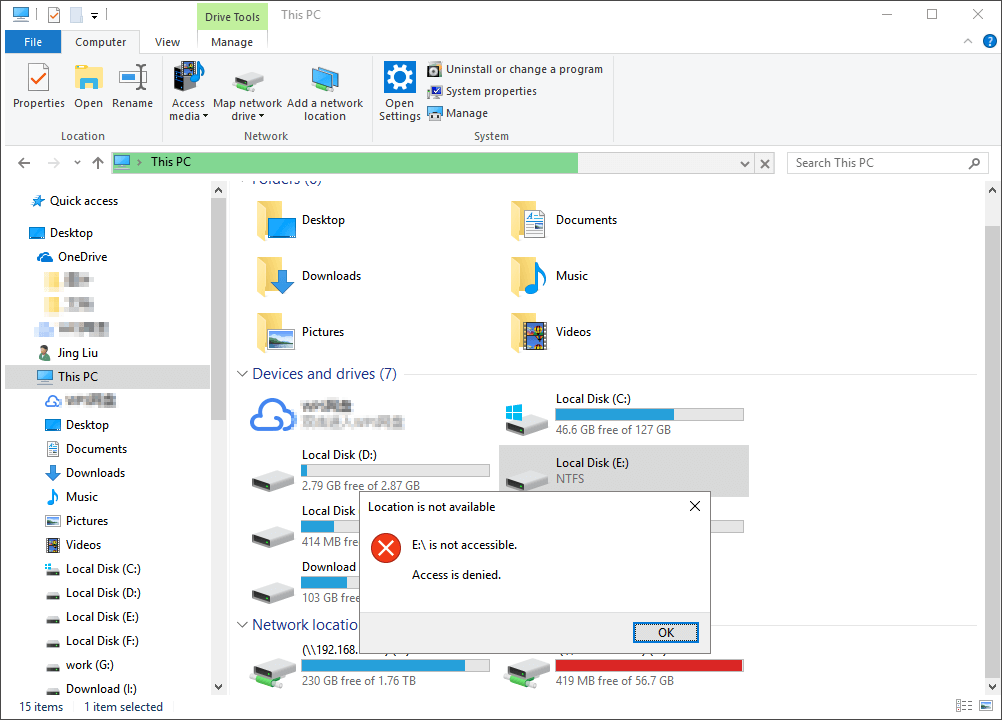 As the "Drive is not Accessible" error doesn't allow you to open any files on the disk, you cannot back up the data stored there. So, you'll want to hold off reformatting the partition until your files are safe.
Should you have already reformatted your drive and lost the data, you may still be able to get the files back. When you delete something on a PC, the files aren't destroyed, but the space they occupy on the disk is made available to the system so it can write over them. it's essential then that you don't use your PC at all, as writing anything to the disk could overwrite your files. Instead, download the EaseUS hard drive recovery software and use it to recover formatted partition data.
Common Error Messages for Drive Not Accessible
With this particular problem, you'll often have the primary error message location is not available, followed by a secondary one pointing at the type of issue the PC is experiencing. These can be very helpful when working out what repair method to employ. Here are some of the most common problems.
Effective Solutions to Fix Hard Drive Not Accessible
Of all the reasons listed above, the most common is the drive not accessible and denied access. So, in the next section, we have a step-by-step guide on how to fix this issue in Windows.
Method 1. Fix the "Drive is not accessible. Access is denied" Error via Properties
Usually, when your external hard drive shows the "Drive is not accessible. Access is denied" error message, it is because you don't have the proper privilege settings in Windows. So, to fix the issue, you have to take ownership of the drive. Here's how to do it:
Step 1. Right-click on the inaccessible hard drive and select Properties.
Step 2. Go to the Security tab, hitAdvanced, then click the Edit button.
Step 3. On the Owner tab, modify the ownership of the specified account.
In the above image, you can see how you can change the ownership of the drive. It's also possible to add a new user so that anyone with access to the PC will be able to read the drive. This "Everyone" setting is convenient, but it does increase the risk of exposing your computer to anyone who knows the password to your PC.
Here's a demonstration of how to fix the 'drive is not accessible, access is denied' error via properties:
Method 2. Fix Drive Not Accessible via Hard Drive Repair Service
Sometimes data storage devices, HDDs, memory cards, or USB sticks are not recognized by the operating system, making them inaccessible to professional or personal data. We provide an effective manual hard drive recovery service to fix it. You can repair your inaccessible drives with the help of experts.
SalvageData Recovery Services
Click here to contact experts for a free evaluation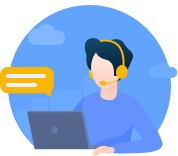 Consult with SalvageData's experts to retrieve data from inaccessible or corrupted data from all brands and formats of digital media.
Certified ISO–5 class 100 cleanroom recovery
Free diagnostic, no data, no charge
Support all operating systems and devices
Offer a range of turnaround times for fast recovery
Method 3. Fix the 'Drive is not accessible' Issue with CMD Command
If the "drive is not accessible" issue is accompanied by a secondary message that isn't "access is denied", then there's a strong likelihood that the cause could be a file system or data corruption, disk errors, or bad sectors. In this case, you'll need to run the CHKDSK tool in Windows. Here's what to do:
 Warning

Running chkdsk can hopefully fix the drive is not accessible errors, so change it to the letter that matches the one showing on your PC.
Step 1. Plug the external hard drive, USB drive, or memory card into your PC.
Step 2. Open a Command Prompt.
In Windows 7, Click Start, type in "cmd" in the search box, hit Enter, and then click "cmd.exe" under the list of programs.
In Windows 10/8, press the Windows Key + X buttons and select the Command Prompt (Admin) option.
Step 3. In the new Command Prompt window, type chkdsk E: /f /r. (Here, E is the drive letter of the disk which shows the "drive is not accessible" error.)
Check this video to fix the error "drive is not accessible access is denied Windows 10".
01:01 Run error checking via properties
01:35 Check the drive in Disk Management
02:13 Run Command Prompt to fix access denied error
03:19 Access the drive again
Method 4. Recover Data and Format Drive Affected by "Drive not accessible" Error.
If you still experience the error after trying the above methods, we recommend using the EaseUS Data Recovery Wizard. This excellent file recovery program can help you retrieve files from inaccessible drives and can be a lifesaver when you fear you've lost your data.
For the best results both with restoring data and getting your drive working once more, it's always a good idea to try the recovery first, followed by reformatting.
Step 1. Scan the hard drive partition
Select the drive on your hard disk where you lost or deleted files. Click "Scan" and let EaseUS data recovery software scan for all lost data and files on the selected drive.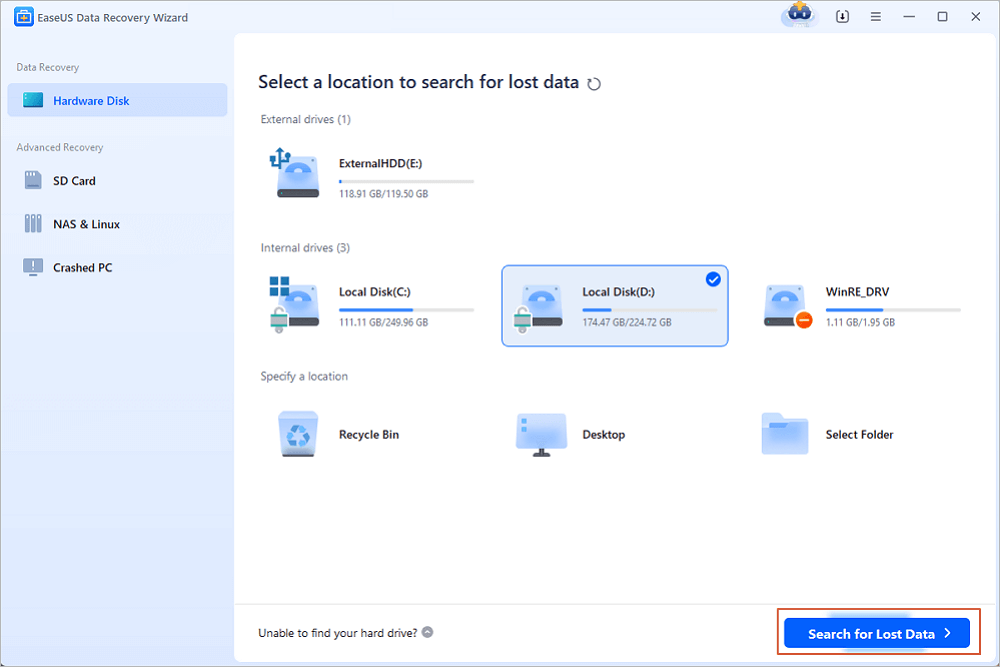 Step 2. Check the results
When the scan completes, you can apply the "Filter" feature or click the "Search files or folders" option to find the lost files on the hard drive.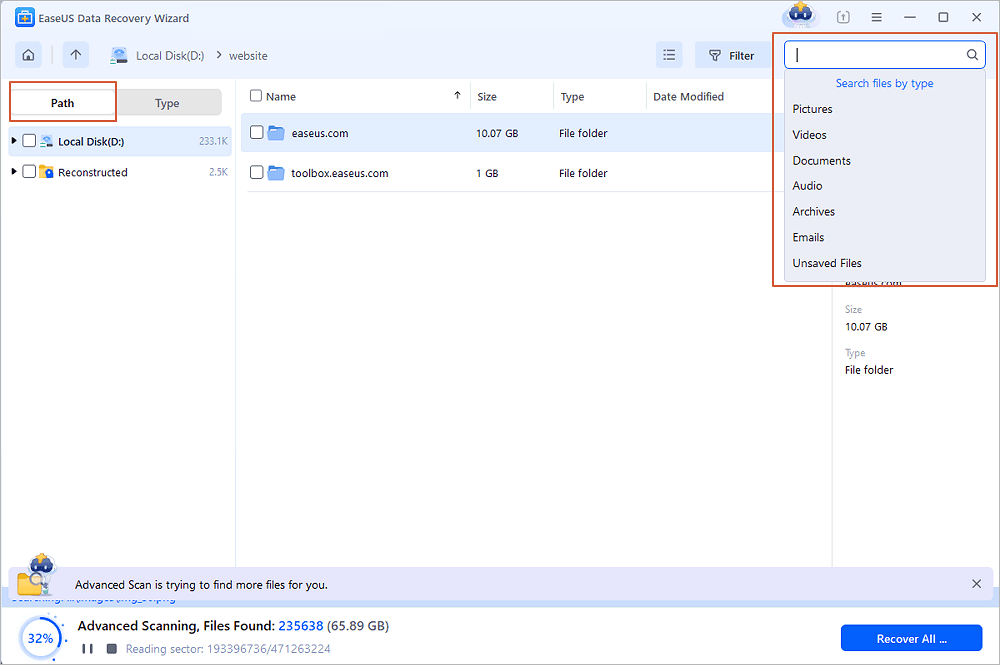 Step 3. Restore lost hard drive data
Select wanted files that you lost on the drive and click "Recover" to save them to another location.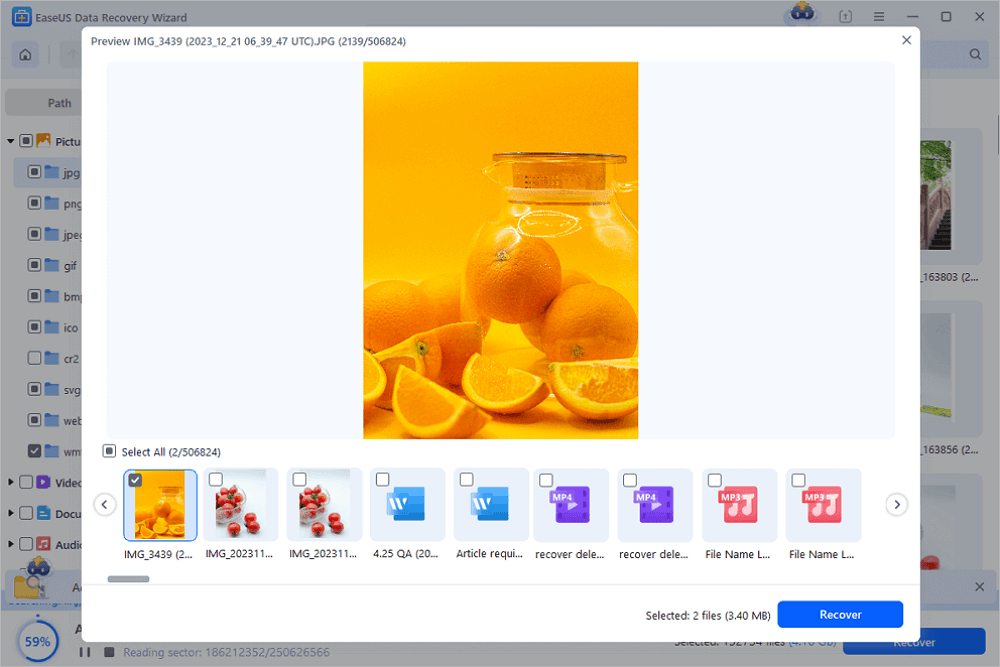 Once the data recovery is complete, you can reformat the drive and hopefully get it back to a healthy state. To do this, take the following steps:
1. Go to My Computer or This PC and right-click the disk you need to repair.
2. Choose the "Format" option.
3. In the pop-up window, you can set the file system and cluster size, click the "OK" button, and Windows will take care of the rest.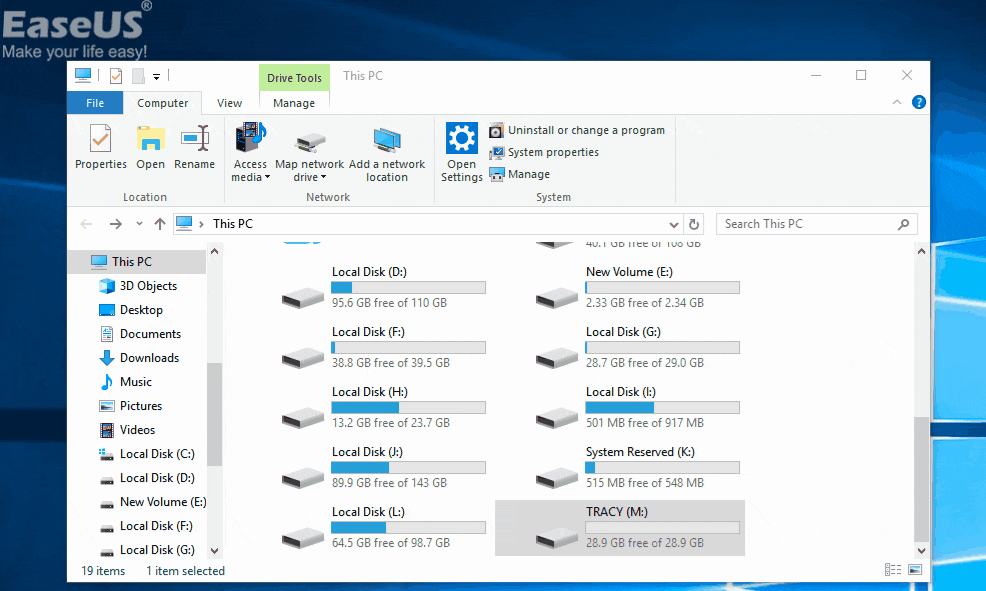 Conclusion
You have learned four effective solutions to fix the drive not accessible error in Windows 11/10/8/7. These methods also work well if you use an external hard drive, SSD, USB flash drive, pen drive, and SD card. Before you format your hard drive, you are advised to run EaseUS Data Recovery Wizard to avoid data loss.
Drive Not Accessible FAQs
There are some related questions and answers below. Read them one by one to get additional help.
1. Why is my new hard drive not accessible?
Since the hard drive is completely new, it is recognized as an unallocated space. Disk Management can't access it. Thus, you must initialize a new disk before Disk Manager can access it.
2. How to access a hard drive that is not accessible?
To access a hard drive:
1. Check disk error from Property
2. Turn to disk repair service
3. Run the CMD command...
3. Why is my network drive not showing?
One of the reasons for the network drive not showing up is the use of UAC (User Account Control). Two options are available on the screen whenever you log onto any window as an admin. One admin is provided with the rights, and the other is without rights. Usually, a standard user cannot see the Mappen Network Drive because of limitations in the account.

Cedric Grantham is one of the senior editors of EaseUS who lives and works in Chengdu, China. He mainly writes articles about data recovery tutorials on PC and Mac and how-to tips for partition management. He always keeps an eye on new releases and loves various electronic products.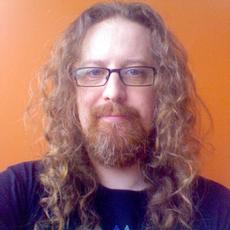 Approved by Martyn Casserly 
Martyn Casserly has been involved with tech ever since the arrival of his ZX Spectrum back in the early 80s. He covers iOS, Android, Windows and macOS, writing tutorials, buying guides and reviews. He is a professional content contributor for many known ITwebsites like Macworld.co.uk and techadvisor.com.
EaseUS Data Recovery Wizard is a powerful system recovery software, designed to enable you to recover files you've deleted accidentally, potentially lost to malware or an entire hard drive partition.

 Read More

EaseUS Data Recovery Wizard is the best we have seen. It's far from perfect, partly because today's advanced disk technology makes data-recovery more difficult than it was with the simpler technology of the past.

 Read More

EaseUS Data Recovery Wizard Pro has a reputation as one of the best data recovery software programs on the market. It comes with a selection of advanced features, including partition recovery, formatted drive restoration, and corrupted file repair.

 Read More