User Case: How Can I Recover Corrupted Files from USB Drive
"Please help me to recover corrupted files from an external USB hard drive (USB Buffalo). I have important documents and photos on it, and I need them very badly. Your help is highly appreciated. Thank you."
The USB storage media is prone to corruption/damage due to virus attacks, abrupt removals, or sudden power outages, leading to data corruption and file loss. To recover corrupted files from USB and fix a damaged USB flash drive without formatting, follow the methods below.
How to Recover Corrupted Files from USB with Data Recovery Software
Whether you want to recover corrupted files from USB or retrieve files from a corrupted USB flash drive, you can use EaseUS Data Recovery Wizard. This data recovery tool enables you to recover more than 1000 file types from corrupted, damaged, or formatted HDD, SDD, USB flash drive, external hard drive, pen drive, SD card, CF card, etc. And, it can repair corrupted files automatically after data recovery. You can repair corrupted videos, photos, Word, Excel, PDF, and other document files. 
If your USB flash drive gets corrupted, and you can't open or access files in it, you can use this reliable third-party data recovery program to recover files with ease. Download this file recovery tool to recover files from corrupted USB as long as your device can still be recognized by your computer. 
Take the following steps to recover files from a corrupted USB flash drive:
Step 1. Choose the USB drive to scan
Launch EaseUS Data Recovery Wizard and choose your USB drive where you lost important files. Click "Scan" to start.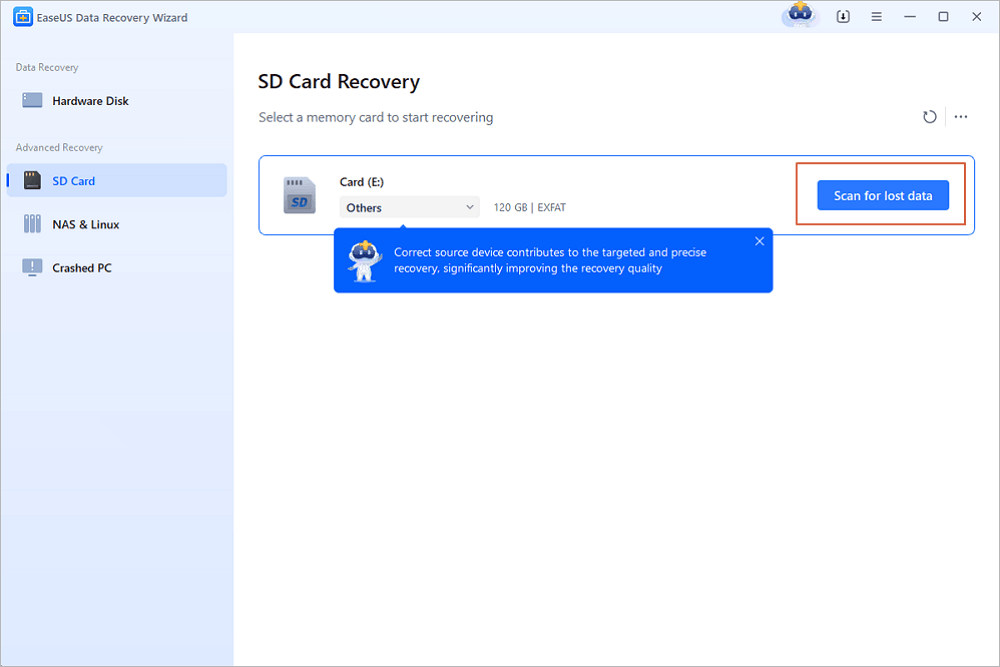 Step 2. Check and preview USB drive data
When the scanning is finished, you can quickly locate a specific type of file by using the Filter feature as well as the Search option.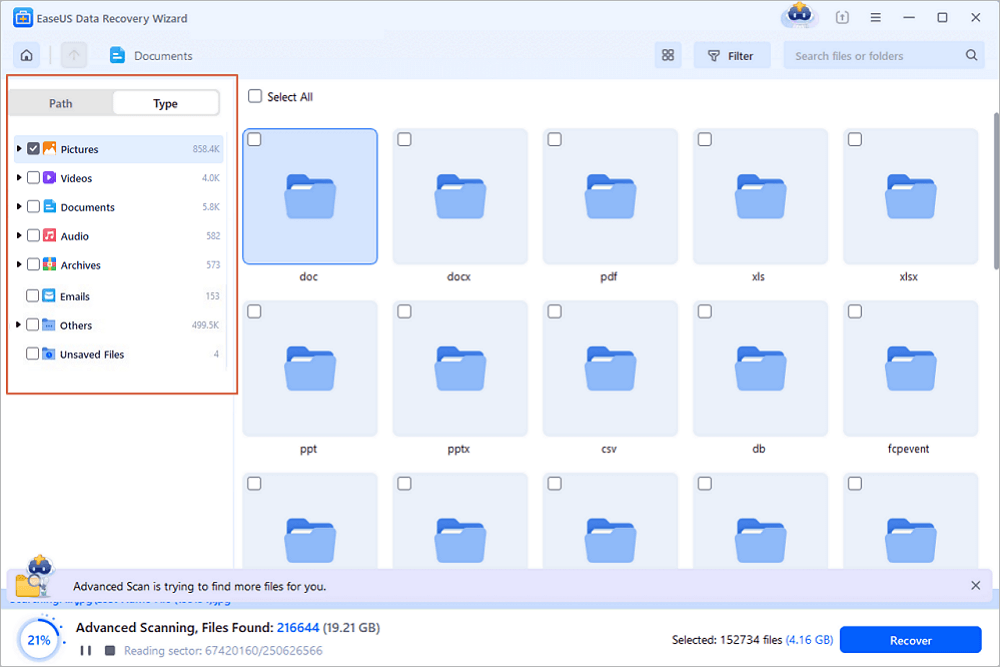 Step 3. Restore flash drive data
After checking and finding lost USB drive files, click "Recover" to restore them. You shall save the found files to a safe location on your PC rather than to your USB drive.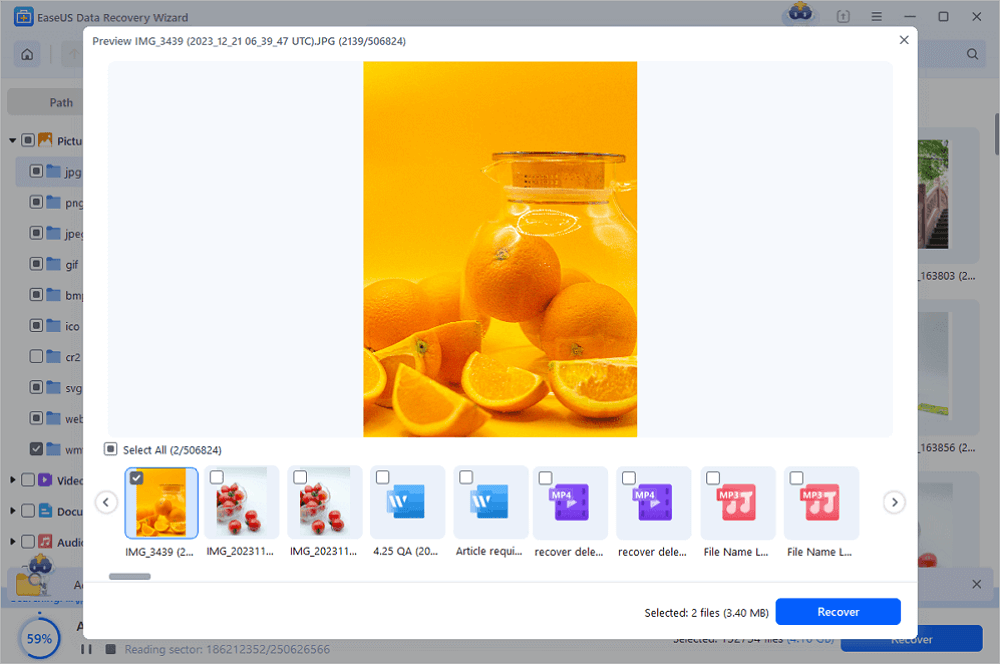 Don't miss: How to Fix USB Flash Drive Not Showing Up in Windows 10/11
How to Recover Corrupted Files from USB/Pen Drive by Fixing File System Errors 
Use the Windows Disk Check tool to check your USB flash drive for file system errors. When the fixing is finished, you can retrieve corrupted files on USB. 
Step 1. Connect the USB to your computer. Go to My Computer/This PC and find your USB drive.
Step 2. Right-click the USB drive and click "Properties".
Step 3. Click on the "Tools" tab.
Step 4. Click the "Check" button under Error checking.
Step 5. Windows will fix any disk error it finds. After the process, try to open your USB drive and restore your files.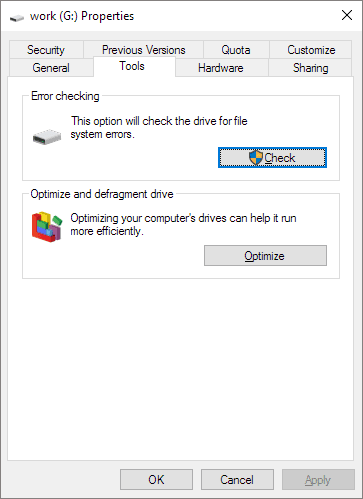 How to Recover Corrupted Files from USB Using CMD
If your USB file system is corrupted, your USB cannot be opened and accessed. In addition to repairing damaged file systems with the Windows Disk check tool, you can also use the CHKDSK command lines in Command Prompt to fix the corrupted USB drive and recover files.
Step 1. Plug the corrupted USB flash drive into your computer.
Step 2. Click the search box and type cmd. You'll see Command Prompt in the search results. Right-click Command Prompt and choose "Run as administrator".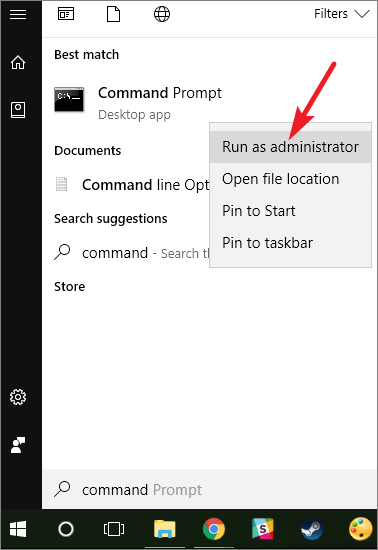 Step 3. Type chkdsk /X /f G: (replacing G with your USB's drive letter) in the Command Prompt window and hit Enter. The chkdsk operation will start to check errors and repair the damaged USB drive.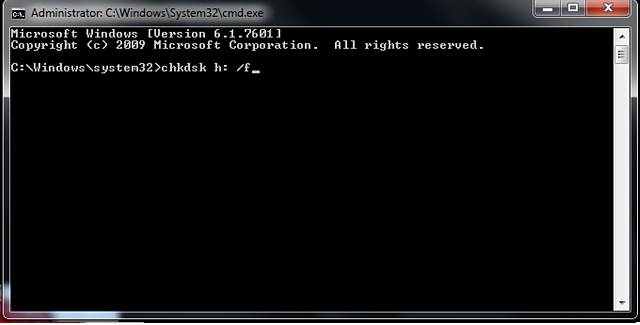 Don't miss: Fixes for The Type of the File System Is RAW, CHKDSK Is Not Available for RAW Drives
How to Recover Corrupted Files from USB Flash Drive/Pen Drive with a Free USB Repair Tool
If command line is not your ideal choice, you can apply this command-line alternative tool - EaseUS CleanGenius. Use this one-click tool to fix the file system error on your hard drive.
Step 1. Download EaseUS CleanGenius on your computer for free.
Step 2. Run the software. Click "Optimization" on the left panel, and then choose "File Showing" .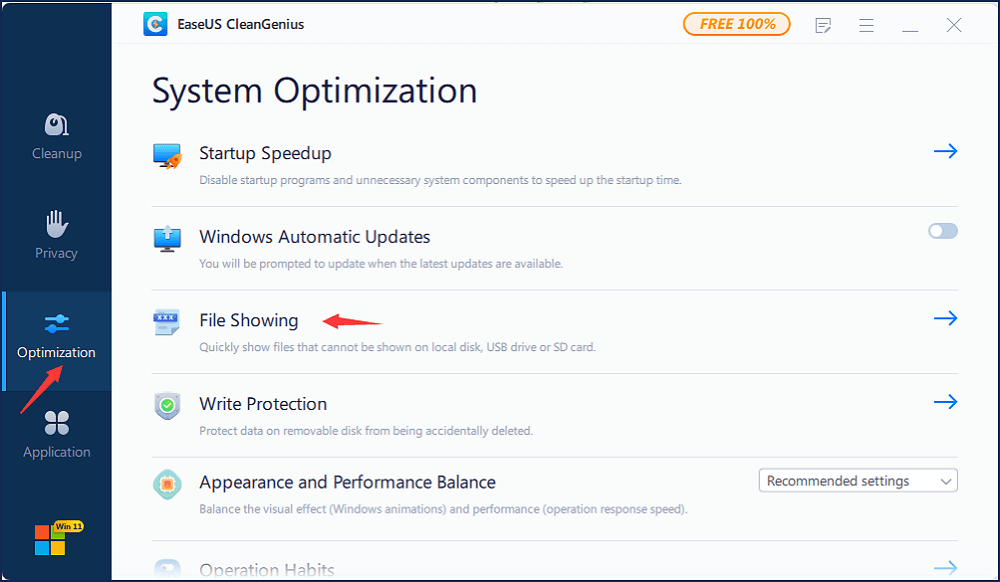 Step 3. Go to "Choose drive" and select the drive with a file system error. Check the "Check and fix file system error" option and click "Execute".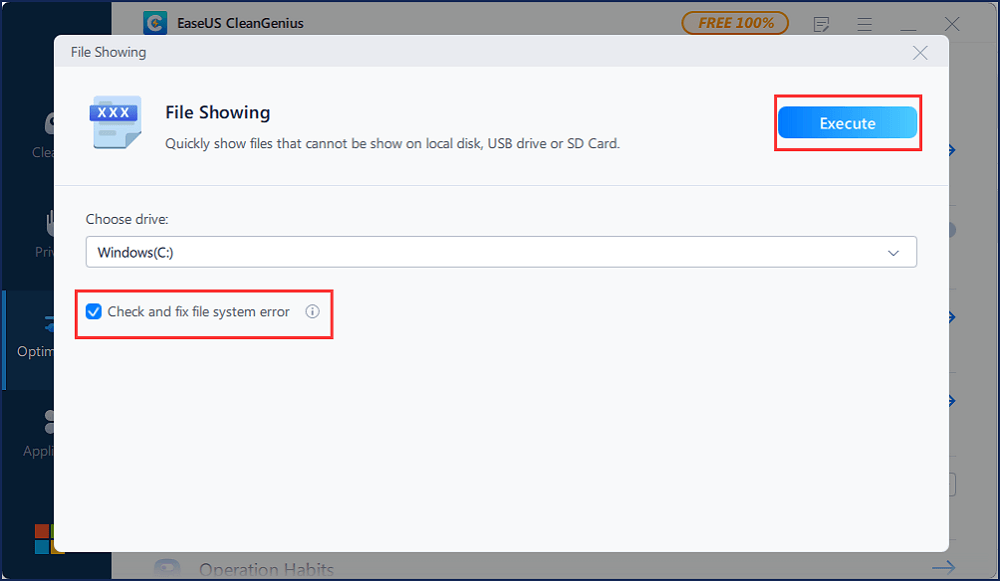 Step 4. Wait the EaseUS CleanGenius completes the repairing process. After that, click the "here" to view the result.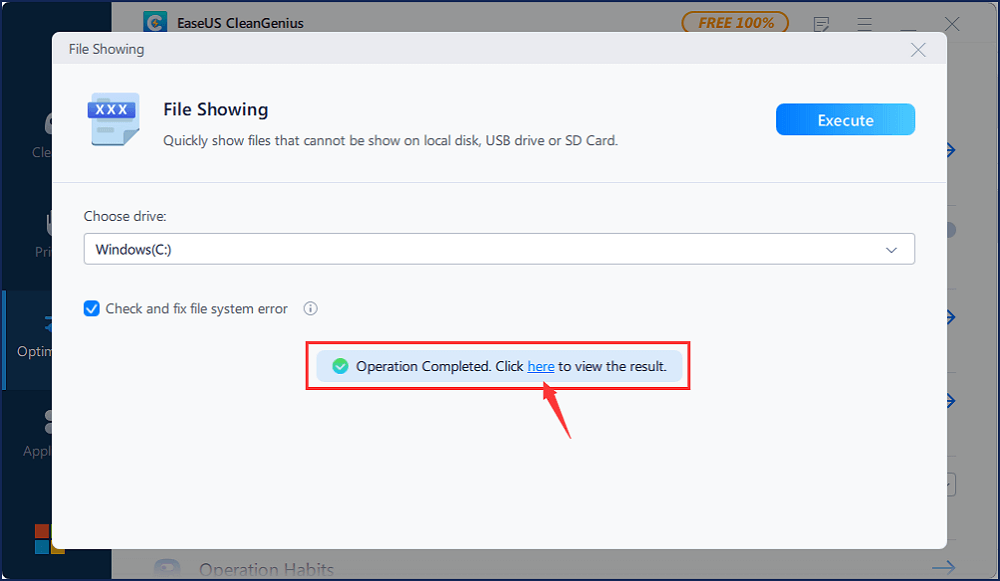 Bonus Tip - How to Fix a Corrupted USB Flash Drive
You can tell that your USB is corrupt according to the error messages below:
USB Device Not Recognized
USB Drive Not Formatted
If you receive any one of the errors above, you can follow these USB fixes to repair a corrupted USB drive.
Fix 1. Check and Fix the Error on the Damaged USB Drive
If your USB can still be detected or recognized by your PC, you can try these methods to fix the corrupted USB flash drive.
Repair corrupted USB flash drive using CMD
Fix file system errors with Windows Disk Check tool
Repair damaged USB drive with EaseUS USB repair tool
Fix 2. Reinstall USB Driver to Repair Damaged USB Flash Drive
If Windows cannot recognize the corrupted USB drive, you can fix it by reinstalling the USB driver.
Step 1. Press the Win + X keys and click "Device Manager".
Step 2. Expand Disk Drives, right-click on the name of your USB flash drive, and click "Uninstall".
Step 3. Click "OK". Disconnect the USB drive from your computer.
Step 4. Restart your computer. After a minute, connect the USB drive to your computer again. Windows will automatically install the latest driver and make the USB flash drive detectable.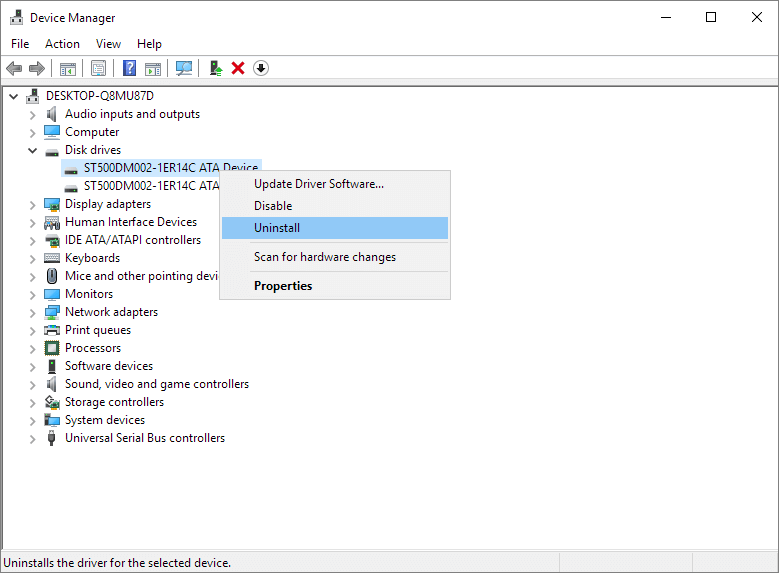 If your USB drive still fails to work, you can send it to experts for a manual USB drive repair. 
How to Recover Files from Corrupted USB FAQs
If you want to know more about dealing with a corrupt flash USB drive or corrupted USB files, you can read the questions and answers section below.
1. Can a corrupted file be recovered?
Corrupted files are files that suddenly become inoperable or unusable. There are several reasons why a file may become corrupted. You can recover a corrupted file by using EaseUS data recovery program. If the lost and corrupted files are photos or videos, EaseUS data recovery can also repair corrupted JPEG and video files during the recovery process.
2. How do I fix a corrupted and unreadable flash drive?
Follow these steps to repair a corrupt hard disk without formatting it, and get back the data:
Run an Antivirus Scan.
Run a CHKDSK scan.
Run an SFC scan.
Use a data recovery Tool
3. How can I recover my USB?
To recover files from a USB flash drive, EaseUS data recovery can help you do it in three steps.
Run USB data recovery software.
Scan all lost files from USB.
Restore all lost files from USB.
4. How do I recover files from a corrupted flash drive?
To recover files from a logically damaged USB stick:
 Insert the USB stick into the computer's system port. 
Launch EaseUS USB data recovery software on your PC.
Click the USB and click Scan.
After the scan, choose the target files and click "Recover" to save them to a secure location on your PC.
5. How can I recover files from a corrupted USB for free?
You can use free drive recovery software to recover files from a corrupted USB for free. EaseUS free data recovery software is a great choice to recover photos, videos, documents, and other files from a USB drive in simple steps.

Cedric Grantham is one of the senior editors of EaseUS who lives and works in Chengdu, China. He mainly writes articles about data recovery tutorials on PC and Mac and how-to tips for partition management. He always keeps an eye on new releases and loves various electronic products.

Approved by Mahesh Makvana 
Mahesh is an experienced computer tech writer. He's been writing tech how-to guides for about 8 years now and has covered many topics. He loves to teach people how they can get the most out of their devices.