Check Disk Windows 11/10 [5 Solutions]:
Among the five, EaseUS Partition Master Free is the third-party disk error checking tool that requires you to download and install it on your Windows 10 PC or laptop.
Your Windows 10 computer's primary hard drive, SSD or external hard drive sometimes reports errors. By regularly checking hard drives or partitions for errors can help determine what exactly the errors are, so you can then fix them alright without any hassle. Since the causes of disk errors vary from bad sectors, improper shutdowns, malware, corruption, physical damage, etc., the ways to check disk in Windows 10 are from being easy to powerful.
Altogether, we find five effective disk error checking methods for different demands. Choose any one of the five to scan the hard drive for errors and fix Windows 10 primary computer's hard drive performance issues, or external hard drive, HDD, SSD, or SD card not working normally on Windows 10 computer.
Note that you must be signed in as an administrator to be able to run a scan to check a drive for errors, as some of the following methods may require to do so.
#1. How to Check Disk Errors in Windows Security and Maintenance
Step 1. Open Control Panel -> click on the Security and Maintenance icon -> expand the Maintenance -> look under Drive status.
Step 2. As the following screenshot shows, all drives are working properly. If any issues were found, the information would be changed with an option asking you to scan the drive.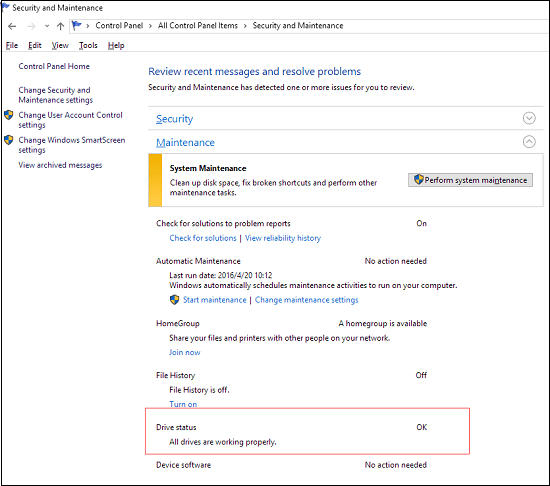 #2. How to Scan Drive for Errors in Windows Properties
Step 1. Open This PC in File Explorer -> right-click the HDD/SSD you want to scan -> choose Properties.
Step 2. Under on the Tools tab -> click the Check button under the  Error checking section.
Step 3. Next, you can choose to Scan drive if wanted or Repair drive if errors were found.
Step 4. When the scanning finishes, click on the Show Details link to see the Chkdsk log in Event Viewer.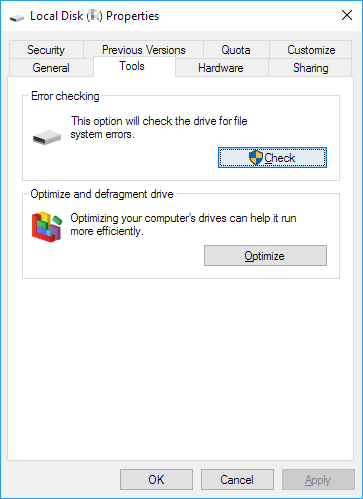 #3. How to Scan Drive for Errors Using Chkdsk Command
Chkdsk is performed to check the file system and file system metadata of a volume for logical and physical errors. If used without parameters, chkdsk displays only the status of the volume and does not fix any errors. If used with the /f, /r, or /x parameters, it fixes errors on the disk volume. As explained here, you should note that Chkdsk works much more powerful than method 1 and method 2. It can not only check disk in Windows 10, but also scan errors and repair them.
Parameters description:
chkdsk /f: Fixes errors on the disk. The disk must be locked. If chkdsk cannot lock the drive, a message appears that asks you if you want to check the drive the next time you restart the computer.
chkdsk /r: Locates bad sectors and recovers readable information. The disk must be locked. /r includes the functionality of /f, with the additional analysis of physical disk errors.
chkdsk /x: Forces the volume to dismount first, if necessary. All open handles to the drive are invalidated. /x also includes the functionality of /f.
Step 1. Type cmd in the Windows 10 search box, and choose to run as an administrator.
Step 2. When Command Prompt launches, type the command chkdsk C: /f /r /x.
By using the chkdsk command [chkdsk C: /f /r /x], you'll be able to check and scan the C drive for errors, and repair the file system corruption and bad sectors if errors were found.
#4. How to Scan and Repair Disk Errors Using Chkdsk Alternative
Download EaseUS CleanGenius and install it on your computer. Let's start checking and refixing file system error on your device now.
Step 1. Click "File Showing" to enter the next step.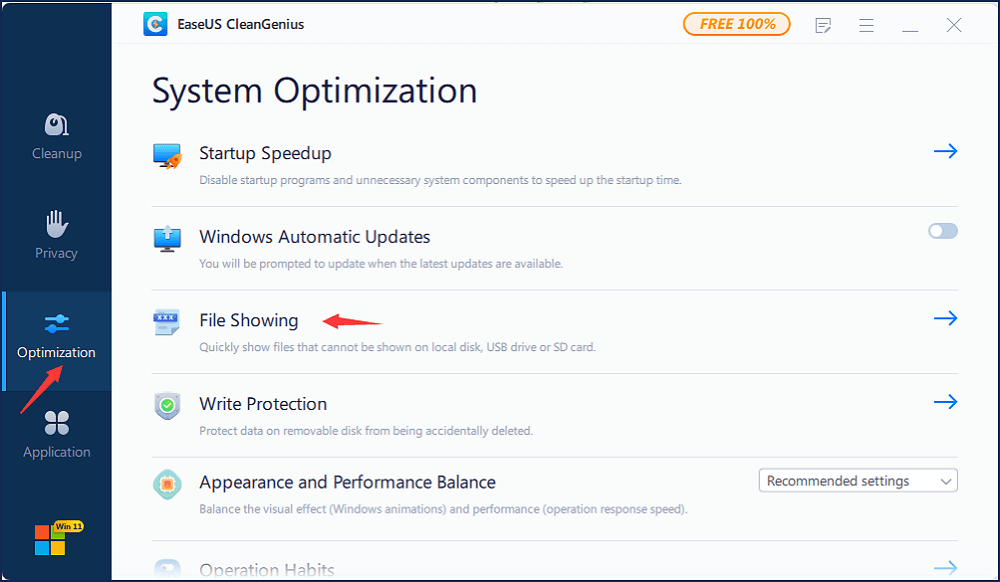 Step 2. Choose the target device and tick the box of "Check and fix file system error". Click "Execute" to start fixing the problematic device.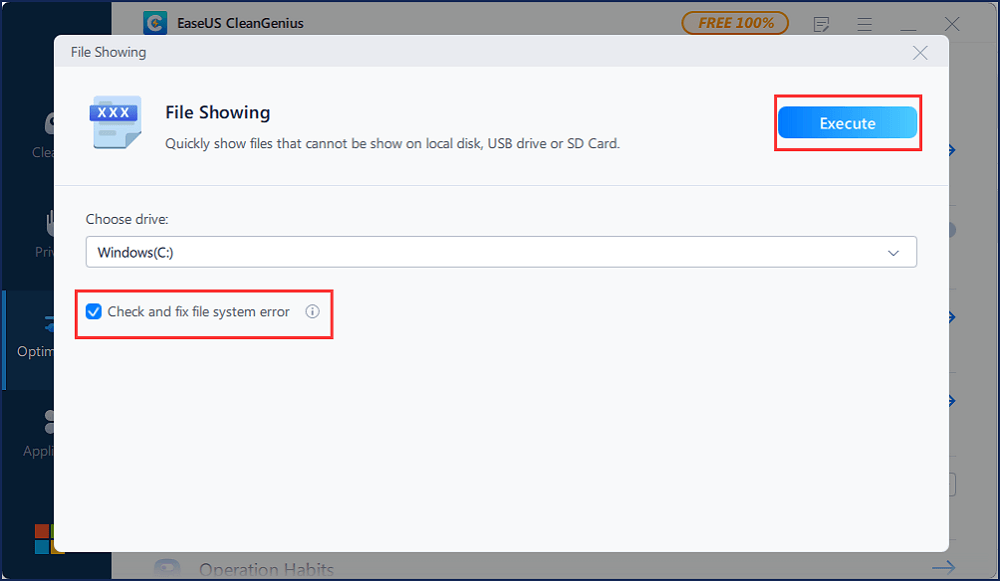 Step 3. When the fixing process completes, click "here" to open and use your device.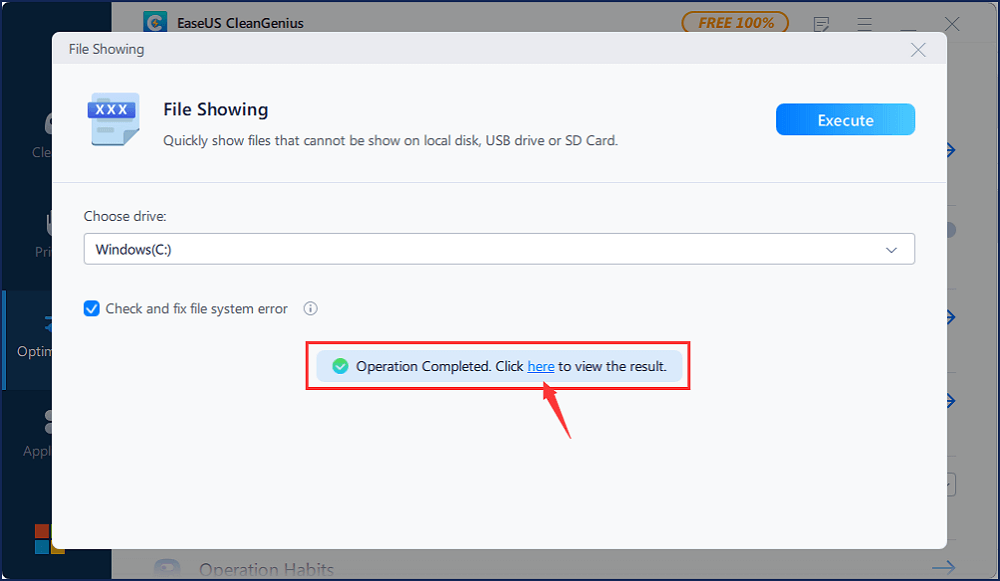 # 5. How to Check Disk with EaseUS Disk Checking Tool
EaseUS Partition Master is a comprehensive disk and partition management tool that empowers users with a wide array of powerful and practical features, such as resize, format, delete, wipe, or create a partition. Once you download the free partition manager software, you'll clearly see a disk check function in it. This way of checking disk is meant to identify and fix hard disk partition bad sectors, file system errors, and other disk errors in Windows 10, however, in an automatic and fast way.
Step 1. Right-click the target partition that has a problem.
Step 2. Choose "Advanced" > "Check File System".
Step 3. Confirm if you want to hide the partition or not.
Step 4. In the Check File System window, check the "Try to fix errors if found" option.
Step 5. Click "Start" to check errors on your partition.
Conclusion
According to what we've presented in this article, there are basically five ways for us to check disk in Windows 11/10. When we need to check disk, we use the utility called chkdsk, which is a Windows utility that can check the integrity of your hard disk and can fix various file systems. 
You can apply check disk (chkdsk) in my computer and Command Prompt, or use the alternative third-party disk checking tools to automatically scan and repair hard drive errors.
Updated by Tracy King 
Tracy joined in EaseUS in 2013 and has been working with EaseUS content team for over 7 years. Being enthusiastic in computing and technology, she writes tech how-to articles and share technical solutions about Windows & Mac data recovery, file/system backup and recovery, partition management and iOS/Android data recovery.