What Is the MBR?
Master Boot Record (MBR), sometimes also referred to as the "master partition table" or "partition sector", is a boot sector (a region of your hard disk) that holds information about the partitions of your hard drive and acts as a loader for the operating system you're running. The Master boot record is created when you first install Windows, on the first partition you create. It's the first 512 bytes of your hard disk. Typically, the program begins the boot process by looking up the partition table to determine which partition to use for booting. It then transfers program control to the boot sector of that partition, which continues the boot process... Read more what is MBR>>
If your MBR disk is damaged, you certainly cannot boot into Windows 10. How to repair the damaged MBR? Here we'll provide a safe and reliable procedure to help you. Just follow the directions below.
Workable Solutions
Step-by-step Troubleshooting
Fix 1. MBR rebuild tool

Boot into EaseUS Partition Master WinPE environment
Locate the HDD/SSD and choose 'Rebuild MBR'
Select the operating system Windows 10, 8.1, 8, 7, XP, Vista, 2000...Full steps

Fix 2. Command to rebuild MBR

Create a Windows installation CD/DVD
Open the Command Prompt elevator
Use the bootrec command as instructed...Full steps
Fix MBR Preparatory Work - Back up Data Without OS
Since you are unable to boot into Windows 10/8/7, you'd better back up data or your system without booting into OS. It's wise to back up MBR or create a system recovery disk so that in case something happens you don't have to run for the Windows Recovery Disk. After the backup, you can not only make sure that your data and system are safe, but also repair your MBR disk without any risk.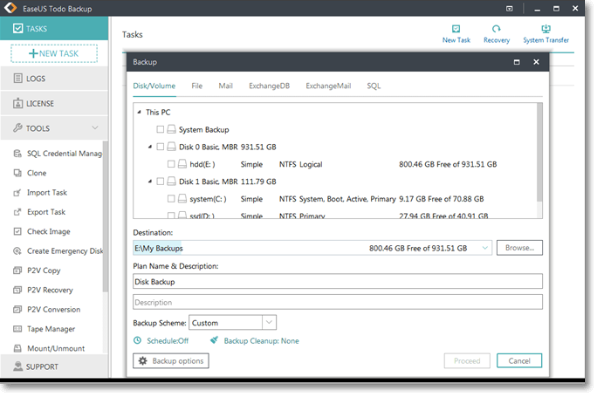 Method 1. Fix MBR with EaseUS Partition Master
Applies to: Windows 10, 8.1, 8, 7, XP, Vista; Windows 2000, Windows 2012.
EaseUS partition software has a feature called Rebuild MBR. Once MBR (Master Boot Record) of the disk is damaged, the system cannot be booted. This feature will rewrite the Master Boot Record of the selected disk without destroying the disk partition table.
 Tip

Since your PC cannot boot properly, connect the MBR hard disk to another working computer for repair. Or create a WinPE bootable disk to make your computer bootable.
Step 1. Create a WinPE bootable disk.
Download and launch EaseUS Partition Master on a new PC which runs the same system as yours.
Click "WinPE Creator" on the toolbar. And select to create the bootable disk on a USB drive. If your computer has a CD/DVD drive, you can also create the bootable disk to CD/DVD.
Click "Proceed" to finish the process.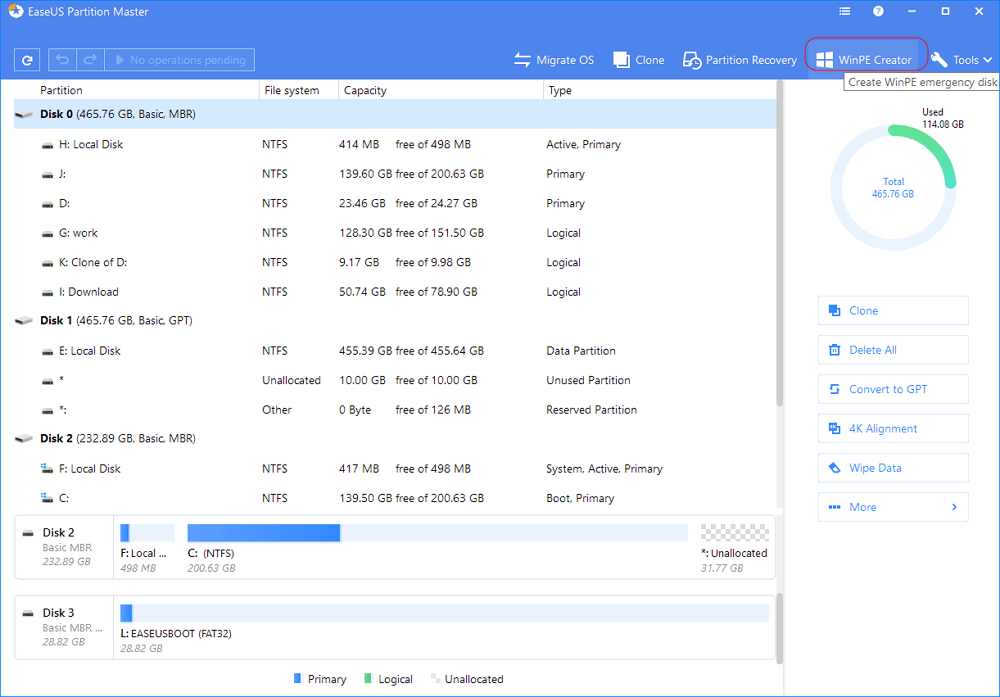 Step 2. Rebuild MBR.
Connect the bootable USB or CD/DVD to your PC.
Press "Del" when you are restarting the computer. Boot your computer from "Removable Devices" or "CD-ROM Drive". And then EaseUS Partition Master will run automatically.
Right-click the disk whose MBR is damaged. Choose "Rebuild MBR" to continue.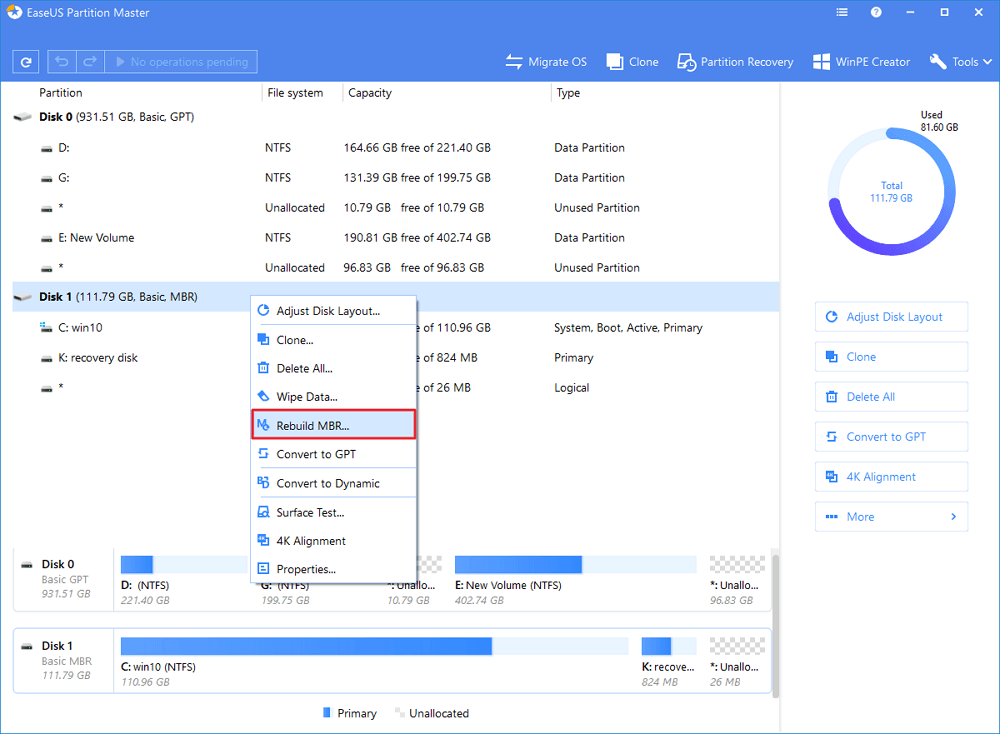 Select the type of MBR with the current operating system. Then, click "OK".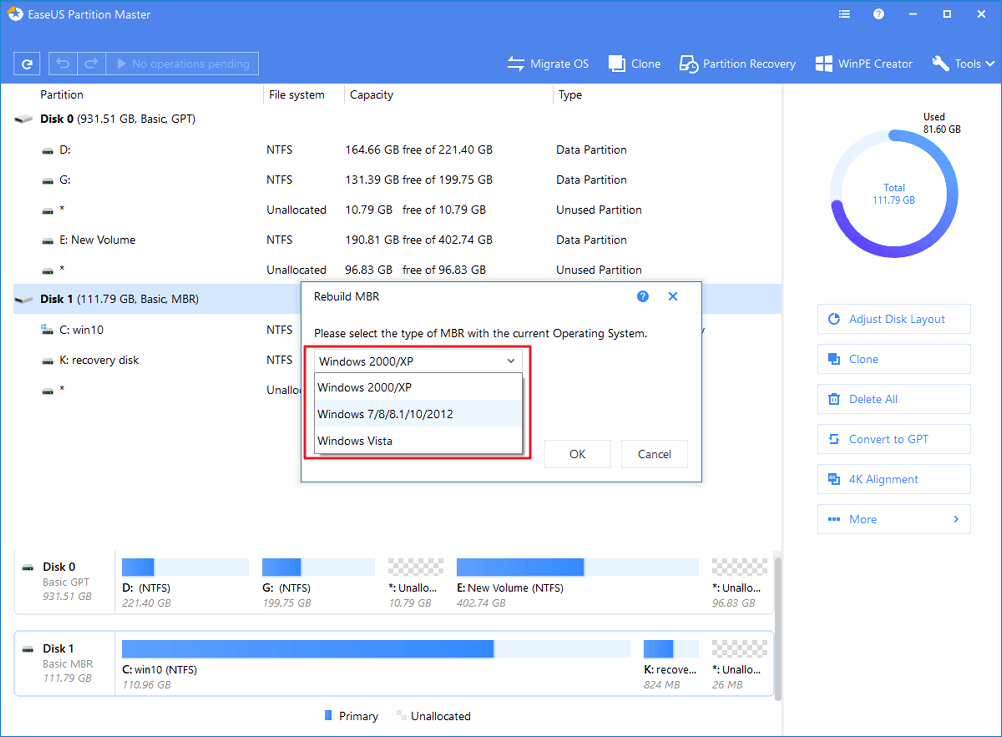 Click the "Execute 1 Operation" button at the top-left corner and click "Apply" to build the MBR. After that, your computer can boot normally again.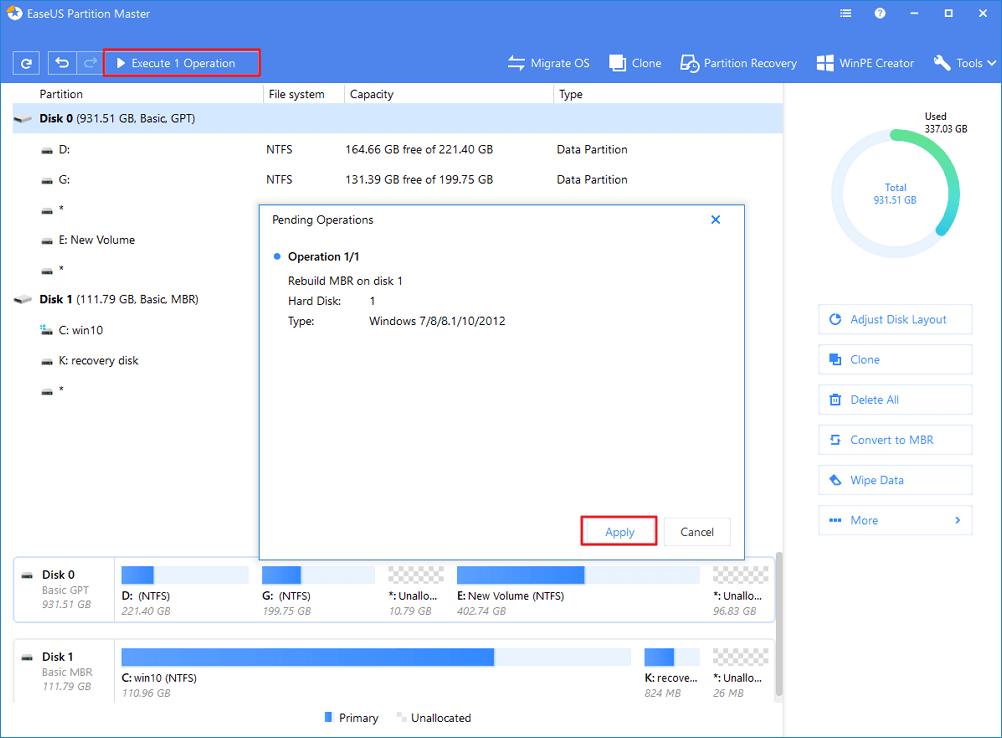 Method 2. Fix MBR Using Command Prompt
Usually, you will see Windows Boot Options menu after your computer restarts several times.
If not you need the original Windows 10 installation DVD to repair the Master boot record. Boot from the original installation DVD (or the recovery USB). At the Welcome screen, click Repair your computer. Then, you can follow the steps below to open command Prompt to fix MBR in Windows 10.
Step 1. Choose Troubleshoot > Advanced Options > Command Prompt.
Step 2. When Command Prompt appears, enter the following lines and press Enter after each line:
bootrec.exe /rebuildbcd
bootrec.exe /fixmbr
bootrec.exe /fixboot
In some cases, you may need to run some additional commands.
bootsect /nt60 SYS or bootsect /nt60 ALL
Step 3. Press Enter after each command and wait for each operation to finish. Exit and now go ahead and reboot your system.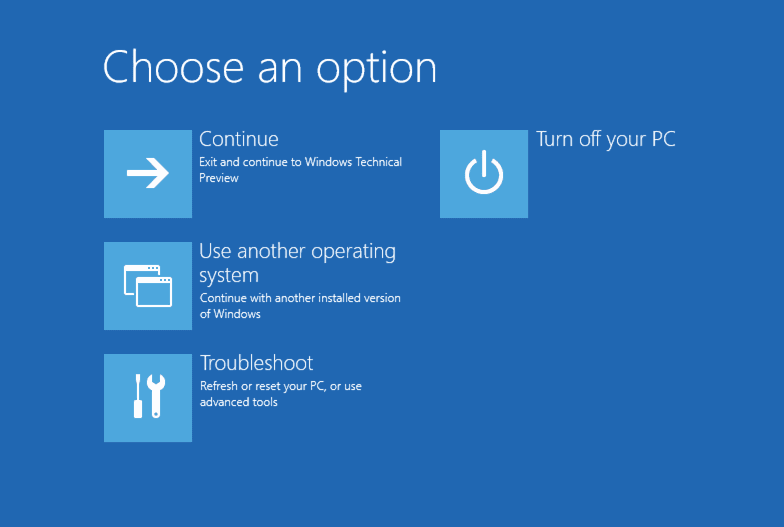 How to Fix MBR FAQs:
1. What does rebuild MBR mean?
Corrupted or damaged MBR will stop you from entering the operating system, showing error messages like the operating system not found, or simply a black screen without any prompt message. In this situation, to rebuild MBR rather than reinstall the Windows will be much more convenient and time-saving. EaseUS Partition Master is featured with the function of rebuild MBR, so it will help you solve the MBR corruption issues very easily in a few clicks.
2. Does delete MBR erase data?
It depends on which way you choose to remove MBR. The Master Boot Record is the first sector of the drive. It the BMR is deleted, the entire hard drive and data will be inaccessible. Using specialized disk-partitioning software like EaseUS Partition Master is meant to delete only the MBR; however, if you wipe the entire MBR hard disk, the data will be erased as well.
3. Where is the Master Boot Record MBR located?
Master Boot Record (MBR) is a boot sector (a region of your hard disk) that holds information about the partitions of your hard drive and acts as a loader for the operating system you're running. The Master boot record is created when you first install Windows, on the first partition you create. It's the first 512 bytes of your hard disk.
4. How to fix MBR error: Bootmgr is missing
The causes of BOOTMGR is missing include:
The BOOTMGR files are corrupted and misconfigured.
The PC is set to boot from a non-bootable device.
Errors, corruptions or bad sectors appear on the hard drive.
Outdated BIOS, loose or damaged hard disk interface cables, hard drive and operating system upgrade issues...Read more>>
5. How to fix MBR error: Operating system not found
The causes of the operating system not found include:
Improper/incorrect set BIOS settings
Windows Master Boot Record disk is corrupt/damaged
Windows boot files in system partition are no longer active
System hard disk drive failure due to physical/logical damage
System/BIOS does not detect Windows installation hard drive/disk...Read more>>
100% of people found this article helpful.
Frequently Asked Questions
Why Choose EaseUS Partition Master?

"I've used Partition Master Professional many times to create, delete, format, move, rename, and resize partitions." —PCWorld

"Partitioning tools have come a very long since the days of complicated command line utilities and EASEUS Partition Master is one of the most advanced programs available." —TECH ADVISOR

"I love that the changes you make with EaseUS Partition Master Free aren't immediately applied to the disks. It makes it way easier to play out what will happen after you've made all the changes." —Lifewire
Will the "Migrate OS" feature transfer the Windows system files only or the whole C drive?

To ensure that the migrated system will boot normally, the Migrate OS feature will transfer all the files in the system and the boot partitions. Generally, the boot partition is the C drive so the transfer will include all the files in C.
Does EaseUS Partition Master license apply to multiple computers?

The license of Partition Master Professional and Server editions can be used on 1 computer only, while that for for the Technician and Unlimited editions can be used on multiple machines.
What is the difference between EaseUS Partition Master Trial version and the Free version?

Free is for home users only, with most basic functions available such as partition resize and clone. While trial can help you understand how this product works and test what a full license can do on a business or server OS machine.
Will it cause any data loss after resizing the partition in EaseUS Partition Master?

Generally, it will not cause any data loss or boot issue by resizing a partition. However, in order to protect your data, we suggest that you backup the partition before resizing, in case of any unexpected situations such as power outages, computer hardware failures, etc. You can use EaseUS Todo Backup to backup the partition and its trial version is fully functioned for 30 days.
What should I prepare before resizing the partition?

On the partition that is going to be operated, there might be some files being occupied by other programs. To ensure a successful operation, we suggest that you close all the unnecessary software before resizing that partition. Otherwise, EaseUS Partition Master will detect the partition being locked by the other software and require a reboot to resize the partition under boot mode.
About EaseUS Partition Master
All-round disk & partition management software for personal and commercial use. Let it manage your storage drive: resize, format, delete, clone, convert, etc.