What is the MBR
Master Boot Record (MBR), sometimes also referred to as the "master partition table" or "partition sector", is a boot sector (a region of your hard disk) that holds information about the partitions of your hard drive and acts as a loader for the operating system you're running.
The Master boot record is created when you first install Windows, on the first partition you create. It's the first 512 bytes of your hard disk. Typically, the program begins the boot process by looking up the partition table to determine which partition to use for booting. It then transfers program control to the boot sector of that partition, which continues the boot process.
If the MBR is damaged, you won't be able to boot into Windows. Because most of the Windows 10/8/7 boot like this:
BIOS → MBR → DPT → PBR → Bootmgr → BCD → Winload.exe → Windows NT load
If your MBR disk is damaged, you certainly cannot boot into Windows 10. How to repair the damaged MBR? Here we'll provide a safe and reliable procedure to help you. Just follow the directions below.
1 - Back up Data Without OS
Since you are unable to boot into Windows 10/8/7, you'd better back up data or your system without booting into OS. It's wise to back up MBR or create a system recovery disk so that in case something happens you don't have to run for the Windows Recovery Disk. After the backup, you can not only make sure that your data and system are safe, but also repair your MBR disk without any risk.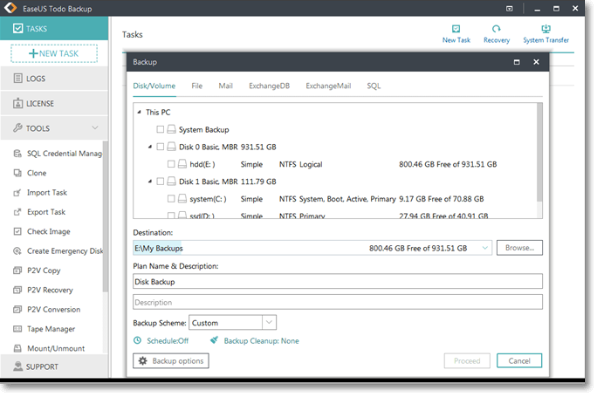 2 - Rebuild MBR with EaseUS Partition Master
EaseUS partition software has a feature called Rebuild MBR. Once MBR (Master Boot Record) of the disk is damaged, the system cannot be booted. This feature will rewrite the Master Boot Record of the selected disk without destroying the disk partition table.
 Tip

Since your PC cannot boot properly, connect the MBR hard disk to another working computer for repair. Or create a WinPE bootable disk to make your computer bootable.
Step 1: Create a WinPE bootable disk.
1. Download and launch EaseUS Partition Master on a new PC which runs the same system as yours.
2. Click "WinPE Creator" on the toolbar. And select to create the bootable disk on a USB drive. If your computer has a CD/DVD drive, you can also create the bootable disk to CD/DVD.
3. Click "Proceed" to finish the process.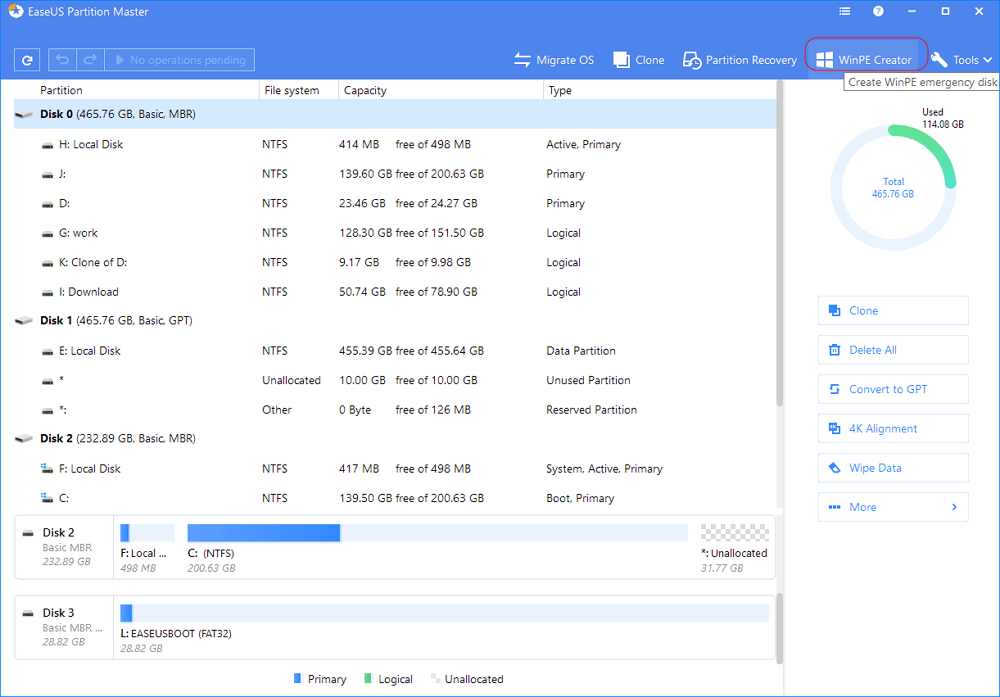 Step 2: Rebuild MBR.
1. Connect the bootable USB or CD/DVD to your PC.
2. Press "Del" when you are restarting the computer. Boot your computer from "Removable Devices" or "CD-ROM Drive". And then EaseUS Partition Master will run automatically.
3. Right-click the disk whose MBR is damaged. Choose "Rebuild MBR" to continue.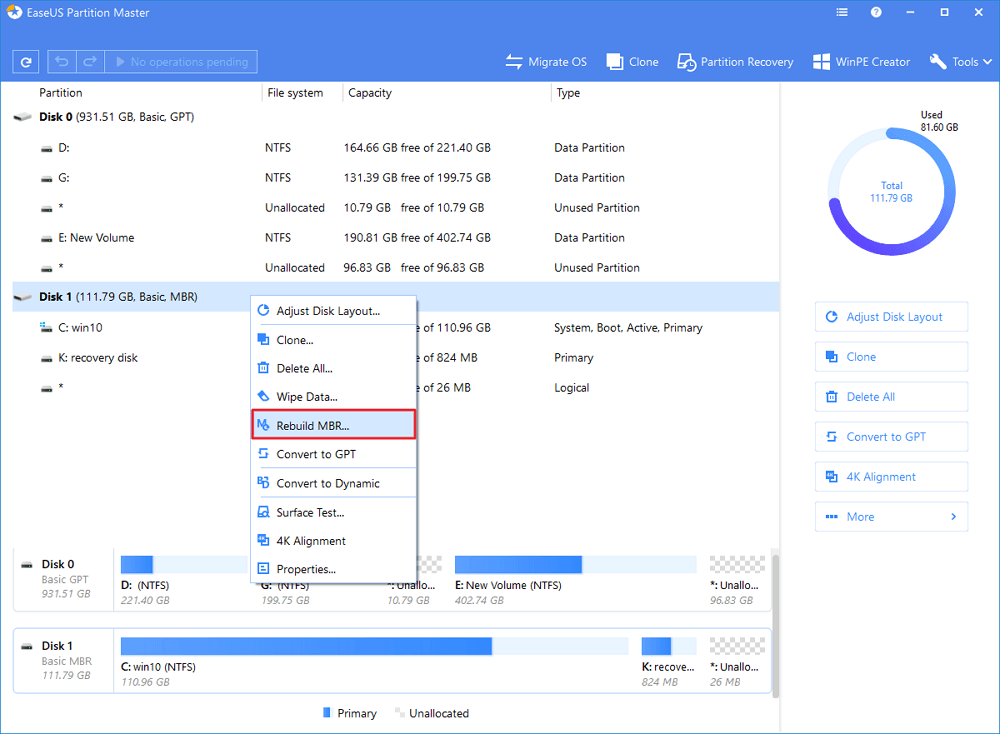 4. Select the type of MBR with the current operating system. Then, click "OK".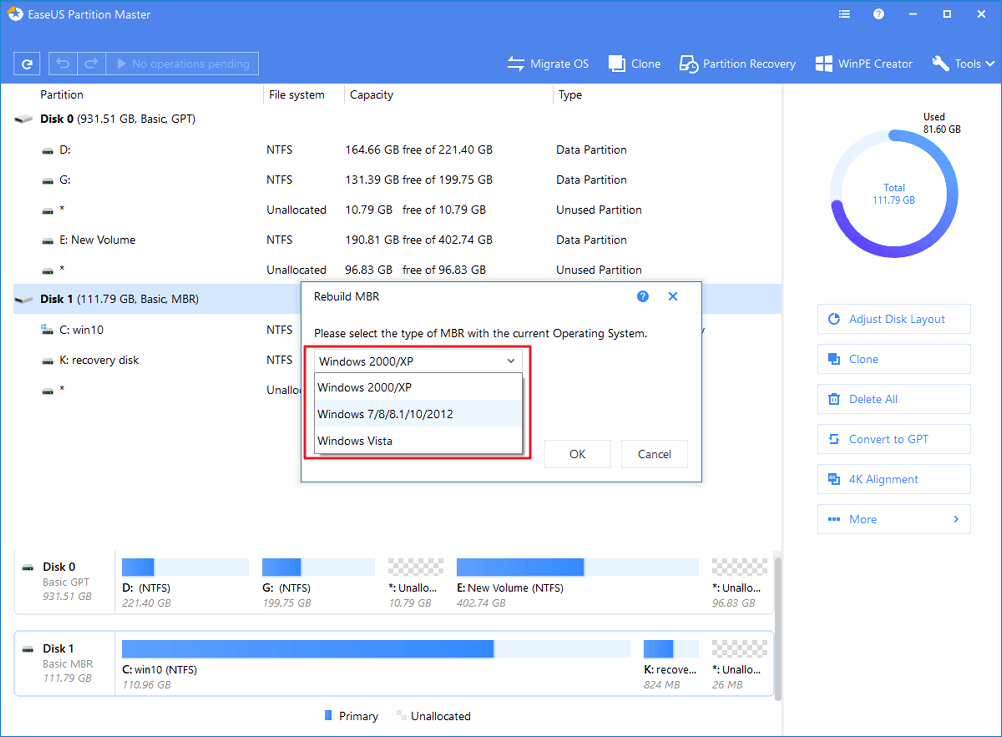 5. Click the "Execute 1 Operation" button at the top-left corner and click "Apply" to build the MBR. After that, your computer can boot normally again.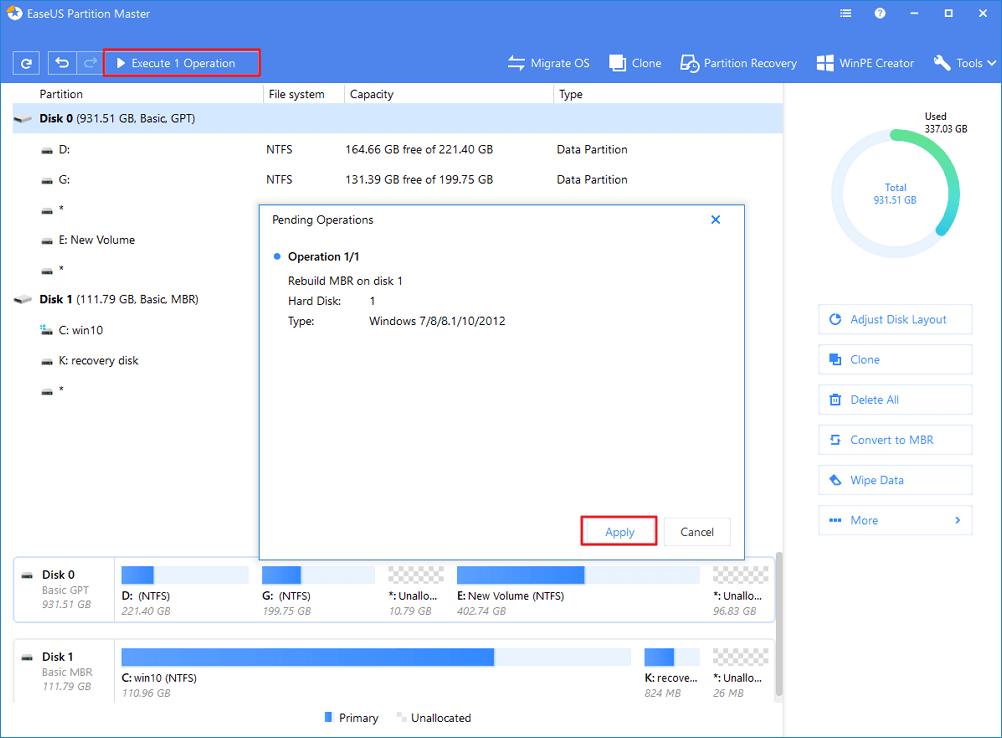 3 - Fix the MBR Using Command Prompt
Usually, you will see Windows Boot Options menu after your computer restarts several times.
If not you need the original Windows 10 installation DVD to repair the Master boot record. Boot from the original installation DVD (or the recovery USB). At the Welcome screen, click Repair your computer. Then, you can follow the steps below to open command Prompt to fix MBR in Windows 10.
1. Choose "Troubleshoot > Advanced Options > Command Prompt".
2. When Command Prompt appears, enter the following lines and press Enter after each line:
bootrec.exe /rebuildbcd
bootrec.exe /fixmbr
bootrec.exe /fixboot
In some cases, you may need to run some additional commands.
bootsect /nt60 SYS or bootsect /nt60 ALL
3. Press Enter after each command and wait for each operation to finish. Exit and now go ahead and reboot your system.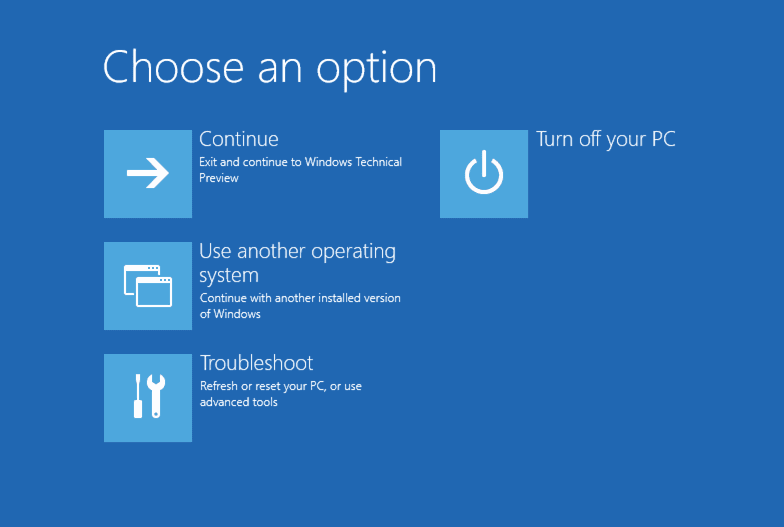 More Information
If you have fixed the MBR and still cannot boot, the following directions can help you.
Fix the "Bootmgr is missing" error.
Fix the "Operating System not found" error.