
About the Author
Hot Topics in 2022
FIX: Missing Operating System (Operating System Not Found) for Windows 10/8/7/XP/Vista
The "missing operating system" or "operating system not found" error message usually appears on a black window when you start Windows computers. It would prevent you from booting Windows. This error is very common for Dell, Acer, Lenovo, HP, and Sony desktops and laptops. You can read on to get error details or skip directly to solutions.
| Workable Solutions | Step-by-step Troubleshooting |
| --- | --- |
| Fix 1. Check BIOS | Press and hold "F12/F10" to enter BIOS...Full steps |
| Fix 2. Reboot from a bootable disk | Press and hold "F10" and press "Power"...Full steps |
| Fix 3. Set BIOS to default settings | Find BIOS and enable the default setup option...Full steps |
| Fix 4. Rebuild MBR using cmd | Insert the Windows installation CD/DVD...Full steps |
| More Fixes | Boot PC from EaseUS Partition Master ...Full steps |
Causes of Missing Operating System/Operating System Not Found
Generally, when something goes wrong with the BIOS configuration, hard drive health, or the Master Boot Record (MBR), you can't boot the Windows and will see the mentioned two error messages. To be specific, the causes that lead to Operating System Not Found are as follows.
The basic input/output system (BIOS) does not detect the hard disk
The hard disk drive is damaged
Improper/incorrect BIOS settings
Windows Master Boot Record (MBR) is corrupt/damaged
An incompatible partition is set as active
Note: If the BIOS fails to detect the operating system, you will receive one of the following error messages, which tells the same problem on different operating system versions.
Error message 1: Missing Operating System
Error message 2: Operating system not found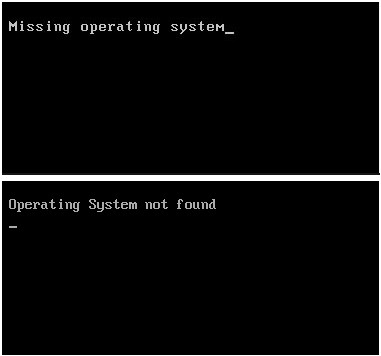 7 Solutions to Fix Operating System Not Found or Missing
After knowing the causes for an operating system not found or missing in Windows, now it's time to apply effective solutions to restore the missing operating system.
Solution 1. Check if the hard drive is detected by BIOS
Step 1: Press and hold "F12/F10" while pressing the "Power" button to turn on the PC.
Step 2: Release F12/F10 when the BIOS Setup Utility is displayed.
Step 3: Try to find IDE Primary Master, IDE Primary Slave, IDE Secondary Master, and check whether they can be detected or not.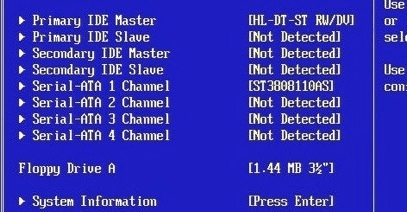 If no disk is shown or displayed as None/Not Detected, it means that the BIOS doesn't detect the drive and you may select None to Auto. This may solve OS not found error.
If the system disk information is displayed, it means that BIOS can detect the hard drive and you need exit BIOS.
Solution 2. Test hard drive problems
Step 1: Press and hold "F10" and press the "Power" button to turn on the PC > Release F10 after the PC screen display you with a test.
Step 2: Use the right arrow to select the "Tools" menu in the BIOS Setup Utility.
Step 3: Then select "Hard Drive Self Test" > Press "Enter" to start the test.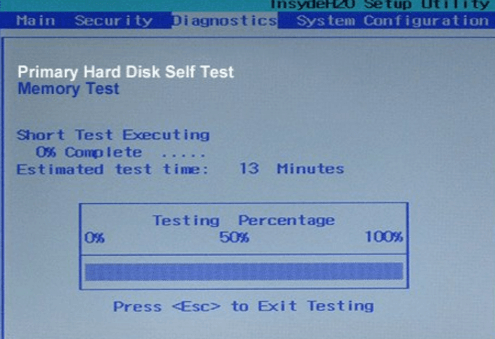 After the test, you'll get two results:
#1. All tests passed
the hard drive is not damaged. You may jump to Solution 3 to reset BIOS to the default state.
#2. The test failed
You should contact your hard disk or computer manufacturer for a replacement as long as these devices are under warranty.
Solution 3. Set BIOS to default settings
Improper settings or incorrect BIOS settings may also cause the issue 'operating system not found' in your PC. You can try to set BIOS to default settings to solve the problem.
Step 1: Restart PC and enter BIOS.
Step 2: Find BIOS and enable the default setup option, including Load Optimal Defaults, Get Default Values, Load Optimized Defaults, Load Setup Defaults, and so on.
Step 3: Press "F10" to save changes and quit from BIOS.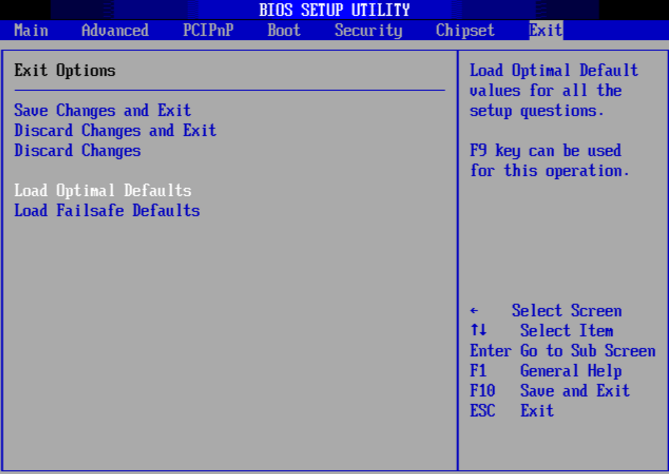 If this method doesn't work, the MBR disk could be damaged and you may jump to Solution 4 to find the MBR disk repair method.
Solution 4. Repair MBR with the installation CD/DVD
Both wrong operation and virus infection can damage MBR, which locates in the first sector - usually sector 0 of the hard disk. Thus, Windows will not boot. You can try to repair MBR using the Windows installation disk in Command Prompt.
 Notice:

Microsoft says the fixmbr command that used in this method may damage your partition table if a virus presents or if a hardware problem exists. The existing partitions might be inaccessible so that data cannot be used. EaseUS Partition Master can help rebuild MBR without bringing any damage to data and partition since it operates the master boot record only. For detailed steps, go to Solution 5.
Insert Windows Operating System Disc to the optical (CD/DVD) drive
Step 1: Press the "Power" button to turn on the PC > Hit "Enter" when Boot from CD prompt.
Step 2: Press "R" key in Windows Setup Menu to start the Recovery Console.
Step 3: Type: FIXMBR at the C:\> prompt and hit "Enter".
Step 4: Press "Y" key > hit "Enter" when asked if you want to write a new MBR.
Step 5:  Restart PC by pressing the "Power" button when the MBR completes the writing process.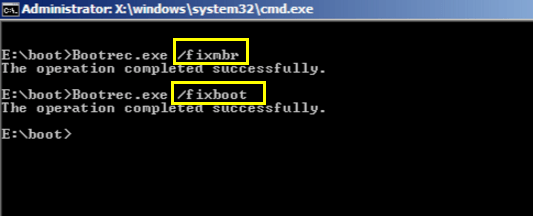 Solution 5. Rebuild MBR without Windows installation CD/DVD
If you prefer an easier and safer way to rebuild or repair the MBR disk, you may apply third-party partition magic software - EaseUS Partition Master to perform an automatic repair. 
Boot your Windows from the WinPE environment you created and start to repair MBR with a few clicks.
Step 1. Create a WinPE bootable disk
Launch EaseUS Partition Master, click "WinPE Creator" on the toolbar. Select to create the bootable disk on a USB drive. If your computer has a CD/DVD drive, you can also create the bootable disk to CD/DVD.
Click "Proceed" to finish the process.
Step 2. Boot EaseUS Partition Master Bootable USB
Connect the bootable USB or CD/DVD to your PC. 
Press F2 or Del when you restart the computer to enter the BIOS screen. Set and boot your computer from "Removable Devices" or "CD-ROM Drive". And then EaseUS Partition Master will run automatically.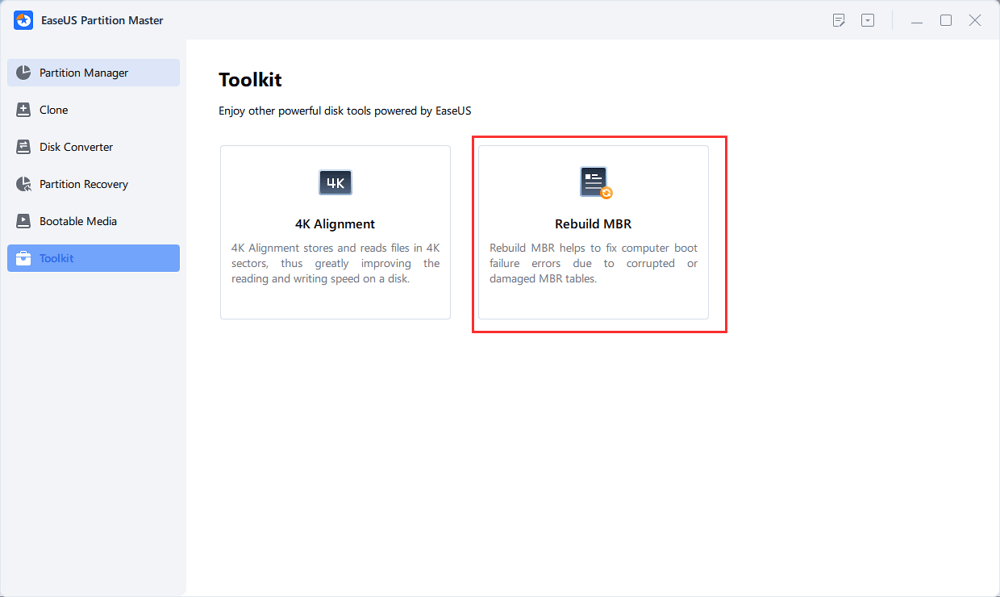 Step 3. Rebuild MBR
Right-click the disk whose MBR is damaged. Choose "Rebuild MBR" to continue.
Select the type of MBR with the current operating system. Then, click "OK".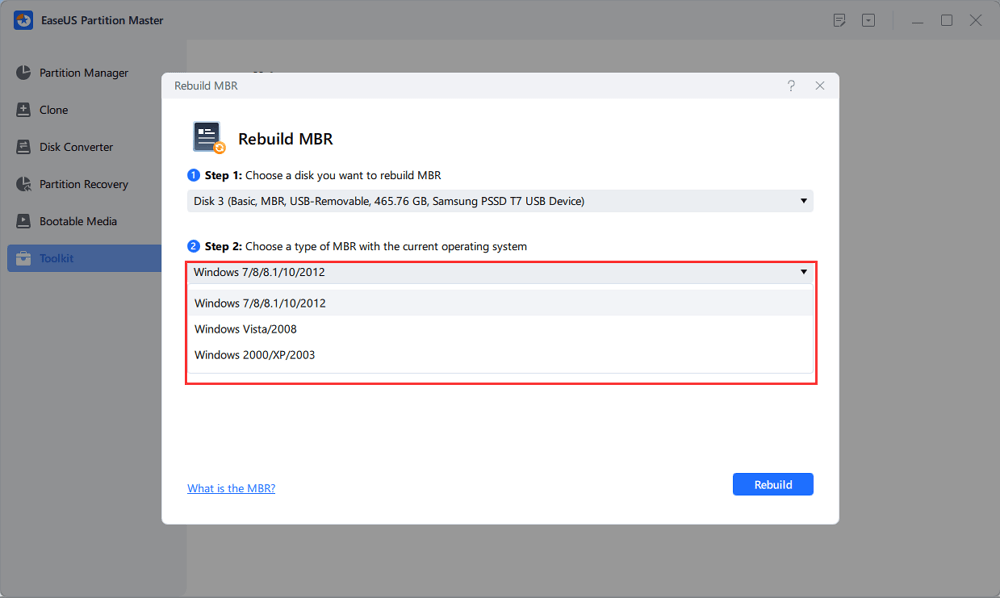 Click the "Execute Operation" button at the top-left corner and click "Apply" to build the MBR. After that, your computer can boot normally again.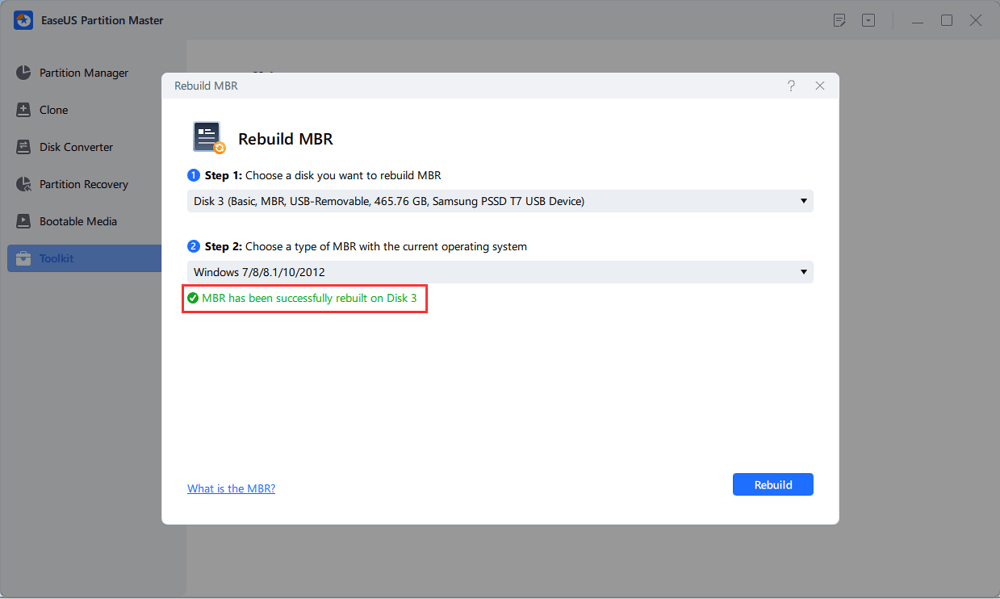 Solution 6. Repair MBR for HP
Solution 4~5 to corrupted MBR repair is applicable to various computer/laptop brands. On top of that, some brands provide customers with inbuilt tools to deal with MBR issues. For example, the Windows Operating System Disc (OSD) provided with HP notebook PC can be used to repair the Master Boot Record.
Follow all steps at https://support.hp.com/us-en/document/c00476274
Solution 7. Set the correct partition active
When Windows is running under Legacy BIOS + MBR mode, the boot partition/system partition should be set as active so that MBR can pass boot right to boot manager and find Windows. If the system partition or boot partition is not set to active, you may encounter the operating system not found issue.
In the same partition tool, create the EaseUS Partition Master bootable USB first, and follow the steps to set the boot partition active:
Step 1. Run EaseUS partition manager software. On the disk map, right-click the traget partition and choose "Advanced".
Step 2. Then, select "Set Active" from the drop-down menu. The software will automatically execute the operation and create an active partition for you.
Do You Need Specialized Services for System Boot Issues?
EaseUS also provides 1-on-1 remote assistance to fix the boot issue. If the solution above does not work for you, please contact our professionals via
Email
or
LiveChat
 on 
this page
. To ensure our professional assistance work, you are suggested to connect the unbootable system drive to a healthy computer when getting connected with us.
Conclusion
All effective solutions to the "Missing Operating System" or "Operating system not found" error are carefully presented on this page. You may try any one of the methods to resolve the issue and get a healthy Windows system back and continue using your computer again.
About the Author
Gemma is member of EaseUS team and has been committed to creating valuable content in fields about file recovery, partition management, and data backup etc for many years. She loves to help users solve various types of computer related issues.
Daisy is the Senior editor of the writing team for EaseUS. She has been working in EaseUS for over ten years, starting from a technical writer to a team leader of the content group. As a professional author for over 10 years, she writes a lot to help people overcome their tech troubles.
Product Reviews
I love that the changes you make with EaseUS Partition Master Free aren't immediately applied to the disks. It makes it way easier to play out what will happen after you've made all the changes. I also think the overall look and feel of EaseUS Partition Master Free makes whatever you're doing with your computer's partitions easy.

 Read More

Partition Master Free can Resize, Move, Merge, Migrate, and Copy disks or partitions; convert to local, change label, defragment, check and explore partition; and much more. A premium upgrade adds free tech support and the ability to resize dynamic volumes.

 Read More

It won't hot image your drives or align them, but since it's coupled with a partition manager, it allows you do perform many tasks at once, instead of just cloning drives. You can move partitions around, resize them, defragment, and more, along with the other tools you'd expect from a cloning tool.

 Read More