The internal hard drive cannot be recognized by PC in BIOS, help!
"Hi guys, I'm having this problem that my second hard drive in PC fails to show up in PC. I tried some instructions to see whether it can be detected in BIOS, but nothing was found.
The hard drive even disappeared from BIOS. What can I do? And how about the data saved in the drive? Do you know how to fix such a problem? If you do, please let me know. Thank you very much."
Are you having a similar problem that your data hard drive fails to show up on your PC or in BIOS? Don't worry! Right here in this article, you'll find quick fixes to restore data from an undetected hard drive and fix and repair an undetected/recognized hard drive in BIOS. Just follow the guide to get your problems solved right now.
Quick Fix: Get data from the hard drive which is not detected in BIOS
In this part, you'll get two effective and quick fixes to get data from a hard drive which is not detected or cannot be recognized in BIOS:
1. Reconnect hard drive to your PC to access the saved data.
2. Connect the hard drive to another desktop/laptop as a second HDD to get the data.
When the data cable is not connected properly to the hard drive or PC, your hard drive may not be able to show up on the PC even in the BIOS. Therefore, you can directly reconnect the hard drive to your PC to see whether you can access the saved data.
If you didn't get the wanted data, you can reconnect the hard drive to another secure and healthy PC or laptop as a second HDD and then access to the saved data on the drive.
Fix hard drive not detected/unrecognized error in BIOS without losing data
If the above quick fixes don't help, don't worry. Here in this part, you'll find reliable and comprehensive solutions to repair hard drives which are not recognized in BIOS error without losing any data. Just follow along to see how to fix this problem right now.
1. Restore data from hard drive with hard drive recovery software
If you still cannot get data or access the saved data on the hard drive after reconnecting the hard drive properly to your PC, you'll need the help of professional hard drive recovery software.
EaseUS hard drive recovery software will help you get data from an inaccessible hard drive without any obstacles.
Effective tips for a successful HDD data recovery with EaseUS HDD recovery software:
Your Hard Disk Drive (HDD) can be either an internal or external one. If it's an external HDD, you must correctly connect it to your computer using a proper cable, and it's going to appear in the "External Devices" section in EaseUS Data Recovery Wizard.
If the HDD data was lost due to a quick format, partition loss or deletion, switch to the "Lost Partition Files" tab to check the scan results after scanning the HDD.
Here's the standard process to scan and find lost data on an HDD:
Step 1. Choose your HDD partition(according to its drive letter or partition label) as the target disk and click the Scan button.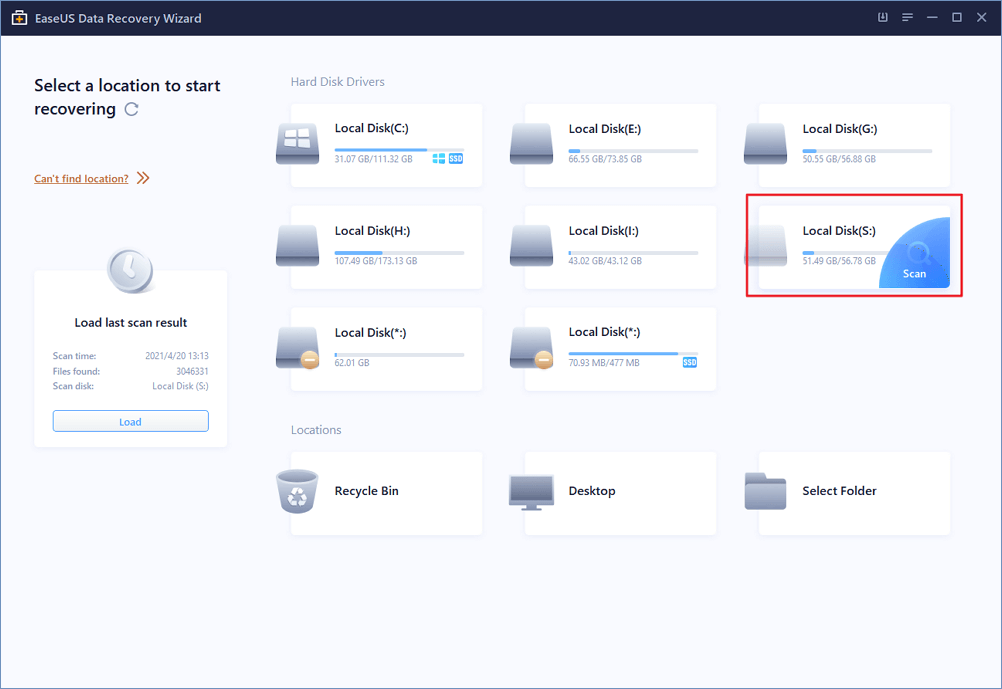 Step 2. Now it comes to the scanning process. Usually, it takes a while to finish this stage, but you can always stop midway as soon as the lost files were found and displayed in the results. That's one of the competitive strengths of EaseUS HDD recovery software. Of cause, it's better to wait until the last second gets over.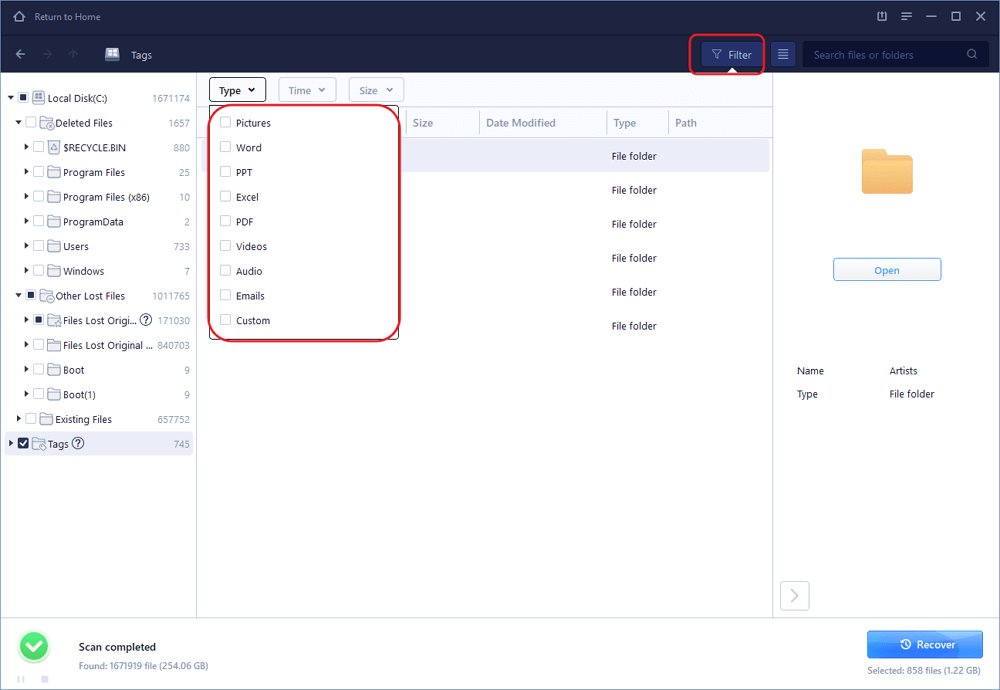 Step 3. When all lost data shows up in front of you again, feel free to check the desired items and click the Recover button. Do not choose the original drive for the recovered data. It's at risk of data overwriting.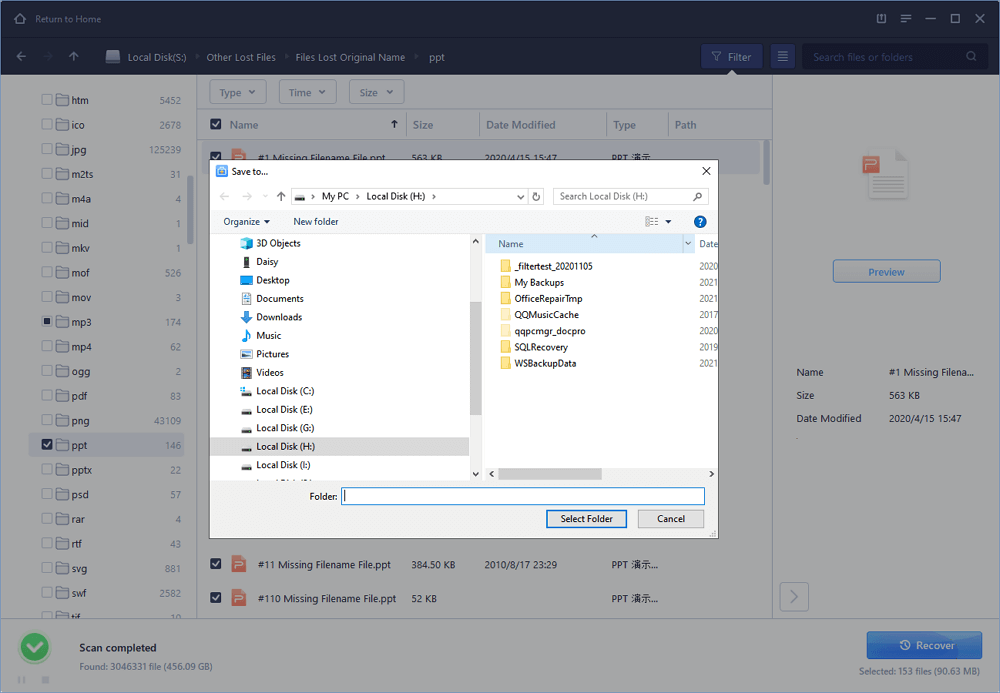 If your hard drive is the system drive and it failed to boot from BIOS, you'll need to use the EaseUS Data Recovery Wizard with Bootable Media to follow the steps below and get your problems solved:
1. Create a bootable disk with EaseUS Data Recovery Wizard WinPE.
2. Run EaseUS Data Recovery Wizard from WinPE bootable disk and restore data to a healthy drive.
3. Reinstall the Windows system and restart the PC to continue using the drive.
2. Reconnect hard drive and enable hard drive in BIOS
1. Shut down the PC and unplug the data cable from the hard drive properly.
2. Reconnect the hard drive with the data cable.
3. Restart the PC and press F2 to enter BIOS.
4. Enter Setup and check the system documentation to see whether the undetected hard drive is turned Off in System Setup or not;
5. If it's Off, turn it ON in System Setup.
6. Reboot the PC to check out and find your hard drive now.
3. Update hard drive driver for computer storage controller
To update hard drive drivers for your computer storage controller, you have three options here:
1. Update hard driver by contacting the manufacturer for help.
2. Download and update hard drive driver from manufacturer's website.
3. Manually update hard drive drivers in the Windows system:
Click the Start button > Type: Device Manager and hit Enter.
Select Device Manager, expand categories to find the name of your hard drive and right-click it.
Select Update Driver > Select Search automatically for updated driver software.
If Windows doesn't find a new driver for your drive, try to find the latest one on the device manufacturer's website.
If the above steps don't work, try re-installing the drivers: Open Device Manager > Right-click on your hard drive and select Uninstall.
Then restart your PC and Windows will automatically re-install the drivers on the hard drive for you.
Extra Tip: Repair/fix internal errors that lead to hard drive won't show up by using CMD
After the hard drive is detected in BIOS, you can try to open it on your PC. If you still cannot open it on the PC, here you can run CMD to repair the internal hard drive error that causes the hard drive undetectable or unreadable by your PC:
1. Press Win + R to open a Run dialog and type: cmd to open Command Prompt by hitting Enter.
2. Type: chkdsk /f c: (C should be the drive letter of your undetectable hard drive.) and hit Enter to run the disk checkup process.
3. Type: exit to finish the process when the disk checkup process is finished.