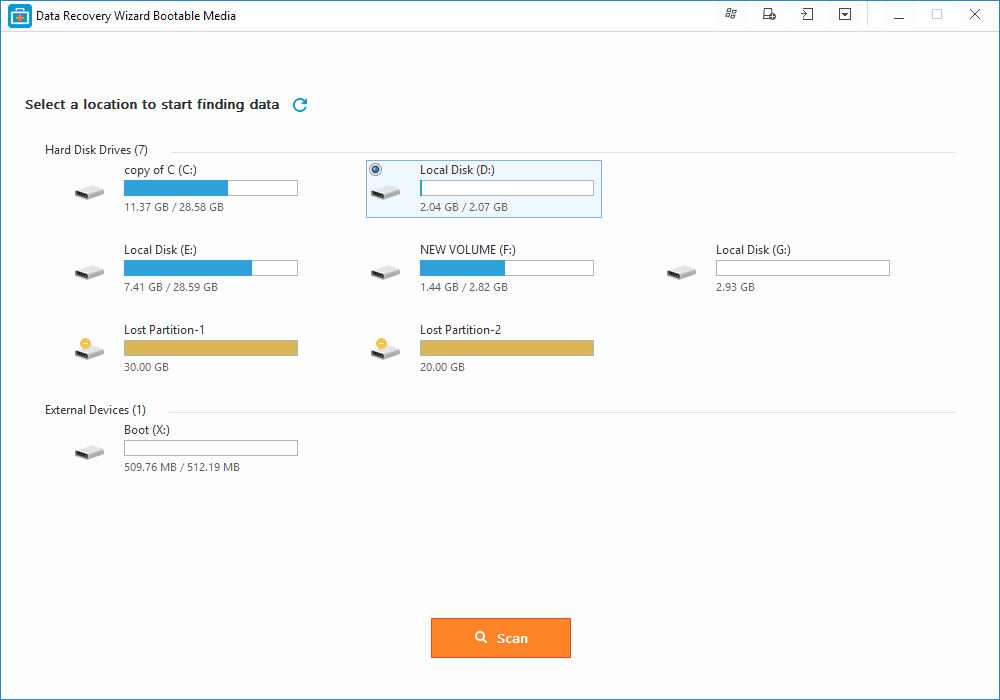 To Recover Deleted Data from a Damaged Hard Drive: 
1. Download & Install EaseUS Data Recovery Wizard WinPE Edition on your computer.
2. Select your hard drive & click the Scan button.
3. Preview files and click Recover.
How to Recover Data from a Dead Hard Drive
When you find your hard disk does not respond anymore and hear a few "biz biz" when you're trying to boot from it, and then it stops, and you can't access it. In such a condition, your hard disk drive might become dead. How to tell if your hard drive is dead? Here are some tips:
Strange noises
Computer crashes
Disk errors and data loss
Computer stops recognizing the drive
If you are faced with one of these symptoms, your hard drive is dead. You don't have to be panic, follow the tips below to recover data from dead hard drive.
Part 1. Chances of a Dead Hard Drive Data Recovery
The dead hard drive eventually affects all computer users. Frustration soon kicks in due to the loss of pictures, music, documents, and other files - files that you can't always replace.
Do not worry, unless corruption has occurred within the files, the files can be saved. And most of the time, the data is intact. It is good if you have a backup of your important data. However, if you do not make a backup in advance, and find the components in your drive are still functioning, you can recover data from the dead hard drive with bootable CD/DVD of data recovery software - EaseUS Data Recovery Wizard.
Tip: Make sure that the Disk is recognized as Online Disk and the partition or disk space is displayed properly. Then you can use this software. If the disk is not recognized as Online Disk, you can refer to Part 3.

Part 2. How to Recover Data from a Dead Hard Drive
EaseUS Data Recovery Wizard WinPE Edition is a bootable disk of data recovery software which can help you recover data after the system crash and boot problem. Before you start,create a bootable USB first. Then, boot from Data Recovery Wizard WinPE bootable disk. Then, follow the steps below to recover data from a dead HDD.
Step 1. Create a bootable disk
Launch EaseUS Data Recovery Wizard, choose "Crashed PC Recovery" and click "Go to Recover".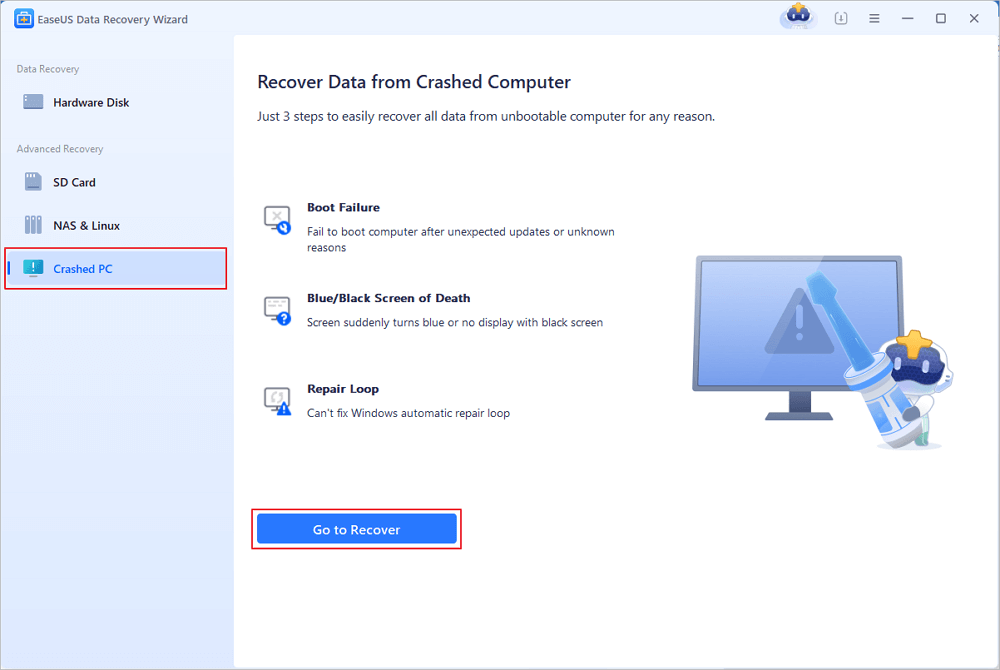 Select an empty USB to create the bootable drive and click "Create".
Warning: When you create a bootable disk, EaseUS Data Recovery Wizard will erase all data saved in the USB drive. Back up important data beforehand. 
Step 2. Boot your computer from the bootable USB
Connect the bootable disk to the PC that won't boot and change your computer boot sequence in BIOS. For most users, it works well when they restart their computer and press F2 simultaneously to enter BIOS.
Set to boot the PC from "Removable Devices" (bootable USB disk) beyond Hard Drive. Press "F10" to save and exit.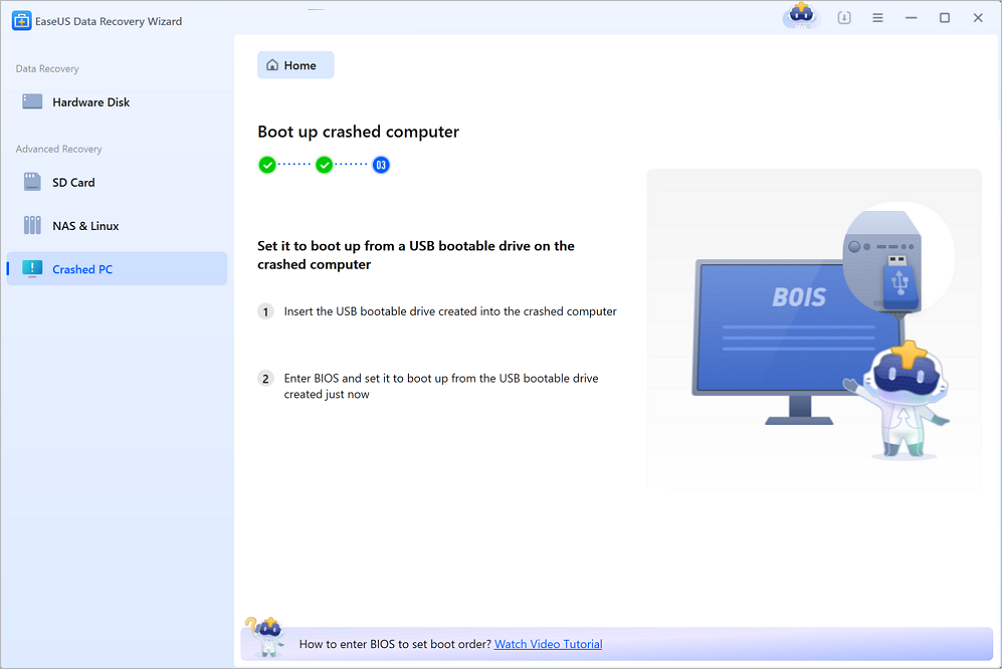 Step 3. Recover data from a crashed system/PC
After booting from EaseUS Data Recovery Wizard bootable disk, select the drive you want to scan to find all your lost files. Preview and recover the files you need to a safe location.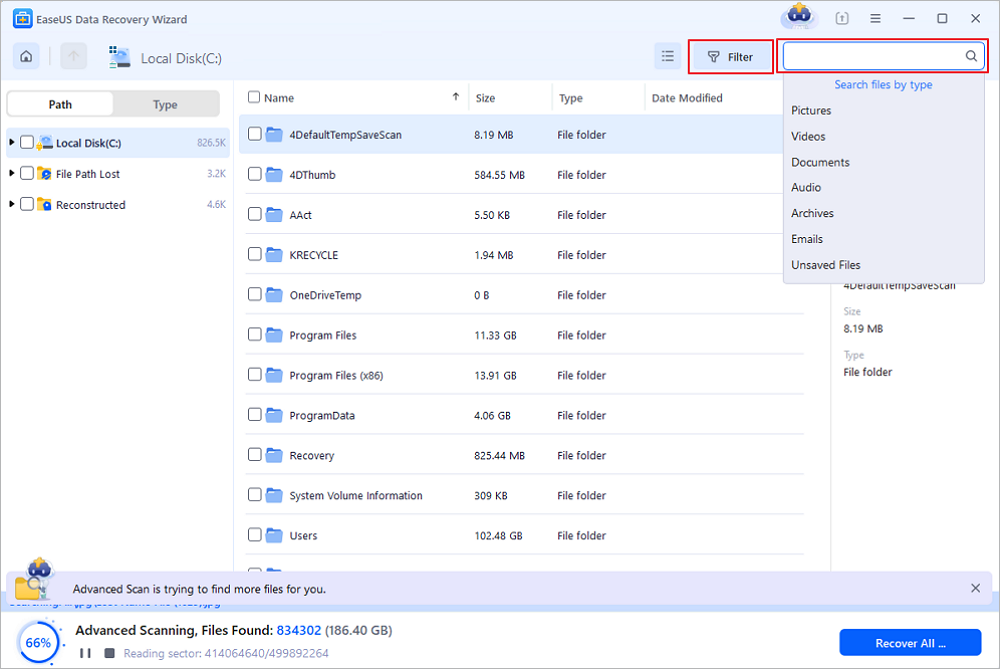 Apart from recovering lost files from a dead hard drive, EaseUS Data Recovery Wizard WinPE Edition also supports recovering data from RAID, external hard drive, dynamic disk and Memory Cards, etc. Also, it can recover lost photos, documents and media files, etc., unformat files, recover data from lost partition, etc.
Part 3. What to Do If the HDD Is Not Online
If your dead HDD is not showing as "Online", follow the steps to fix it.
Case 1: The HDD Shows "ONLINE (ERRORS)"
When a dynamic disk detects an I/O error, an "online (error)" status occurs. And usually, all volumes on the disk will show as "At Risk" status.

Step 1. If the I/O error is a temporary error (like cable slack), reactivate the disk.
Step 2. If the "Healthy (At Risk)" status is still displayed, there may be a disk failure. Back up data and replace disk as soon as possible.
Case 2: The HDD Shows "Not initialized"
The "uninitialized" state occurs when the disk does not have a valid signature or virus corruption.
Step 1. Connect the hard disk to other computers to see if it is normal. If it is still uninitialized, you can initialize it first.
Step 2. Right-click the disk and click "Initialize Disk". The disk status is temporarily changed to "initializing" and then to "Online" status.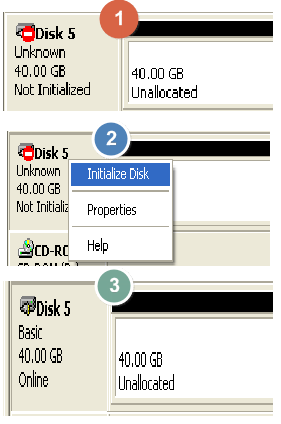 Case 3: The HDD Shows "Missing"
A "Missing" state occurs when a disk is destroyed, closed, or disconnected.

Open "Disk Management", right-click the missing disk, and then click "Reactivate Disk". If there are multiple missing disks, Disk Management will attempt to reactivate all of them.

Case 4: The Disk Is Showing as "Foreign"
When the dynamic disk is transferred from another computer to the local computer, the "Foreign" status is displayed. The "Foreign" status is also displayed when a computer running Windows XP Home Edition is configured to pass dual boot mode of another operating system (using dynamic disks). Importing a Foreign disk would solve it.

Right-click the disk.
Click "Import Foreign Disks". The data will not get lost.

Case 5: The Device is Unreadable or No Media
An "unreadable" state occurs when a basic or dynamic disk is inaccessible. The disk may have a hardware failure, a corrupted, or an I/O error. You can solve this error by following the steps below:
1. Rescan the disk 
Click "Action" > "Rescan Disks") or restart your computer to see if the disk status has changed.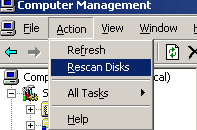 2. Update driver in Device Manager
Step 1. In the Device Manager, double-click the device (where there is usually a yellow triangle exclamation icon beside it) and open the driver Properties window.
Step 2. Go to the Driver tab and click "Update Driver".
Step 3. Click "Search automatically for updated driver software".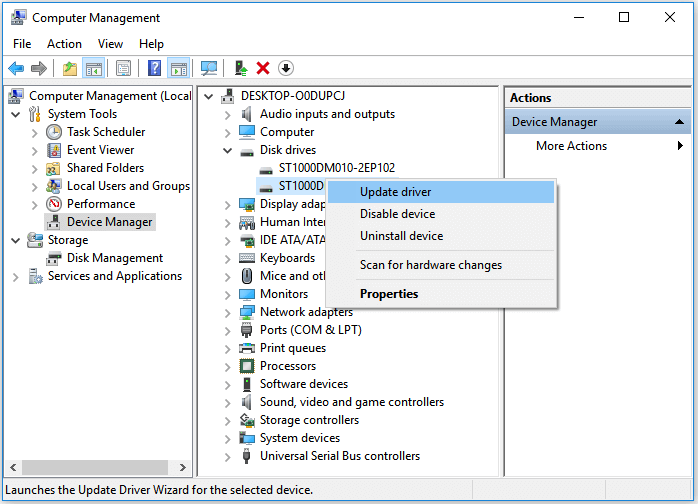 3. Rebuild MBR
If your MBR disk is damaged, you certainly cannot boot into Windows. How to repair the damaged MBR? Here we'll provide a safe and reliable procedure to help you. EaseUS Partition Master has already offered the function to rebuild MBR in the case of boot failure due to MBR problems. Follow the step-by-step instructions to rebuild MBR.
Step 1. Create a WinPE bootable disk
Launch EaseUS Partition Master, and click "Bootable Media" on the toolbar. Select "Create bootable media".
Click "Next" to finish the process.
Step 2. Boot EaseUS Partition Master Bootable USB
Connect the bootable USB or CD/DVD to your PC. 
Press F2 or Del when you restart the computer to enter the BIOS screen. Set and boot your computer from "Removable Devices" or "CD-ROM Drive". And then EaseUS Partition Master will run automatically.
Step 3. Rebuild MBR
Click "Toolkit" and choose "Rebuild MBR".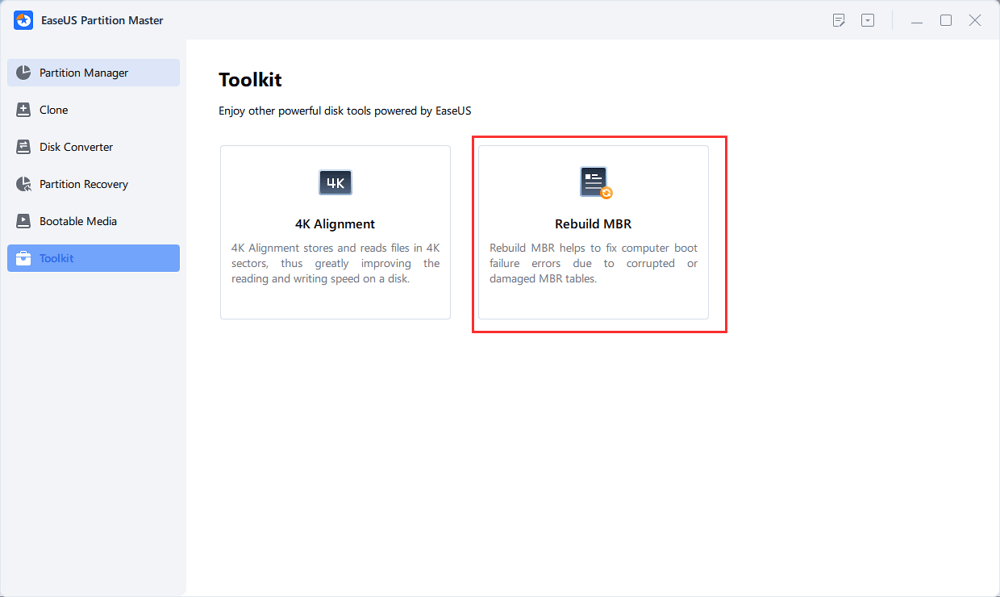 Select the disk and the type of MBR. Then, click "Rebuild".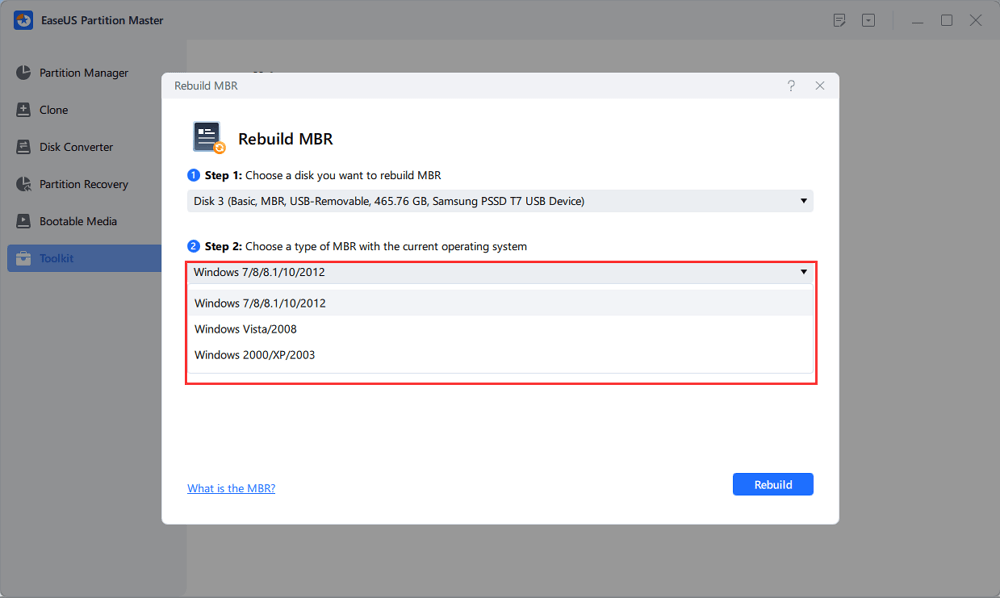 After that, you can see "MBR has been successfully rebuilt on Disk X".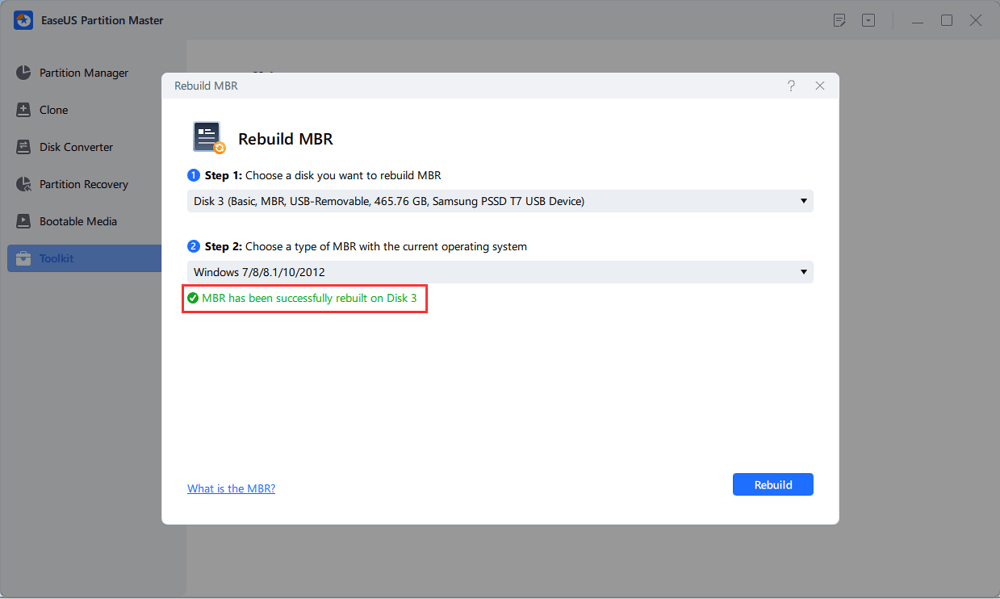 Part 4. How to Repair Corrupted/Damaged/Dead Hard Drive
When your external hard drive fails, you can try the solutions below to fix it. If you can see obvious damage, such as strange sounds, obvious cracks, or a broken printed circuit board, send the HDD to a specialist in time. The following methods are more suitable for repairing non-physical damage.
Solution 1. Use Disk Repair Services
To repair corrupted disk or USB flash drive and restore data efficiently, restore to EaseUS disk repair services.
EaseUS Disk Repair and Recovery Services
Click here to contact our experts for a free evaluation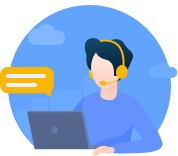 Consult with EaseUS data recovery experts for one-on-one manual recovery service. We could offer the following services after a FREE diagnosis.
Fix HDD, SSD, external hard drive, USB flash drive errors, and restore data from all RAID levels
Recover lost partition that cannot be restored by data recovery software
Fix disks that cannot be read or accessed because of bad sectors
Fix disks that become GPT protected partitions
Wipe data, unformat hard drive, Install/uninstall software or driver, etc.
Solution 2. Fix the File System Error
If the disk has bad sectors or internal errors, the hard disk can corrupt very easily. And if you know how to run the CHKDSK command on your PC, it will be effortless for you to fix the hard disk corrupted issue. 
Press Win + X, select "Command Prompt (Admin)".
Click "Yes" to launch Command Prompt as Administrator.
Type: chkdsk and hit "Enter" to check errors in the corrupted hard drive.
Type:  chkdsk c: /f /r/x to let CHKDSK fix the drive. (C is the drive letter of your corrupted hard drive)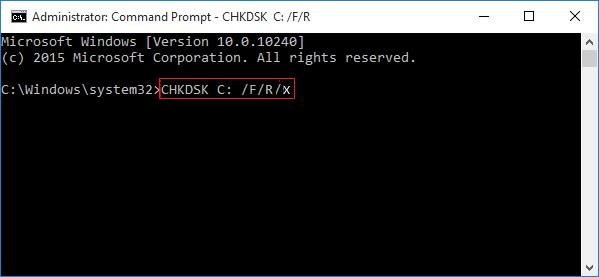 If you are a beginner and don't know how to use CHKDSK, you can use the CHKDSK alternative tool.
If command line is not your ideal choice, you can apply this command-line alternative tool - EaseUS CleanGenius. Use this one-click tool to fix the file system error on your hard drive.
Step 1. Download EaseUS CleanGenius on your computer for free.
Step 2. Run the software. Click "Optimization" on the left panel, and then choose "File Showing" .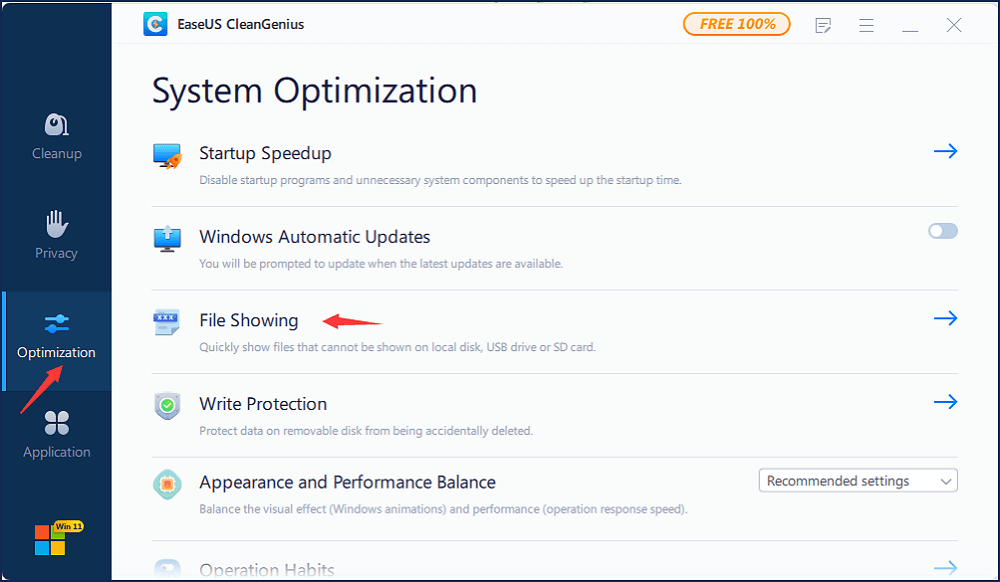 Step 3. Go to "Choose drive" and select the drive with a file system error. Check the "Check and fix file system error" option and click "Execute".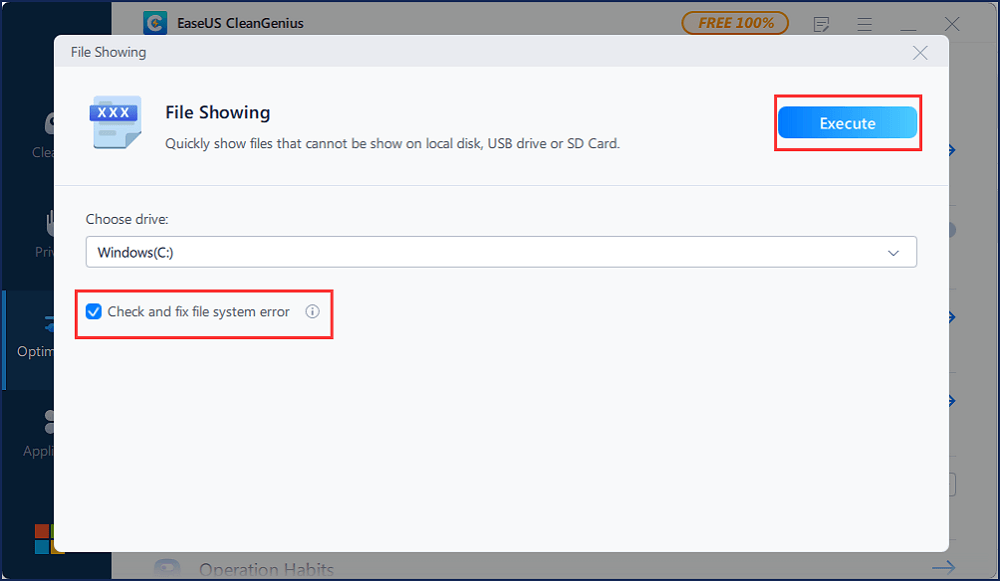 Step 4. Wait the EaseUS CleanGenius completes the repairing process. After that, click the "here" to view the result.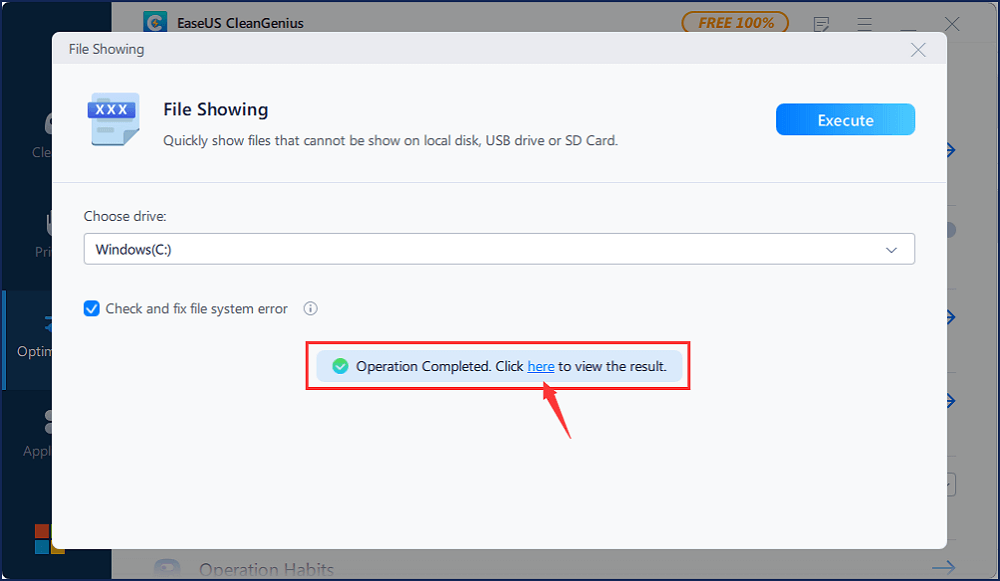 Solution 3. Use File Manager to Fix Corrupted Non-System Drive
Press "Win + E" to open File Manager, right-click the appropriate drive from the left pane.
Select "Properties" and click "Tools" > "Check under Error Checking".
Click "Repair This Drive" when the scan completes fixing the drive errors.
Solution 4. Run a Thorough Disk Check 
Open "This PC", right-click the hard drive, and select "Properties".
Click "Tools > Error checking > Check".
Select "Check local disk" and click "Start". Close all running and open programs, select the option to let the system check upon the next boot. After this, restart the PC.
If it reports that your drive has 'bad sectors or clusters', don't worry. CHKDSK command in Solution 1 will fix this issue.
Conclusion 
Diagnosing and fixing a broken hard drive is difficult. Do take it seriously, but also try to exclude some of the more simple-to-fix culprits before you spend hundreds of dollars on a specialist. Even if you managed to repair your drive and get back all your data, replace the HDD with a new drive as soon as possible. If I were you, I would not trust this hard drive anymore.

Cedric Grantham is one of the senior editors of EaseUS who lives and works in Chengdu, China. He mainly writes articles about data recovery tutorials on PC and Mac and how-to tips for partition management. He always keeps an eye on new releases and loves various electronic products.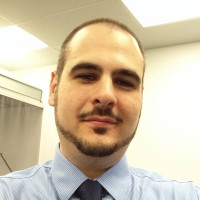 Approved by Evan Galasso 
Evan Galasso is a digital forensics and data recovery engineer with over 10 years of experience in the field. He presents opinions on the current state of storage media, reverse engineering of storage systems and firmware, and electro-mechanical systems of SSDs and HDDs.