Video Tutorial: How to Recover Data from SSD
Watch how to recover data from SSD after file deletion or disk formatting with a robust SSD data recovery tool. These days, SSDs are becoming increasingly popular. So many users prefer them over conventional hard disk drives (HDDs). Accidental deletion of files, formatting the hard disk, a virus attack, operating system failure, or file system failure can lead to data loss on SSD. But, you should not worry as you can perform data recovery on SSD by using EaseUS EaseUS Data Recovery Wizard. If you deleted a partition on an SSD, there is an online tutorial to help you restore the missing partition(s) on SSD.
What Is Solid State Drive ( SSD Overview)
Solid State Drive, short for SSD, consists of solid-state electronic memory chips (typically DDR RAM or Flash Memory) to read and write data. It is able to extend the life of a notebook battery, decrease the weight of the machine, and increase read performance. Solid State Drives have solved the problem of physical constraints and are now widely used to replace hard disk drives with high-speed circuitry.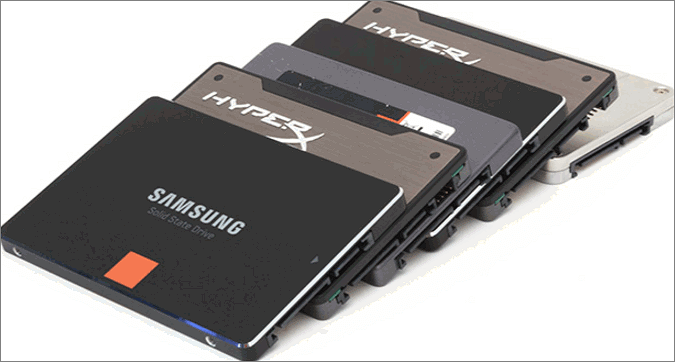 What makes Solid State Drives drive so popular? Here are a few solid reasons:
An SSD drive provides faster access time than a hard disk does
The SSD access time does not depend on a read/write interface head synchronizing with a data sector on a rotating disk.
The SSD also provides greater physical resilience to physical vibration, shock, and extreme temperature fluctuations. SSDs are also immune to strong magnetic fields which could sanitize a hard drive.
Why You Need to Perform SSD Data Recovery
With all these advantages, there is no question that SSD will eventually replace hard drive technology and mark its initial mainstream debut in high-end notebooks. However, with its popularity, SSD drive data loss issues also happen. And, it's quite important to know the major data loss reasons to avoid data loss troubles with SSD drives. Here are a few major reasons that you should know about:
Careless deletion or formatting
Virus attacks or infection
Partition loss on SSD drive
System failure
SSD drive damage
...
What Is the Best SSD Recovery Software for Data Recovery
Even if you take every precaution to avoid data loss troubles, you may still have to bear data loss problems sometimes. Fortunately, third-party SSD drive recovery software is available to help you. EaseUS Data Recovery Wizard is highly recommended for this task. With powerful data recovery capacity, this SSD recovery tool can recover lost files from SSD drives in all complicated data loss situations.
It enables you to undelete files from SSD drive, unformat SSD drives, and perform SSD drive RAW recovery, etc.. And, with the easy-to-use features, it can help all computer users to complete SSD data recovery to rescue their files in simple steps. No professional knowledge or technical skills are required.
To recover data from SSD using EaseUS SSD data recovery software, follow these steps.
Step 1. Scan the SSD
Open EaseUS Data Recovery Wizard, select the SSD where you lost data, and click the "Scan" button.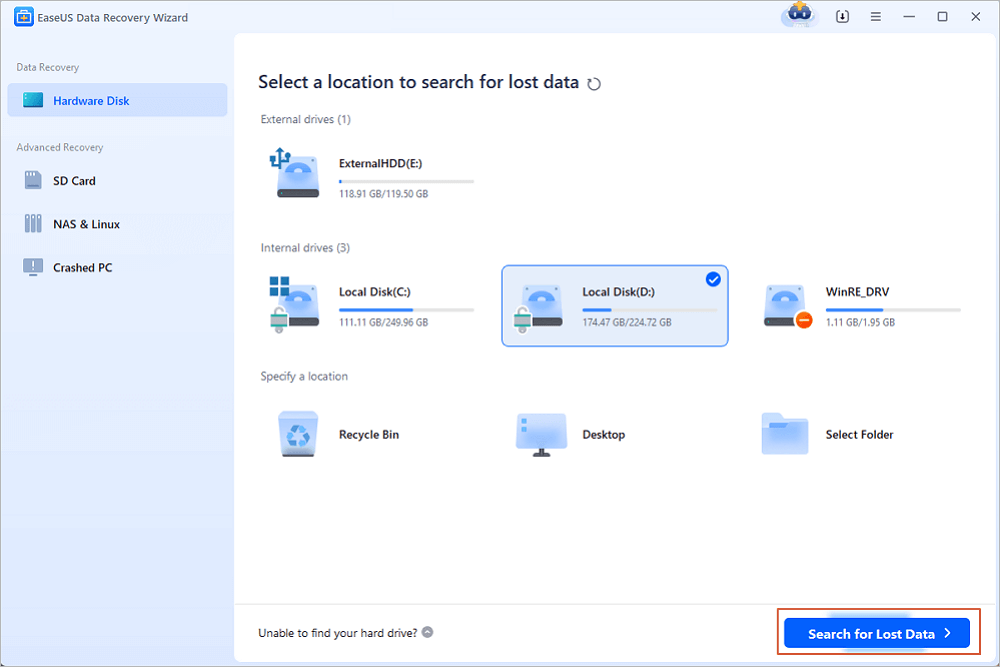 Step 2. View the results
When the scanning finishes, find lost SSD data by using the "Filter" and "Search" options after checking the "Deleted Files" and "Other Lost Files" folders.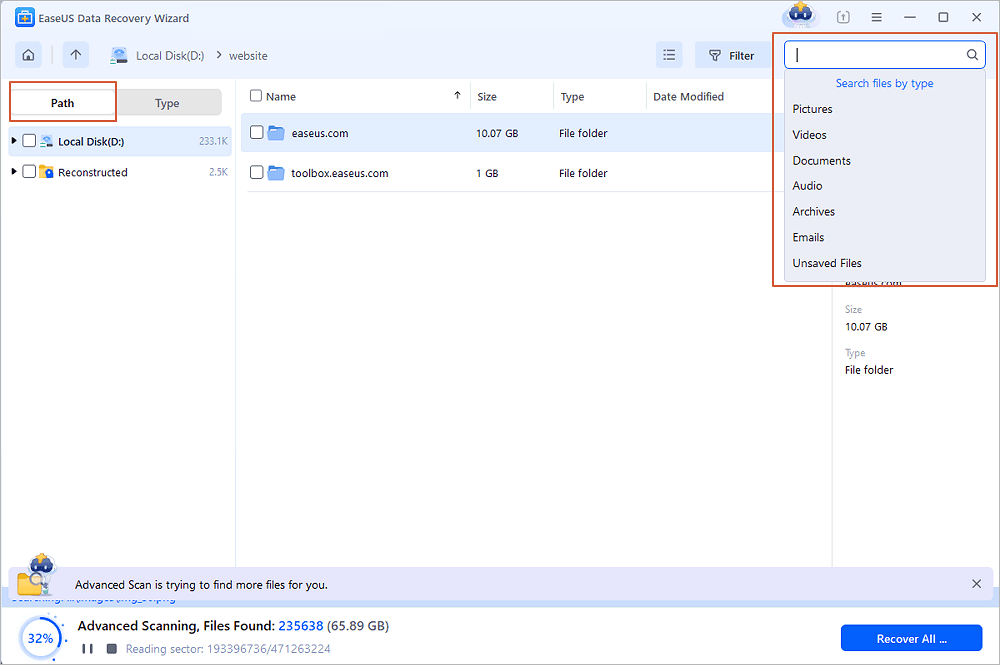 Step 3. Recover SSD files
Select desired data and click the "Recover" button to get back lost SSD files.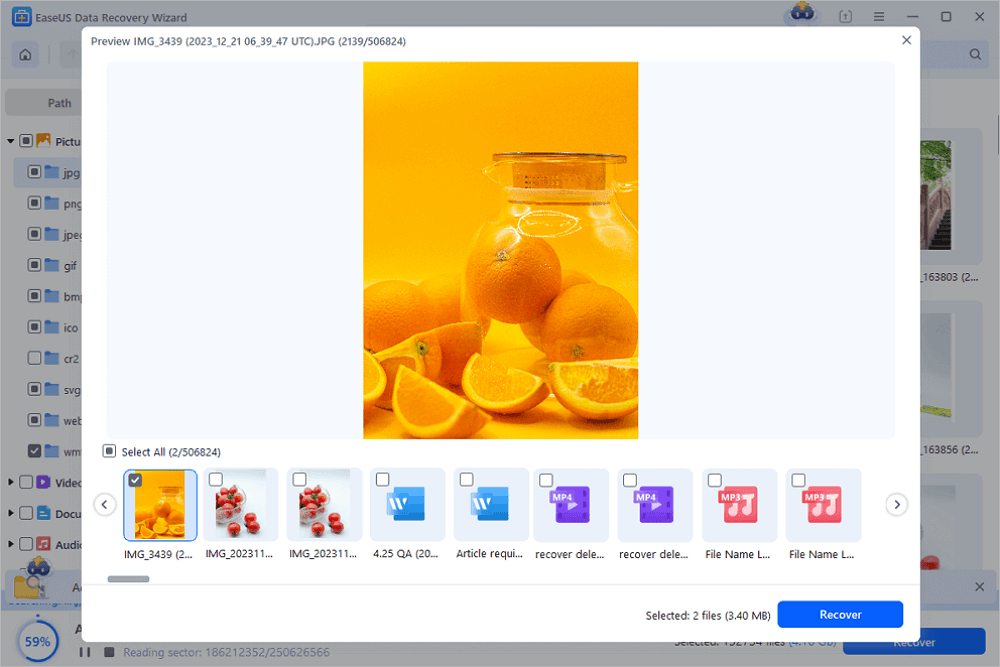  Important

This procedure only works for recovering lost files on SSD that you previously deleted, and SSD TRIM is disabled. If you have enabled the "Trim" function for your SSD but are encountering data loss, we are afraid that the odds of success are slim. You can try to disable Trim for SSD data recovery if you think it's necessary.
Highlighted Features of EaseUS SSD Recovery Software
Check out more details of the professional software to recover permanently deleted and formatted files from SSD:
| Features | Details |
| --- | --- |
| Recover Formatted SSD Drive Data | EaseUS Data Recovery Wizard is capable of recovering files from a formatted or reformatted Solid State Drive. |
| Recover Deleted Data from SSD | Important files get accidentally deleted from SSD disks. With this SSD recovery program, you can easily retrieve data files that have been lost. |
| Recover Files from Corrupted SSD | The application is capable of accessing the files even from a corrupted SSD. It scans all corrupted files/ folders and recovers them in a healthy state within a few simple clicks. |
| Support GPT and MBR Partition Recovery | You can use this software to restore lost multimedia items from GPT as well as MBR partitions of your SSD. It allows scanning unallocated partitions, too. |
Tips to Protect Your Files from Further SSD Data Loss Disasters
After retrieving your lost or deleted files from SSD, you should learn how to protect your data from further data loss. Here, we have listed some useful tips to help you avoid unexpected data loss disasters:
Back up important data to another drive or external storage device
Download and install anti-virus software to scan and remove all viruses from the SSD drive
Stop using SSD drive immediately when you find data loss trouble has occurred to your drive
Use SSD drive recovery software such as EaseUS Data Recovery Wizard for help.
Conclusion
It's a huge disaster when you lose crucial data from an SSD drive. Luckily, you don't have to worry about losing valuable data on your SSD drive anymore. Just follow the SSD data recovery guide above to protect and rescue your files. EaseUS SSD data recovery software is designed to recover permanently deleted, formatted, and corrupted data from SSD drives in Windows OS.
SSD Data Recovery FAQs
Here are a few frequently asked questions about how to recover files from SSDs. If you have any of these issues, you can find the methods to fix them here.
1. Can formatted SSD data be recovered?
Whether or not SSD data can be recovered is a complicated question. We know that due to the technology known as SSD TRIM, it is virtually impossible for data recovery software to restore data from an SSD drive when files or folders have been deleted.
However, in the case of accidentally formatted partitions or deleting files when the TRIM is disabled, you can use an SSD data recovery application to recover deleted data from formatted SSD.
2. How can I recover data from a failed SSD?
Generally, it's hard to identify if the SSD is dead or failed. But, there are a few indicators to detect whether your SSD is approaching its read/write cycle limit or is experiencing physical issues:
Bad blocks, the saving, reading, and moving files on SSD may result in failure
File system repair but physical defect software shows no damage
Computer crashes while booting up, and the SSD is probably failing
SSD uses a read-only mode
When your SSD fails, you can still recover data from it. Connect the SSD to the computer, run EaseUS Data Recovery Wizard, and you can access the SSD and recover its data.
3. How do you fix a failed SSD?
How to fix a failed SSD depends on the cause of the problem. If there were physical problems, such as hardware damage or degraded flash units, the SSD may need to be replaced. However, if the dysfunction is due to logic errors, like bad blocks, software failures, malware infection, outdated drives, and so on, you can use the following options to fix the dead or failed SSD:
Format the SSD, but first, recover files from it
Power cycling the SSD
Idling in the boot menu
Updating SSD firmware
Updating drivers
4. How much does SSD data recovery cost?
It depends on how you choose to recover SSD data and the tools you use. With help from an SSD vendor, data recovery for a drive with full disk encryption costs about $700. However, when vendor help isn't available, SSD data recovery can surge to $3,500, according to Gillware, a data recovery company. Both are way too expensive.
While if you choose EaseUS SSD data recovery software, you can easily recover data from SSD for only $69.95. You can use this tool to restore any lost files from hard drives (HDD & SSD), emptied Recycle Bin, USB flash drives, SD cards, pen drives, external hard drives, and more.

Dany is an editor of EaseUS who lives and works in Chengdu, China. She focuses on writing articles about data recovery on Mac devices and PCs. She is devoted to improving her writing skills and enriching her professional knowledge. Dany also enjoys reading detective novels in her spare time.

Approved by Mahesh Makvana 
Mahesh is an experienced computer tech writer. He's been writing tech how-to guides for about 8 years now and has covered many topics. He loves to teach people how they can get the most out of their devices.