Average Hard Drive Recovery Cost
How much does it cost to recover hard drive data? Well, that depends. The average hard drive recovery cost is from zero to thousands of dollars. In such an information era with advanced technology, restoration of deleted or lost hard drive data has become so approachable, and we have both manual data recovery center as well as online hard drive recovery software.
In terms of the eventual cost in retrieving every bit of valuable data off from a hard drive that is with identified or unidentified problems, you're strongly suggested to learn the latest came out hard drive recovery cost and spend the least on hard drive recovery. Get the best pricing on either data recovery service or online data recovery software to recover data from hard that is inaccessible, dead, damaged or corrupted. Of course, some removable storage devices such as USB flash drive, pen drive or memory card are included as well.
What's Manual Data Recovery Center and How Does It Usually Charge
The manual data recovery center, service or company in your local area, above all, is rare to see. And, it's not cheap at all to ask the professionals for data recovery. Why is that? We have to admit that manual recovery of hard drive data requires a certain amount of labors, who must possess specialized computer science and technology skills. In terms of the lack of service store number and high investment in labor cost, all those factors make the hard drive recovery service expensive.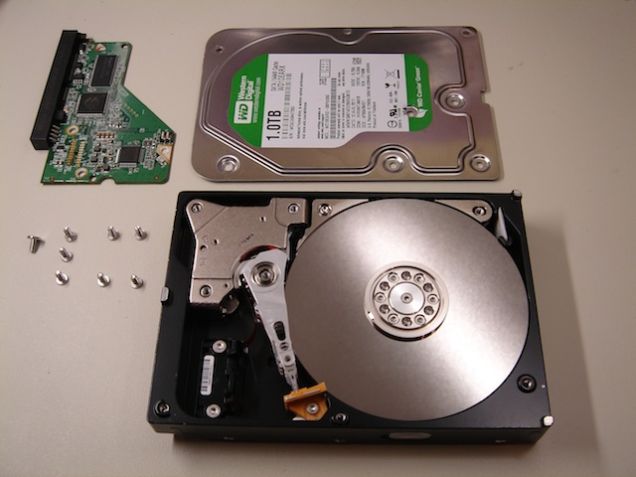 According to the authoritative survey on the most popular offline data recovery company in the U.S., such as 300dollardatarecovery, pricing on typical hard drive recovery can take about $100 to $1500 or higher, which usually charges money for how much labor time spent or how many GBs of data recovery you demanded.
Incredibly high chance of data recovery from a hard drive that is logically damaged and physically damaged, including water flooded.
Price's relatively high;
Most developing cities or towns are lack of such data recovery centers.
Money won't be returned even they can't guarantee 100% data recovery from a hard drive that is severely damaged;
What's Online Data Recovery Software and How Does It Usually Charge
By contrast, the investment of hard drive recovery on online data recovery service is greatly reduced. Some reputable data recover software brands such as EaseUS Data Recovery Wizard, comes with several editions in order to provide customers with the best experience to recover hard drive data, most importantly, spending the least money.
Let's get to know its best selling products and make your own choice whether it's necessary to send your hard drive to a professional or not.
EaseUS Data Recovery Wizard Free
The free data recovery software is designed for hard drive owners who got a slight amount of data to be recovered, which is under 2GB size. This freeware charges $0 and should be an ideal choice when you are trying to recover deleted files such as some documents or photos from the hard drive that runs out of trouble.
Completely free with all data recovery features available.
Only 2GB files recovery are allowed, and you must share your recovery result to the social website to get the full size.
EaseUS Data Recovery Wizard Professional
Meanwhile, there is the commercial edition for an unlimited amount of data recovery from all supported storage devices, including HDD, SSD, USB flash drive, pen drive and SD card. The hard drive recovery software asks $69.95 for full version download. In fact, many manual data recovery companies bought professional third-party online data recovery software to perform some general hard drive recovery jobs, such as recover data from an accessible hard drive, or from a hard drive that is logically corrupted while Windows still recognizes it.
Low price for data recovery software full version free download;
Easily get on the Internet and provide instant data recovery chance;
Do-it-yourself hard drive data recovery;
Unable to recover data from hard drive that is physically broken, such as fall apart, the fire burned or water damaged.
Hard drive recovery guide with EaseUS Hard Drive Recovery Software
Step 1. Select a location to start finding data
Launch EaseUS Data Recovery Wizard, please select a location where you lose your data and start to scan, like Desktop, Libraries, hard drive, external storage devices or lost partitions.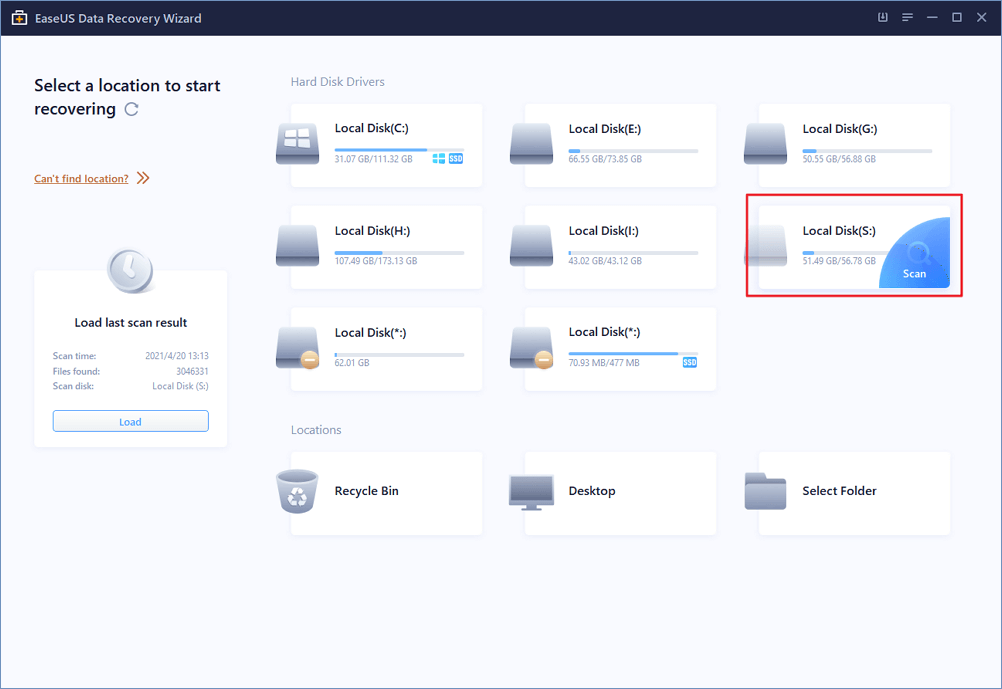 Step 2. Scan your partition
Click the "Scan" button and the software begins to scan your partition to find as much lost data as possible.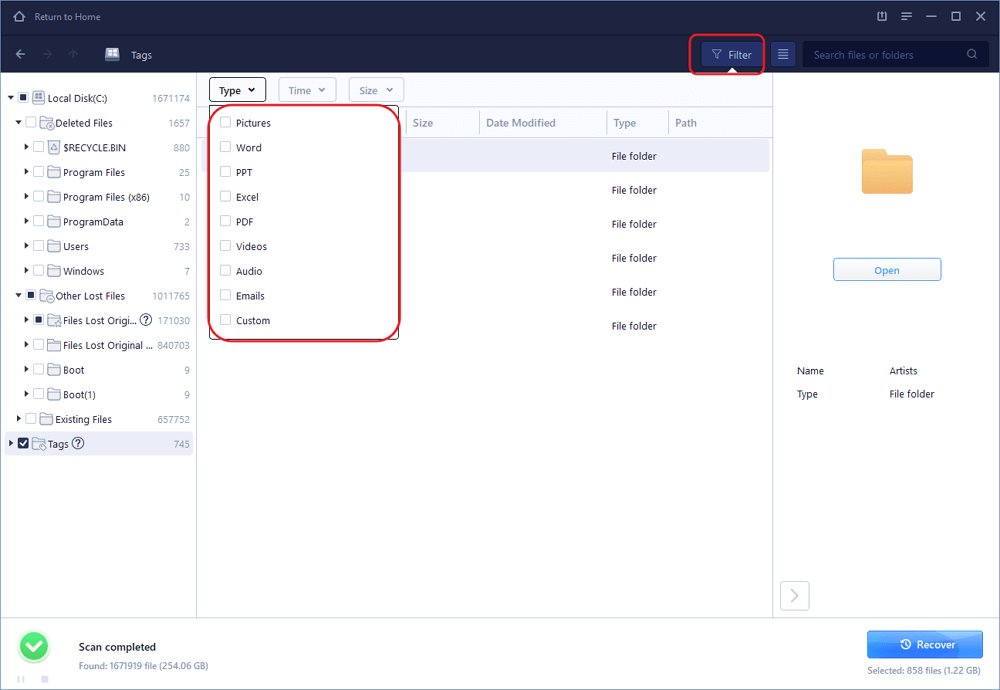 Tips for finding wanted data
Extra Files: find files that lost names or paths
Filter: a quick way to your wanted files
Search: e.g. file name/file extension
Step 3. Preview and recover lost files
EaseUS Data Recovery Wizard allows you to preview specific recoverable files. After the preview or file filtering, you can target the tracked files and press the "Recover" button to get everything you want back.