Summary
Pick this laptop hard drive recovery tutorial to solve most laptop hard drive unbootable issues. Here, you will learn two ways to access, recover, transfer and get off files from a dead laptop hard drive without booting into OS, including [1] EaseUS WinPE bootable data recovery software; [2] Self-troubleshooting by connecting the hard drive to another computer.
"How to get off files from a dead laptop hard drive? My one-year-old Toshiba laptop died. I thought it was a bad power cord, but apparently, it's something internal. I wasn't able to get all my old files off before the battery went out too. How can I recover files from it? Can I connect it to my new laptop? The old one won't power up at all. Appreciate any suggestions."
Is your laptop really dead or not?
Many unpleasant situations are supposed to stop a user from starting their laptop correctly, or accessing hard drive data normally. Before proceeding to any suggestions of how to fix a dead laptop or how to recover data from a dead laptop hard drive, it's good to make the "DEAD" item clear. "Dead" means different things to different people but usually means from truly dead to no display. Sometimes, when a laptop goes black screen of death, it's still fixable, without the risk of losing data.
To fix a dead laptop without losing data, this video guide offers three effective fixes, including fix system file error and boot error using Windows installation disc, fix BCD error and uninstall software or driver in Safe Mode.
After the self-examination, as soon as the hard drive is beyond a user's ability to repair, data recovery should become the prior thing!
Dead Laptop Hard Drive Data Recovery
Here, you will learn two ways to access, recover, transfer and get off files from a dead laptop hard drive without booting into OS, including [1] EaseUS WinPE bootable data recovery software; [2] Self-troubleshooting by connecting the hard drive to another computer. As you understand, both methods require necessary operations on a working computer, so make sure you have a backup computer nearby.
Method 1. EaseUS WinPE bootable data recovery software
If you prefer a simple way to get your saved data out of a failed or dead laptop hard drive, you will need the professional hard drive data recovery software to help! Here you can try EaseUS Data Recovery Wizard with Bootable Media. It allows you to boot a computer in a WinPE environment, so you are able to view the hard drive and run the bootable data recovery software to scan and recover data with a few clicks.
A very highlighted benefit of using the bootable data recovery software is that you can create a bootable disk on a Windows 10 computer, but use it to recover data in your Windows 7 laptop.
Prepare a USB flash drive or CD/DVD disc for use. Download and install the software on another well-functioning computer, and then follow to see how to get files off dead laptop hard drive.
Step 1. Create a bootable disk.
Prepare an empty USB. If you have important data on it, copy the data to another device. When you create a bootable disk, the data on the USB will be erased. EaseUS Data Recovery Wizard WinPE Edition will help you create a bootable disk. Connect the USB drive to PC, launch EaseUS Data Recovery Wizard WinPE Edition. Select the USB drive and click "Proceed" to create a bootable disk.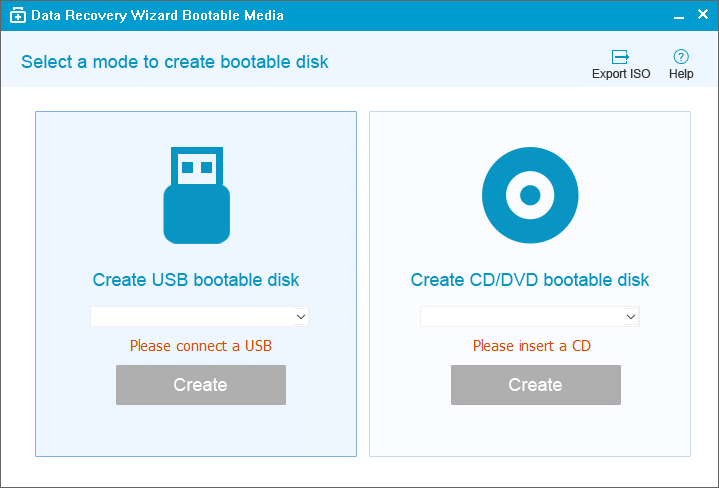 Step 2. Boot from the bootable USB.
Connect the bootable disk to PC that won't boot and change your computer boot sequence in BIOS. For most users, it works well when they restart their computer and press F2 at the same time to enter BIOS. Set to boot the PC from "Removable Devices" (bootable USB disk) or "CD-ROM Drive" (bootable CD/DVD) beyond Hard Drive. Press "F10" to save and exit.
Step 3. Recover files/data from a PC/laptop hard drive that won't boot.
When you boot from the USB, you can run EaseUS Data Recovery Wizard from the WinPE bootable disk. Select the drive you want to scan to find all your lost files.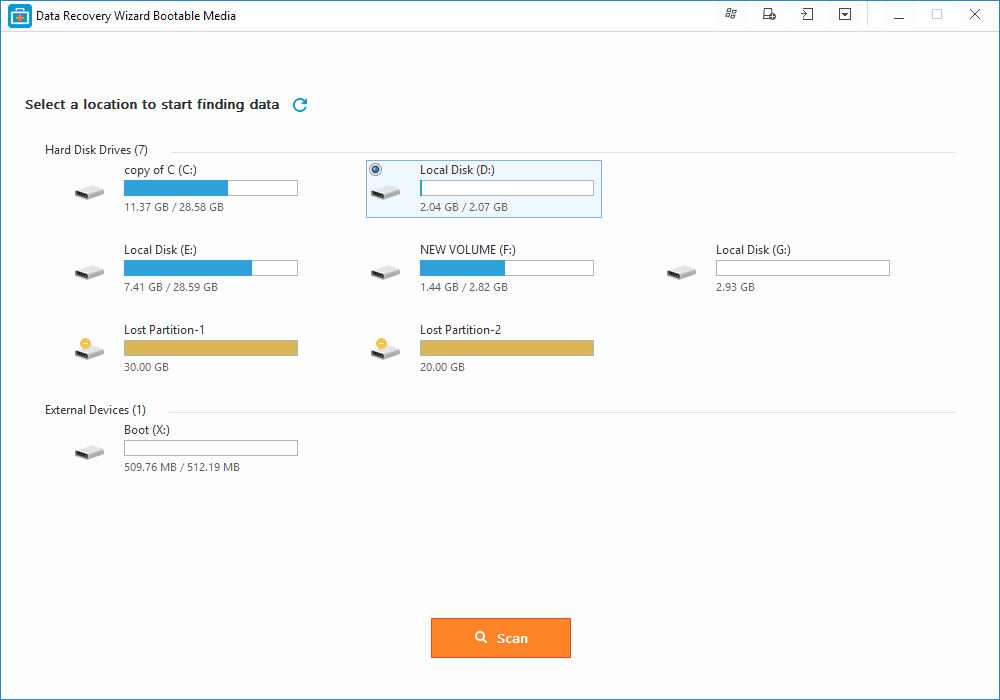 Click Scan to start the scanning process.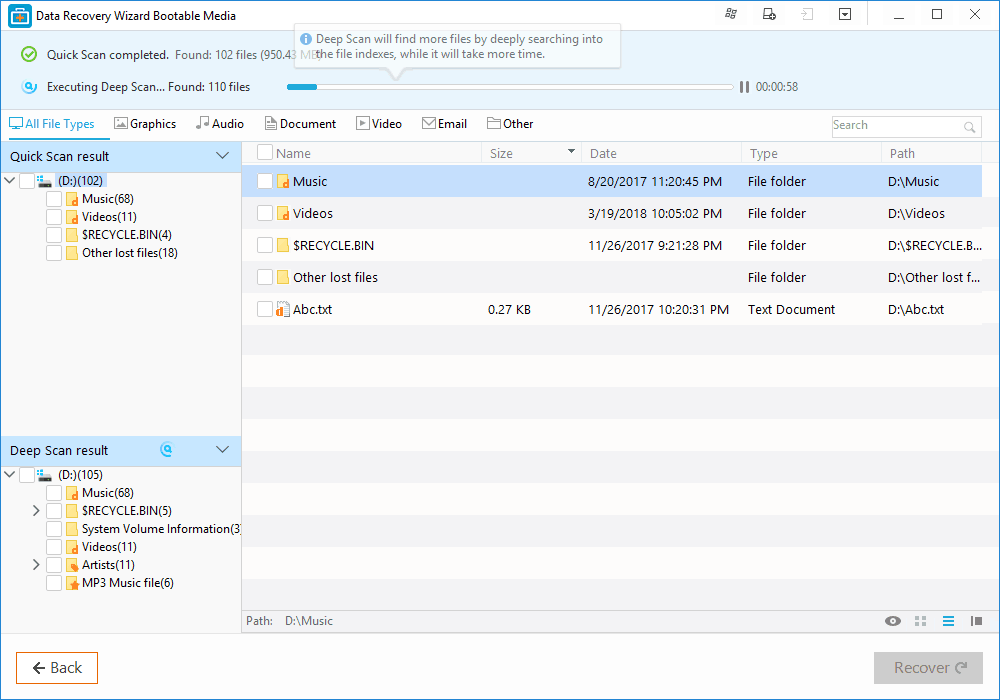 Recover data from the computer or laptop. After the scan completed, you can preview all recoverable files, select the targeted files, and click the "Recover" button to restore your files. You'd better save all of the recovered data to another place to avoid data overwriting.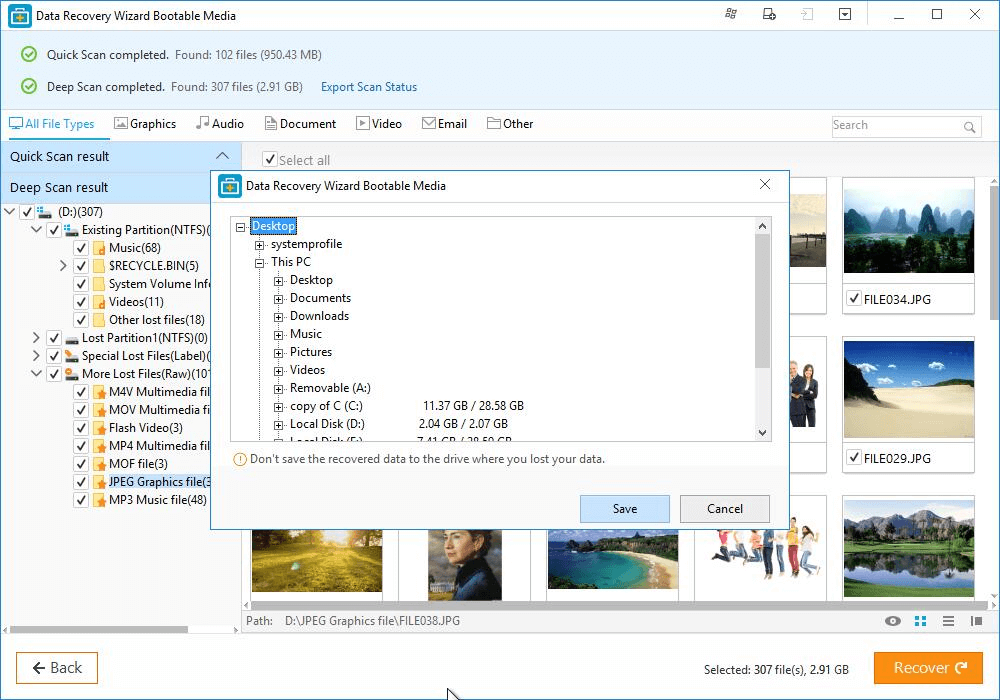 By doing so, you'll successfully get your lost data back from the dead or failed laptop hard drive, most importantly, without requiring any technical skills!
Method 2. Self-troubleshooting by connecting to another laptop/computer
There is also a group of people who are fond of DIY troubleshooting, so here you go. You can do it yourself to take out the failed hard drive from the laptop, and try to make it appear on another working computer, with the help of a laptop hard drive adapter.
Step 1: Borrow or purchase a matched laptop hard drive adapter kit, to sure it's the correct specification. For example, you're using a laptop of 2.5 SATA drive, you will need a 2.5 SATA adapter.
Step 2: Find another computer that must run the same operating system as your old one.
Step 3: Remove the hard drive from the dead laptop. Remember to remove the battery as well.
Step 4: Turn off the desktop computer and open the tower. You will need to use the adapter kit to plug the old hard drive directly into the motherboard.
Step 5: After connection, turn on and boot the computer from its standard OS in the BIOS settings, and configure the desktop to recognize the new drive.
Step 6: Now your desktop should detect the new hard drive, and you can open the hard drive in File Explorer to view files on it. Copy and transfer the files to the desktop computer or a cloud drive.
100% of people found this article helpful.
Frequently Asked Questions
1. Why choose EaseUS Data Recovery Wizard?

"EaseUS Data Recovery Wizard is the best we've seen. It's far from perfect, partly because today's advanced disk technology makes data-recovery more difficult than it was with the simpler technology of the past, but it's fast and efficient..." —PCMag

"The first thing you'll notice about EaseUS Data Recovery Wizard Pro is that its interface is very clear and uncluttered, with only a small collection of self-explanatory controls. You won't find lots of extra options hidden in a system of hidden menus, either; what you see really is what you get." —techradar

"Recover lost files, even after deleting a partition or formatting your drive." —Macworld
2. Why cannot I recover 2GB data for free?

It is recommended to check the version installed is Free or Trial because they are different versions.

Trial has data preview function but cannot save any files, while the Free version enables to recover 2 GB files. The default free space is 500 MB and you may share the product on social media to get another 1.5 GB.
3. Why cannot the recovered files be opened?

A file is saved as 2 parts on the storage device: directory info (which is comprised by file name, time stamp and size info, etc.) and data content.

If the files with original file names and folder structures cannot be opened, one possible reason is the corrupted directory info. There is still a chance to recover the data content with the RAW Recovery method in our software.
4. Why isn't it suggested to recover the files back to the original drive?

The storage structure of the lost files would be altered or damaged by any changes on the drive. If you save the recovered files back to the same drive, the original data structures and data content would be corrupted or overwritten, which causes permanent data loss. So you should prepare another disk to save the files.
5. How can I check whether my data is recoverable or not before purchase?

The Free version helps you save 2GB files to better verify the recovery quality of our product before purchase.
6. How long does it take to scan the drive?

It strongly depends on the capacity of your hard drive and the performance of your computer. As reference,most drive recoveries can be completed in around 10 to 12 hours for a 1-TB healthy hard drive in general conditions.
About Data Recovery Wizard
It's super easy to recover 250+ types of files after deletion, disk formatting and virus infection. Click the links and compare the difference of each version.