Did you see laptop turning on but no display
"I've been recently experienced problems with my HP Pavilion laptop. For some time, the power button light will go on but nothing will appear on the screen. I worried nothing but many important files. Please tell me how to solve the issue that the laptop turns on but no display without affecting data inside."
It's common to see Windows black screen of death after login with a cursor, no display, no options, just nothing. For years of experience in the IT field, the laptop starts with 'LED light on, hard drive spinning, but no display' is frequently happening to users, especially when Microsoft pushes a Windows operating system update. And the corresponding troubleshooting can be found anywhere on the internet, most will be related to a Windows reset or component reset, which wipes hard drive data.
How to access laptop and recover data when screen remaining blank or black
So, if you care for data, try to access hard drive data without OS at the first step. Among the multiple approaches, we recommend you the easiest one. EaseUS WinPE bootable data recovery software is designed to serve people who have trouble in booting up the Windows operating system.
Instead, by creating a bootable media of EaseUS Data Recovery Wizard, you can easily access your dead computer or laptop and retrieve data as much as possible.
Be sure that you have a CD/DVD-Recorder and a CD/DVD or USB drive which can be written.
Step 1. Download and install EaseUS Data Recovery Wizard WinPE Edition on a normal computer.
Step 2. EaseUS Data Recovery Wizard WinPE Edition will recognize your CD/DVD device or USB drive automatically. You can also export the ISO file. Select CD/DVD or USB drive and click "Proceed" to create a bootable disk.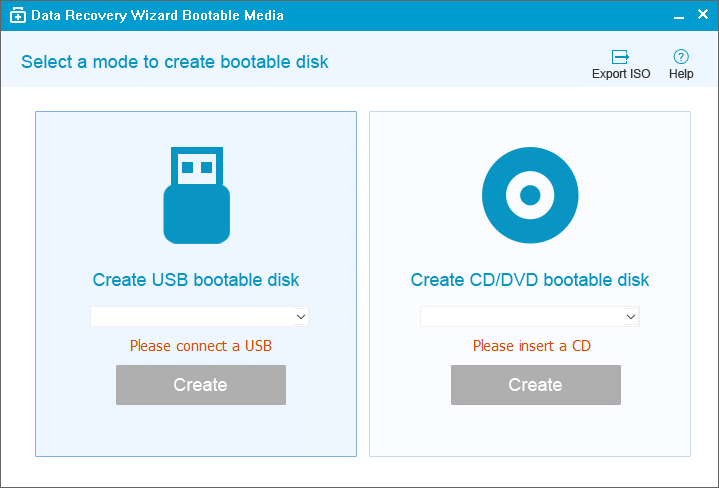 Step 3. Boot your dead computer from the created bootable disc or USB drive and run EaseUS Data Recovery Wizard from WinPE bootable disk.
Step 4. Select the hard drive you're trying to copy files off from it and click Scan.
Step 5. After the scan, choose the files or folders and click Recover.
How to fix no display issue on the HP/Acer/Asus/Dell/Lenovo laptop
With data safely transferred, now you can begin the repair procedure by carefully follow the three solutions, which are proved to be useful in fixing most laptop turning on but displaying nothing on the screen issue.
To make your laptop display OS normally, you got 3 ways to follow:
Performing a hard reset
Your laptop manufacturers should allow you to hard reset or factory reset your machine when it has trouble in starting up or malfunctioning in other ways. If you have no idea about how to do the hard reset, try to contact the manufacturer or seek help on the official support forum. This manner removes data and apps, still, it deserves an initial trial since it resolves the display blank or black issue mostly.
Connecting an external monitor to test the display
To exclude the factor that your laptop monitor has been damaged or not working properly, try to find a normally working monitor and connect your laptop to it. You can connect most monitors and other display devices like projectors using the VGA, DVI, HDMI or DisplayPort cables.
Reseating the memory modules
If a memory module is loose, it usually causes a computer not displaying an image. So, reseating the memory modules might resolve either a blank or black screen issues on a laptop. By removing the AC adapter from the laptop, removing and reseating the memory module and then reconnecting the AC adapter to the laptop, you can finally make it.