Fix No Bootable Devices Found:
Nothing is more provoking than being in the middle of an important task, and your computer informs you that there is an error when you turn it on. This usually seems to happen at the worst possible time, such as when you're on a work deadline, need to complete a school project, or need some good retail therapy.
Startup errors are not fun, yet they are one of the most prevalent errors that users encounter. Of course, not all startup issues are the same. Some errors, such as "boot device not found," can be pretty problematic or merely indicate that you need to tweak your setup.
An error like this does not imply that your computer has been entirely compromised or that your hard drive has been erased. Nonetheless, being unable to locate a boot drive is a problem that will prevent you from using your computer until the error is resolved.
So, what exactly is a boot drive error? What causes anything like this to happen? And, if no bootable device error comes, can you resolve the issue on your own, or will you require the assistance of a professional? The answers to these critical questions will prepare you for the next time you get no bootable devices found.
What's the Cause of No Bootable Devices Found Error? 
As previously stated, the "no bootable devices found" problem occurs when your computer cannot locate a boot sector. However, we shall delve further to determine the meaning of the "boot device not found" problem. The boot procedure commonly occurs without trouble when you restart your computer until you face this starting error.
A boot device is storage hardware (such as a hard disc drive or solid-state drive) or a partition on your storage device that identifies itself as a bootable storage device to your laptop/BIOS computer's (the firmware on your motherboard). There are two ways it defines itself as a bootable device.
The bootable storage device identifies itself as a "handshake" in the BIOS. The motherboard examines the hardware identity of the storage device that contains information such as manufacturers, model, storage capacity. Essentially, the system board has been integrated with the hard disc or flash drive.
The motherboard maintains a prioritized list of all storage devices connected to the PC. This is referred to as the boot sequence or boot order. The first device that may identify itself as a boot device is the one from which your computer will boot. The motherboard then initiates an instruction set to find the device's boot sectors and master boot record (MBR), after which the MBR boots Windows.
That is how your computer determines which MBR boot device to use. Or, at the very least, attempt. If it can't boot from the first one in the list, you're likely to get a "no boot device found" problem message.
So we now know what is causing the "boot device not found" issue. Next, we'll try to figure out how to repair the no bootable device error problem.
How to Fix No Bootable Devices Found
We know such errors can be daunting. No worries, below we have listed methods to fix the "no bootable device found" error in no time.
Method 1. Check Your BIOS Settings and Boot Order
An improper boot sequence may cause your computer to boot from an unbootable hard disk, resulting in the "no bootable devices found" error message. As a result, ensure that your system hard disk is in the first position in the boot order.
To do so, follow the steps outlined below:
Step 1. First, "Reboot" your PC and then press (Del/F2/F10…) to enter into BIOS mode.
Step 2. Using the right arrow keys on your keyboard, navigate to the "Boot" tab. Furthermore, place your system hard drive at the top of the boot order list.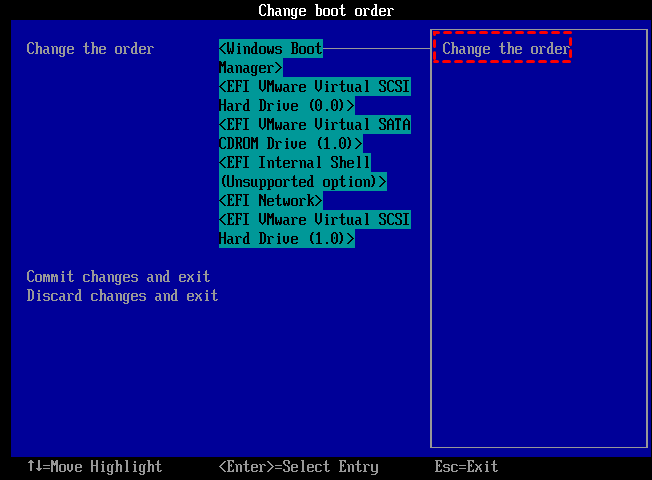 Method 2. Reset Primary Partition as Active
The primary partition is the one on which the operating system is installed. It must be set to active in order for the OS to boot successfully. As a result, if it is accidentally turned inactive, the "no boot device found" error will be triggered. As a result, please reactivate it. To do so:
Step 1. Start your computer by inserting the Windows installation DVD. Choose your language and keyboard layout, then click "Repair your computer."
Step 2. If you have a Windows 10 or Windows 8 installation DVD, select "Troubleshoot" and then "Command Prompt." If you are using a Windows 7 installation DVD, pick the first option, "Use recovery tools that can help...", Windows 7 OS, and tap "Next" on the "System Recovery Options" page. In the following window, click "Command Prompt."
Step 3. Write the below-mentioned commands in the elevated Command Prompt window one at a time, then click "Enter."
list disk
Select disk 0 (0 is the disk number of the system hard disk.)
list partition
Select partition 1 (1 represents the number of your system partition.)
active
Method 3. Check Internal Hard Disk Status
If there are any disc problems on the internal hard drive, the "no bootable device found" error message may appear during Windows starting. The CHKDSK.exe utility can be used to check its status. To do so, use method 2 to open the Command Prompt window. Then run the command "chkdsk c: /f /x /r," which will check for problems on the C drive (the Windows operating system is often installed on this drive) and, if feasible, repair them.
Note: The CHKDSK command might cause permanent data loss. If you value your data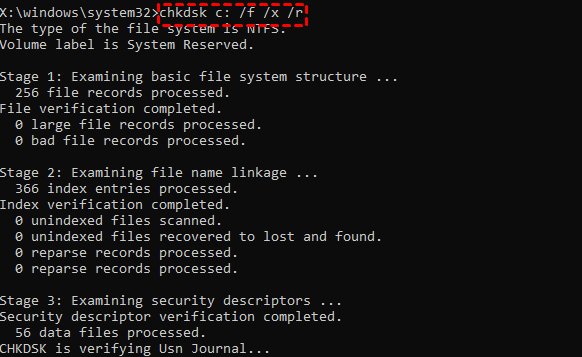 Method 4. Create Windows Bootable Media with EaseUS Partition Master
"Looking for a bootable partition manager that can resize partitions." This is a frequently asked question on the partition manager forums. This approach will walk you through creating a bootable USB drive partition manager using EaseUS partition Master.
EaseUS Partition Master is the most exemplary partition manager for both 32-bit and 64-bit Windows operating systems. EaseUS Partition Master can generate a partition manager bootable USB device that allows Windows users to boot a PC from the USB drive and safely manage hard disc partitions.
Aside from hard discs and RAID, EaseUS Partition Master can also partition external hard drives.
Step 1. To create a bootable disk of EaseUS Partition Master, you should prepare a storage media, like a USB drive, flash drive or a CD/DVD disc. Then, correctly connect the drive to your computer.
Step 2. Launch EaseUS Partition Master, and find the "Bootable Media" feature on the left. Click on it.
Step 3. You can choose the USB or CD/DVD when the drive is available. However, if you do not have a storage device at hand, you can also save the ISO file to a local drive, and later burn it to a storage media. Once made the option, click the "Create" button to begin.
Check the Warning message and click "Yes".
When the process finishes, you have successfully created an EaseUS Partition Master WinPE bootable disk. Now, you can manage your hard disks and partitions through the bootable drive whenever the computer fails to boot normally.
If you have RAID drives, load the RAID driver first by clicking Add Driver from the menu bar, which can help you add the driver of your device under WinPE environment, as some specific device cannot be recognized under WinPE environment without drivers installed, such as RAID or some specific hard disk.
More to Know: What Does No Bootable Devices Found Mean? 
To start Windows 10 or macOS, all PCs require a boot device. There should be one on your system; however, this error indicates that the computer cannot identify a bootable disk. Instead of opening Windows usually, you are greeted with a black screen of the startup command prompt immediately after hitting the power button. The motherboard of the machine causes the "boot device not found" problem. The 3f0 error message may appear if you have an HP laptop computer or PC.
The BIOS includes the boot device sequence for your laptop or desktop computer, with the system drive often being the first boot device (Windows partition). It also consists of the hard disk's hardware address and the instruction sets required to access the hard drive's master boot record (MBR) or boot sector. The MBR stores the operating system's starting location, which is read when you boot up Windows 10 (or whatever version you're using). As a result, some variations of this warning read, "boot device not detected; please install an operating system."
If the BIOS cannot identify the bootable hard discs, the MBR or boot sector cannot be located. The computer looks for all known configurations of the boot device, and if all devices fail, the message is sent.
A bootable device can be any storage attached to your computer, and sophisticated computer users can boot from the network or remote repository. Still, most of us boot directly on the motherboard through USB, CD/DVD, or HDD/SSD/NVMe.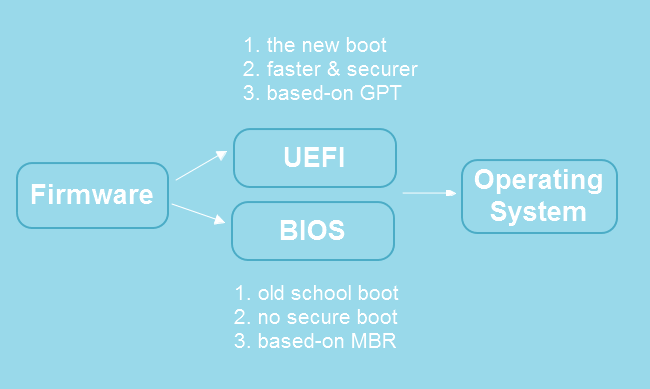 Conclusion 
The Windows boot device not detected could cause your computer to malfunction. If you face this issue, don't be concerned; instead, use the effective methods highlighted above in this article to solve problems. If you're searching for a more straightforward option, we recommend using EaseUS Partition Master to eliminate this error in no time!
Updated by Tracy King 
Tracy joined in EaseUS in 2013 and has been working with EaseUS content team for over 7 years. Being enthusiastic in computing and technology, she writes tech how-to articles and share technical solutions about Windows & Mac data recovery, file/system backup and recovery, partition management and iOS/Android data recovery.
Written by Gemma
Gemma is member of EaseUS team and has been committed to creating valuable content in fields about file recovery, partition management, and data backup etc for many years. She loves to help users solve various types of computer related issues.