Windows 10, 8 or 7 won't boot from SSD, how to fix the problem?
"I recently replaced my computer system disk with a new SSD disk. Now the problem is that I cannot boot from the SSD, how to fix this issue?"
"Windows 10 won't boot from SSD, and I'm out of source now. Help!"
The above two mentioned cases are two real problems that ever happened to SSD users in Windows 10, 8 or 7 computers. Most of them don't know how problems happened and neither have solutions to fix these troubles. If you are one of them, don't worry. We have solutions for you. Let's firstly figure out why or how does your computer cannot boot on SSD drive.
Causes of SSD boot failure error
Knowing reasons of how or why does your SSD drive fail to boot or Windows system cannot boot from SSD will be every helpful for you to find relative solutions and fix SSD won't boot error on your PC. Let's find out the causes of SSD boot failure error now:
1. System disk upgrade: computer won't boot from new SSD after upgrading disk from HDD to SSD;
2. Windows system error/failure;
3. Computer fail to boot after system update;
4. SSD disk internal error;
Solutions toward these problems are quite different. And here below you'll see relative solutions to fix all these troubles on SSD drive. Find relative solutions and get your problems solved right now.
Quick Fix: Set system to boot from SSD via BIOS
If your computer cannot boot after upgrading or replacing system disk from HDD to SSD, the proper reason for this problem is that you may fail to reset the boot order in BIOS.
The way to fix this issue is to enter BIOS and reset the computer to boot from SSD rather than the old HDD.
After this, you can reboot PC and everything will work perfectly fine.
Solution 1. Reboot Windows 10/8/7 from bootable disk and fix SSD system disk boot error
Apply EaseUS partition manager software to repair and fix SSD system disk error
If the system disk - SSD has some internal error or Windows system has system errors, Windows computer won't be able to boot from SSD. And your best shot is to find method repair and fix all system errors and SSD disk errors.
You have two options - repair SSD disk errors by CHKDSK command or apply partition manager software to reboot Windows system and remove SSD disk and system internal errors.
Here we'd prefer to guide you apply a straightforward tool to simply remove SSD disk error and reboot Windows system in two steps with EaseUS partition manager software. Free download it and follow to see how to reboot Windows system and fix SSD error with ease now:
Step 1. Create a WinPE bootable disk and reboot Windows 10/8/7 from the bootable disk.
1. Create a WinPE bootable disk with the same Windows system (Windows 10/8/7 etc.) on a new PC;
2. Reboot Windows PC from bootable disk:
Connect the bootable disk USB drive or SD card with computer and select to boot from the disk;
Then the disk will automatically boot your PC from Windows system and restore it to a healthy state.
Then your computer will be boot without any obstacles.
If you don't want to lose any data in your system partition, you can select to enter EaseUS Partition Master and perform a disk or partition copy operation so to copy partition data into a new storage device; (Do remember to connect another new drive or storage device with PC.)
Step 2. Check and fix Windows system internal error and repair SSD error
After booting Windows system from bootable disk, you can then apply EaseUS partition manager software - EaseUS Partition Master to check, fix system internal errors and repair SSD disk errors:
1. Launch EaseUS Partition Master and right-click the system partition or SSD disk partitions that you want to check and repair by clicking "Check partition".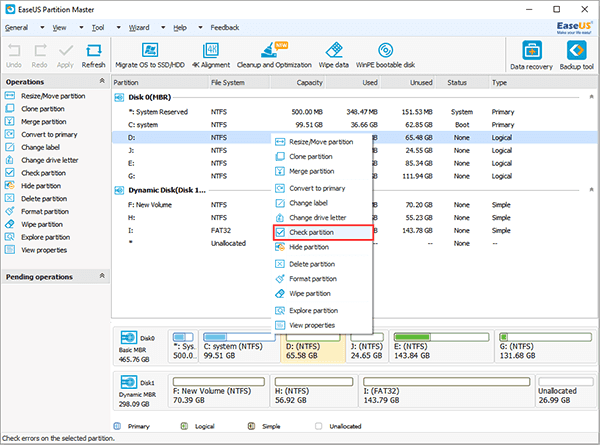 2. Choose the way that you want to use to check and repair system partition & SSD errors: Check Partition Properties, Call Windows Chkdsk to fix errors, Surface Test.
Click OK.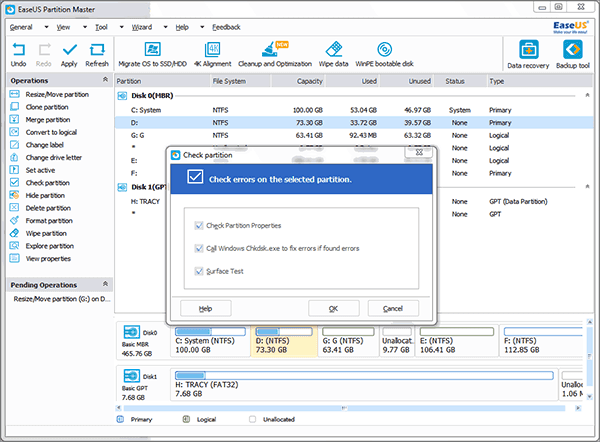 3. Let EaseUS Partition Master automatically check hard disk partition errors and repair errors for you. Click OK to finish the process.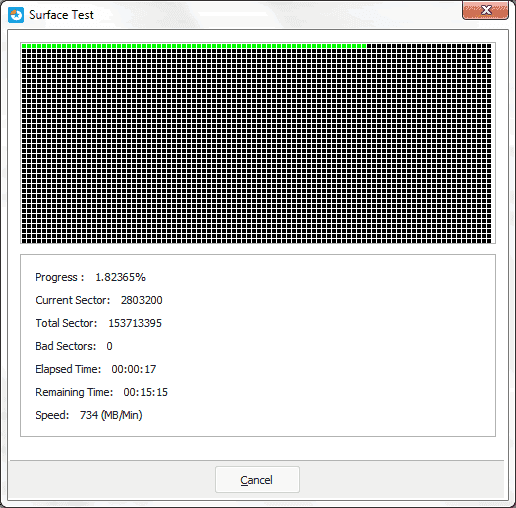 Solution 2. Reboot Windows system from Safe Mode
Fix Windows 10/8/7 won't boot from SSD error
If your computer cannot boot from SSD after Windows system upgrade or have some system error, you may try to reboot the system from Safe Mode to get SSD system disk boot failure error fixed:
1. Right-click Start button and choose Run, type msconfig in the Start > Run box and hit Enter.
2. Wait for System Configuration to launch and go to Boot > Boot options > Safe boot.
Select Minimal as the sub-option. You can also enable the Network if you need to connect network in Safe Mode.
3. Click OK or Apply. Restart your PC and then it will boot into Safe Mode now.
Extra Tip: Try System Restore to fix Windows fail to boot from SSD error
Hold Power button to switch off PC and restart it > Press F8 before Windows boots;
Enter into Safe Mode and log in if necessary > Make sure that all virus scanners are disabled at this point;
Click Start > Accessories > System Restore > Next;
Pick an earlier restore point and click Next > Click Next to start system restore process.