Is Hard Drive having 3F0 error? Follow this quick video guide (from R3DLIN3S):
Error messages
"boot device not found please install an operating system on your hard disk"
"no bootable device found insert boot disk and press any key"
"boot device not found - hard disk (3f0)"
"no boot device is available"
Error explanation
BOOT DEVICE NOT FOUND error is commonly seen during the process of booting operating system. As it indicates, Windows OS can't find a bootable device to boot from, usually, it can be an internal hard drive, external usb drive, optical CD/DVD ROM drive and network adapter.
Once the error shows up on your computer screen, the computer can on longer startup normally. Hence, you should take prompt measures right now to figure out what causes the bootable drive missing. Here in the following, you may use it as reference.
Wrong boot order in the BIOS
Hard disk connection problem
System files or boot files unknowingly damaged
Master Boot Record (MBR) or boot sector is damaged on the bootable disk
Other outside attacks, such as third-party system protected application, virus, malware, etc.
Recommended solutions
With those factors in mind, you're suggested to start out fixing boot device not found error by following the recommended solutions one by one. Hope at least one method will help you out.
Fix 1. Check and reset bootable device of the operating system in BIOS
To exclude the possibility that your computer is wrongly set to boot from unbootable disk or device, you need to check the BIOS settings. Here, we take the hp computer as an example. To restore BIOS settings and make Windows OS detects the bootable hard disk, do as follows.
1) Press the Power button and press F10 key repeatedly to enter teh BIOS setup menu. (depending on different manufacturer, instead of F10, it's maybe ESC, F1, F2, F8...)
2) On the BIOS Setup screen, press F9 to select and load the BIOS Setup Default settings.
3) Press F10 to Save and Exit.
4) Use the arrow keys to select Yes, then press Enter when asked Exit Saving Changes?
5) Follow the prompts to restart your computer.
If resetting the boot order solves the problem, good luck for you. If not, the issue can be a little tricky. Pay some effort with the workaround of How to use Bootrec.exe in the Windows RE to troubleshoot startup issues.
I know that the tutorial is so complex that many average users can't read further after the fist paragraph. In order to make the troubleshooting a little easier, you can take out the internal hard drive that was used to boot Windows, and connect it to a normally functioned computer.
Note - What you'll need is EaseUS Partition Master. Since you can't boot up the system on your current computer, you have to download the partition magic software on another workable PC and proceed with the detailed guide below.
Fix 2. Test hard drive problem & fix bad sectors on the bootable hard disk
Step 1: Download EaseUS Partition Master and install it. Right-click the disk that you want to check, and then click "Surface test".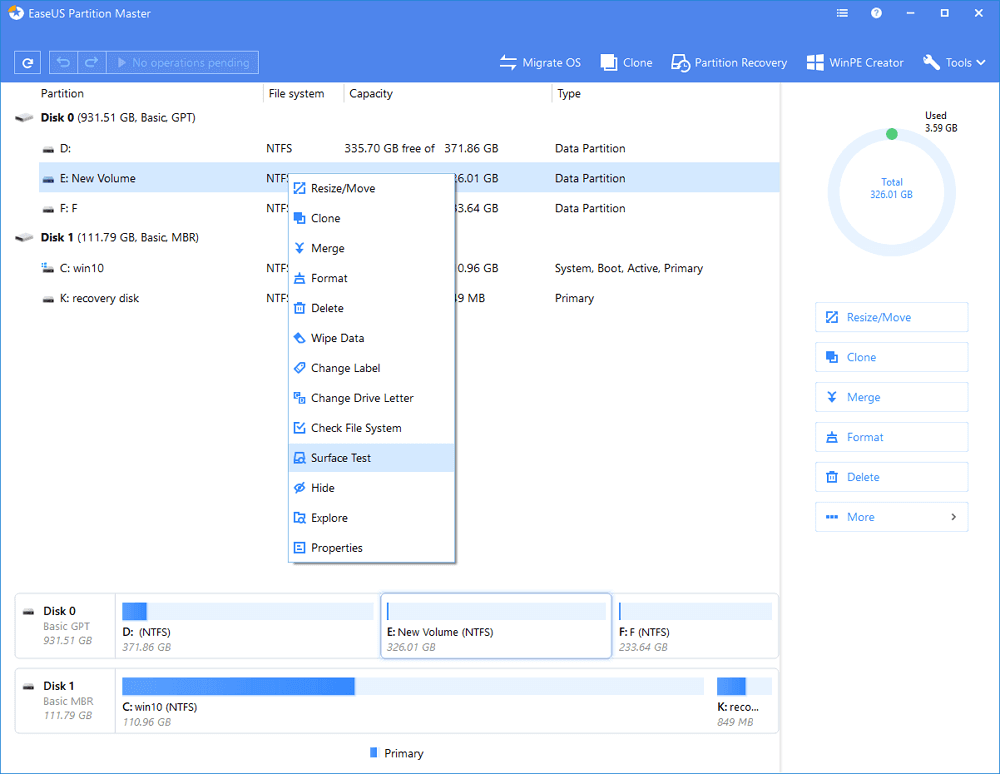 Step 2: The operation will be immediately performed. Bad sectors will be marked as red.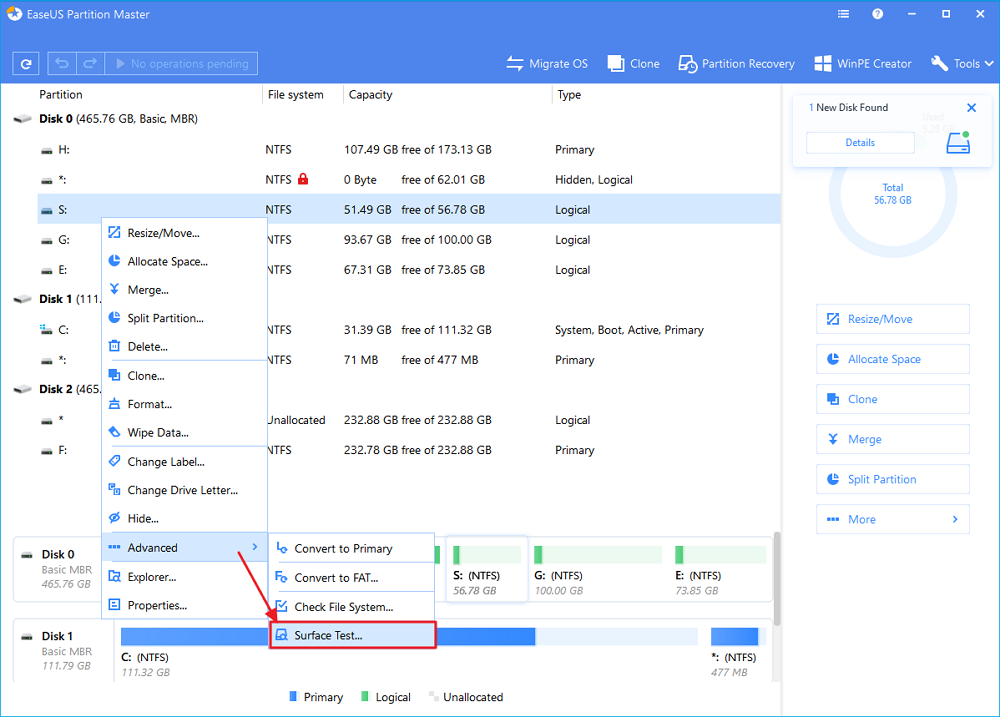 Fix 3. Fix damaged MBR
As for you information, the Master Boot Record (MBR) is the information in the first sector of any hard disk or diskette that identifies how and where an operating system is located so that it can be boot (loaded) into the computer's main storage or random access memory. So, boot device not found error can typically happen when MBR went wrong.
Still, EaseUS Partition Master can repair MBR in Windows 10, 8 and 7 easily with its "Rebuild MBR" feature.
1) Launch EaseUS Partition Master on the healthy PC, make sure the internal hard drive has correctly connected and detected by Windows. Right-click on the target disk and select "Rebuild MBR".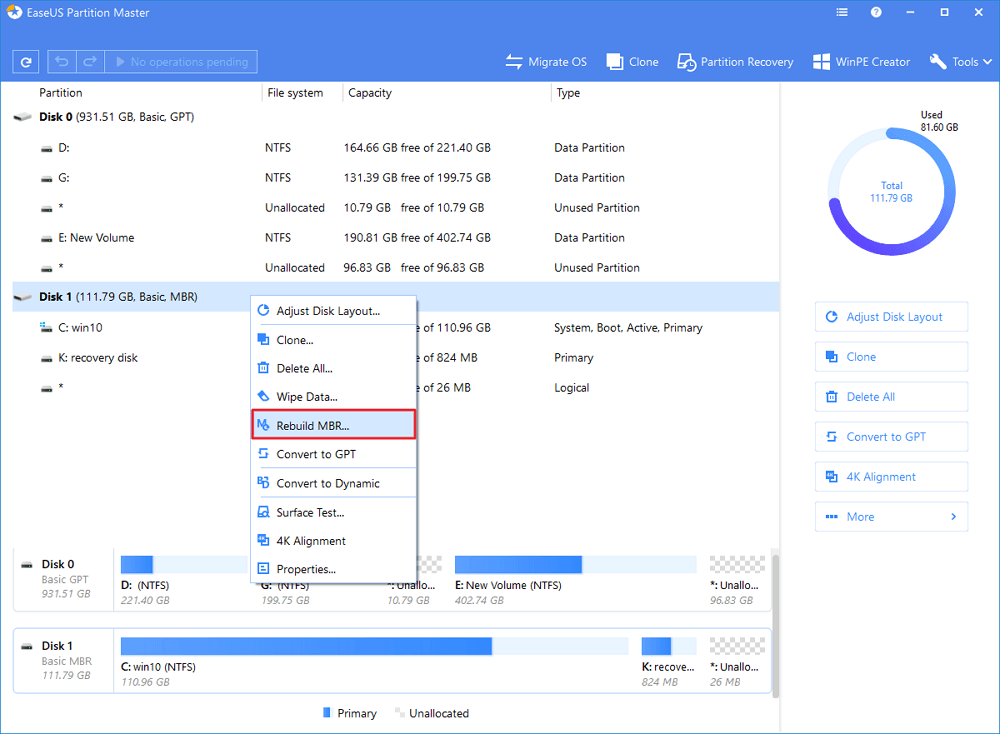 2) Choose the proper operating system version.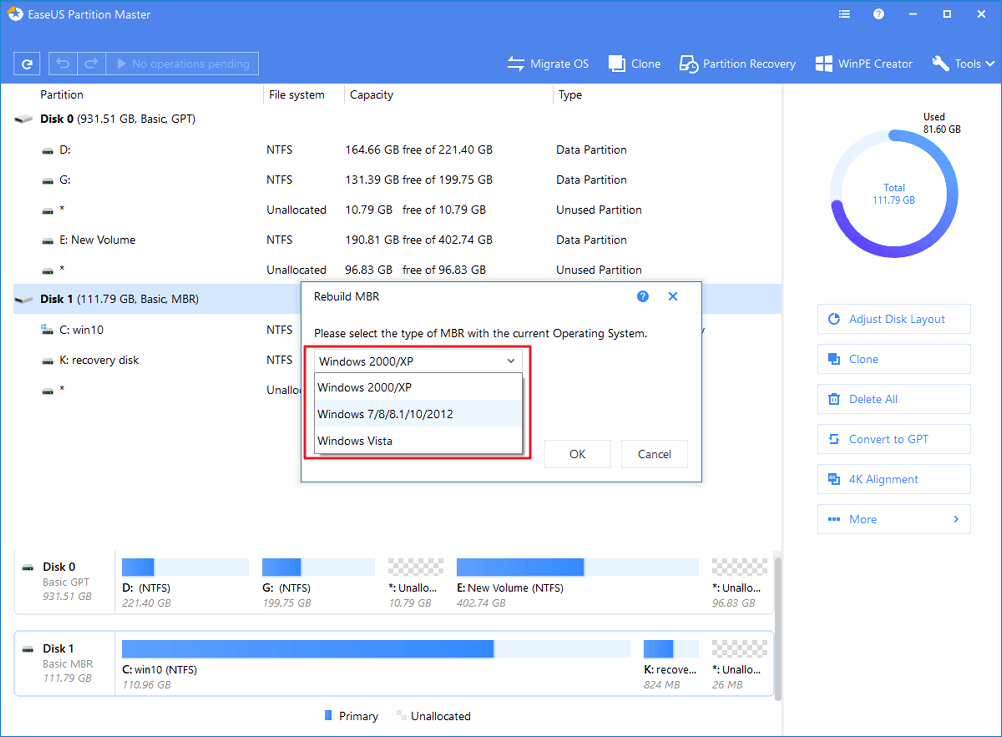 3) Confirm the operation and click "Apply". After the automatic fix, connect the repaired hard drive to the original computer and try to boot from it.
100% of people found this article helpful.
Frequently Asked Questions
Why Choose EaseUS Partition Master?

"I've used Partition Master Professional many times to create, delete, format, move, rename, and resize partitions." —PCWorld

"Partitioning tools have come a very long since the days of complicated command line utilities and EASEUS Partition Master is one of the most advanced programs available." —TECH ADVISOR

"I love that the changes you make with EaseUS Partition Master Free aren't immediately applied to the disks. It makes it way easier to play out what will happen after you've made all the changes." —Lifewire
Will the "Migrate OS" feature transfer the Windows system files only or the whole C drive?

To ensure that the migrated system will boot normally, the Migrate OS feature will transfer all the files in the system and the boot partitions. Generally, the boot partition is the C drive so the transfer will include all the files in C.
Does EaseUS Partition Master license apply to multiple computers?

The license of Partition Master Professional and Server editions can be used on 1 computer only, while that for for the Technician and Unlimited editions can be used on multiple machines.
What is the difference between EaseUS Partition Master Trial version and the Free version?

Free is for home users only, with most basic functions available such as partition resize and clone. While trial can help you understand how this product works and test what a full license can do on a business or server OS machine.
Will it cause any data loss after resizing the partition in EaseUS Partition Master?

Generally, it will not cause any data loss or boot issue by resizing a partition. However, in order to protect your data, we suggest that you backup the partition before resizing, in case of any unexpected situations such as power outages, computer hardware failures, etc. You can use EaseUS Todo Backup to backup the partition and its trial version is fully functioned for 30 days.
What should I prepare before resizing the partition?

On the partition that is going to be operated, there might be some files being occupied by other programs. To ensure a successful operation, we suggest that you close all the unnecessary software before resizing that partition. Otherwise, EaseUS Partition Master will detect the partition being locked by the other software and require a reboot to resize the partition under boot mode.
About EaseUS Partition Master
All-round disk & partition management software for personal and commercial use. Let it manage your storage drive: resize, format, delete, clone, convert, etc.