
About the Author
Hot Topics in 2022
4TB Hard Drive Only Shows 2TB Windows 11/10, Why and How to Restore the Full Capacity
Workable Solutions
Step-by-step Troubleshooting
Fix 4TB Drive Not Showing Full Capacity by Converting MBR to GPT

Method 1. EaseUS Partition Master...Full steps

Method 2. Disk Management...Full steps

Method 3. Diskpart...Full steps

Fix 4TB Drive Only Showing 2TB by Updating Hard Drive Driver
Step 1. Click "Start", type Device Manager, and press "Enter"; Step 2. Click and expand...Full steps
Fix 4TB Drive Only Showing 2TB by Checking and Repairing Disk Errors
Step 1. Open EaseUS Partition Master on your computer. Then, locate the disk...Full steps
Why Does My 4TB Hard Drive Only Shows 2TB
"I bought a 4TB Western Digital hard drive just yesterday. However, the 4TB hard drive only shows 2TB on my Windows 10 computer, not showing the full capacity. It's nearly empty, I haven't put any files or anything into it. Does anyone know why this could happen? How can I find the other 2TB capacity?"  
Many users have the problem that 4TB or 6TB hard drive only shows 2TB when checking in the Disk Management. The rest space displays as an unallocated space. And you can't create new partitions with the unallocated space.
The possible reasons for 4TBdrive not showing full capacity:
The hard drive has been initialized to a wrong partition table - MBR, which only supports a disk less than 2TB.
The hard drive driver or firmware is out of date.
Bad sectors make the hard disk drive unable to read correctly and show the wrong capacity.
Fix 4TB Drive Not Showing Full Capacity by Converting MBR to GPT
There are two prevailing styles of the partition table in Windows, MBR and GPT. MBR supports the maximum hard drive capacity of 2TB, while GPT allows for a more flexible disk scheme of an even larger size.
If your disk capacity is larger than 2TB, but in MBR, you will encounter a 4TB hard drive only showing 2TB issues. To restore the full capacity, you can convert MBR to GPT in the following three ways.
Method 1. Convert 4TB MBR Drive to GPT with EaseUS Partition Master
No matter whether your disk has files or not, you can use EaseUS Partition Master to convert MBR to GPT without any restrictions and data loss. This disk management tool also allows you to convert GPT to MBR in vice versa.
Download EaseUS partition management tool to convert MBR to GPT with a few clicks.
Method 2. Convert MBR to GPT Using Disk Management
Convert to GPT Disk option in Disk Management only works when your disk is empty, or you will see the Convert to GPT Disk greyed out. If there are files or partitions on the 4TB hard drive, you need to delete all the existing volumes at first. So, back up your important files if necessary.
Step 1. Right-click on the Windows button, select "Disk Management".
Step 2. Find the hard drive shows the wrong capacity. Right-click the volumes on the disk and choose "Delete Volume...". If you accidentally deleted a volume in Disk Management, see how to recover lost or deleted hard disk partition. 
Step 3. When the hard drive shows as unallocated space, right-click the disk and choose "Convert to GPT Disk".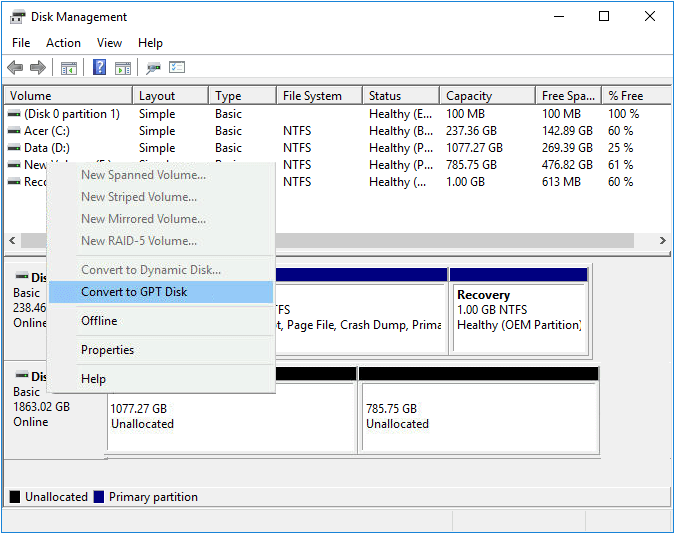 After you successfully convert MBR to GPT disk, you will see the full storage space. Now, you can create new volumes on the disk to use it properly. 
Method 3. Convert 4TB Drive Shows 2TB with Diskpart
Same as the Windows Disk Management, Diskpart enables you to convert an empty MBR disk to GPT. If you need to convert an already partitioned MBR disk, first back up the file and delete all the partitions.
Step 1. Press Win+R keys, type CMD, and press Enter to open the command prompt.
Step 2. Type diskpart and hit Enter. Type the following commands in order; remember to press Enter after you input each one.
list disk
select disk n (n means the drive letter, replace it with your 4TB drive letter)
clean (clear all partitions on the selected disk)
convert gpt
Type Exit when the DiskPart has converted the selected disk to GPT format. Go to check if the rest of the capacity is restored.
Fix 4TB Drive Only Shows 2TB by Updating Hard Drive Driver
The outdated hard drive driver might cause the 4TB drive only shows 2TB problem. Follow the steps below to update the driver to the latest version.
Step 1. Click "Start", type Device Manager, and press "Enter".
Step 2. Click and expand "Disk drives". Right-click on the hard drive shows the wrong capacity and select "Update driver".
Step 3. Select "Search automatically for updated driver software". If this fails, you can manually search for and install the updated driver software on the official website.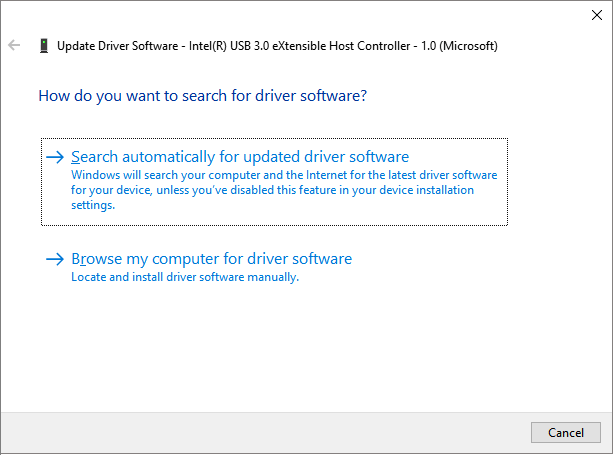 Fix 4TB Hard Drive Only Showing 2TB by Checking and Repairing Disk Errors
Bad sectors prevent the computer from reading your disk normally and show the wrong capacity. Thus, you should check and repair partition errors to fix the problem. EaseUS Partition Master can help you scan and repair hard drive errors effortlessly.
Step 1. Open EaseUS Partition Master on your computer. Then, locate the disk, right-click the partition you want to check, and choose "Advanced" > "Check File System".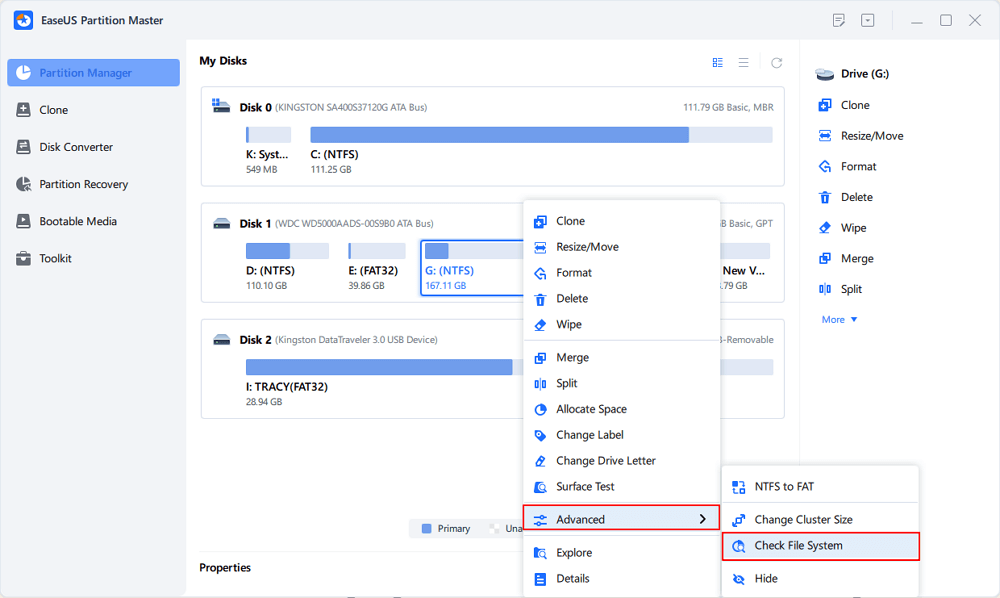 Step 2. In the Check File System window, keep the "Try to fix errors if found" option selected and click "Start".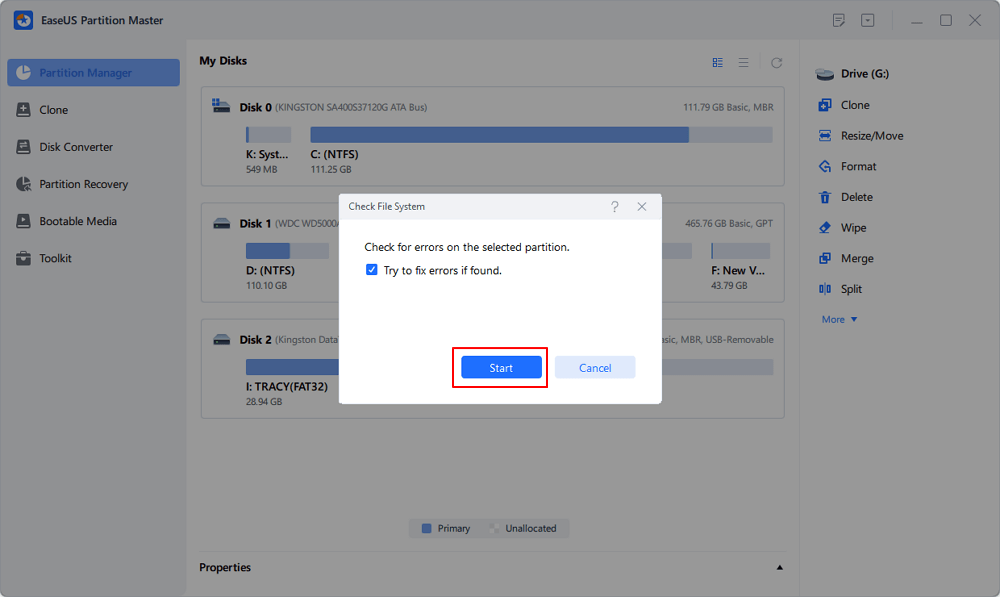 Step 3. The software will begin checking your partition file system on your disk. When it completes, click "Finish".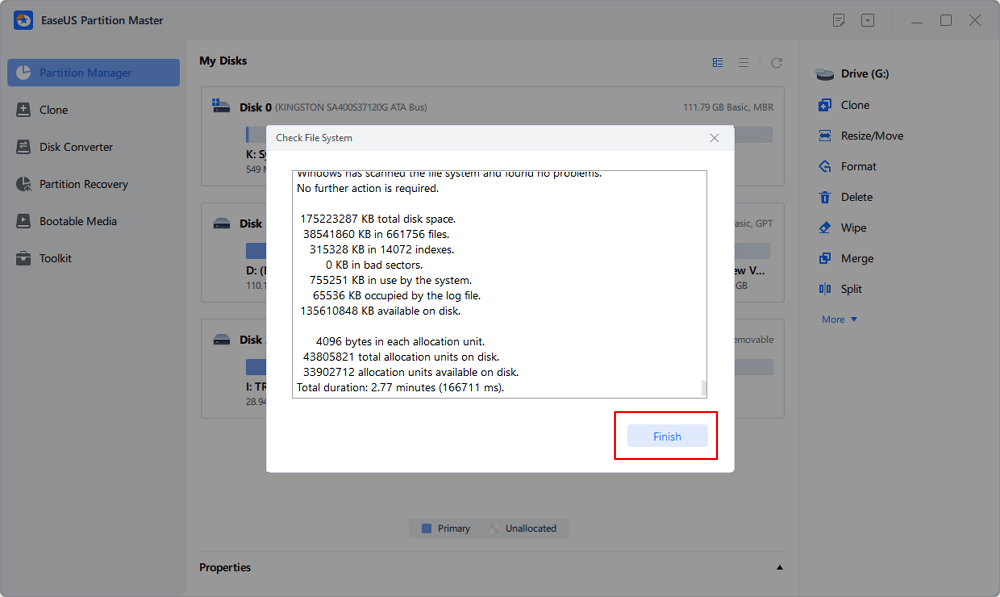 You can also run a disk surface test with EaseUS partition manager to check the physical bad sectors. If the situation is terrible, you may consider replacing a new hard drive after data backup. 
Conclusion
We've covered several methods to help you to fix the 4TB drive only shows 2TB in Windows 11/10. These methods are suitable for different brands of storage drives, like Seagate and WD.
If your hard drive is in MBR and leads to a 4TB drive not showing full capacity issue, the easiest way to solve the problem is using EaseUS Partition Master to convert MBR to GPT directly, without losing any data. EaseUS partitioning software provides full-around solutions to manage and optimize disk partitions to extend your computer's life and capableness.
FAQs About 4TB Drive Not Showing Full Capacity
If you also have any of the following frequently asked questions about 4TB hard drive only showing 2TB, find solutions here.
Why is my hard drive not showing full capacity?
Why does my 4TB hard drive only shows 2TB? This is mainly because the 4TB hard disk is initialized to be MBR, which only supports 2TB hard drive at most. Thus, you can only use 2TB space, and the rest capacity is shown as unallocated space. 
Other probable causes can be virus attack, outdated hard drive driver, or bad sector errors.
How much usable space is on a 4TB drive?
When you purchase a 4TB drive, you may only get 3.6TB usable storage. This is because the hard drive manufacturers market drives in terms of decimal (base 10) capacity. In decimal notation, one megabyte (MB) is equal to 1,000,000 bytes, one gigabyte (GB) is equal to 1,000,000,000 bytes, and so on.
But the Windows computer reports in binary, this is the difference. For 4TB, just multiply that by 4 to get 3.638 TB of actual available space for Windows.
How do I restore my hard drive to full capacity?
When your hard drive shows the wrong capacity on the computer, you can restore the full capacity by deleting partitions and create new partitions. Back up your data in advance to prevent data loss.
Step 1. Go to Disk Management on your computer. Find and right-click on the hard drive not showing capacity, and select Delete Volume.
Step 2. Right-click on the unallocated space on the hard drive, select the New simple volume to create new partitions as you need.
Step 3. Follow the on-screen instructions to create new volumes and restore the full capacity.
About the Author

Roxanne is one of the main contributors to EaseUS and has created multiple posts on digital devices like PCs, Mobile phones, tablets, Mac, etc. She loves to share ideas with people of the same interest.

Author Jean has been writing tech articles since she was graduated from university. She has been part of the EaseUS team for over 5 years. Her special focuses are data recovery, disk partitioning, data space optimization, data backup and Mac OS. By the way, she's an aviation fan!
Product Reviews
I love that the changes you make with EaseUS Partition Master Free aren't immediately applied to the disks. It makes it way easier to play out what will happen after you've made all the changes. I also think the overall look and feel of EaseUS Partition Master Free makes whatever you're doing with your computer's partitions easy.

 Read More

Partition Master Free can Resize, Move, Merge, Migrate, and Copy disks or partitions; convert to local, change label, defragment, check and explore partition; and much more. A premium upgrade adds free tech support and the ability to resize dynamic volumes.

 Read More

It won't hot image your drives or align them, but since it's coupled with a partition manager, it allows you do perform many tasks at once, instead of just cloning drives. You can move partitions around, resize them, defragment, and more, along with the other tools you'd expect from a cloning tool.

 Read More