3 Causes for Hard Drive Not Showing Full Capacity
Is your hard drive corrupted when it shows wrong capacity? Not really. There are quite a few reasons that would let a hard drive showing less space than it advertised. For example, a newly bought 500 GB HDD displays only 465 GB even with no data on it. Or, some external hard disks and USB flash drives may develop another incorrect capacity issue that the free space size is hugely decreased.
This is such a user story telling his 1 TB hard drive now showing only 0.18 TB free space.
"My WD external hard drive gets a strange problem. It's 1 TB advertised and I only use it as a backup hard drive. But today I surprisingly found that the free space is only 0.18 TB. That's impossible because the used space can't be more than 200 GB. What happened? Why is hard drive showing wrong free space? Can I restore the full size even so?"
Viewing from all the examples and excluding the fact that you have bought a fake hard drive sold by those unscrupulous merchants, there are 3 reasons for you to understand the occasion of why your hard drive showing incorrect size of either the total or only free space.
Hidden recovery partition or files that take a certain amount of disk space.
A computer virus has eaten all the storage, intentionally showing less free space, especially 0 bytes in hard drive partition.
There's huge unallocated space out of the whole disk partition.
3 Fixes for Hard Drive Shows Wrong Capacity | Correct Hard Drive Storage Size
As you can tell, not all the events require a fix. Many hard drives are with an OEM partition or recovery partition, usually for factory restore purpose, and it's usually invisible in My Computer in Windows operating system. So, when you find a new hard drive showing less disk space than it advertised, go to My Computer (in Windows 7 and 8) or This PC (in Windows 8.1 and 10) -> Manage -> Disk Management and check the real space taking by the recovery partition.
Now we come to the point. In order to restore your hard drive's full capacity and let the free space showing correct figure, you shall ask help from EaseUS free partition manager, with which the resize partition feature, format partition feature and check partition feature can help you get rid of all occasions that cause the problem.
No.1 Merge unallocated space to the partition labeled with the wrong size
The first step is to fix unallocated space in order to restore hard drive full capacity.
Step 1. Launch EaseUS Partition Master. If you see unallocated space on the problematic hard disk, simply locate the mouse pointer there and drag it next to the partition that shows less free space.
Step 2. Now right click on the wrong sized partition and select Resize/Move Partition.
Step 3. Position the mouse pointer on the partition and drag the mouse pointer that turned to double arrow leftwards or rightwards until all the unallocated space has been added to it. Click OK.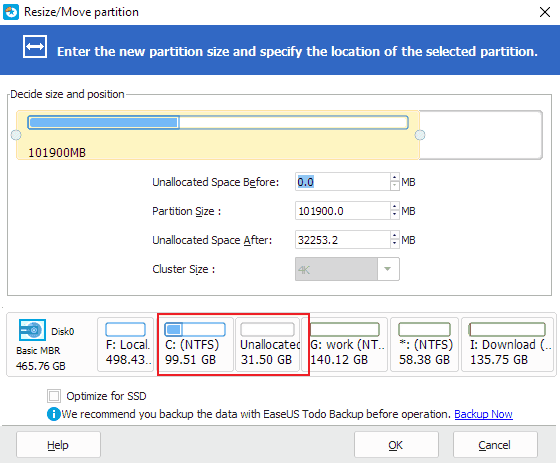 Step 4. Click Apply so that the unallocated space and the partition have been merged. Your lost storage size should be restored.
No.2 Check disk partition errors and repair
Since virus or other hardware issues could result in wrong capacity in hard disk partitions, you should check and repair partition errors to rectify the problem.
Step 1. Launch EaseUS Partition Master. Firstly right-click the partition that you want to check and choose Check partition.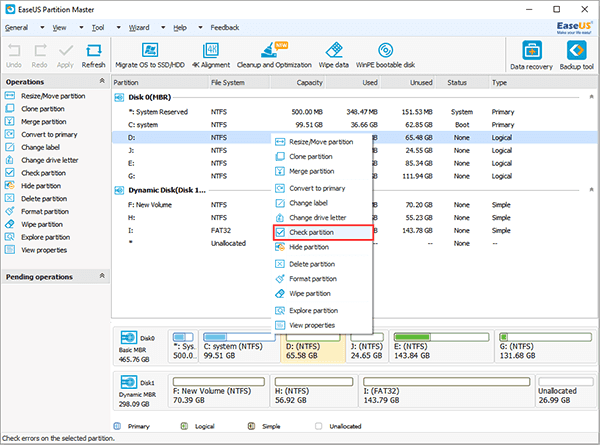 Step 2. Choose the way that you want to use to check partition: Check Partition Properties, Call Windows Chkdsk to fix errors, Surface Test. Click OK.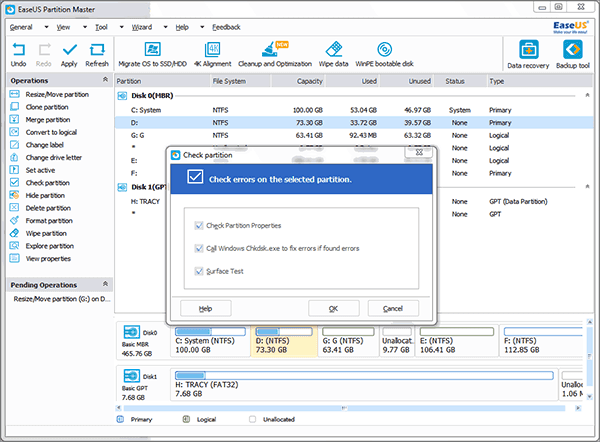 Step 3. Let the software automatically check hard disk partition errors and repair errors for you. Click OK to finish the process.
No.3 Format hard disk partition that shows the wrong capacity
At last, the worst case that brings about a hard disk's storage capacity being wrongly labeled might be hard drive corruption. You can only try to format a corrupted hard drive so as to use it as new with its original storage space.
Warning

Note that your existing hard drive data would be erased by formatting. Please make a backup in advance and then apply the following troubleshooting steps. Data becomes inaccessible? You shall download EaseUS data recovery software to recover inaccessible data from hard drive.
Step 1. Launch EaseUS Partition Master. Right-click the partition in trouble and select Format Partition.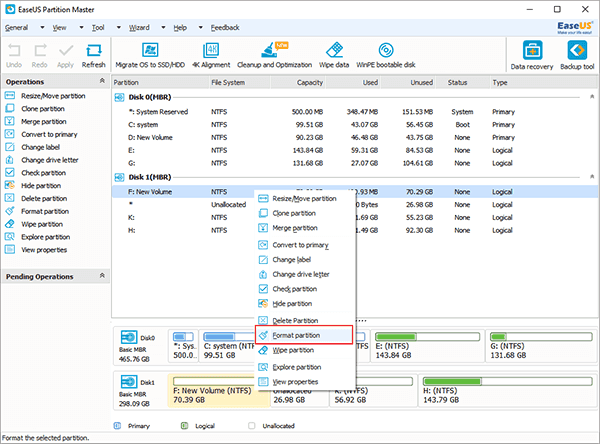 Step 2. A mini window pops out, on which you can edit the partition label and choose a file system such as FAT/FAT32, NTFS, EXT2/EXT3.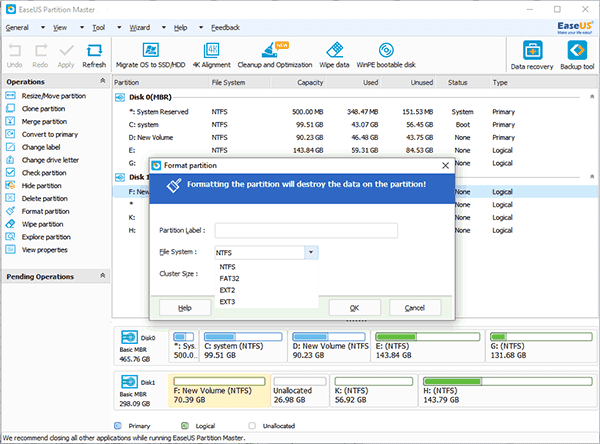 Step 3. Click Apply to confirm to format the corrupted hard drive which is not showing full capacity.
Since hard drive showing wrong capacity has a noticeable impact on data and system storage, try to fix the hard drive not showing full capacity issue as soon as possible and restore the missing storage back to its full size with the fixes herein provided!