SD memory card is showing the wrong size, how to restore it to full capacity
"Have you ever met this problem that the SD card, memory card or USB were not showing the full capacity but a wrong size on Windows PC?
I got this problem that my 64GB SD card saved about 30 GB files and I was planning to transfer some new useful data into the SD card. The SD card only had 500KB available for saving new data. I tried to open the card, yet, it wouldn't allow me to do so.
So how can I access my saved data on SD card and restore the SD card to its' original size?"
So when your SD card, USB or other storage devices is not showing the right size on Windows PC, you may not be able to make full use of the storage device for saving and storing data. So how to restore the full capacity on SD card when PC or laptop can't read and show the full size of your device? Here below, this page will guide you to effectively regain full size on SD card without losing any files within 2 simple steps. Just follow to make your SD card available for saving data with the right size again now.
Step 1. Restore and extract data from SD/memory card
In order to avoid unnecessary data or file loss issue when SD card or memory card is not showing the right capacity in Windows PC, it's highly recommended for you to restore and extract data from SD memory card first.
If you can open the SD or memory card, you may directly copy and save files from SD card to other secure storage devices or safe spot on Windows PC.
If the SD card is not accessible now, your best choice is to let professional card recovery software for help. EaseUS card recovery software - Data Recovery Wizard can simply help find and restore save data from SD card to other devices with simple clicks on Windows 10/8/7 PC. Just download, install it for free on your PC and follow to get your save data out of SD memory card now:
Stop using your SD card immediately once you lost files on it. Continuing using the card would hugely increase the chance of data overwriting, which makes data unrecoverable.
Step 1: Connect the SD card to PC
Insert the SD card to a card reader, and connect the card reader with your SD card to a healthy computer.
Step 2: Run SD card recovery software and scan the card.
Launch EaseUS Data Recovery Wizard on your PC and select your SD card under the External Devices column.
Then click Scan to start finding lost data on your SD card now.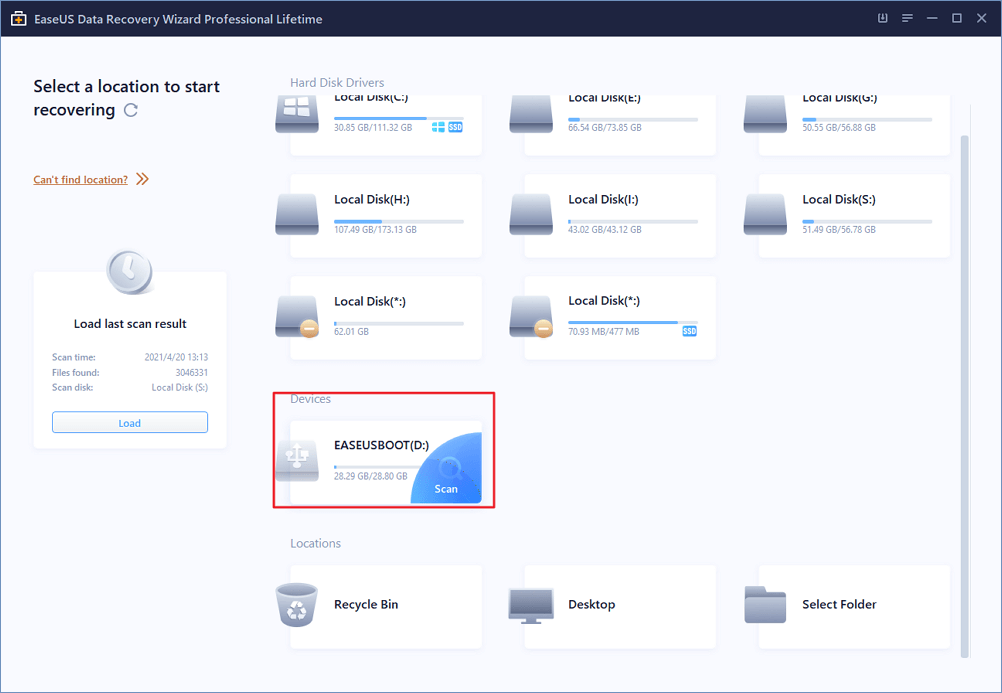 Step 3: Check found SD card data.
After the scanning process, you can preview and find your lost SD card files from below listed tabs:
Deleted Files: List your deleted files there.
Drive X: All lost files can be found here.
Lost Partition Files: Check first if it's for formatted recovery.
Extra Files: Finds files that lost names or paths.
And you can use Filter and Search to quickly find your files.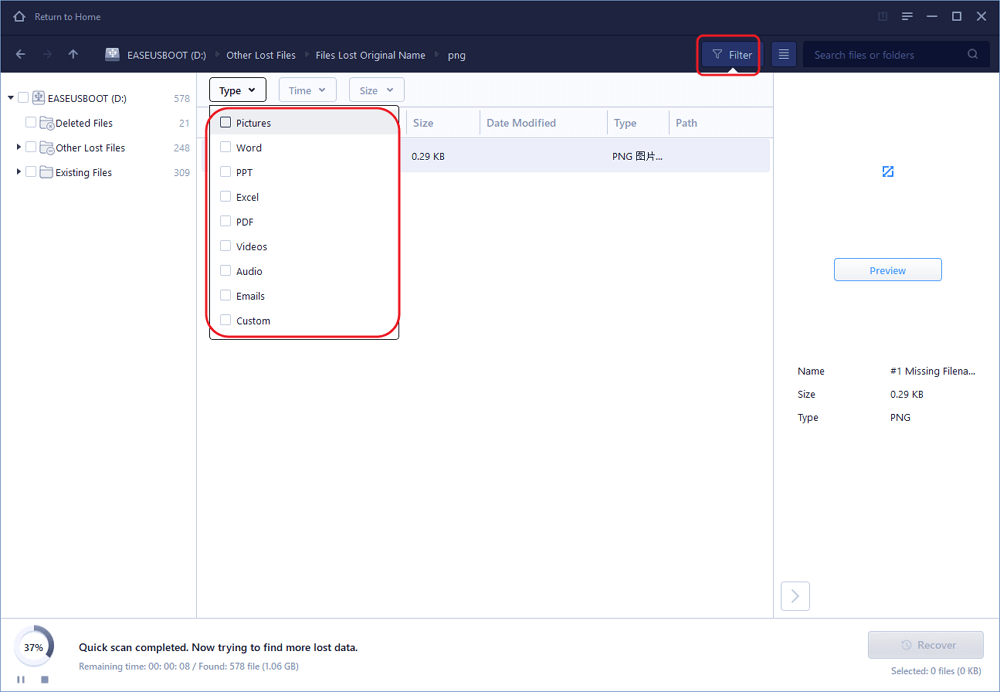 Step 4: Restore SD card data.
You can check and preview found files by double-clicking each one of them.
Then click Recover to save found SD card files to a secure location on your PC or an external storage.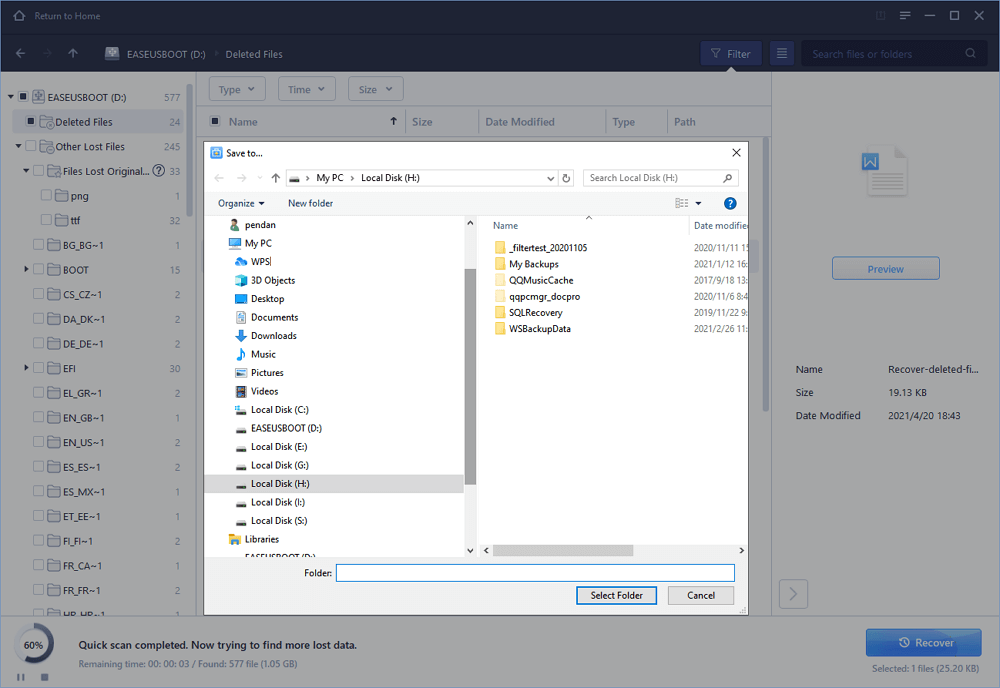 Step 2. Restore and reclaim full capacity on SD memory card
After getting all saved data and files from the SD card which shows the wrong size on PC, you can now format SD card to reclaim its full capacity for saving data again.
Here you'll find 3 recommended free methods to format and restore SD card to its original size. And you may selectively follow any one method to get your SD card back to work normally again now:
Method 1. Run DiskPart cmd command to restore SD card capacity
Note: The only thing that needs to be noticed is that DiskPart CMD command indeed will help you clean the whole SD card. But you do need to recreate a new partition so to make the SD card available for saving files again.
Let's see how to run DiskPart command to clear and restore capacity on SD card now:
1. Connect SD card to PC;
2. Right-click Start and select Command Prompt (Admin);
3. Sign in as administrator and type: diskpart to bring up DiskPart;
4. Type: list disk and hit Enter;
5. Type: select disk 1 (replace 1 with the disk number of your SD card) and hit Enter;
6. Type: attribute disk clear readonly and hit Enter;
7. Type: exit and hit Enter.
After this, you can use the Disk Management tool in Windows 10 or other Windows PC to create a new partition on SD card so to make it available for storing data with full size again.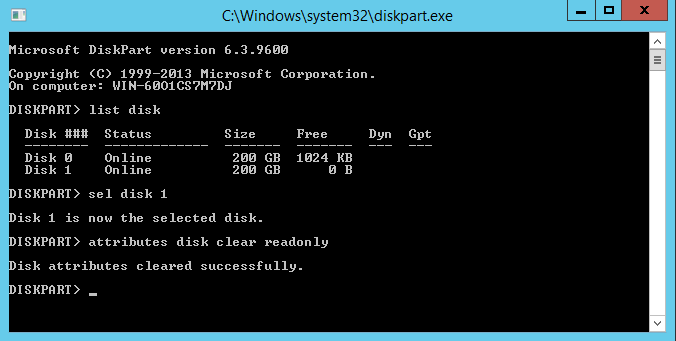 Method 2. Use the Disk Management tool to format and restore SD card to full size
If you don't want to clear whole SD card but simply want to restore the storage capacity to full size on SD card, you may also try the Windows Disk Management tool.
It will allow you to fully format and reclaim the original capacity of SD card with below tips:
1. Right-click This PC/My Computer > Manage.
2. Select Disk Management under Device Manager, find and right-click on SD card and select Format Volume.
3. Rename and reset the file system of SD card to NTFS or FAT32 as your need, follow the onscreen guidelines to complete the format process.
After this, you'll regain all the storage size of your SD card and you can use it for storing and saving files and data again then.
Method 3. Format the SD card to reclaim full capacity with SD card format tool
The last way that you may try is directly free download SD card format software for help!
EaseUS SD card format software - EaseUS Partition Master can help you simply format SD card with just a few simple clicks now:
1. Connect SD memory card with PC and launch EaseUS Partition Master Free.
2. Right-click the partition of SD memory card and select Format partition.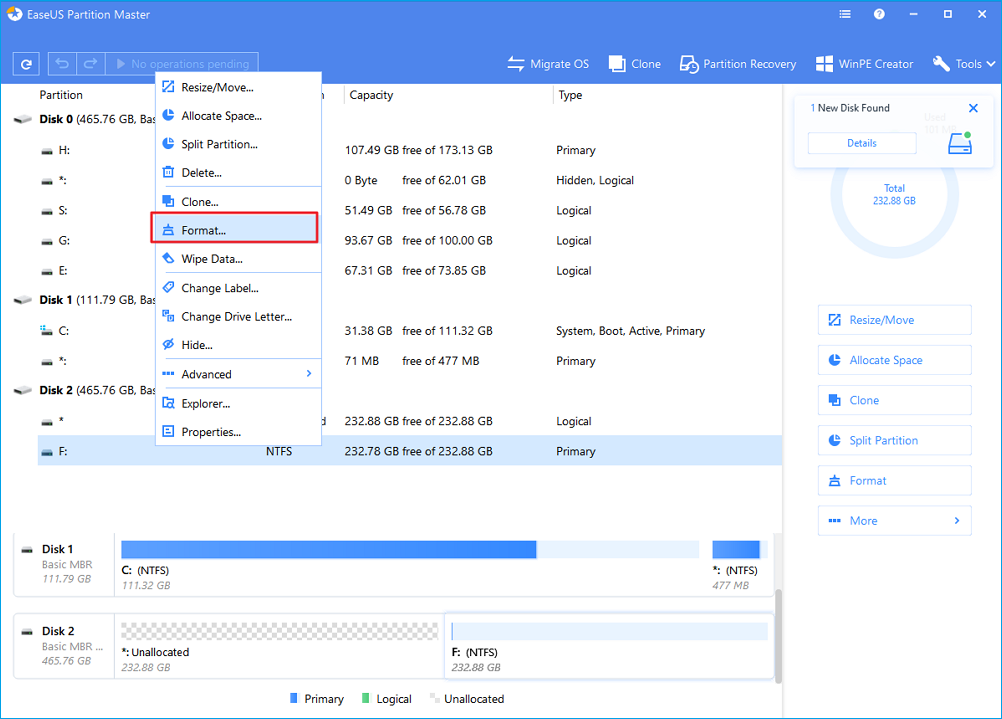 Here you may set wanted file system - NTFS, label name and size etc on your SD memory card.
3. Then select OK and click Apply to keep all changes.