"Migrate OS to SSD/HDD" feature of EaseUS Partition Master can help you transfer all data on system and boot partitions includes OS and applications to new SSD or HDD without reinstalling Windows OS and apps. This feature will significantly make OS migration easy and save your time.
Follow the step-by-step tutorials below to migrate OS from HDD to SSD with simple clicks. If you just want to do a clean installation of Windows 10 or other Windows OS versions, learn fresh install Windows OS on SSD. 
Note: The operation of migrating OS to SSD or HDD will delete and remove existing partitions and data on your target disk when there is not enough unallocated space on the target disk. If you saved important data there, back up them to an external hard drive in advance.
Step 1. Select "Clone" from the left menu. Select the "Migrate OS" and click "Next" to continue..
Step 2.  Select the target disk you want to clone. Click "Next".
Step 3. Click "Yes" after checking the warning message. The data and partitions on the target disk will be deleted. Make sure that you've backed up important data in advance. If not, do it now.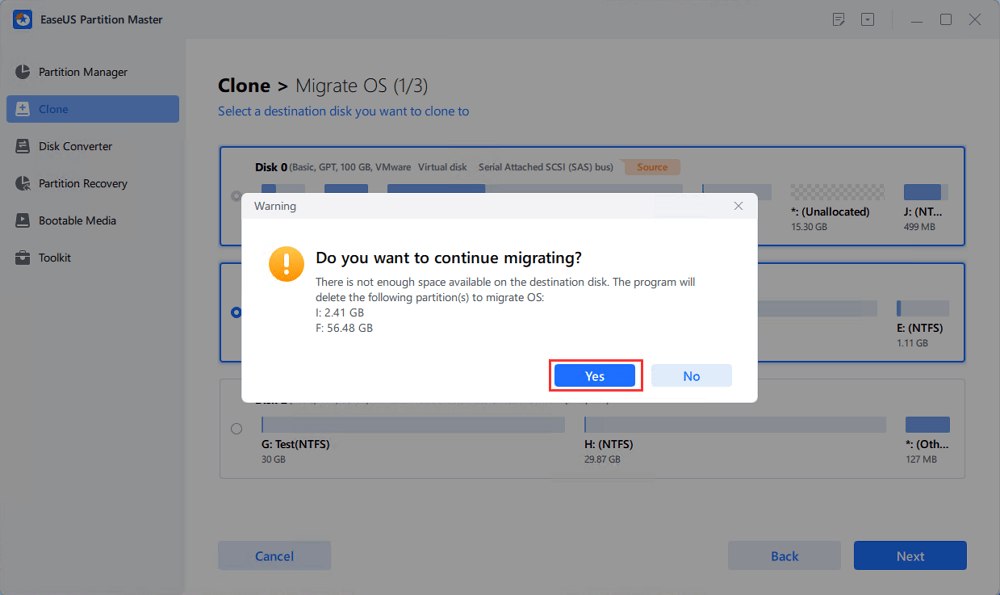 Step 4. Preview the layout of your target disk. You can also click the disk layout options to customize the layout of your target disk as you want. Then click "Start" to start migrating your OS to a new disk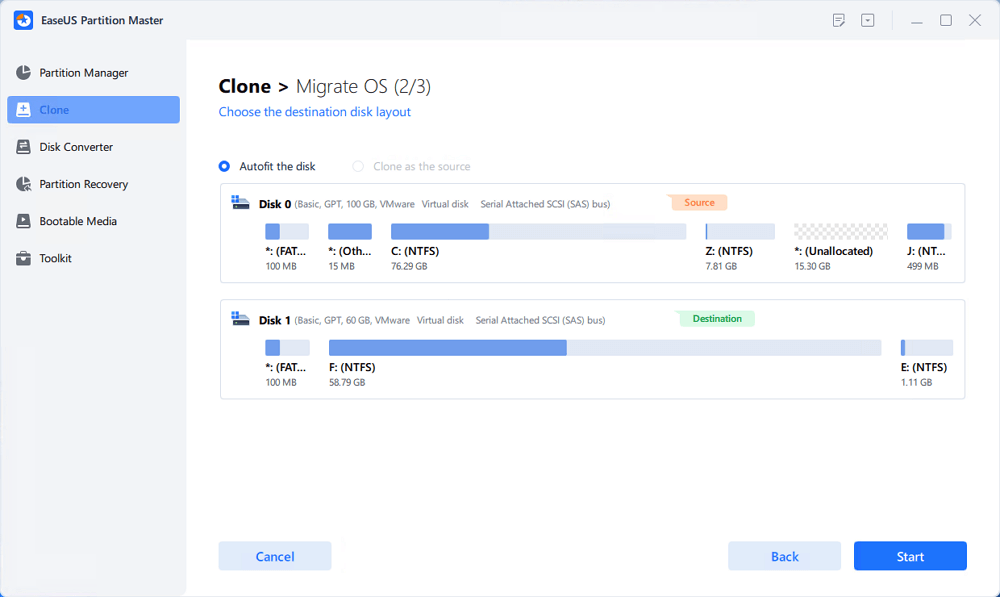 Complete the steps to migrate OS from HDD to SSD. Then, finish the following steps to make your computer boot from the cloned SSD.
Step 1. Restart PC, press F2/F8/F11 or Del key to enter the BIOS.
Step 2. Go to the boot section, set the cloned SSD as the boot drive in BIOS.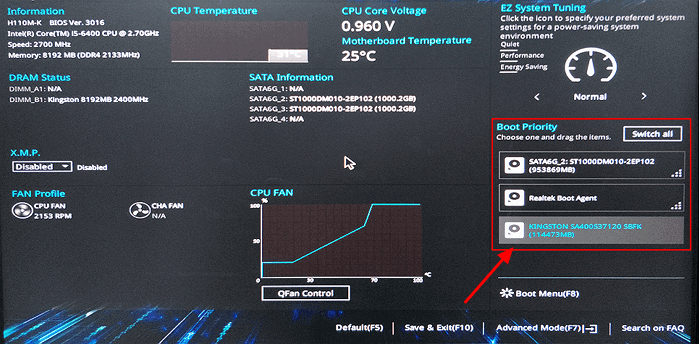 Step 3. Save the changes and restart the PC. Now you should boot your computer from the cloned SSD.
EaseUS Partition Master makes it easy to partition HDD/SSD and make full use of your disk:
Transfer free disk space from one drive to another directly, such as move space from D drive to C drive.
Resize/move partitions, create, format, delete, and merge partitions.
Copy and clone an entire disk to another even the target partition is smaller than the source.
Convert a logical partition to primary or primary partition to logical, FAT to NTFS partition, MBR disk to GPT, or GPT disk to MBR.
Completely wipe out all the data on the hard disk to prevent information from being leaked or recovered.
More Relevant Topics About EaseUS Migrate OS
The following are the highly relevant questions about EaseUS Partition Master and its Clone and Migrate OS features. Check the brief answers if you also have any of these problems.
1. How to clone a hard drive to SSD?
You can use the Clone option of EaseUS Partition Master to clone HDD or SSD. You can even clone a larger HDD to a smaller SSD.
Step 1. Open EaseUS Partition Master. Right-click the source disk that you want to copy or clone. Then, select "Clone".
Step 2. Choose the target SSD as your destination and click "Next" to continue.
Step 3. You can select "Autofit the disk", "Clone as the source" or "Edit disk layout" edit your disk layout.
Step 4. Click the "Execute the operation" option and click "Apply" to start cloning a hard drive to SSD.
2. EaseUS Migrate OS VS Clone
You can use the Clone feature of EaseUS Partition Master to clone a partition or an entire disk. You can clone HDD to HDD, or copy HDD to SSD. This function is best used to clone data disks. If you want to clone system disks, we recommend you try Migrate OS option.
Migrate OS can clone your system disk to a larger HDD or an SSD without reinstalling or any boot issue. As it will copy the system partition and boot drive together to ensure the target disk can be correctly booted after the work.   
3. Can't migrate OS to SSD?
You may not be able to migrate OS from HDD to SSD due to an unspecific cause. In this case, the most effective way is to choose a reliable system migration software to do the job. Download EaseUS Partition Master to migrate OS to SSD.
To migrate OS to SSD:
Click Migrate OS from the top Toolbar.
Select a target disk and customize the partition layout on the target disk.
Click OK to begin the clone.
4. Cloned SSD won't boot?    
There are a few reasons your cloned SSD won't boot, such as incomplete clone, clone failure, BCD error, improper boot order, and so on. You can try these solutions to fix SSD not working after cloning.
Re-clone HDD to SSD with EaseUS Partition Master
Check and fix BCD error
Add necessary drivers to the cloned SSD
Change the boot order in the BIOS
Set system partition as an active partition
Connect SSD to the computer via SATA cable
Updated by Tracy King 
Tracy joined in EaseUS in 2013 and has been working with EaseUS content team for over 9 years. Being enthusiastic in computing and technology, she writes tech how-to articles and share technical solutions about Windows & Mac data recovery, file/system backup and recovery, partition management, data transfer, Windows update issues, etc.
Daisy is the Senior editor of the writing team for EaseUS. She has been working in EaseUS for over ten years, starting from a technical writer to a team leader of the content group. As a professional author for over 10 years, she writes a lot to help people overcome their tech troubles.