Personal buyers and computer manufacturers are likely to choose SSD as a thinner, lighter and faster alternative to HDD in recent years. Undoubtedly, SSD has become the trend of top-rank hard drive storage choices in 2019 and will be in the next few years. After investing some money in a new SSD, what are you going to do subsequently? Replace the old HDD with the new SSD, I guess. There is a way to transfer your Windows 7,8, or 10 installations to an SSD without reinstalling Windows. It's easier and more energy-efficient than fresh install OS, as long as your current operating system runs well and you don't need to install Windows OS on the SSD from scratch.
PreparationWhat Matters When Transfer OS to SSD
Most people are interested in finding a hard drive migration software to directly move OS from one hard drive to the other. It takes only a few steps but saves a great amount of time. Hence, if you're looking for a capable but easy-to-use OS migration software, think EaseUS Partition Master as a dependable and convenient choice. It can transfer OS from HDD/SSD to SSD without reinstalling Windows on your own.
Before we start officially, let's check some preparatory works. After getting ready with all the mentioned points, just begin right away with the procedure.
First, connect your SSD to your computer
If you're using a desktop, you got many ways to connect a second solid-state drive to your computer. For example, install the SSD alongside your old hard drive in the same machine; connect the SSD via a SATA-to-USB cable to your computer, or use an external hard drive enclosure for a connection. Laptop users can use the two latter ways.
Second, back up your hard drive data
We cannot stress the importance of data backup for many times. We can't expect everything goes safe and sound all the time, but we can arm ourselves with a complete backup. A simple Ctrl C + V could take as a temporary method for backup, or you can use whatever backup and recovery software you're accustomed.
Third, download EaseUS Partition Master
This is the key step. Simply click the download button here. It only takes a few seconds to complete the download.
Fourth, do some hard drive cleaning if necessary
SSD is generally smaller than HDD, so you don't wish to transfer the system junk files to the new empty SSD, right? It's a great idea to release some disk space or clear up some system-related junk files before cloning OS to a new hard drive. You can tidy up your current hard drive by using the EaseUS Partition Master's system optimization feature. See how to clean up C drive.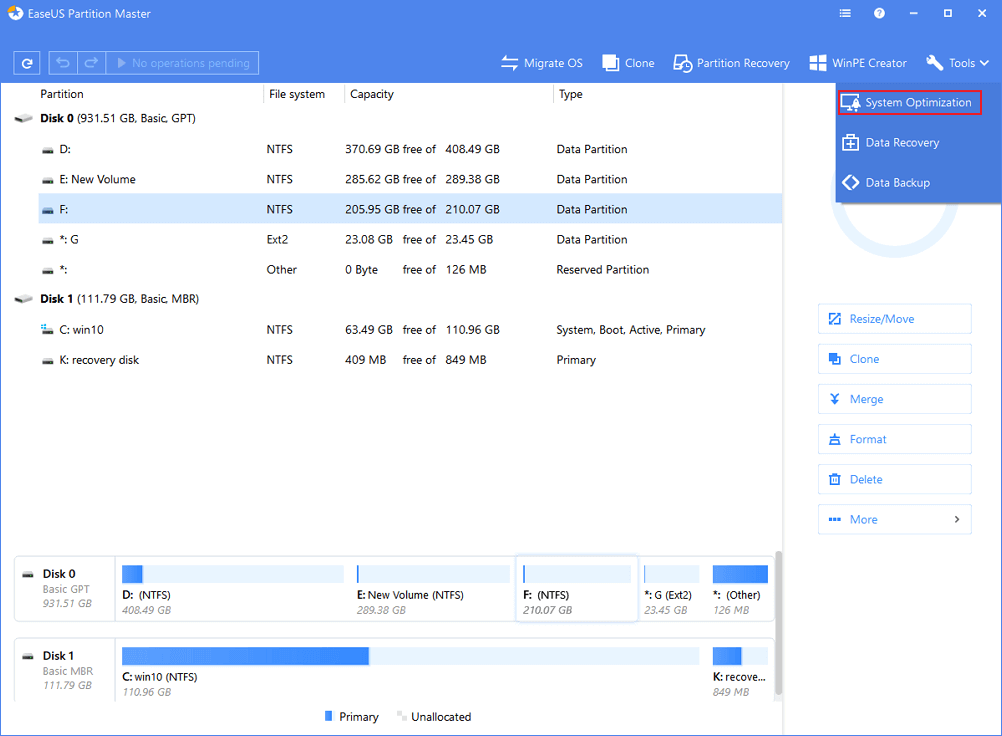 ProcedureHow to Migrate OS to SSD
Three tips on using EaseUS Partition Master in the right way:
Boot disk cannot be selected as the destination disk.
All data on the destination disk will be erased when you clone the source hard disk to the destination disk.
The destination disk may be smaller than source disk, but it should be equal to or larger than the used space on the source disk.
Note: The operation of migrating OS to SSD or HDD will delete and remove all existing partitions and data on your target disk. If you saved important data there, back up them to an external hard drive in advance.
Step 1: Run EaseUS Partition Master, select "Migrate OS" from the top menu.
Step 2: Select the SSD or HDD as the destination disk and click "Next".
Step 3: Preview the layout of your target disk. You can also click the disk layout options to customize the layout of your target disk as you want. Then Click "OK" to continue.
Step 4: A pending operation of migrating OS to SSD or HDD will be added. Click the "Execute Operation" button and click "Apply" to start migrating your OS to a new disk.
After transferring OS from HDD to SSD, you can also use EaseUS Partition Master to resize/move partition on SSD.
EaseUS Partition Master supports sector by sector and file by file disk copy. It also supports MBR disk copy and GPT disk copy.
CompletionHow to Boot Cloned OS from SSD
There are two ways to handle the SSD after the OS transfer.
1. Use only one SSD on your computer or laptop
This is an easy case. After migrating OS from the old drive to the new, this time take out the HDD and leave the cloned SSD as the boot disk.
2. Boot Windows from SSD but also keep the old HDD as a storage drive
When you have two hard drives, both of which contains an operating system, you need to change the boot order from the HDD to SSD in BIOS. To change the boot priority, follow the below guide:
Start the computer and long-press F2 consecutively during the initial startup screen. (If F2 doesn't work, try ESC, F1, F8 or F10)
Enter BIOS setup, and use the keyboard up/down arrows, give a boot sequence priority to the Solid State Drive over the Hard Drive.
Save and exit the BIOS setup utility.
Your computer should restart with the changed settings.
100% of people found this article helpful.
Frequently Asked Questions
Why Choose EaseUS Partition Master?

"I've used Partition Master Professional many times to create, delete, format, move, rename, and resize partitions." —PCWorld

"Partitioning tools have come a very long since the days of complicated command line utilities and EASEUS Partition Master is one of the most advanced programs available." —TECH ADVISOR

"I love that the changes you make with EaseUS Partition Master Free aren't immediately applied to the disks. It makes it way easier to play out what will happen after you've made all the changes." —Lifewire
Will the "Migrate OS" feature transfer the Windows system files only or the whole C drive?

To ensure that the migrated system will boot normally, the Migrate OS feature will transfer all the files in the system and the boot partitions. Generally, the boot partition is the C drive so the transfer will include all the files in C.
Does EaseUS Partition Master license apply to multiple computers?

The license of Partition Master Professional and Server editions can be used on 1 computer only, while that for for the Technician and Unlimited editions can be used on multiple machines.
What is the difference between EaseUS Partition Master Trial version and the Free version?

Free is for home users only, with most basic functions available such as partition resize and clone. While trial can help you understand how this product works and test what a full license can do on a business or server OS machine.
Will it cause any data loss after resizing the partition in EaseUS Partition Master?

Generally, it will not cause any data loss or boot issue by resizing a partition. However, in order to protect your data, we suggest that you backup the partition before resizing, in case of any unexpected situations such as power outages, computer hardware failures, etc. You can use EaseUS Todo Backup to backup the partition and its trial version is fully functioned for 30 days.
What should I prepare before resizing the partition?

On the partition that is going to be operated, there might be some files being occupied by other programs. To ensure a successful operation, we suggest that you close all the unnecessary software before resizing that partition. Otherwise, EaseUS Partition Master will detect the partition being locked by the other software and require a reboot to resize the partition under boot mode.
About EaseUS Partition Master
All-round disk & partition management software for personal and commercial use. Let it manage your storage drive: resize, format, delete, clone, convert, etc.