Summary
A hard drive keeps making a clicking noise always causes panic among users who encounter this issue. Based on our experience, a clicking hard drive may result from minor connection issues or serious hard drive damages. Follow to see why your hard drive is clicking, how to fix a clicking hard drive, and how to recover data from it with EaseUS Data Recovery Wizard.
PAGE CONTENT:
External Hard Drive Keeps Making a Clicking Noise
Before the Fix: Recover Data from the Clicking Hard Drive
Fixes for a Clicking Hard Drive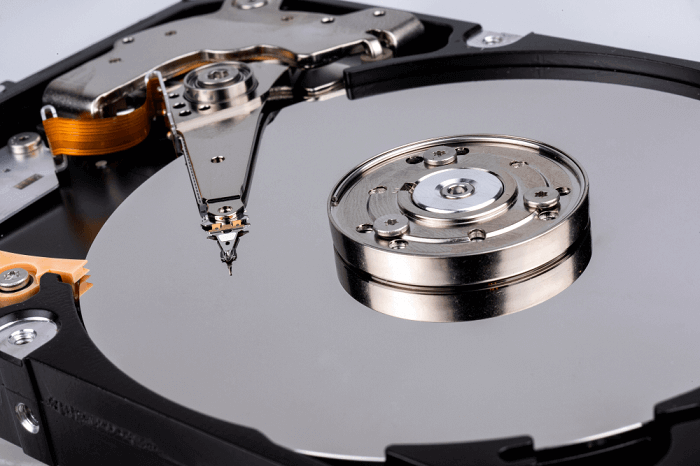 External Hard Drive Keeps Making a Clicking Noise
"When I plugged my WD external hard drive into my laptop, it kept making a clicking noise. A lot of important stuff, including years worth of my kids' pictures on there, were all lost. Does anyone know how I can fix this or get my data back?"
Many users have come across the situation of a hard drive making a persistent clicking noise, which is always annoying and frustrating. How does the clicking sound come into being? Generally, the disk head moves smoothly to track data on the hard drive. When the movement becomes irregular, the disk controller will attempt to reset its position by bringing it back to the home position repeatedly. As a result, the clicking noise occurs. A lot of users have referred the clicking noise as a "click of death". Is that necessarily true? Actually, the clicking hard drive can either caused by minor issues or severe hardware damages, including:
Insufficient power supply: If your hard drive isn't getting enough power, it will fail to fully spin up.
The data cable is faulty or incompatible: If the cable is not for the hard drive, a clicking noise may occur on the hard drive.
Physical damages: Have your hard drive ever been exposed to fire, water, high temperature, or other environmental contaminations? All these are possible causes of hard drive clicking.
Hardware issues: Worn/misplaced disk head, damaged service area, damaged PCB, and more can all result in a clicking hard drive.
Thus, similar to external hard drive blinking but not working, when your (external) hard drive is clicking, it doesn't always mean there is a major mechanical problem with it.
Before the Fix: Recover Data from the Clicking Hard Drive
If your hard drive is still detectable, don't hesitate to back up your files right now before you applying the methods provided below to fix the clicking hard drive. Although you can back up the files by copying, we recommend you try free backup software to get things done. Why? If your hard drive keeps making a clicking noise, a hard drive failure may be imminent. Thus, back up your data as fast as you can.
However, if the clicking hard drive is detectable but the files are not seen in the storage device, you need to recover data from the clicking hard drive using the reliable hard drive recovery software - EaseUS Data Recovery Wizard. Being similar to recover data from failed hard drive, most people will think recover data from a clicking hard drive is difficult and should be done with a professional. It is absolutely not true! As long as your hard drive can be recognized by the computer, you have a high chance to retrieve your data using the data recovery software.
Step 1. Launch EaseUS hard drive recovery software.
Run EaseUS Data Recovery Wizard on your PC and select the drive on your hard disk where you lost or deleted files. Click "Scan" and let this program scan all lost data and files on the selected hard drive.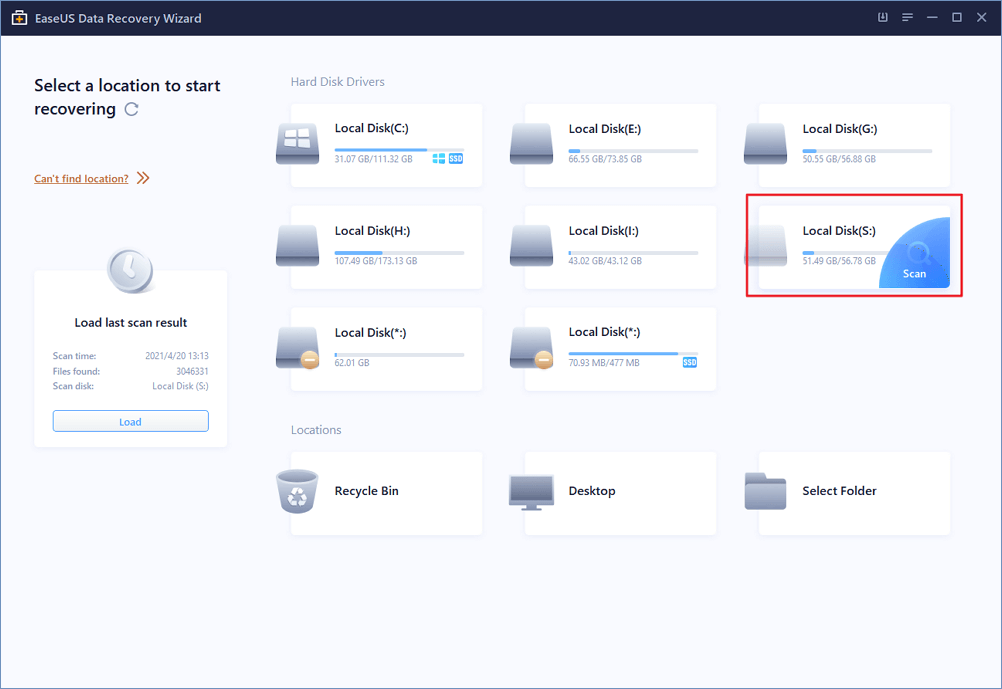 Step 2. Check and preview all lost hard drive data.
Find lost hard drive data from "Deleted Files", "Lost Files" or use "Filter" to quickly navigate the lost data. Check and double-click to preview these found files.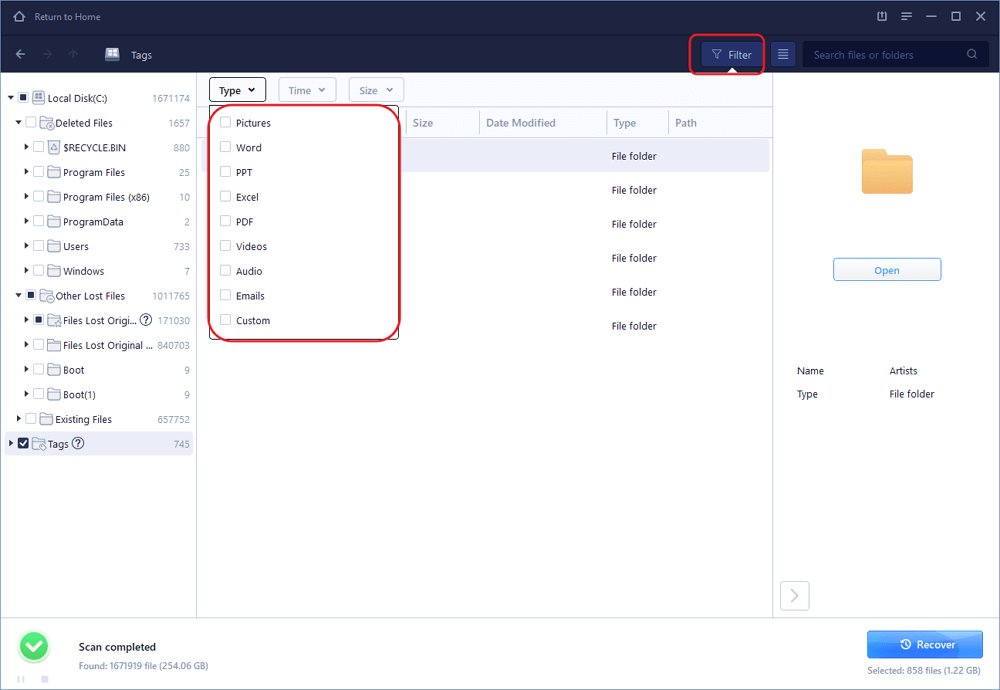 Step 3. Restore lost hard drive data to a safe location.
After the preview, select wanted files that you lost on the drive and click "Recover" to save them. Browse to choose a safe location on your PC or other external storage devices to store these restored hard drive data.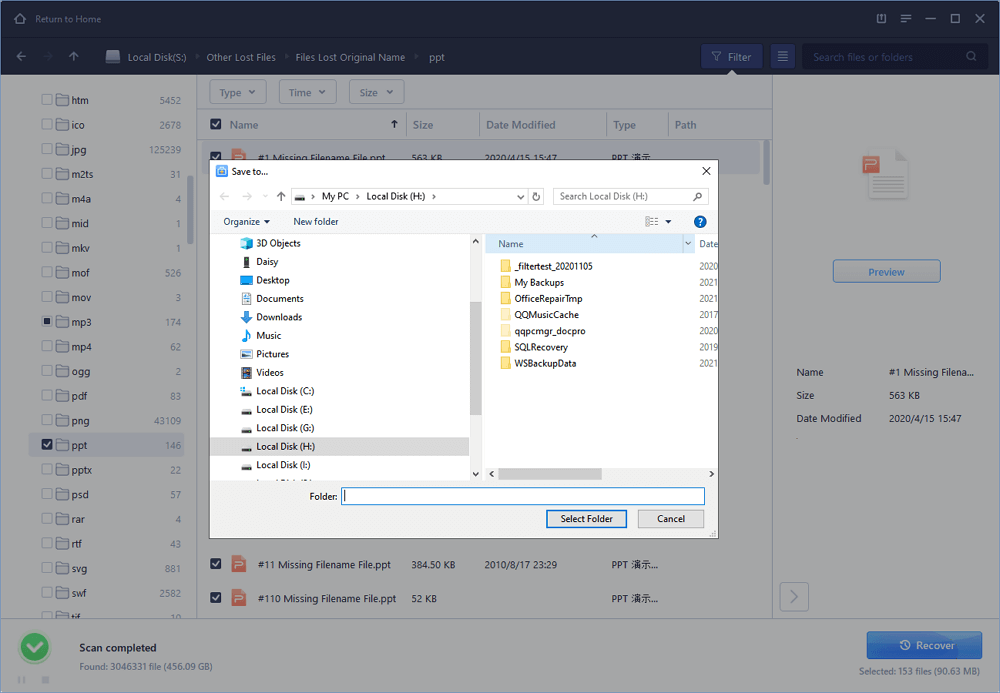 If your hard drive is not showing up on your PC, you need to fix the clicking hard drive first before you can get back your data.
Fixes for a Clicking Hard Drive
The fixes for a clicking hard drive vary in difficulties. Depending on the causes, there are different ways for you to fix a hard drive that is clicking.
Fix 1. Check the Hard Drive Connection
The clicking sound could be an indication of underpowering. Some users found the clicking hard drive is fixed by connecting their hard drive directly to the USB port on the computer instead of a USB port. That's because compared to the USB hub, the USB port provides more stable and sufficient power supply. Since the insufficient power supply is likely to result in a clicking hard drive, changing the USB port is helpful in some cases. Other troubleshooting tips to fix a clicking hard drive caused by connection issues include:
Use the original USB cable to connect your hard drive to the computer or try another USB cable
Connect your hard drive to one of the rear USB port on your computer instead of the front ones
Connect your hard disk to another computer
Take your hard drive out of the disk enclosure and connect it to the computer directly
These tips can exclude all the connection issues that may exist. If the clicking noise remains, continue to try other fixes detailed below.
Fix 2. Put the Hard Drive Upside Down
Don't laugh. If your disk head is out of alignment, you will hear it's clicking. Putting your hard drive upside-down has a chance to reset the needle head on to the disk. Therefore, it's a method well worth trying to fix your clicking hard drive.
Fix 3. Freeze the Hard Drive
Both overheat and trapped components can make your hard drive keep clicking. Freezing your hard drive can, on one hand, cool down your device, and on the other hand, shrink the components inside to free up the stuck or trapped ones. To freeze your hard drive, there are several things you need to pay attention to:
Don't put your hard drive into the freezer barely. Use a ziplock bag or something similar to seal out moisture
Keep your hard drive in the freezer for a couple of hours
Once the hard drive works again, back up your data or recover data from the hard drive immediately
If the hard drive starts clicking again after a period of time, re-freeze it until you keep all your files safe
Fix 4. Send the Hard Drive for Repair
If the clicking sound persists, I'm afraid there are major hardware issues on your hard drive. That's when you need to ask help from specialists to fix the clicking hard drive and recover data from it. The specialists can replace the control board if there is an electrical failure or replace the disk head if it is weak or damaged. Or you can directly send the defective hard drive for a replacement if it's still under warranty. If the clicking hard drive is beyond repair, switching to a new one is the only choice for you.
The Bottom line
A clicking hard drive is often related to a hard drive failure. When the problem attacks unexpectedly, the question gains the most concern from users is how to fix the clicking hard drive. Or more importantly, how to recover data from the clicking hard drive. That reminds us of the importance of backing up our files regularly. With the backup available, we can avoid complete data loss when an issue like hard drive failure happens.
100% of people found this article helpful.
Frequently Asked Questions
1. Why choose EaseUS Data Recovery Wizard?

"EaseUS Data Recovery Wizard is the best we've seen. It's far from perfect, partly because today's advanced disk technology makes data-recovery more difficult than it was with the simpler technology of the past, but it's fast and efficient..." —PCMag

"The first thing you'll notice about EaseUS Data Recovery Wizard Pro is that its interface is very clear and uncluttered, with only a small collection of self-explanatory controls. You won't find lots of extra options hidden in a system of hidden menus, either; what you see really is what you get." —techradar

"Recover lost files, even after deleting a partition or formatting your drive." —Macworld
2. Why cannot I recover 2GB data for free?

It is recommended to check the version installed is Free or Trial because they are different versions.

Trial has data preview function but cannot save any files, while the Free version enables to recover 2 GB files. The default free space is 500 MB and you may share the product on social media to get another 1.5 GB.
3. Why cannot the recovered files be opened?

A file is saved as 2 parts on the storage device: directory info (which is comprised by file name, time stamp and size info, etc.) and data content.

If the files with original file names and folder structures cannot be opened, one possible reason is the corrupted directory info. There is still a chance to recover the data content with the RAW Recovery method in our software.
4. Why isn't it suggested to recover the files back to the original drive?

The storage structure of the lost files would be altered or damaged by any changes on the drive. If you save the recovered files back to the same drive, the original data structures and data content would be corrupted or overwritten, which causes permanent data loss. So you should prepare another disk to save the files.
5. How can I check whether my data is recoverable or not before purchase?

The Free version helps you save 2GB files to better verify the recovery quality of our product before purchase.
6. How long does it take to scan the drive?

It strongly depends on the capacity of your hard drive and the performance of your computer. As reference,most drive recoveries can be completed in around 10 to 12 hours for a 1-TB healthy hard drive in general conditions.
About Data Recovery Wizard
It's super easy to recover 250+ types of files after deletion, disk formatting and virus infection. Click the links and compare the difference of each version.