
Table of Contents

About the Author

Reviews and Awards

Recover Deleted Files in Windows 10/11
Reading Duration: 3-5 minutes. 
Applies to: Fix hard drive clicking in Windows 10/8/7, fix clicking internal/external hard drive, no data loss.
"I plugged my WD external hard drive into my laptop, a clicking sound kept coming out. Years of my kids' pictures were all lost. How I can fix this and get my data back?" 
Do you hear a loud "click, click, click" noise once you boot up the computer or connect an external hard drive to your PC? Don't worry. This page covers all reliable solutions for you. See how to fix clicking hard drive to work again:
| Workable Solutions | Step-by-step Troubleshooting |
| --- | --- |
| Fix 1 & Fix 2. Recover Data from Clicking Disk | Run EaseUS recovery software > Scan and recover data from clicking disk...Full steps |
| Fix 3. Change Clicking Disk Connection | Reconnect clicking disk > Change connection cable > Change computer...Full steps |
| Fix 4. Freeze the Hard Drive | Clean the dust >Add an extra fan > Stop running the computer...Full steps |
| Fix 5. Send the Hard Drive for Repair | Contact hard drive manufacturer or local repair center to repair clicking drive...Full steps |
Overview of Internal/External Hard Drive Clicking
Is it normal that a hard drive or an external hard drive keeps clicking? It depends. Check out what does it mean when your hard drive is clicking and what caused this issue on your disk.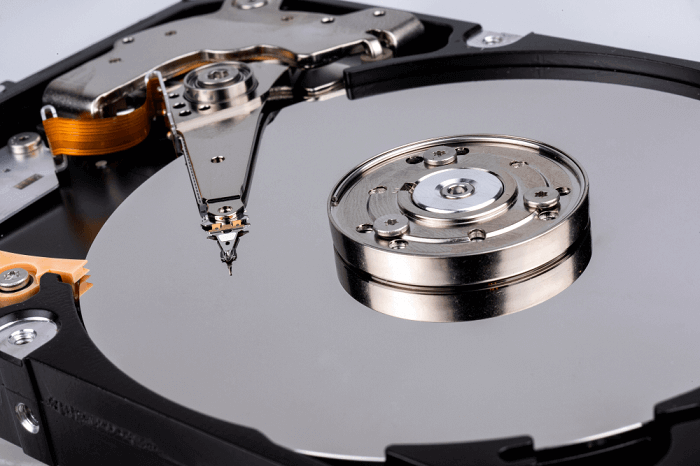 Symptoms of Hard Drive Clicking:
The disk is alright with the light on, having a slight and low clicking sound.
The hard drive has a connection issue as it clicks slowly with a small sound.
The disk has a "death of click" issue: clicking fast and making a loud "Click, Click, Click" noise.
What Caused (External) Hard Drive Clicking:
Power supply issue: Insufficient power supply, hard drive spin error.
Problematic connection: Incompatible or problematic connection cable.
Physical damages: Fire burned, water drowned, high temperature, etc.
Hardware issues: Worn/misplaced disk head, damaged service area, damaged PCB, etc.
5 Fixes for (External) Hard Drive Clicking
Normally, hard drive clicking is regarded as a sign of a failing hard drive. So how to fix a clicking (external) hard drive? If you are having the issue, check out the state of your hard drive first:
Hard drive clicking but still works (accessible)
Hard drive clicking and not detected
If your clicking hard drive is still accessible, follow Method 1 and Method 2 and get data out of your drive first. If the drive is not detected or not recognized, jump to Method 3 to start fixing this issue.
Fix 1. Recover Data from Clicking Hard Drive That Still Works
When your clicking drive is detected with no files showing up, you'll need reliable hard drive recovery software to recover the missing disk data first. Here, EaseUS Data Recovery Wizard can help.
With EaseUS software, you can even apply this software to recover data from a failed hard drive. Here are the steps to recover data from a clicking hard drive:
Step 1. Scan the hard drive partition
Select the drive on your hard disk where you lost or deleted files. Click "Scan" and let EaseUS data recovery software scan for all lost data and files on the selected drive.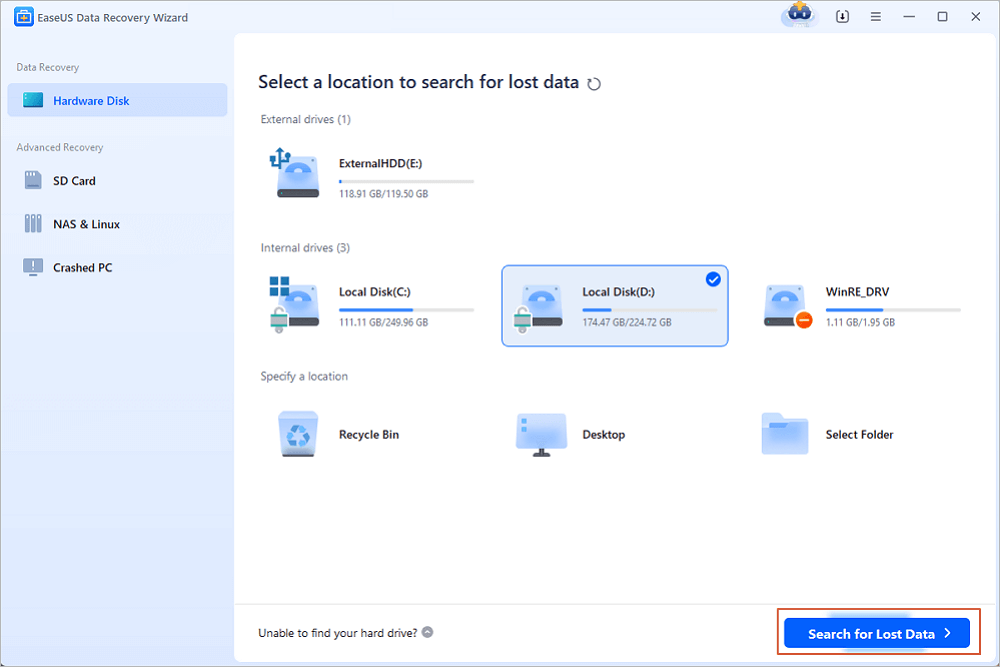 Step 2. Check the results
When the scan completes, you can apply the "Filter" feature or click the "Search files or folders" option to find the lost files on the hard drive.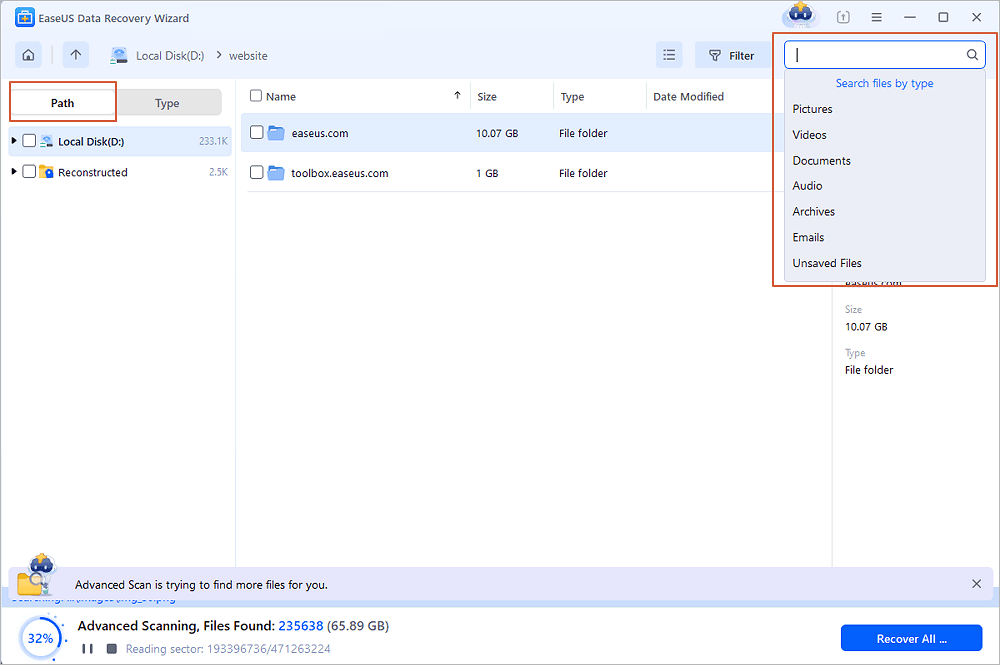 Step 3. Restore lost hard drive data
Select wanted files that you lost on the drive and click "Recover" to save them to another location.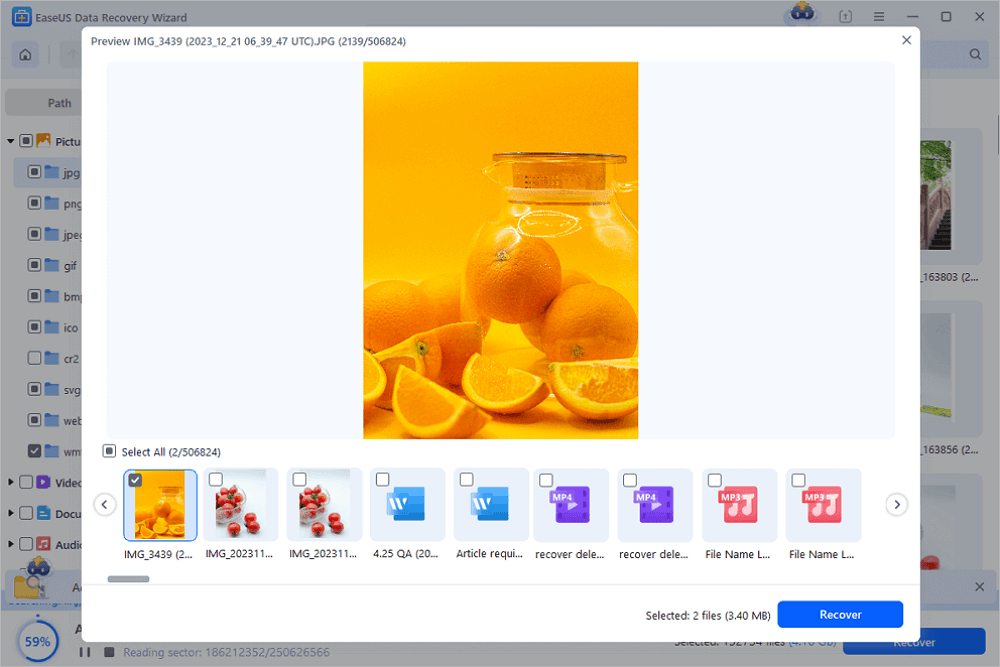 Fix 2. Turn to Data Recovery Service to Restore Clicking Disk Data
If EaseUS data recovery software fails to restore data from your clicking & detectable hard drive, manual data recovery service is what you need. 
Do You Need Specialized Data Recovery Services?
You may need further help for tough data loss situations like reformatting drive, RAW disk, partition loss, repartition failures, and system boot error. Consult with EaseUS Data Recovery Experts for cost-efficient one-on-one manual recovery service. They could offer the following services after FREE diagnosis:
1. Unformat the drive

2. Repair the RAID, RAW disk, or operating system

3. Recover lost partition (the one that cannot be recovered by software)
Extended Tips: Data Recovery Software vs. Manual Data Recovery Service
If you don't know how to pick up a data recovery solution for your clicking hard drive, watch this video to learn the differences.
After restoring data from the clicking hard drive, you can follow the fixes below one by one to repair and make your clicking hard drive work again.
Fix 3. Change Hard Drive Connection to Fix Clicking Drive
Mostly, an insufficient power supply is likely to cause a clicking hard drive, changing the USB port is helpful in some cases. Also, a broken or an incompatible connection cable may also cause a disk clicking error.
Here are the steps to troubleshoot a clicking hard drive:
Step 1. Check if the connection cable is broken.
If yes, purchase a new cable and reconnect the clicking (external) hard drive to your computer.
Step 2. Check if the power cable is loosened.
If yes, unplug and replug the power cable, connect it to your computer and the drive tightly.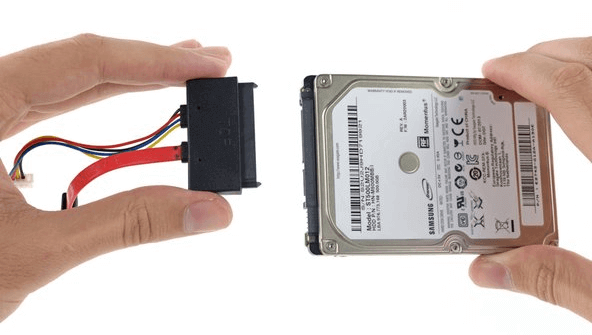 Step 3. Check if you are using a compatible drive.
If you connected a USB.30 external drive via a USB 2.0 cable, the drive may not be recognized and even making clicking noises.
Step 4. Connect the clicking (external) hard drive to another computer.
If the drive still keeps clicking on your computer, try to connect it to another computer.
Step 5. Take the hard drive out of the disk enclosure and connect it to the PC as an external disk.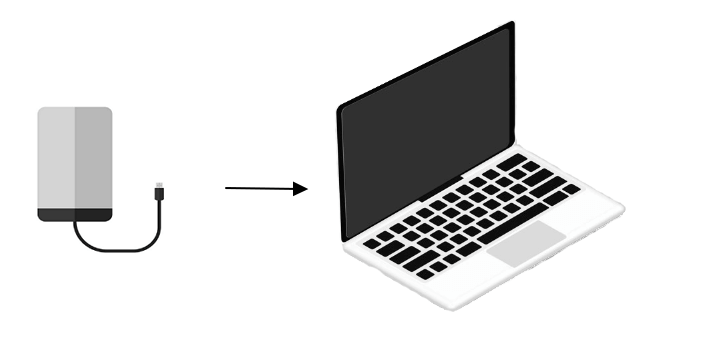 These tips can exclude all the connection issues that may exist. If the clicking noise remains, continue to try other fixes detailed below. If you can't access the saved data, revert to Method 1 for help.
Fix 4. Freeze or Cool Down the Hard Drive
When a hard drive is overheating, you may hear a clicking sound coming out of the computer. Freezing your hard drive can, on one hand, cool down your device, and on the other hand, shrink the components inside to free up the stuck or trapped ones.
To freeze your hard drive, here are the steps that you can follow:
Step 1. Open your computer or laptop case, clear all the dust on the fan.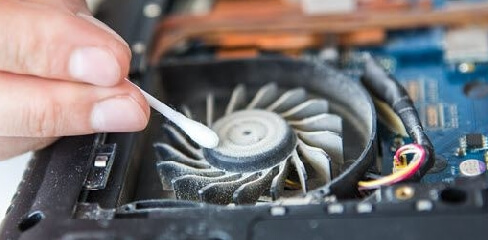 Step 2. Add an extra fan to your computer and cool down the drive.
Step 3. Stop using the computer and wait for the drive to cool down.
Once the hard drive works again, back up your data or recover data from the hard drive immediately.
Step 4. If the hard drive is too old, purchase a new drive and replace the old one.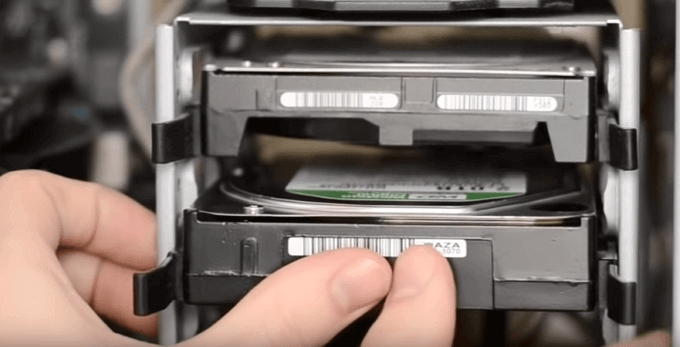 Fix 5. Send Clicking Hard Drive for Repair 
If the clicking sound persists, I'm afraid there are significant hardware issues, such as a broken head reader, damaged components on your hard drive.
In this case, you may need help from hard drive repair specialists to fix the clicking hard drive and recover data from it.
To do so, you have three options for clicking hard drive repair:
1. Send the defective hard drive for a replacement if it's still under warranty.
If the clicking hard drive is beyond repair, switching to a new one is the only choice for you.
2. Contact the support team of your hard drive manufacturer for help.
3. Take the clicking hard drive to a local hard disk repair center.
The specialists can replace the control board if there is an electrical failure or replace the disk head if it is weak or damaged. 
Fixing A Clicking Hard Drive Is Possible, Make Your Drive Work Now
On this page, we explained why is your hard drive clicking, guided you to recover data, and fix a clicking hard drive with 5 reliable fixes.
If you have a hard drive/external hard disk clicking issue but the disk is still openable, turn to free backup software and back up all files to another secure device first. 
If the clicking disk is inaccessible, restore data from your drive with reliable EaseUS data recovery software first. 
Later, you can try to change its connection cables, cool down the drive, or take it for repair based on the causes of the clicking disks.
Fixing a clicking hard drive or external hard drive is possible. Follow tips on this page to make your malfunctioning hard drive work again. 
Hard Drive Clicking FAQs
If you still have questions about this issue, check out the questions and answers below for help.
1. What are signs of a failing hard drive? 
Here are some signs of impending or failing hard drive:
Strange noises, like clicking or humming.
Repeated program or disk errors.
Frequently popping up error messages.
Device not detectable, not recognized.
Unable to load data nor system.
2. Why is my pc making a clicking sound?
Low clicking sound: computer is reading and writing data to the hard drive.
Loud clicking sound: hard drive is clicking with malfunctioned hard drive head. 
The computer and hard drive are overheated.
3. What to do with a failing or dying hard drive?
If your hard drive is failing or dying, making a clicking noise, there are some fixes for you to try:
Recover data from failing hard drive if it's bootable.
Back up data from failing hard drive if it's unbootable.
Review dying hard drive by changing power cable, update disk driver, etc.
Send drive for repair if it's under warranty.
For a step-by-step guide, you may refer to: What To Do with A Dying Drive. 

Cedric Grantham is one of the senior editors of EaseUS who lives and works in Chengdu, China. He mainly writes articles about data recovery tutorials on PC and Mac and how-to tips for partition management. He always keeps an eye on new releases and likes various electronic products.

Roxanne is one of the main contributors to EaseUS and has created multiple posts on digital devices like PCs, Mobile phones, tablets, Mac, etc. She loves to share ideas with people of the same interest.
EaseUS Data Recovery Wizard is a powerful system recovery software, designed to enable you to recover files you've deleted accidentally, potentially lost to malware or an entire hard drive partition.

 Read More

EaseUS Data Recovery Wizard is the best we have seen. It's far from perfect, partly because today's advanced disk technology makes data-recovery more difficult than it was with the simpler technology of the past.

 Read More

EaseUS Data Recovery Wizard Pro has a reputation as one of the best data recovery software programs on the market. It comes with a selection of advanced features, including partition recovery, formatted drive restoration, and corrupted file repair.

 Read More