HDD Regenerator Free Alternative on Windows 10/8/7
Any HDD Regenerator Alternatives
"I am trying to recover a heavily damaged hard disk with a lot of bad sectors. It's so bad that I cannot complete a chkdsk on it. I have been trying HDD Regenerator, but it's very slow. ETA is 100+ hours. Any free alternative to HDD generator?"
Why You Need a Free HDD Regenerator Alternative
Now, computer hard drives as well as external storage devices like external hard drive, USB flash drive, pen drive, SD card, etc., are widely used for data backup or data transfer. But, sometimes bad sectors, disk errors, file system corruption, etc. come out on these devices and prevent you from accessing your data.
Then, HDD Regenerator, a hard drive repair software offered by Dmitriy Primochenko is coming to help. It is designed to check and repair bad sectors or permissions or other problems you might have on your hard drive and even recover corrupted data. But unfortunately, the program doesn't offer a free version, and it sometimes performs slowly. All these disadvantages make users try to find a free and faster alternative bad sector repair software. 
What Is the Best Free Alternative to HDD Regenerator 
But what is the best HDD Regenerator free alternative? Here we highly would recommend you try EaseUS Partition Master Free. It is a free partition software with a flexible and advanced "Check partition" feature. This function allows you to check and repair your hard disk drive in case of file system errors, bad sectors, magnetic dysfunction, corrupted files, and failures of spindle work algorithm faster and better.

EaseUS Partition Master Free
How to use HDD Regenerator alternative - EaseUS free partition software
Step 1. Right-click the target partition that has a problem. 
Step 2. Choose "Advanced" > "Check File System". 
Step 3. In the Check File System window, check the "Try to fix errors if found" option.  
Step 4. Click "Start" to check errors on your partition.
HDD Regenerator VS EaseUS Partition Master Free  
HDD Regenerator is a program that only regenerates bad sectors by magnetic reversal, a hardware-independent technology. However, EaseUS Partition Master is a comprehensive free disk management tool that offers one-stop solutions to organize and optimize your hard disk drive.
You can check out the table below to see the main differences between HDD Regenerator and EaseUS Partition Master - the best free HDD Regenerator alternative.
Comparison
EaseUS Partition Master Free
HDD Regenerator
Product features

Repair bad sectors
resize/move partition
Clone, merge, format, delete, and wipe partitions

Repair bad sectors
Product interface

Suser-friendly graphical interface
Suitable for both beginners and pros

Plain text interface, no images,
Suitable for pros, confusing to run for beginning users

Edition restrictions

100% free to check and repair all bad sectors 
As well as perform surface test on disk

Only one bad sector will be regenerated for unregistered
The official version costs $59.95

File system supported  
NTFS, EXT4, EXT3, EXT2, FAT32, FAT16, FAT12, ReFS 
FAT, NTFS and other file systems
OS supported
Windows 10/8.1/8/7/Vista/XP
Windows XP/Vista/7/8/10
From the comparisons above, you can clearly see that it is a much better choice to use EaseUS free parttion manager than HDD Regenerator. Being a top free Windows partition software, it can resize/move partitions, copy disk, check and explore partition to improve the performance of your hard drive.
 Free Download Windows 11/10/8/7
Read More About HDD Regenerator and It's Alternative
Here is more information about HDD Regenerator and how to use it.
How long does HDD Regenerator take?
It depends on the disk health and size. If the drive is fully functional a 4Tb drive, it will take as much as 20 hours to perform a single scan, and a typical recovery may involve several scans to effectively find all files. In general, it's slow to use HDD Regenerator to scan and repair hard drive.
Is there a free HDD Regenerator alternative?
HDD Regenerator full version is expensive. To repair your hard drive, don't use the crack version of HDD Regenerator, which may cause more damage to your hard drive.  
EaseUS free partition manager, the best free HDD Regenerator alternative, helps you check and repair corrupted file system and bad sector with simple clicks in a short time.
How to fix bad sectors on a hard drive with HDD Regenerator alternative?
You can check and repair corrupted hard drive with EaseUS free partition software:
1. Download and install EaseUS Partition Master Free.
2. Run the software, and find the hard drive with bad sectors. Right-click the partition and choose Check File System.
3. Execute the operation and start fixing the bad sectors on the hard drive.  

Roxanne is one of the main contributors to EaseUS and has created multiple posts on digital devices like PCs, Mobile phones, tablets, Mac, etc. She loves to share ideas with people of the same interest.
I love that the changes you make with EaseUS Partition Master Free aren't immediately applied to the disks. It makes it way easier to play out what will happen after you've made all the changes. I also think the overall look and feel of EaseUS Partition Master Free makes whatever you're doing with your computer's partitions easy.

 Read More

Partition Master Free can Resize, Move, Merge, Migrate, and Copy disks or partitions; convert to local, change label, defragment, check and explore partition; and much more. A premium upgrade adds free tech support and the ability to resize dynamic volumes.

 Read More

It won't hot image your drives or align them, but since it's coupled with a partition manager, it allows you do perform many tasks at once, instead of just cloning drives. You can move partitions around, resize them, defragment, and more, along with the other tools you'd expect from a cloning tool.

 Read More
About EaseUS Partition Master
All-round disk & partition management software for personal and commercial use. Let it manage your storage drive: resize, format, delete, clone, convert, etc.
Video Tutorial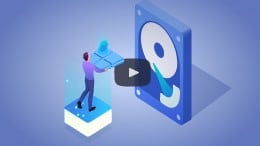 How to Partititon a Hard Drive on Windows 10/8/7
Was This Page Helpful
How Can We Help You
Find answers to common questions below.