
Table of Contents

About the Author

Reviews and Awards
HDD Repair Solutions - Page Content
If your hard drive gets corrupted due to a file system error or the hard drive turns RAW, don't panic. This guide will provide you with detailed steps to repair a corrupt hard disk without losing data. To do this, you must first check if it is the logical error that prevents you from accessing the hard drive. If so, you can check and perform hard disk repair. If it is a physical hard drive problem, you'll need to send your hard drive to the data recovery or repair service center. 
Possible Causes of Hard Drive Disk Errors 
Before you try to repair the hard disk, you should know the reasons that cause hard drive corruption. Here is the list of top reasons for hard disk failure:
Virus attack
Sudden system shutdown or crash
Human errors
Power supply and overheating problem
Now that you know what causes hard drive failure, you can repair the hard drive to solve your problem.
 Warning

When you connect a RAW hard disk to your computer, Windows may display a prompt to format the corrupt (RAW) drive volume. Click "Cancel". Do not click "Format" as it will result in permanent data loss without a data recovery tool.
How to Perform Hard Disk Repair with Free HDD Repair Software
Before you start, you should manually check your power supply and the heat of your fan. Make sure that they are working properly. Only then, follow the following solutions for HDD repair:
1. Run Antivirus
Connect the hard drive to another Windows PC and use a reliable antivirus to scan the drive. Sometimes, viruses and malware can cause such errors. Therefore, an antivirus scan may repair the corrupted hard drive and make the drive accessible.
2. Check and Repair Hard Disk Error in Windows 10/8/7 
Try a Windows built-in tool first to check and repair hard disk errors. If it works, you can access your data. Here's how to do it in Windows 10, 8, or 7:
Step 1. Open "This PC/Computer", right-click the hard disk or partition which you want to check, and click "Properties".
Step 2. Select "Tools" and click "Check now" under Error-checking.
Step 3. Check Disk Options dialog will show up. Select any one of the options to check and repair the hard disk.
Step 4. Select and check both "Automatically fix file system errors" and "Scan for and attempt recovery of back sectors", then click "Start".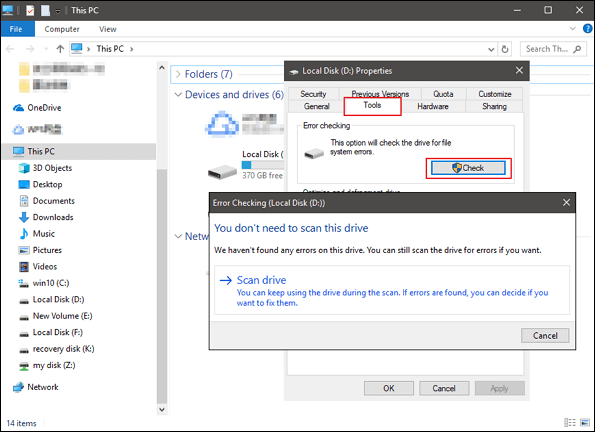 To run this tool in read-only mode, click "Start".
To repair errors without scanning the volume for bad sectors, select the "Automatically fix file system errors" checkbox and click "Start".
To repair errors, locate bad sectors, and recover readable information, click "Scan for and attempt recovery of bad sectors" and click "Start".
After the full repair process, your hard disk or hard drive partition should work normally. You can then try to access the saved data on the hard drive.
3. Run SFC Scan
The SFC Scannow option is one of the several specific switches available in the SFC command. It helps fix the damaged or missing Windows system files that may cause drive corruption.
Step 1. Open a command prompt window. 
Step 2. Type sfc /scannow in the command prompt window and press "Enter" on the keyboard.
If the drive is a portable drive, type SFC /SCANNOW /OFFBOOTDIR=c:\ /OFFWINDIR=c:\windows and replace letter c: with your hard drive letter.
Wait for the scan to finish and then restart the system. Try and see if you can access your hard drive.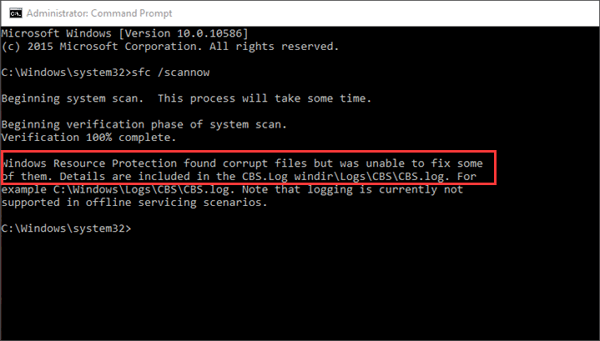 4. Turn to Hard Disk Repair Experts (Recommended)
If your HDD is making a clicking or grinding noise, it could be due to a head crash or motor failure. One of the most reliable ways to repair hard disk errors is using a data recovery service. EaseUS is authorized by Western Digital, Fujitsu, Hitachi, Samsung, and Toshiba to open and repair their hard drives for data recovery without voiding the warranty.
EaseUS Disk Repair and Recovery Services
Click here to contact our experts for a free evaluation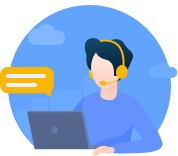 Consult with EaseUS data recovery experts for one-on-one manual recovery service. We could offer the following services after a FREE diagnosis.
Fix HDD, SSD, external hard drive, and USB flash drive errors, and restore data from all RAID levels
Recover lost partitions that cannot be restored by data recovery software
Fix disks that cannot be read or accessed because of bad sectors
Fix disks that become GPT-protected partitions
Wipe data, unformat hard drive, Install/uninstall software or driver, etc.
5. Check File System with Free Hard Disk Repair Software
To check and repair file system errors that cause hard disk drive corruption, you can use the free hard disk repair software - EaseUS Partition Master. It enables you to check bad sectors and prevent data corruption by fixing file system errors with the Check File System feature.  
5. Use a Data Recovery Tool and then Format Hard Disk
If the above methods fail to repair the corrupt hard drive and it's still in RAW, then the corruption is severe, and you need to format it. In this case, you should use powerful data recovery software - EaseUS Data Recovery Wizard quickly restores files from corrupted hard disks, recover formatted hard drive, and restore data from deleted partitions before you format the hard disk. Even when Windows can't recognize a corrupted hard drive as usable, this software still supports recovery from a corrupt (RAW) hard drive.
Go ahead and download this hard drive recovery software and follow the guides below to restore lost hard disk data or recover deleted files in Windows 10/8/7.
Step 1. Select the drive where you lose your data and click "Scan".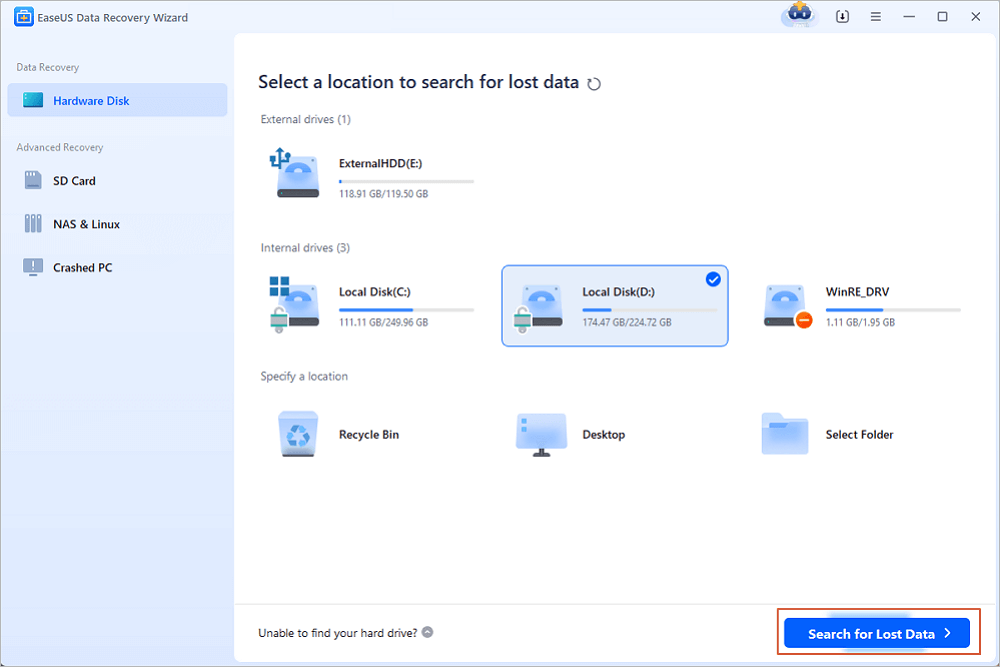 Step 2. Use "Filter" or "Search" to find the lost files when the scan completes.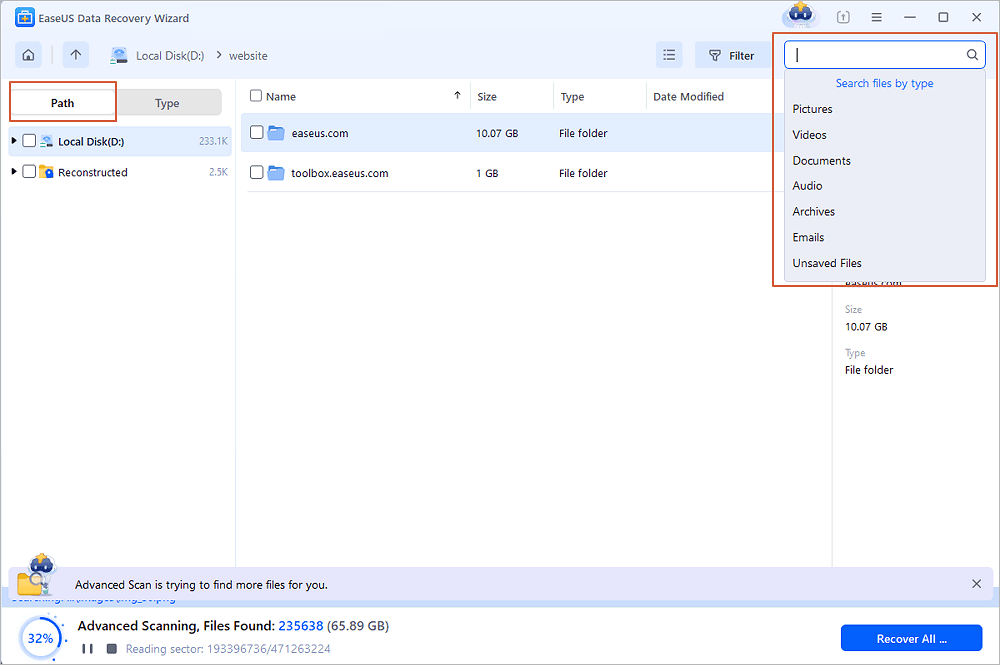 Step 3. Select all the files you want and click "Recover". Then, browse another secure location to save them.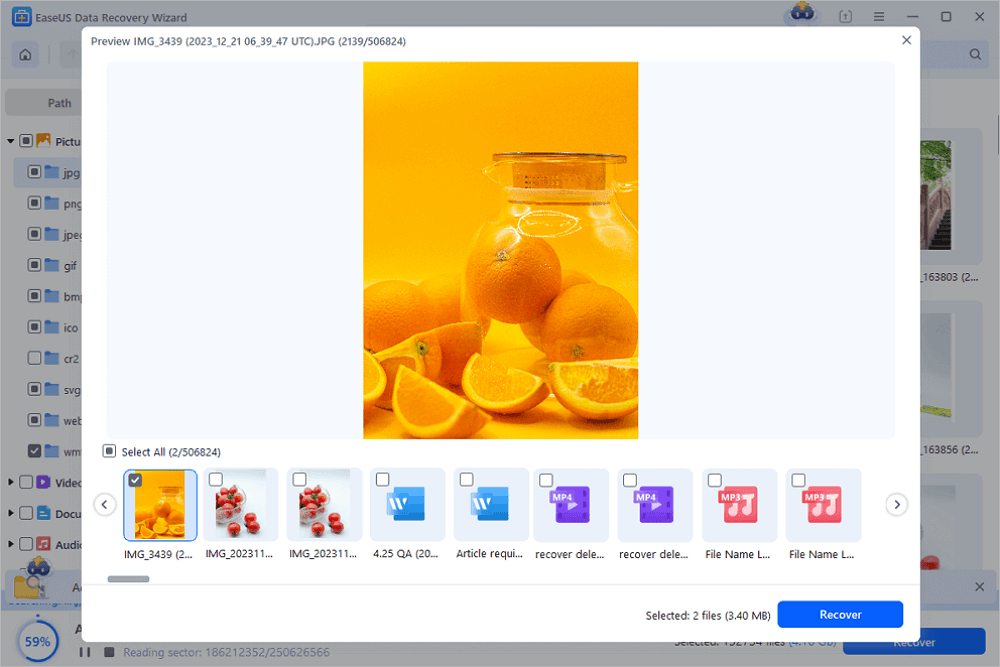 The video tutorial on recovering data from the hard drive.
How to format a hard drive for hard disk repair
After successful data recovery from the corrupt hard drive, format the drive in Disk Management to repair the hard disk. And then, move the restored data to the hard drive.
Step 1. Right-click "This PC" and choose "Manage".
Step 2. Go to "Disk Management".
Step 3. Right-click the target hard drive partition and choose "Format".
Step 4. Set the volume label, file system, and click "OK" to start formatting the drive.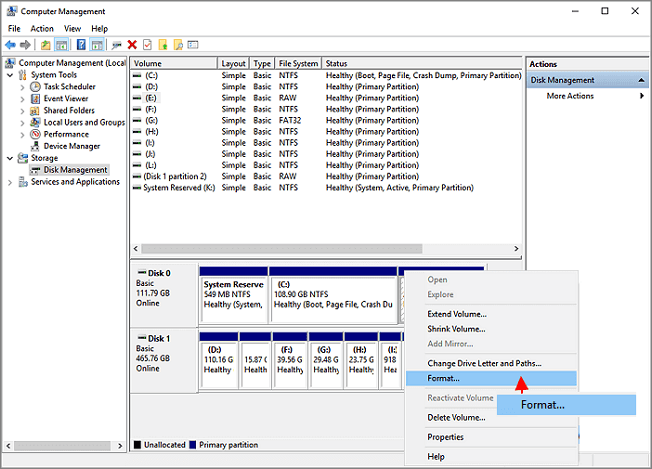 How to Prevent Hard Drive Corruption and Data Loss
How to avoid hard disk corruption and data loss issues on your PC in Windows 10/8/7? We have some tips for you below.
Run the CHKDSK command to check and repair hard disk errors frequently.
Clean up viruses with antivirus software in time.
Frequently defragment the drive
Do not force the shutdown using the power button
Back up important data on HDD regularly. (External storage devices are recommended.)
Use EaseUS hard disk repair software to recover HDD lost data in time when data loss happens.
Hard Disk Repair Frequently Asked Questions
Read more about HDD repair and hard drive repair software.
Can a hard disk be repaired?
There are two types of hard drive errors: logic and physical errors. In most cases, Windows is able to repair a logic error, as it's almost always related to a software mishap. Formatting the drive will almost always fix this. But, if it's a physical corruption, it can not be repaired. You need to replace the damaged hard drive with a new one.
How do you fix a corrupted hard drive?
You can use EaseUS free hard disk repair tool to perform HDD repair:
1. Download and install EaseUS free hard driver repair tool on your Windows computer. 
2. Find your hard disk, right-click it, and choose Check File System.
3. The disk repair tool will check your hard disk and repair HDD error.
How to repair damaged external hard drive?
How to repair external hard drive without any cost with a free external hard drive repair software:
1. Connect your external hard drive to the computer.
2. Download EaseUS external hard disk repair software for free.
3. Right-click the external hard disk and choose Check File System.
4. EaseUS hard drive repair tool will check and fix hard drive errors that it finds.
Hard disk repair software free download full version?
Hard disk health check and repair software free download. You can download EaseUS free hard disk repair tool to repair corrupted HDD or external hard drive.
What's the best free hard drive repair software Windows 10?
1. Windows built-in hard disk error checking tool
2. EaseUS free hard drive repair software
3. EaseUS data recovery tool
How can I repair my hard disk with bootable hard disk repair tool?
When your hard drive is damaged and your computer can't boot, how can you repair the damaged hard drive? Download and use the pro version of EaseUS Partition Master to repair HDD with a bootable drive.
1. Prepare a storage media, like a USB drive, flash drive, or a CD/DVD disc.
2. Launch EaseUS Partition Master and click the WinPE Creator feature on the top.
3. Follow the on-screen instructions to Create EaseUS Partition Master bootable drive.
4. Start your computer from the USB bootable drive.
5. Right-click the corrupted hard disk and choose Check File System to repair HDD.

Cedric Grantham is one of the senior editors of EaseUS who lives and works in Chengdu, China. He mainly writes articles about data recovery tutorials on PC and Mac and how-to tips for partition management. He always keeps an eye on new releases and loves various electronic products.

Approved by Mahesh Makvana 
Mahesh is an experienced computer tech writer. He's been writing tech how-to guides for about 8 years now and has covered many topics. He loves to teach people how they can get the most out of their devices.
EaseUS Data Recovery Wizard is a powerful system recovery software, designed to enable you to recover files you've deleted accidentally, potentially lost to malware or an entire hard drive partition.

 Read More

EaseUS Data Recovery Wizard is the best we have seen. It's far from perfect, partly because today's advanced disk technology makes data-recovery more difficult than it was with the simpler technology of the past.

 Read More

EaseUS Data Recovery Wizard Pro has a reputation as one of the best data recovery software programs on the market. It comes with a selection of advanced features, including partition recovery, formatted drive restoration, and corrupted file repair.

 Read More