
Table of Contents

About the Author

Reviews and Awards
I Accidentally Deleted a Game Save File on Cyberpunk 2077
"Hi, I recently started a corpo game file, but I was also playing a streetkid game. Today, I accidentally saved my street-kid game file on my corpo game file. Obviously, I can't find my game save the file anywhere in the game, but I do have cloud saves enabled. That could mean that the corpo game file was not deleted completely and could be recovered.
If someone knows how I can resolve this so that I can recover my corpo game file, omg I would be so grateful; you have no idea..." - from Gog Forum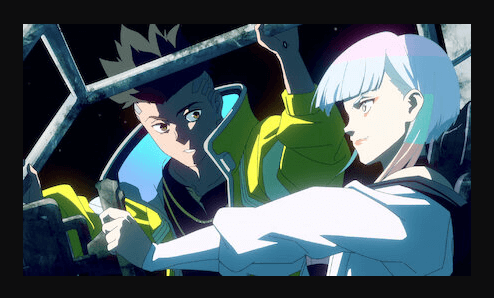 Don't worry if you are one of the Cyberpunk 2077 game data loss victims. You can learn workable ways to recover deleted Cyberpunk 2077 game saves on your PC or Xbox.
Common Causes of Cyberpunk 2077 Save Data Loss
Cyberpunk 2077 is an action-adventure video game developed and published by the Polish video game developer CD Projekt RED in 2020. It is set in a futuristic metropolis dominated by advanced technology and cybernetically enhanced individuals.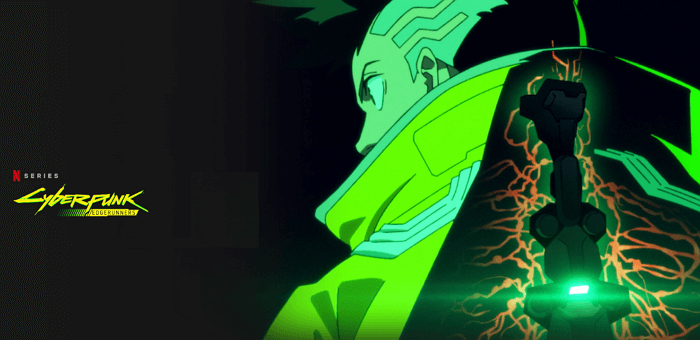 Players take on the role of V, a mercenary hacker, out for revenge against those who wronged them. But players report many bugs, including Cyberpunk 2077 save missing, Cyberpunk corruption, and more. Cyberpunk 2077 may cause players to lose save game progress for several reasons.
The game has been known to crash during large fights or cutscenes, mainly when using older hardware
Players may also experience save game loss as a result of large mod installations, bugs, and glitches
If Cyberpunk 2077 is frozen upon startup, the player's saved game data may be corrupted and deleted
To avoid Cyberpunk 2077 save game loss, players should always ensure their game is up-to-date with the latest patch and that there is plenty of available storage on their device. Additionally, if Cyberpunk 2077 freezes during gameplay, it's recommended to immediately exit and restart the program, as this may prevent any permanent data damage from occurring.
2 Ways to Recover Deleted Cyberpunk 2077 Saves on Windows/Xbox
Cyberpunk 2077 offers an open world with a nonlinear story filled with multiple branching choices, character customization, and intense combat missions. It's a popular game for Windows users and Xbox players. If Cyberpunk 2077 lost game saves, read the solutions below.
Method 1. Recover Deleted Cyberpunk 2077 Game Saves with Software
Things could be easy if you are a Windows user. As you can see, almost all PC games have a game save location, and Cyberpunk 2077 is no exception. If you lost Cyberpunk 2077 game save, you could run data recovery software to restore the save. Then, replace the old save in the Cyberpunk 2077 save file location.
EaseUS Data Recovery Wizard is the most influential PC game data recovery tool. It can recover lost PC game data and recover deleted files on Windows 11/10/8/7. Besides, it has many great features for data recovery.
EaseUS Game Data Recovery Tool
Support almost all game data recovery like Stray data recovery, Genshin Impact data recovery, Monster Hunter data recovery, etc.
Support game data recovery from various devices, including PS5, PS4, Xbox, laptop, and desktop computers.
Recover lost data on Windows 11/10/8/7 with simple clicks and quickly retrieve data.
Download EaseUS data recovery software and recover lost Cyberpunk 2077 game data.
Step 1. Select a location and start scanning
Launch EaseUS Data Recovery Wizard and choose the partition where you lost data. Then, click "Scan".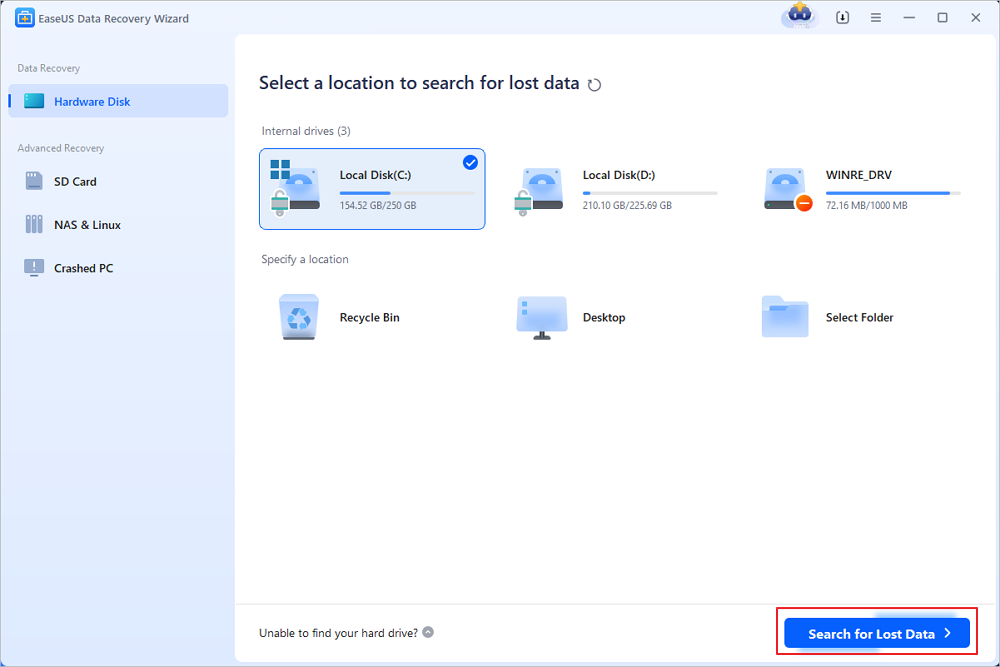 Step 2. Filter and preview files
Use the file format filter on the left or upper right corner to find the files you need. Then, you can click the "Preview" button or double-click a file to preview its content.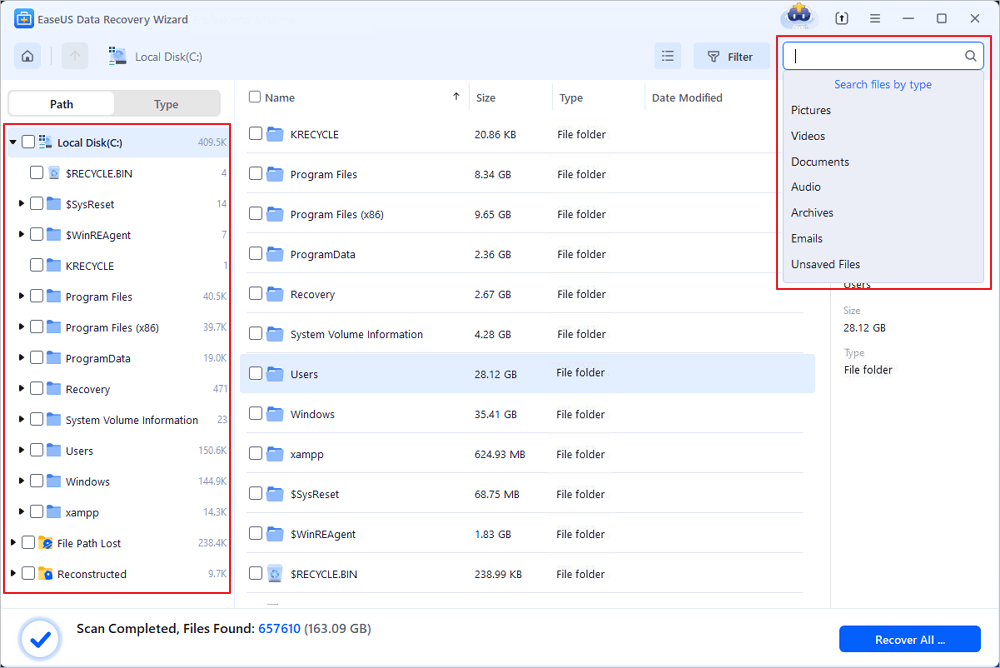 Step 3. Recover lost data or files
Click the checkbox next to the file and click "Recover" to restore the lost data to a secure place.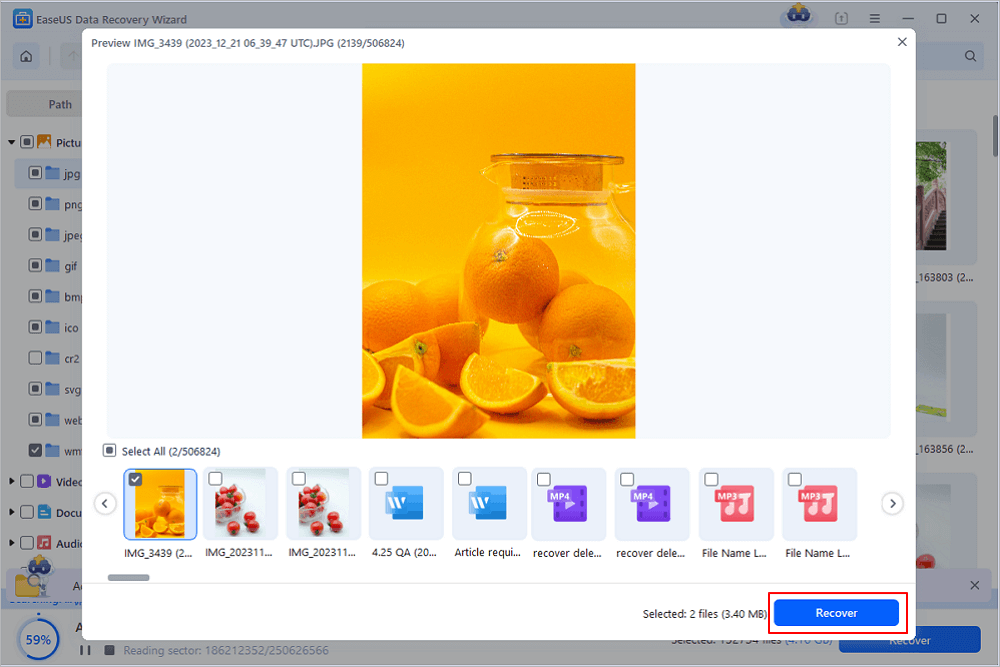 After you have recovered Cyberpunk 2077 game save, put the data into this folder without changing its name:
C:\Users\yourusername\Saved Games\CD Projekt Red\Cyberpunk 2077
This operation will replace the old game save of Cyberpunk 2077. Restart the game to check if you have restored the lost Cyberpunk 2077 game save.
Method 2. Recover Deleted Cyberpunk 2077 Game Saves from Autosave
Another way to get back lost Cyberpunk 2077 is using Cyberpunk 2077 autosave. Your game data will be automatically saved with the autosave feature in Steam. Thus, you need to download the save and replace the old file on your PC. Here are the steps to recover deleted Cyberpunk 2077 game data.
Step 1. Sign in with your Steam account and navigate Steams' remote storage.
Step 2. Navigated to Cyberpunk 2077 (Just hit CTRL + F and put in Cyberpunk).
Step 3. Download the metadata.9.json file, the sav.dat file, and the screenshot.png file.
Step 4. Put them in the autosave folder on your computer.
C:\Users\User\Saved Games\CD Projekt Red\Cyberpunk 2077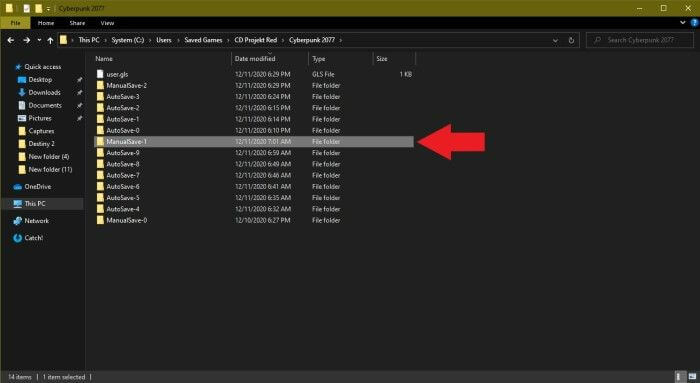 This solution is helpful for those who accidentally deleted a saved file.
Conclusion
Losing saved game data on Cyberpunk 2077 can be a frustrating experience. Thankfully, we have provided two possible solutions to overcome this challenge. If you are ever in a situation where you've accidentally deleted a game save file on Cyberpunk 2077, remember these tools and processes can help you out.
We highly recommend downloading EaseUS hard drive recovery software so that you are always prepared if an irritating incident happens again. Still trying to figure out how to recover lost or deleted data? Feel free to refer back and review our comprehensive guide for extra instruction.
Restore Deleted Cyberpunk 2077 Game Saves FAQs
Read the following questions and answers to get additional help with Cyberpunk game save.
1. How do I back up my Cyberpunk 2077 save?
You can back up Cyberpunk 2077 with the official autosave. Here's the path:
C:\Users\User\Saved Games\CD Projekt Red\Cyberpunk 2077
2. Can I recover saved game data on Xbox?
Yes, you can recover saved game data on Xbox one:
Run Xbox App > go to Settings > click Account and Download History
Find the Games that you've downloaded > select Download Again
3. Does Cyberpunk delete old saves?
The game autosaves about every 2 or 3 minutes, depending on what you are doing, so saves from about an hour ago are already being permanently deleted.
4. Did Cyberpunk redeem itself?
Two years of patches and one phenomenal anime tie-in series later, Cyberpunk 2077 has redeemed itself and is better than ever.

Brithny is a technology enthusiast, aiming to make readers' tech life easy and enjoyable. She loves exploring new technologies and writing technical how-to tips. On her spare time, she loves sharing things about her favorite singer - Taylor Swift on her Facebook or Twitter.
EaseUS Data Recovery Wizard is a powerful system recovery software, designed to enable you to recover files you've deleted accidentally, potentially lost to malware or an entire hard drive partition.

 Read More

EaseUS Data Recovery Wizard is the best we have seen. It's far from perfect, partly because today's advanced disk technology makes data-recovery more difficult than it was with the simpler technology of the past.

 Read More

EaseUS Data Recovery Wizard Pro has a reputation as one of the best data recovery software programs on the market. It comes with a selection of advanced features, including partition recovery, formatted drive restoration, and corrupted file repair.

 Read More