PAGE CONTENT:
Cyberpunk 2077 is a super large role-playing game sold on various platforms in December 2020. The game story occurs in the Night City, where power and technology are the eternal themes.
The plot of Cyberpunk 2077 is mixed with many factors and is attached with rich gameplay, play modes, and skill trees. The role "V" played by the player needs to make many choices in the story, and different choices will affect and decide the development and end of the story. These diversified factors combine to build a game world that many players are crazily addicted to, making Cyberpunk 2077 obtain a great reputation and amazing sales.
As an A.RPG(Action Role Playing Game), players need to archive in many game nodes when running Cyberpunk 2077. All players need to backup the Cyberpunk 2077 saves to avoid any problems. The following content will introduce you to 3 effective backup methods and provide detailed guides to help you avoid all data risks.
The Importance of Backing Up Cyberpunk 2077 Saves
Data loss is a situation that many gamers will encounter. When the computer is invaded by viruses, the computer hardware fails, or the system runs wrongly, your game files may be damaged, making you unable to load the old saves of Cyberpunk 2077. This is an important reason why you need to back up game saves in advance.
At the same time, for Cyberpunk 2077, you need to be alert to the following two situations:
Game Bugs: Cyberpunk 2077 has been criticized for too many bugs. These bugs will bring a poor game experience and damage your original saves.
Insert Mods: Adding rich mods to the game has always been a hobby of game players. However, due to the instability of the mods, if the game data is not backed up in advance, your game may not run normally.
Saves Size Limit: The Saves file of Cyberpunk 2077 will be damaged when the size reaches 8MB. So you need to do a good job of data backup to avoid playing the game from the beginning.
You may also want to know:
3 Ways to Backup Cyberpunk 2077 Saves
To avoid the above situation, we provide you with three solutions, and you can choose the most suitable backup method according to the following detailed introduction and tutorial.
It's time to check them out.
Method 1. Search in File Explorer
The official website of Cyberpunk 2077 provides the path to save game files: %userprofile%\Saved Games\CD Projekt Red\Cyberpunk 2077. You just need to open File Explorer and navigate according to the path.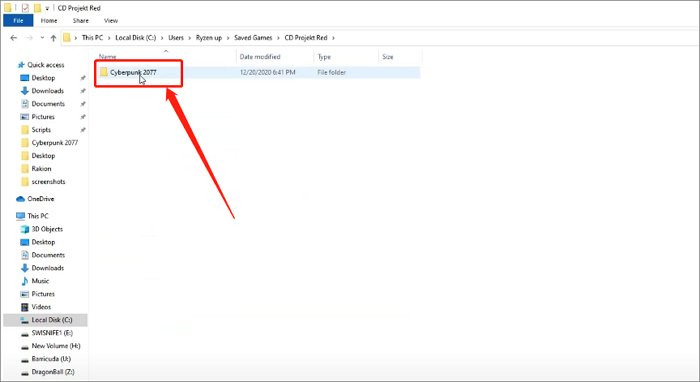 Next, you can right-click the file and select Copy and Paste it to another disk to complete the backup.
Method 2. Backup through Game Platform
For players using PS and Xbox series, the Cloud storage function provided by the device can help you automatically back up game data after networking. For PC players, you need to use the game platform to complete the backup. Now we will take Steam as an example to demonstrate how to back up the saved files of Cyberpunk 2077 through a game platform.
Step 1. Open Steam and find Cyberpunk 2077 in the LIBRARY
Step 2. Right-click and select "Properties"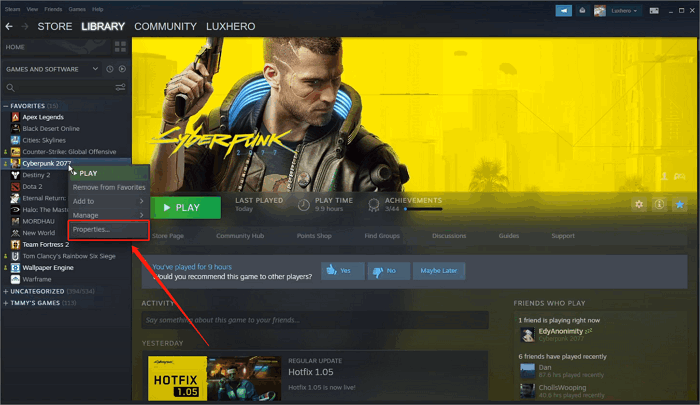 Step 3. Choose "Local Files" on the pop-up window
Step 4. Hit "Backup game files" and backup Cyberpunk 2077 saves to another disk now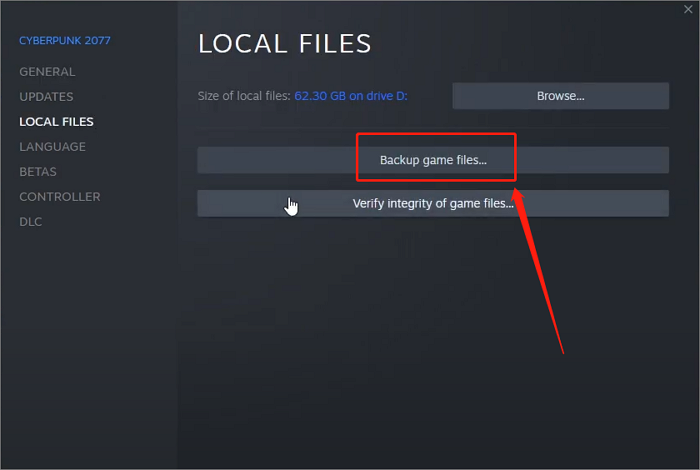 Method 3. Using Professional Backup Software
Although the above two methods are simple, they need your manual operation. For games like Cyberpunk 2077, where data errors often occur, we'd like you to use EaseUS Todo Backup Home, a professional software that can help you automatically backup game saves.
EaseUS Todo Backup Home is a professional offline backup software that can provide very personalized options, allowing you to formulate an appropriate automatic backup cycle and providing a scheduled backup plan for you. You can choose to back up the saved files to your computer or store them in the 250 GB Cloud space provided by EaseUS for free. With its help, you can play Cyberpunk 2077 more freely without worrying about damage to game data.
Here is the tutorial on how EaseUS Todo Backup Home backup Cyberpunk 2077 saves.
Step 1. To initiate a backup, click the Select backup contents option.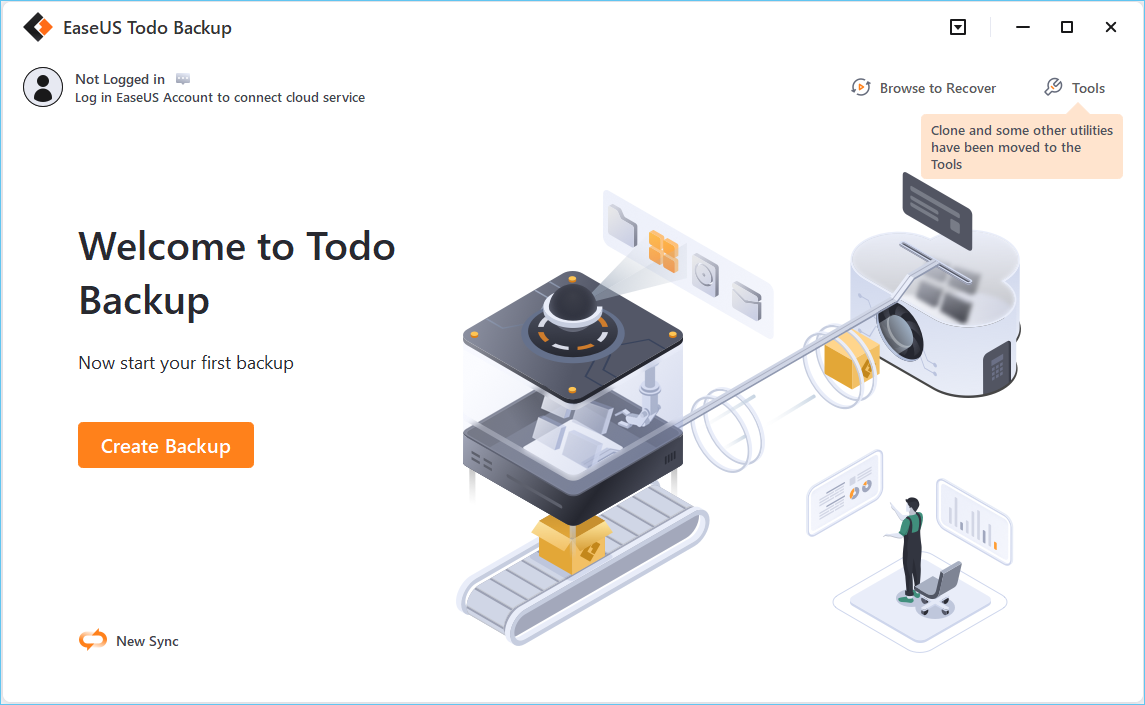 Step 2. There are four data backup categories, File, Disk, OS, and Mail, click File.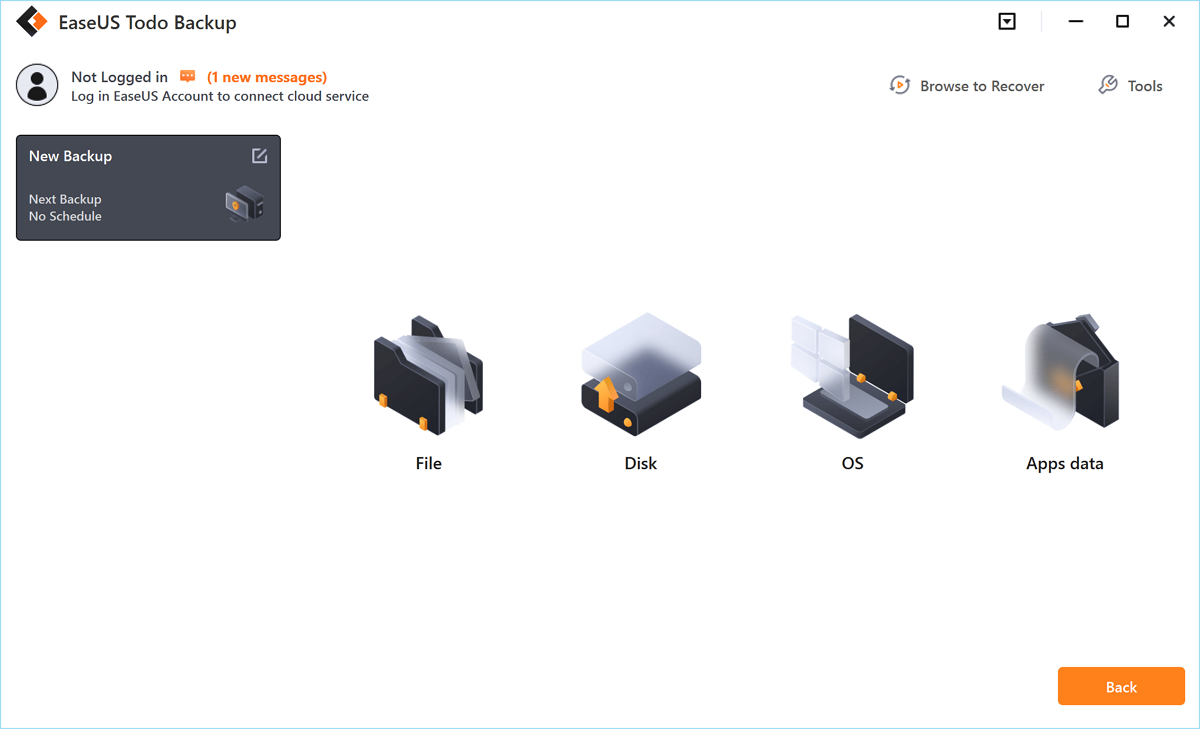 Step 3. On the left, both local and network files will be shown. You may extend the directory to pick the backup files.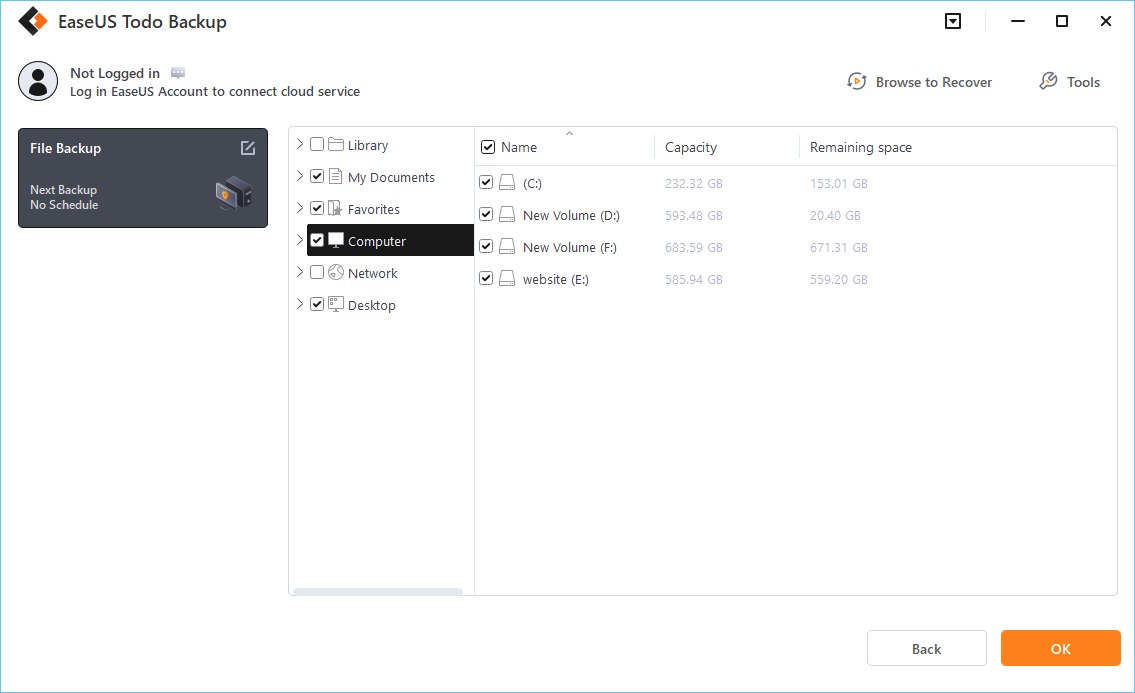 Step 4. Follow the on-screen instructions and choose a location to store the backup.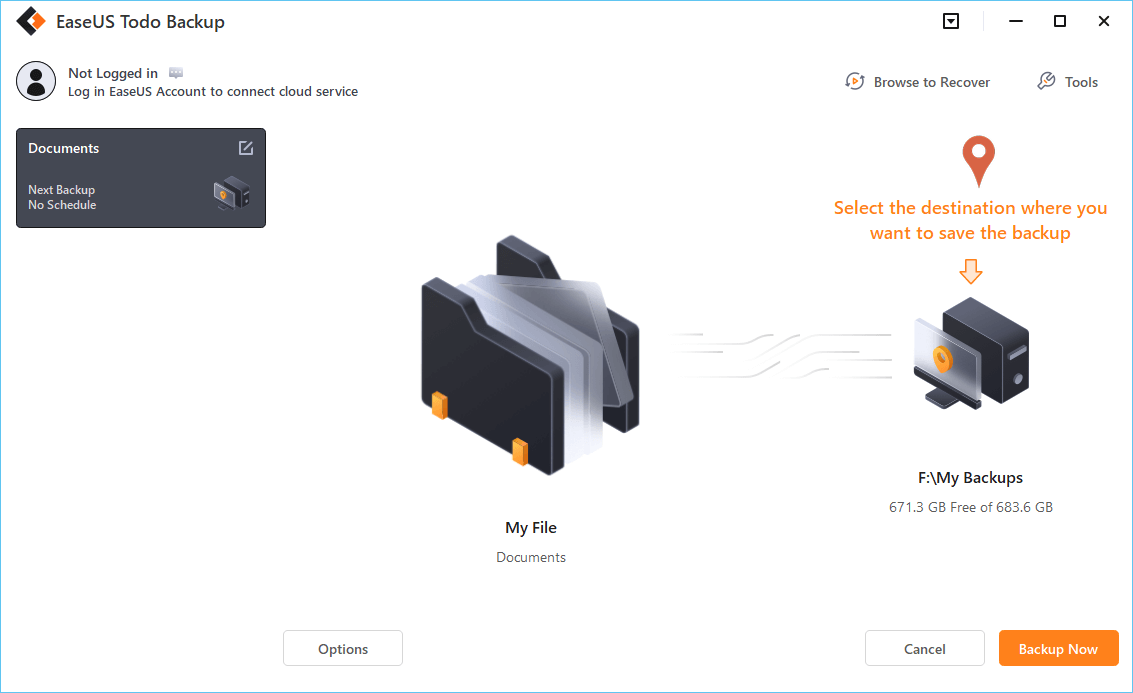 Click Options to encrypt the backup with a password in Backup Options, then click Backup Scheme to specify the backup schedule and start the backup at a certain event. There are also other additional choices you may choose to tailor the backup process to your requirements.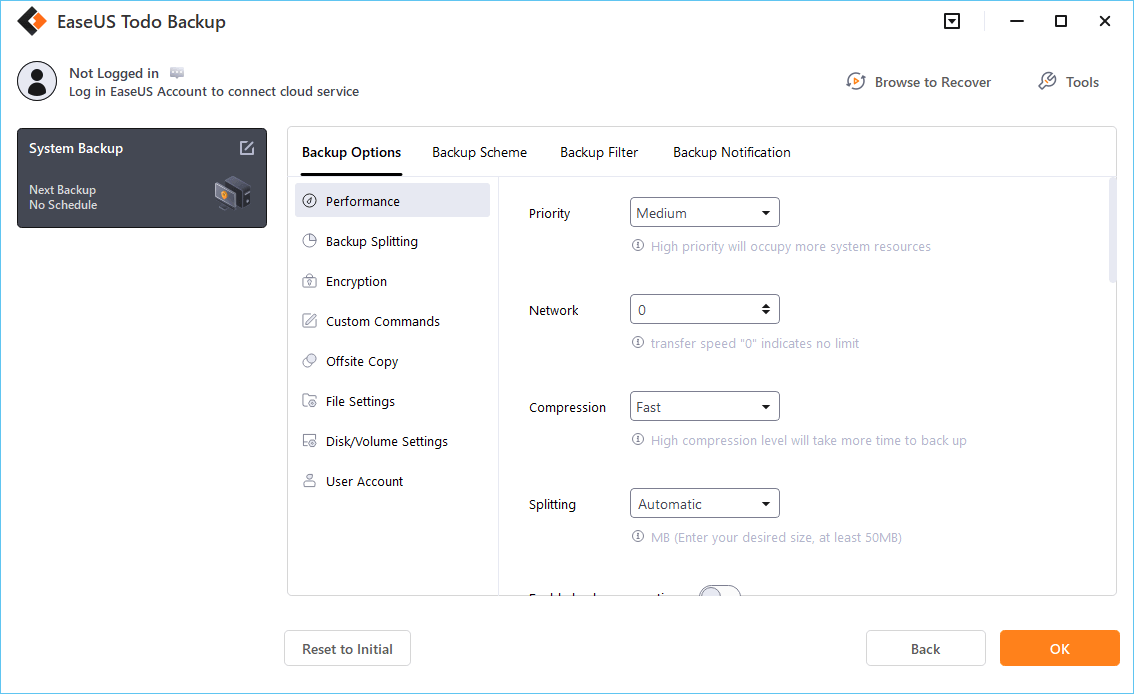 Step 5. The backup may be stored on a local disk, EaseUS' online service, or NAS.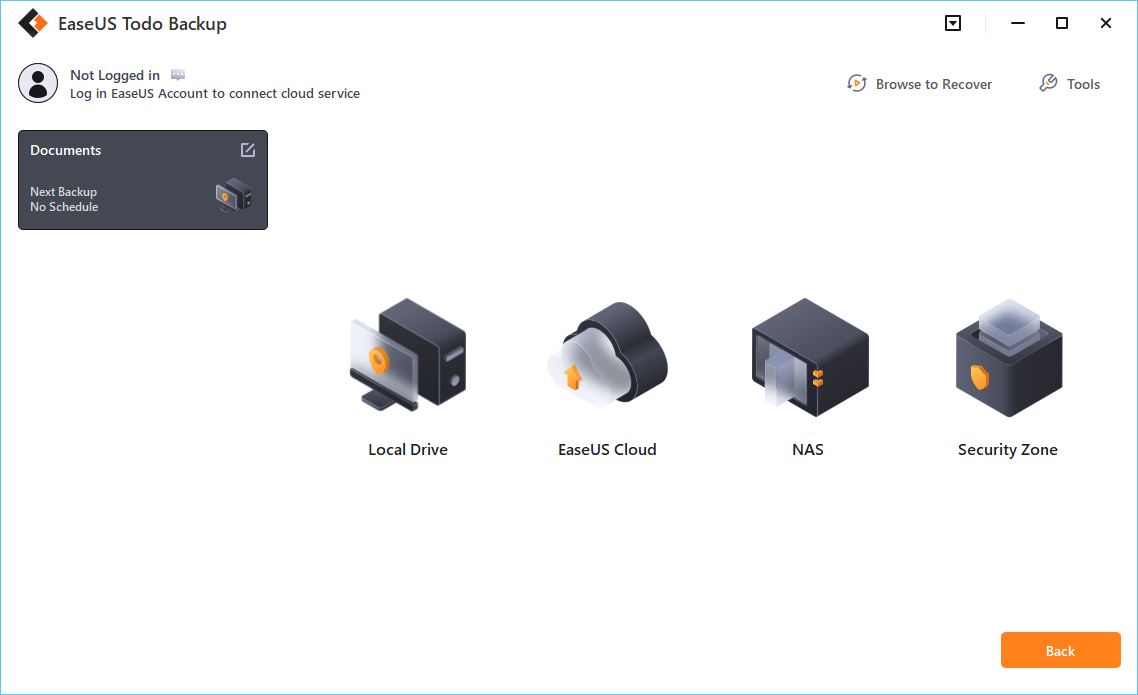 Step 6. EaseUS Todo Backup enables customers to back up data to a third-party cloud drive as well as its own cloud drive.
If you want to back up data to a cloud drive provided by a third party, choose Local Drive, scroll down to add Cloud Device, and then add and log in to your account.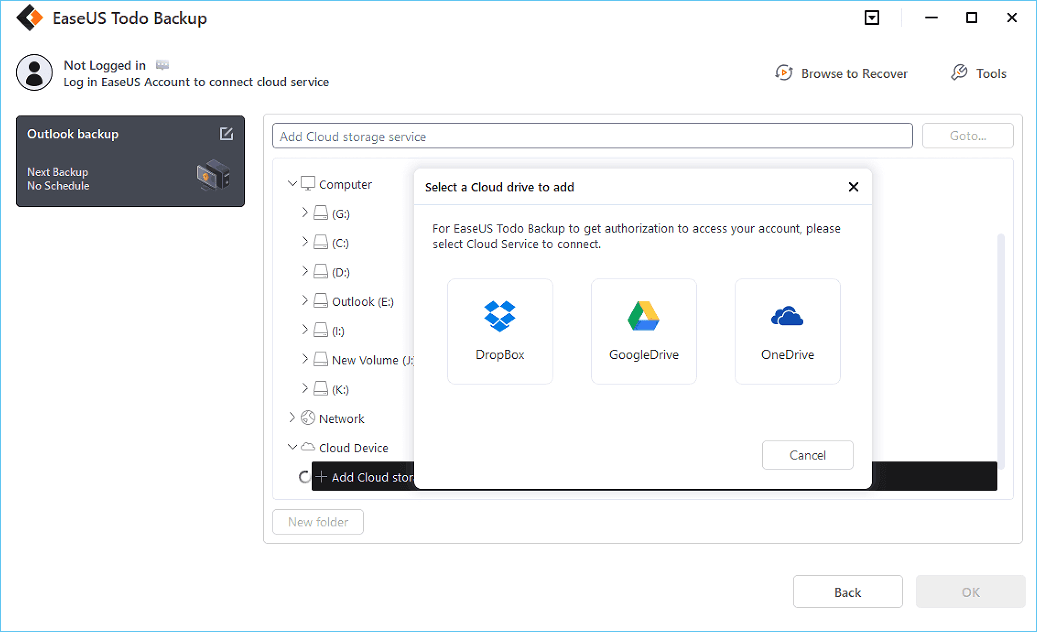 You can also choose the EaseUS cloud drive. Sign up for an EaseUS Account, then click EaseUS Cloud and log in.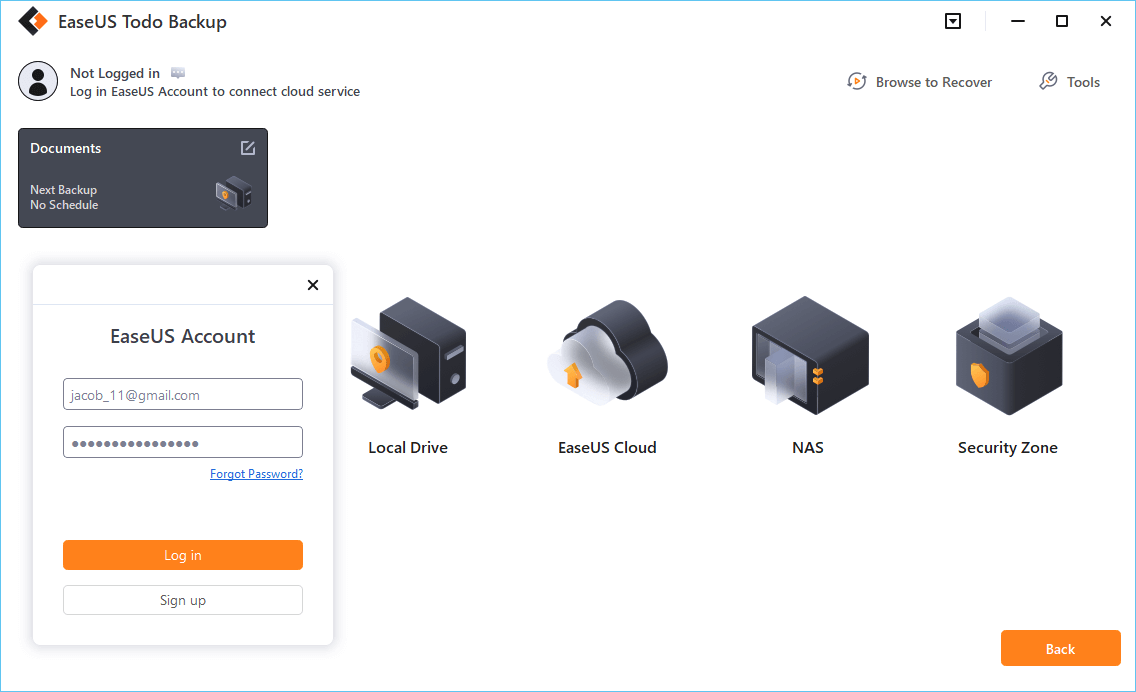 Step 7. Click Backup Now to begin the backup process. The backup job will be presented as a card on the left side of the panel after it has been finished. Right-click the backup job to handle it further.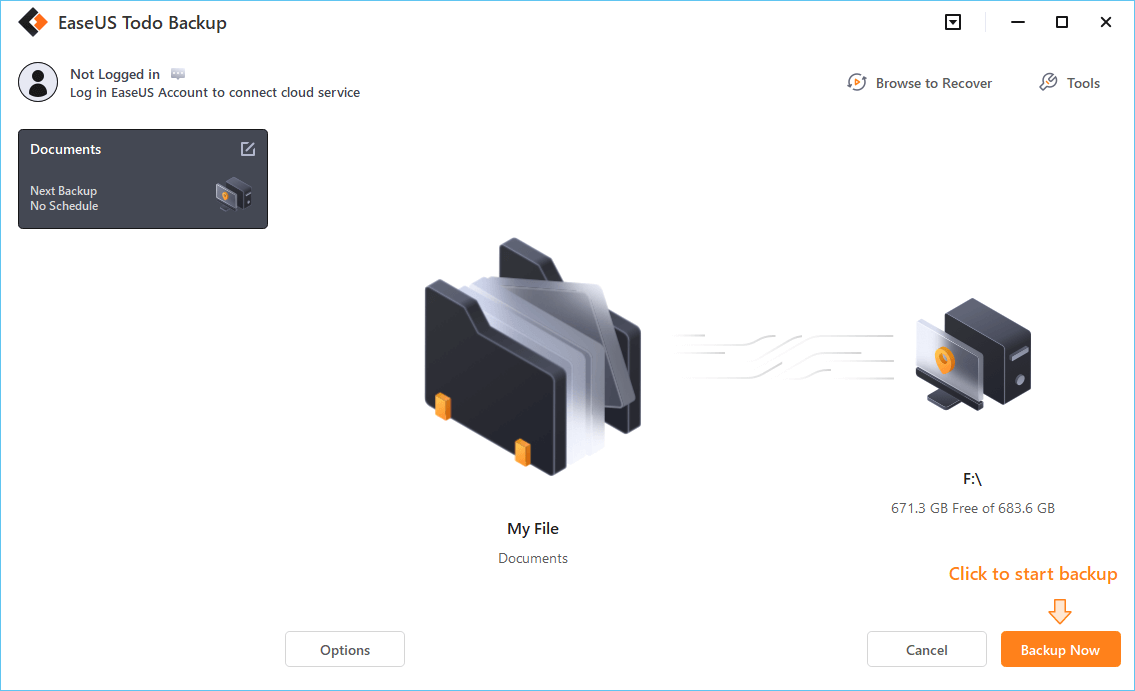 Conclusion
It is very important to back up Cyberpunk 2077 saves in advance. In order to deal with various unexpected disasters, it is great to use EaseUS Todo Backup Home to automatically back up your game saves to ensure that you can restore the original game progress at any time.
FAQs
1. Where are Cyberpunk 2077 saves saved?
Cyberpunk 2077 saves are saved at %userprofile%\Saved Games\CD Projekt Red\Cyberpunk 2077. You can open File Explorer to search for them.
2. Can I transfer Cyberpunk save files?
Yes, you can transfer Cyberpunk 2077 save files. If you are a PS or Xbox user, you can use Cloud storage to transfer save files between different devices. As a PC user, you can extract your Cyberpunk 2077 save files through Stadia and import them into a PC or try EaseUS Todo Backup Home to back up the save files to the Cloud and restore them to another PC.
Was this page helpful? Your supoport is truly important to us!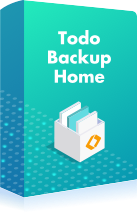 EaseUS Todo Backup
EaseUS Todo Backup is a dependable and professional data backup solution capable of backing up files, folders, drives, APP data and creating a system image. It also makes it easy to clone HDD/SSD, transfer the system to different hardware, and create bootable WinPE bootable disks.
Updated by

Jean is recognized as one of the most professional writers in EaseUS. She has kept improving her writing skills over the past 10 years and helped millions of her readers solve their tech problems on PC, Mac, and iOS devices. …

Read full bio

Written by

Rel has always maintained a strong curiosity about the computer field and is committed to the research of the most efficient and practical computer problem solutions.…

Read full bio