Updated by
Larissa
on Nov 21, 2022
Are you confused between buying a new laptop processor or upgrading laptop processor i5 to i7? Well, deciding which one to choose is challenging! A laptop is the most important tool for work, gaming, and more. So, memory, speed, graphics, and other things are huge deals to consider.
Are you wondering Can I Upgrade My Laptop Processor? Or, upgrade laptop processor i3 to i7? Technically, you can! But the common belief is that because of the placement of the CPUs on a laptop's motherboard; upgrades cannot be made to them.
In case you possess an Intel Core i5 laptop and yearn for more CPU power, upgrading the laptop processor from i5 to i7 is the most logical decision. Stop worrying about how to upgrade the processor on laptop, as this article will show you ways to upgrade from i5 to i7 and more. Let's get straight to it!
The Benefits of Upgrading Laptop Processor
The processor or CPU is the most vital thing to consider when upgrading your PC. If you're musing on can I upgrade my laptop processor from i5 to i7; yes, you can! While considering an i3 to i5 or i5 to i7 upgrade, always compare your present system specifications to those of the CPU you're interested in. However, the leading benefits of upgrading the laptop processors are the following:
Improved compatibility with the newest hardware and software. Several new processors, such as Direct X 12 and 4K resolution, support top-notch features.
A speedier start-up time for systems and applications and more fluid gameplay may result from increased computing power. 
Overall enhanced PC gaming performance.
Increased energy efficiency extends the life of laptop batteries and reduces power consumption across the board.
The ability to play at greater resolutions or with more detailed settings is made possible by improved graphics performance, which makes games look more realistic.
What to Prepare Before Upgrading Laptop Processor
You must be diligent before upgrading the laptop processor from i3 to i5 or i5 to i7. It's common sense that you shouldn't try to upgrade the laptop CPU in case it's under warranty. But with these below-mentioned strategies of what to prepare before upgrading your laptop processor, you can easily upgrade your laptop processor from i3 to i5.
Check if the laptop's CPU is compliant with the upgraded standard
Be a techie and rummage for a compatible processor to upgrade
To replace a laptop processor, check the motherboard socket type
To prevent data loss, backup vital data
As far as data backup is concerned, EaseUS Todo Backup Home is the best tool. This premium backup software supports automatic backup of data, system drives, entire hard drives, and specific files & folders. The advantages of using EaseUS are the following:
➔      Maximized backup efficiency
➔      Bootable Backup and Recovery
➔      Hassle-free backup management
➔      Secure Backups with Password Protection
You can free download the EaseUS Todo Backup Home software by clicking the following button.
A Step-by-Step Guide to Upgrade Laptop Processor
Get ready to execute the real step-by-step procedures to upgrade the processor on your PC. If you go through each step accurately, you will be able to upgrade it smoothly.
Follow the methods below to upgrade the laptop processor from i3 to i5 or i3 to i7:
Method 1. Check your laptop's upgrade options for the processor
If your laptop has the ability to upgrade its processor, you must look into the specifics. It would be best to ascertain whether the board can accommodate the i5 or i7 processor. You can employ the following two short techniques for this purpose:
Step 1.On your desktop, right-click on "This PC."
Step 2. You will notice the current processor details right after going to "Properties."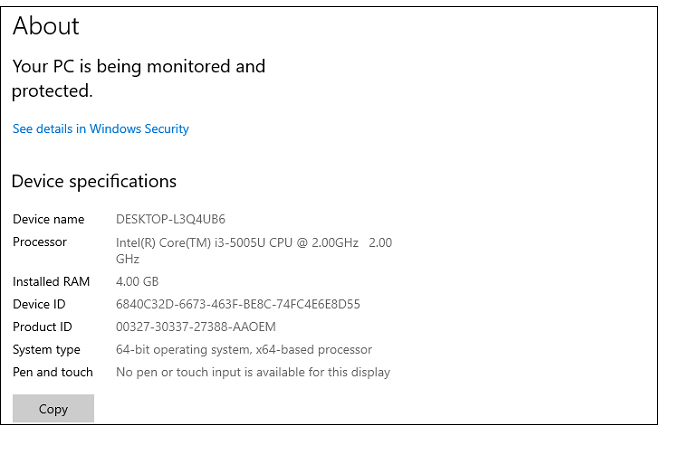 Method 2.Using tools such as CPU-Z
Utilizing tools like CPU-Z will make the process simple for you. You can see information about the motherboard as well as more comprehensive information on the processor.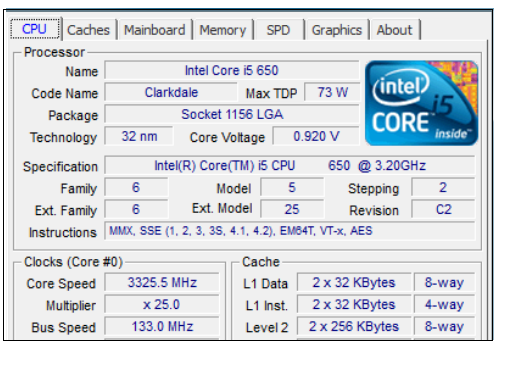 Method 3.Examine the laptop motherboard's socket type
You should also examine the type of socket—LGA, PGA, or BGA—currently on your motherboard. Moreover, you first determine the exact compatibility, in this case, to avoid wasting your time and money. Make sure the socket permits upgrades before purchasing a processor.
After knowing the socket types allows you to upgrade the processor i3 to i5 or i7, you can efficiently upgrade processors on PGA and LGA sockets, but upgradation is not possible on BGA sockets. The below-mentioned LGA socket can be upgraded.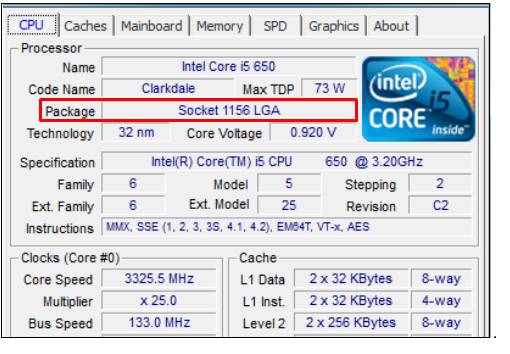 Method 4. Purchase a Processor Compatible with Your Laptop's Board
You may determine whether your processor and motherboard are compatible using several tools, such as CPU-Upgrade. You can crosscheck your current processor and the new one you are adding. There will be a variety of statistics available; here, we'll merely examine TDP (Thermal Design Power).
Find another CPU with the same TDP after you are aware of your CPU's TDP. It is crucial because if you install a processor with a high TDP, your system may overheat. Versus can be used to compare your old and new processors thoroughly.
Sum Up
In a nutshell, upgrading laptop processor i5 to i7 or upgrading laptop processor i3 to i5 or i7 can be easily done with the abovementioned steps. The upgrading may be possible if you have a CPU with PGA or LGA surface mounting and take care of other criteria like CPU sockets.
However, data backup is crucial to bypass data loss when upgrading to the latest i7 processor from i3 or i5. Hence, a professional tool like EaseUS Todo Backup can help you recover all the lost files and folders. Download it now! 
FAQ on How to Upgrade Processor on Laptop
The FAQs are given below to understand better how to upgrade processor on laptop:
1. Can I upgrade my laptop processor from i5 to i7?
Yes, you can upgrade to the latest i7 processor from i5. It is not as easy as just replacing the old processor with the new one. You might need to purchase a new motherboard that works with the i7 processor to accomplish the update.
2. How much does it cost to upgrade processor on laptop?
You can expect to spend anything from $200 to $10000, or even more, for a high-end processor upgradation on your laptop. 

Updated by Larissa
Larissa has rich experience in writing technical articles. After joining EaseUS, she frantically learned about data recovery, disk partitioning, data backup, and other related knowledge. Now she is able to master the relevant content proficiently and write effective step-by-step guides on computer issues.
Taking everything into consideration, we can say that EaseUS Todo Backup Home can offer you a little extra sense of security with a set of advanced tools. The interface provides quick adaptation, every process guiding you all the way through so you don't get stuck or further damage your system rather than keeping it safe.

 Read More

EaseUS Todo Backup Free lets you create backups of your important files or your entire computer through its streamlined interface. Just choose the backup type you'd like to get started, and let the program do the reset.

 Read More

EaseUS includes all the features I expect from backup software like versioning, incremental backups, and scheduling. For more advanced users, EaseUS allows you to install a pre-boot environment onto your hard drive so you can use it to restore files without burning a CD or putting it on an external USB drive.

 Read More

EaseUS Todo Backup
Smart backup tool for your files and entire computer in Windows 10/8/7.
Install Windows on Multiple Computers at Once? No Problem!
Learn how to install Windows 11/10/7 and special programs/software on a batch of computers. Use 10 minutes to do the 10 hours work without making a single mistake!
Get Free Solution!