How to Back Up Windows 10 to USB on Your Own [3 Ways]
Updated by
Daisy
on Apr 21, 2021
Are you trying to back up Windows 10 to USB so that you can perform a system restore, data recovery or even factory reset Windows 10 to a previous healthy state? On this page, you'll get 3 methods to back up your computer to a USB drive.  
3 Ways to Back Up Windows 10 to USB External Drive
Here, we collected and listed the reasons that can explain why do Windows users want to back up their computer to an external USB drive:
1. Back up OS and restore to a previous state from virus, hard drive failure, or human error.
2. Back up computer data to prevent file loss.
3. Create a system image to perform a factory reset anytime.
So how to back up Windows 10 or the entire computer to a USB drive? Here, we collected 3 ways to help you out. Pick the right method based on your need and follow to back up Windows 10 on your own now: 
SO how do I back up my Windows 10 computer to an external USB drive? Follow the desired guide and start backing up your Windows 10 now.
Method 1. Backup Windows 10 to USB with EaseUS Software
It's a smart choice that you turn to reliable backup software to create a backup of your Windows 10 data. Here, we would recommend you try EaseUS file backup software which is designed for System Backup and File backup on Windows 7, 8, 8.1, 10, Vista, and Windows XP.
You can apply it to fully back up Windows 10, including the OS and data, to your external USB drive on your own:
#1. Backup Windows 10 to USB
 Notice:

To backup Windows 10 system to an external hard drive or USB successfully, save important data to another safe location in advance. Also, your external device should be as equal to or even bigger than the OS drive.
Step 1. Connect an empty external hard drive or USB drive to your PC.
Step 2. Launch and run EaseUS Todo Backup on your Windows 10 PC and choose OS.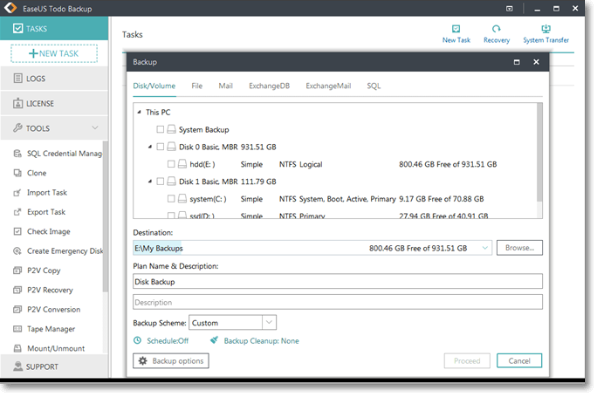 Step 3. Click Browse to select your external hard drive or USB as the Destination for saving Windows 10 system image.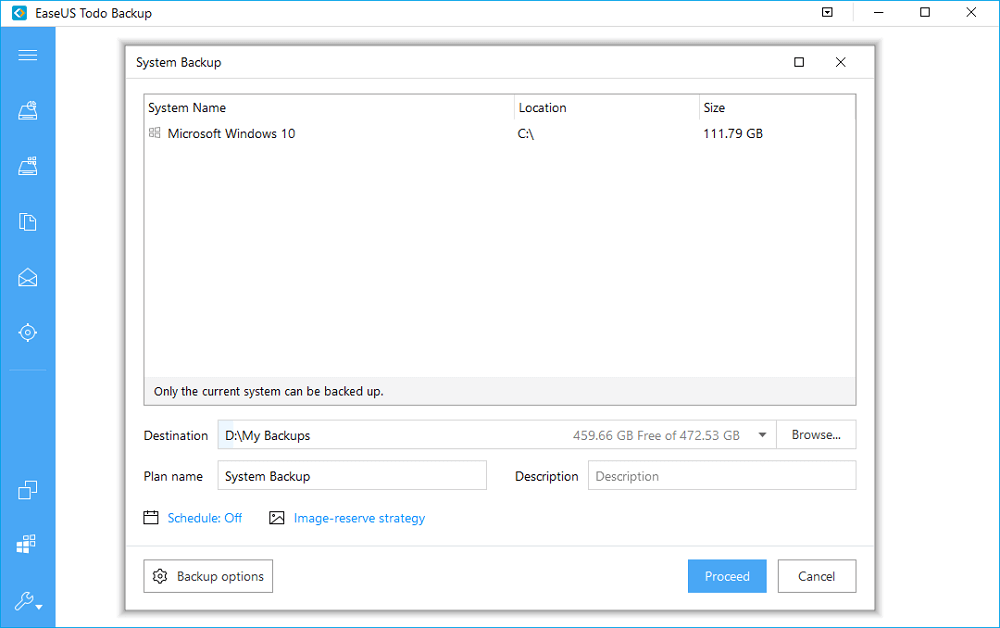 Step 4. Click Proceed to start backing up your Windows 10 system now.
#2. Backup Windows 10 Data to USB
Step 1. Run EaseUS Todo Backup and choose "File" on the main window.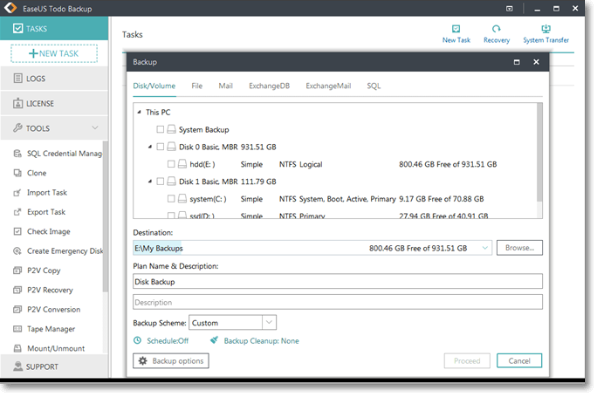 Step 2. On the "File Backup" window, you can choose the target files you want to backup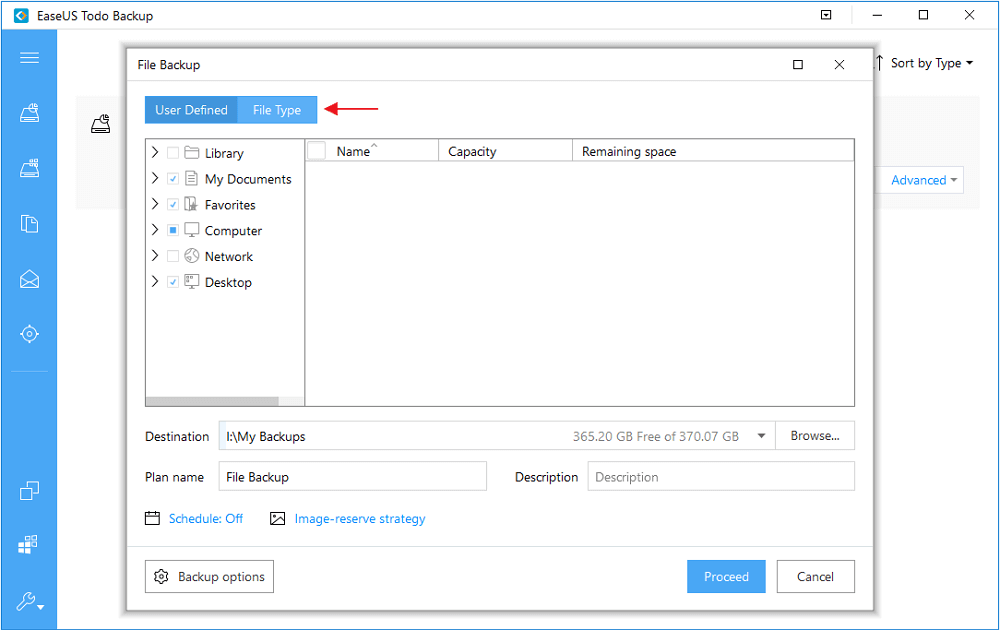 Then add the plan name or text description to the file backup and then choose a backup location.
To backup files to an external hard drive, click "Browse..." in the "Destination" area.
 Product News

EaseUS Todo Backup now supports users to back up files to the cloud. All you need to do is sign up with an EaseUS account, then you could enjoy a large cloud storage space. More advantages of backing up to the cloud include accessing backup files anytime and anywhere, saving file copies offsite, so you don't need to worry about virus attacks or computer failures, and easier and faster backup and recovery operations.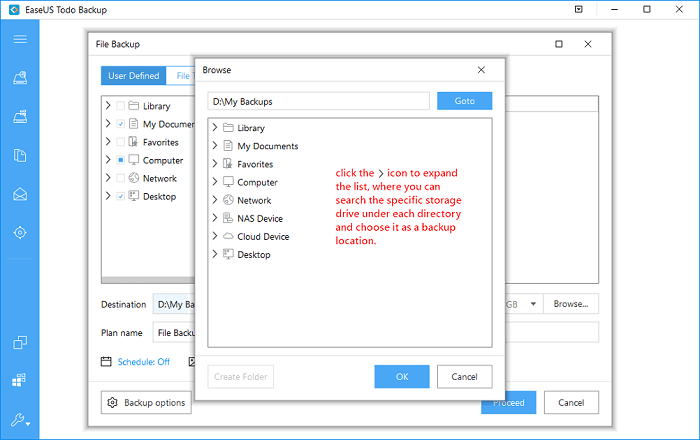 Also, if you're interested in getting more backup features, go and find them by clicking "Schedule", "Image-reserve strategy" and "Backup options".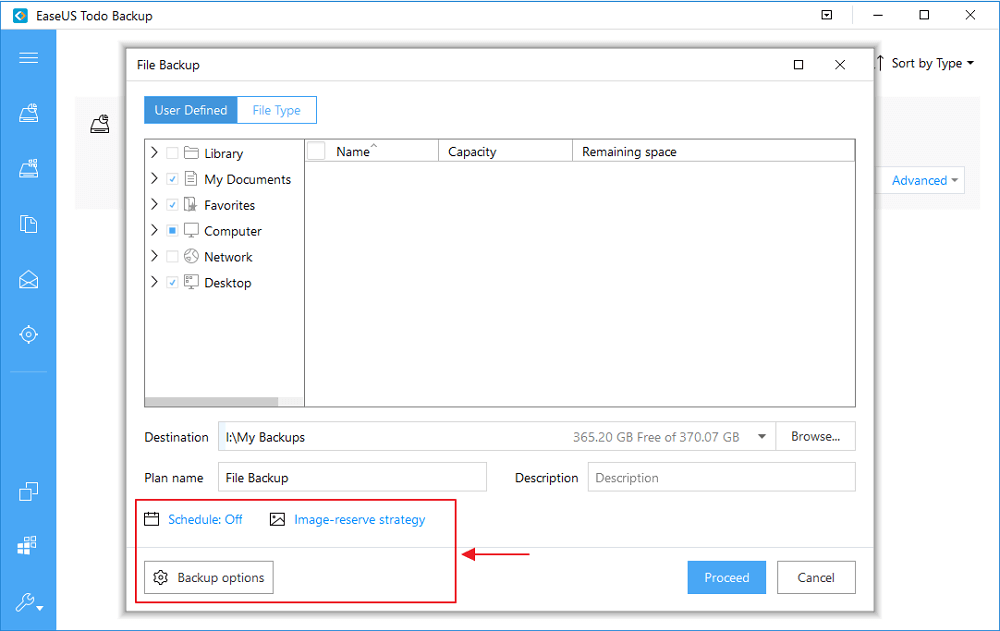 Step 3. After settings were all made, click "Proceed".
Note that EaseUS Todo Backup also contains a schedule backup feature so that you can automatically backup files to an external usb.
#3. Restore Windows 10 System from USB Backup
After a successful backup, you may also need to know how to restore Windows 10 backup from the USB drive. If you can boot into Windows, open EaseUS Todo Backup and jump to Step 2 below to restore the system image.
If Windows won't boot, follow the details below:
Step 1. Connect USB with Windows 10 OS backup to PC and restart it.
When you see a Windows boot menu, select EaseUS Todo Backup.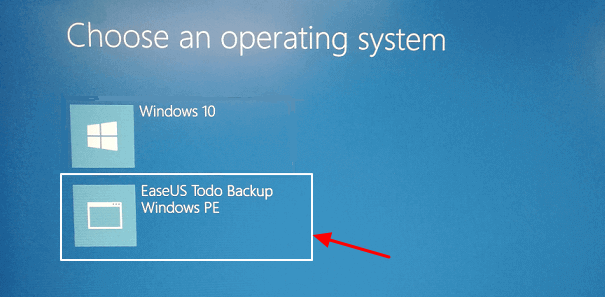 Step 2. Select the image file you want to recover and click "Recovery".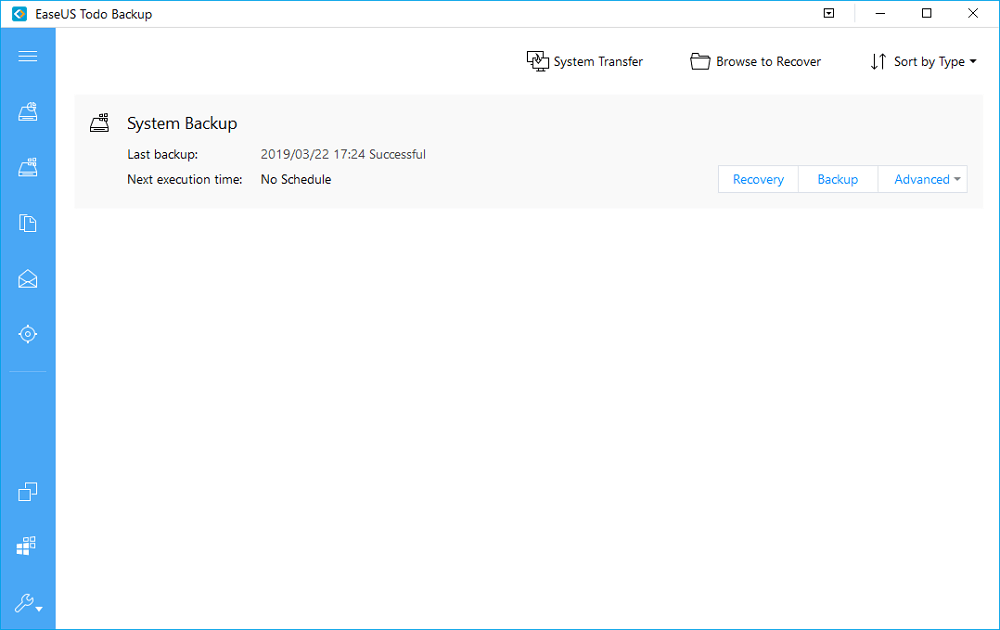 Step 3. Select the destination location which you will recover the system and save it. Then click Proceed to restore Windows 10 backup.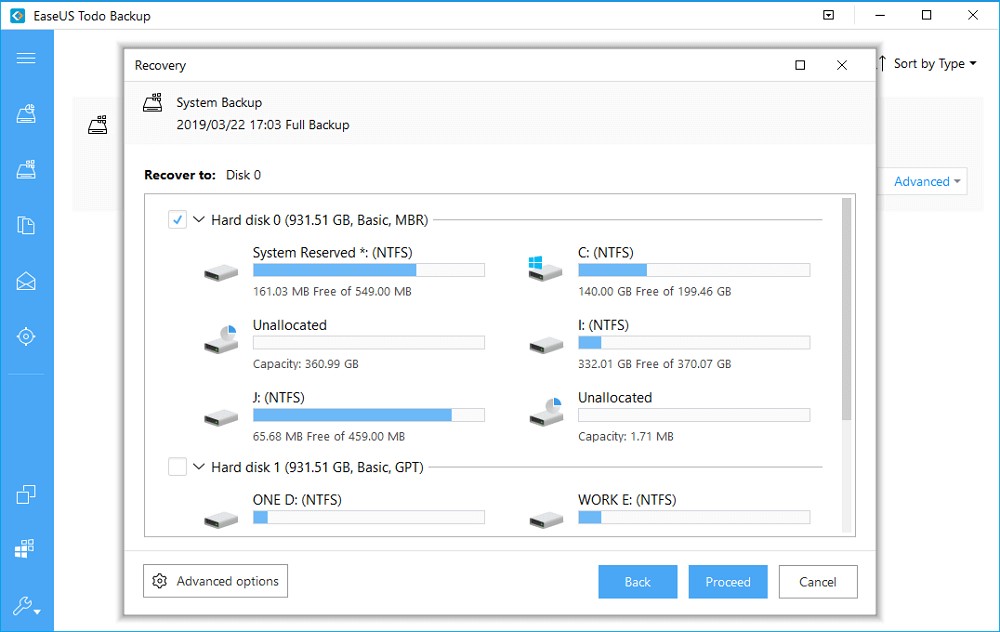 Method 2. Backup Windows 10 System Image to USB 
The other efficient way of backing up Windows 10 is to create a system image to USB. If you don't want to use software creating system image backup, you may try this method (source from Microsoft).
It's based on Windows built-in Backup and Restore tool. Let's see how to back up Windows 10 system to a USB drive:
Step 1. Connect the USB drive (bigger than the C drive) to your PC and format it to NTFS.
Step 2. Right-click on the Windows icon, select "Search" and type: Control Panel. Open it and click "Backup and Restore (Windows 7).
Step 3. Click "Create a system image".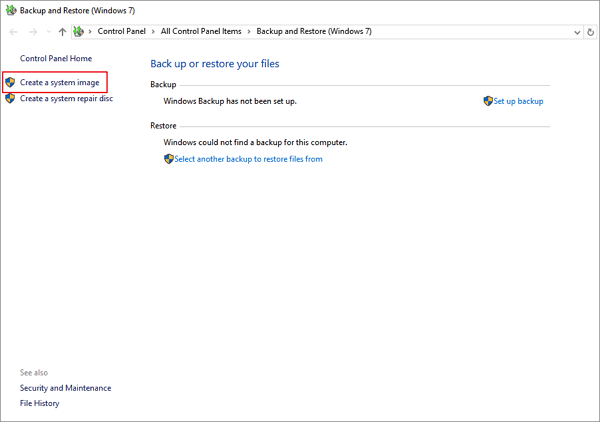 Step 4. Under the On a hard disk section, select the external USB drive as destination, and click "Next" to continue.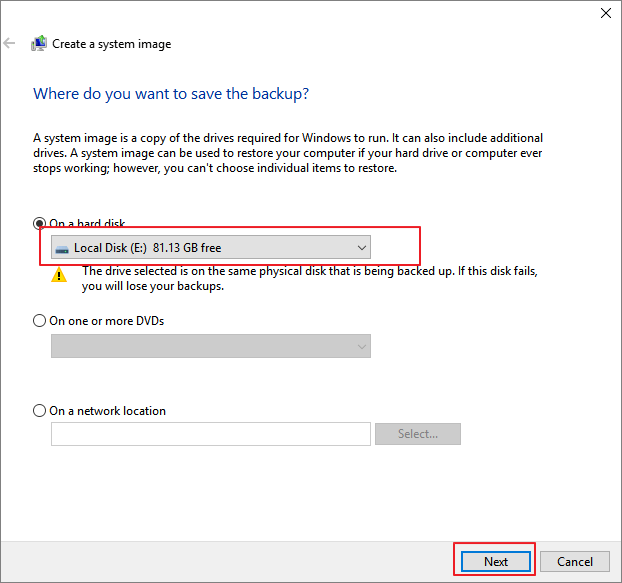 Step 5. Check the System and System Reserved partitions, click "Next" to continue.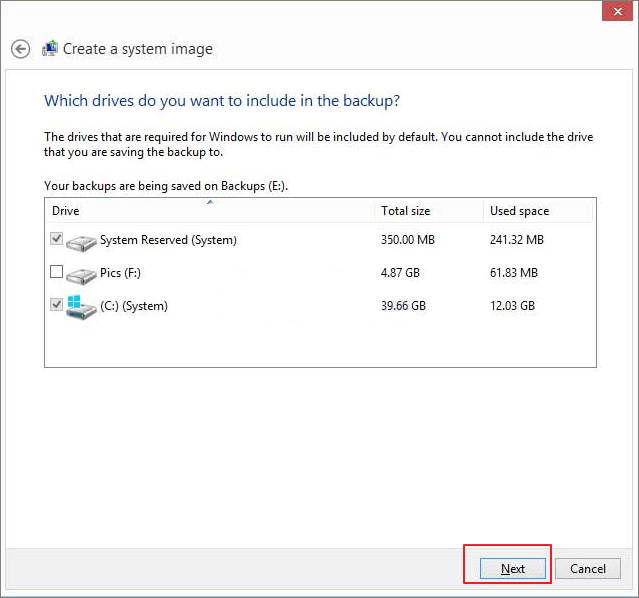 Step 6. Click "Start backup" to begin creating your current system image to the USB drive.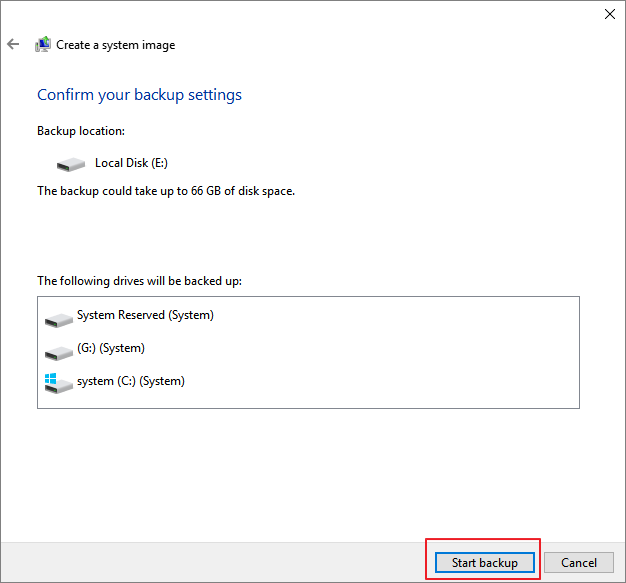 Wait for the process to complete, you've successfully created the system image of Windows 10 to your USB drive. 
When you have an OS boot issue or system failure error, you can restore a system image backup of Windows 10 on your USB anytime. 
Method 3. Create a Windows 10 Recovery Drive to USB
The last way that you can try is to create a Windows 10 recovery drive to USB. With it, you can restore Windows 10 by performing a factory reset on your computer anytime when the computer or OS goes wrong.
The Windows built-in tool also supports creating a Windows 10 recovery drive. But it will take much time. Let's see.
Step 1. Insert the USB drive into your computer. In Windows 10 Control Panel, click "Recovery".
Step 2. Click "Create a recovery drive".
Step 3. Check "Back up system files to the recovery drive" to use the drive to reinstall or restore a previous version of Windows. Click "Next".
Wait until the wizard prepares to copy files to your flash drive.
Step 4. Select your USB flash drive as the recovery drive and click "Next".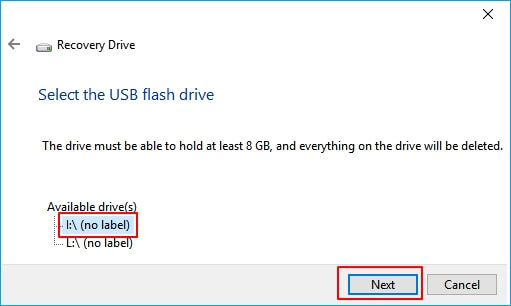 Step 6. Confirm the warning message that "everything on the drive will be deleted. If you have any personal files on this drive, make sure you've backed up the files" and click "Create".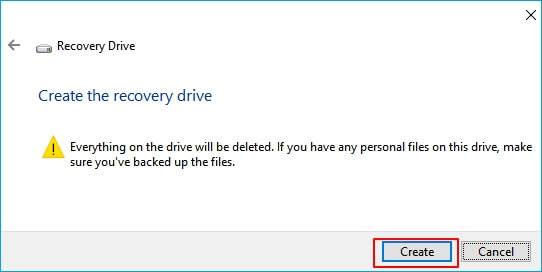 Step 7. When the message "The recovery drive is ready" appears, click "Finish".
The backup may take a few hours, wait patiently. After this, you can use the Windows 10 recovery drive to troubleshoot OS failure or PC boot issues on your computer. For more details, follow this link and check out: Download Windows 10 Recovery Tool for 32/64 Bit. 
Pick a Right Way and Backup Your Windows 10 to USB Now
This page covers 3 different but effective Windows 10 backup to USB solutions to help you fully protect Windows 10 and data from any unexpected OS issues.
Among these, you can pick EaseUS backup software - Todo Backup to back up your entire computer, including Windows 10 and the data in an easy and handy way.
If you only want to back up Windows 10 OS to USB, either Method 2 or Method 3 can help. Though a bit complex, but still worth a try. It's not too late, take action to go and backup your Windows 10 and data now.
Daisy is the Senior editor of the writing team for EaseUS. She has been working in EaseUS for over ten years, starting from a technical writer to a team leader of the content group. As a professional author for over 10 years, she writes a lot to help people overcome their tech troubles.

Roxanne is one of the main contributors to EaseUS and has created multiple posts on digital devices like PCs, Mobile phones, tablets, Mac, etc. She loves to share ideas with people of the same interest.
Taking everything into consideration, we can say that EaseUS Todo Backup Home can offer you a little extra sense of security with a set of advanced tools. The interface provides quick adaptation, every process guiding you all the way through so you don't get stuck or further damage your system rather than keeping it safe.

 Read More

EaseUS Todo Backup Free lets you create backups of your important files or your entire computer through its streamlined interface. Just choose the backup type you'd like to get started, and let the program do the reset.

 Read More

EaseUS includes all the features I expect from backup software like versioning, incremental backups, and scheduling. For more advanced users, EaseUS allows you to install a pre-boot environment onto your hard drive so you can use it to restore files without burning a CD or putting it on an external USB drive.

 Read More

EaseUS Todo Backup
Smart backup tool for your files and entire computer in Windows 10/8/7.