Quick Ways to Fix OneDrive Connect Problems
| Workable Solutions | Step-by-step Troubleshooting |
| --- | --- |
| 1. Why OneDrive Unable to Connect? | OneDrive (owned by Microsoft) is among the best cloud storage services...Full steps |
| 2. How to Fix the "One Drive Isn't Connected" Issue | We provide 6 effective methods for you to solve this issue, click here to have a try...Full steps |
| 3. Try a Best Alternative- EaseUS Todo Backup | We have an easier alternative for you to avoid the common errors associated with OneDrive data backup....Full steps |
You've recently noticed something strange with your OneDrive desktop client when you try to log into your local profile. Although the OneDrive icon still looks grey and unsynced, you encounter the "OneDrive Isn't Connected" warning message when you attempt to sign in.
Moreover, the application doesn't display any prompt to sign in! This problem is prevalent and can affect almost anyone. What's the best way to fix such a problem if you encounter it? This article outlines some of the quickest ways to fix the "OneDrive Isn't Connected" problem and sign in. Read on!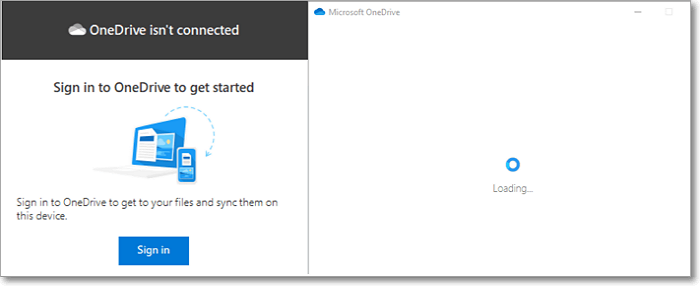 Why OneDrive Unable to Connect?
OneDrive (owned by Microsoft) is among the best cloud storage services. It enables us to safely store all our important files on the cloud and retrieve them anywhere. Despite its superior usability and excellent service provision, you may sometimes encounter errors when signing into your account.
Instead, you may fail to sign in and receive the message: "OneDrive Isn't Connected." This happens because of many reasons. Some of the common reasons that may hinder you from accessing your OneDrive account include:
Using an outdated version of the OneDrive program.
Poor network connection.
An update error in your operating system.
A connection error between your Microsoft account and the operating system.
Although common, it's straightforward to fix these errors and conveniently access your OneDrive account on Microsoft. We'll discuss ways to fix these errors shortly.
How to Fix the "One Drive Isn't Connected" Issue
Failing to sign in to your OneDrive account is very annoying, especially if you want to access some files urgently. Some of the quickest ways to fix OneDrive issues include the following.
1. Check the internet connection
Method 1. Check the internet connection
You may fail to access your OneDrive account because of a poor network connection on your device. This could range from an unstable network to a lack of any connection. You can solve the network connection issue through the following steps:
1. Confirm whether there's any disconnection with your power supply. If using a wireless connection, ensure your router is working well. You can also try restarting your router to establish a reconnection.
2. Open a few web pages to test if your network works for other sites. If other web pages load without problems, your network connection is okay.
3. If you detect a problem on your network, go to Settings > Network & Internet > Network troubleshooter. This helps you diagnose and fix the network issue.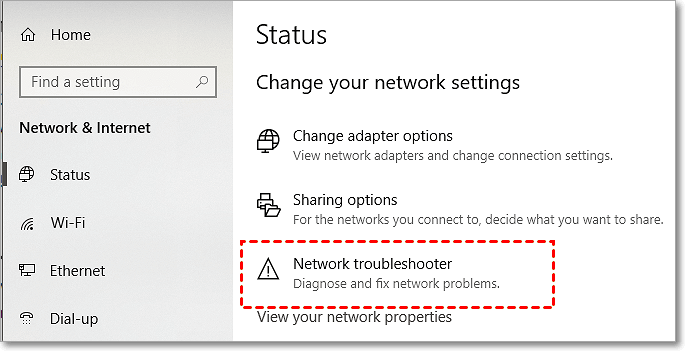 Method 2. Restart OneDrive client
An error in the OneDrive boot process could prevent you from properly signing in. The best way to address this error in the boot process is to restart your OneDrive client. You can achieve this in two basic steps:
1. Click on the OneDrive icon to the lower right of your screen. More > Close OneDrive.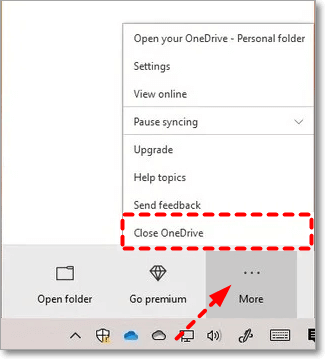 2. Click on the Start menu and type "OneDrive" on the search bar. This enables you to restart the OneDrive program on your computer.
Method 3. Update OneDrive manually
OneDrive always updates automatically alongside other Microsoft programs. However, you might be using an outdated version of the program because you disabled automatic updates on your device. To address this issue, you'll need to update OneDrive manually.
Apply the steps below to manual update this program:
1. Visit the OneDrive website. Click on the "Download" link to get the latest software version for your computer.
2. Once the download process is complete, go to the Start menu and type "OneDrive" on the search bar. Click on the result that displays first to install the newer version.
Method 4. Disable security features
Windows security features such as firewalls and antivirus could prevent the OneDrive program from functioning correctly (in some cases). To address this issue, you'll need to temporarily disable these features and note if there's any change.
# Steps to Disable Antivirus
1. Go to Windows Security > Virus and threat protection>Manage settings.
2. Turn off the switch under "Real-time protection." This disables the antivirus software.
# Steps to Disable Firewall
1. Go to Windows Security > Firewall and network protection > Private network.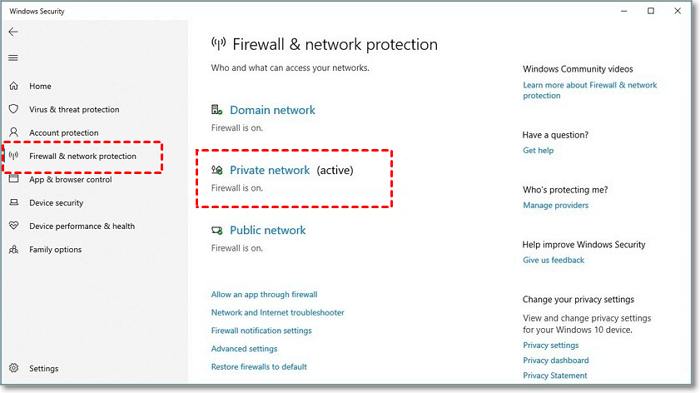 2. Turn off the switch under "Windows Defender Firewall."
Having disabled the two security features, you can restart the OneDrive program to check if it works properly.
Method 5. Disable proxy settings
Another reason you could be failing to access your OneDrive account is that you've enabled proxy authentication. OneDrive doesn't support this feature. To check whether this could be the problem, you can temporarily disable proxy settings. You can achieve this in the following steps.
1. Go to Settings > Network & Internet> Proxy
2. Under "Automatic proxy setup," make the following settings:
Turn on "Automatically detect settings."
Turn off "Use setup script."
3. Under "Manual proxy setup," turn off "Use proxy server switch."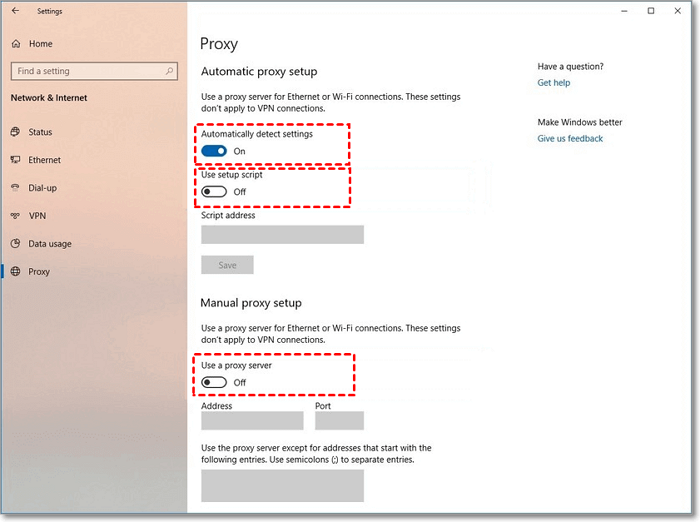 Method 6. Reset OneDrive application
Resetting your OneDrive application helps fix multiple drive errors (including the "OneDrive Isn't Connected" issue). You can apply this method in the following steps:
1. Click on the Start menu and search for "Command prompt."
2. Right-click on the application in the search result and select "Run as administrator."
3. Paste the command below and press the Enter key.
%localappdata%\Microsoft\OneDrive\onedrive.exe /reset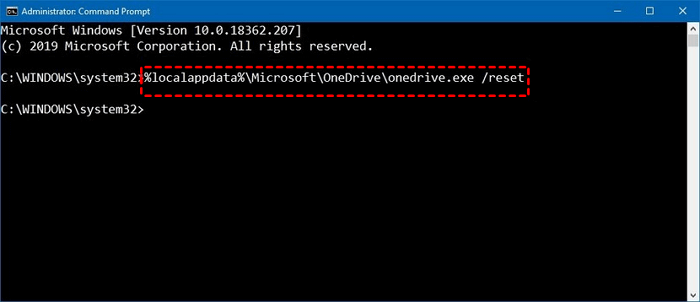 4. Restart OneDrive to reconnect your account.
Try a Best Alternative- EaseUS Todo Backup
We have an easier alternative for you to avoid the common errors associated with OneDrive data backup! You should try out EaseUS Todo Backup to store your important data in the cloud.
This third-party software tool is more convenient and secure than Microsoft's OneDrive. EaseUS Todo Backup tool has powerful abilities to create backups of the disk, partition, OS, and files. The software tool allows you to save backups to local drives, Cloud and NAS.
EaseUS Todo Backup is future-proof since it allows you to save and retrieve large chunks of data from cloud storage. First, it's very secure, ensuring data safety from malware attacks. Second, cloud backup is quite flexible since it allows you to retrieve data backups anytime. Third, the cloud storage feature is cost-effective since it offers up to 250GB of free storage. This is unlike OneDrive, which offers only 15GB.
Other Features of EaseUS Todo Backup Software
EaseUS Todo Backup allows you to merge, split, delete, or compress backups to save on disk space. And it allows you to schedule daily, weekly, or monthly backup plans.
Enhanced backup efficiency
You'll only need to back up changed data during differential and incremental backups during differential and incremental backups.
Bootable backup creates the system backup on a device to boot your system and restore the data. With the bootable backup feature, you can recover lost data in the wake of disasters like a  malware attack, system crash or hardware corruption.
EaseUS Todo Backup allows you to create a new identical hard drive to the original disk.
Secured password-protect backups
This backup tool doubles data protection by encrypting all backup files and preventing illegal access.
If you don't know how to backup to the Cloud, you can follow the tutorial below:
Step 1. To initiate a backup, click the Select backup contents option.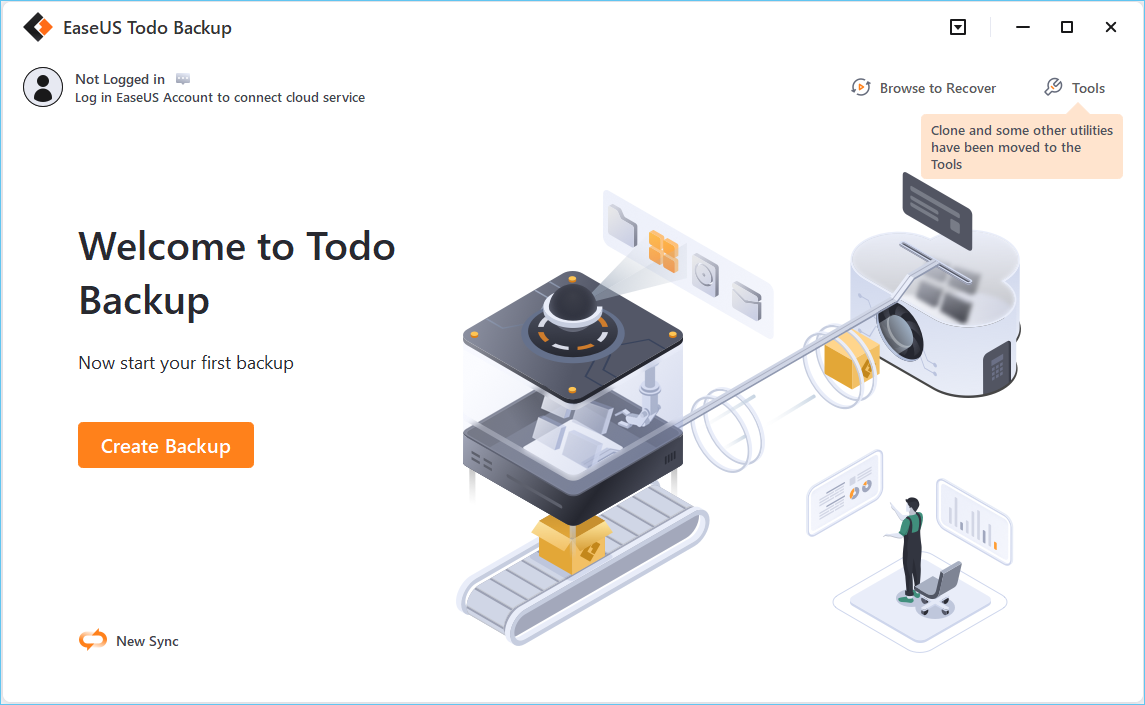 Step 2. There are four data backup categories, File, Disk, OS, and Mail, click File.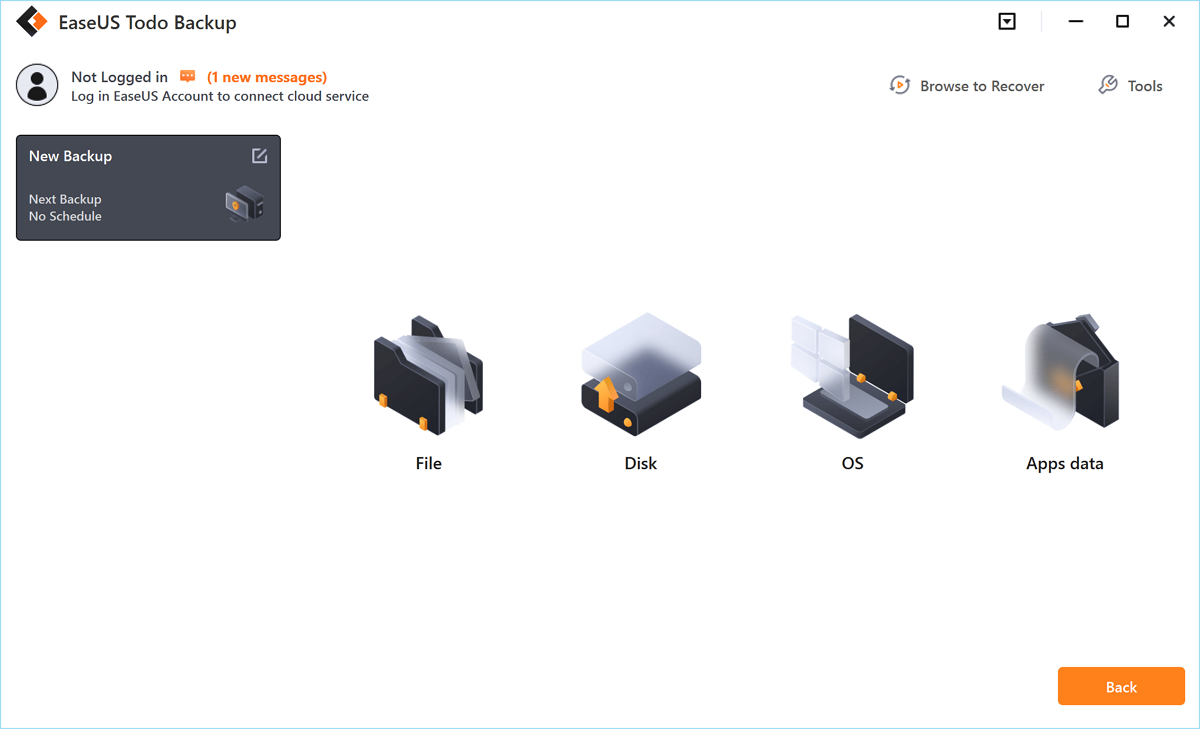 Step 3. On the left, both local and network files will be shown. You may extend the directory to pick the backup files.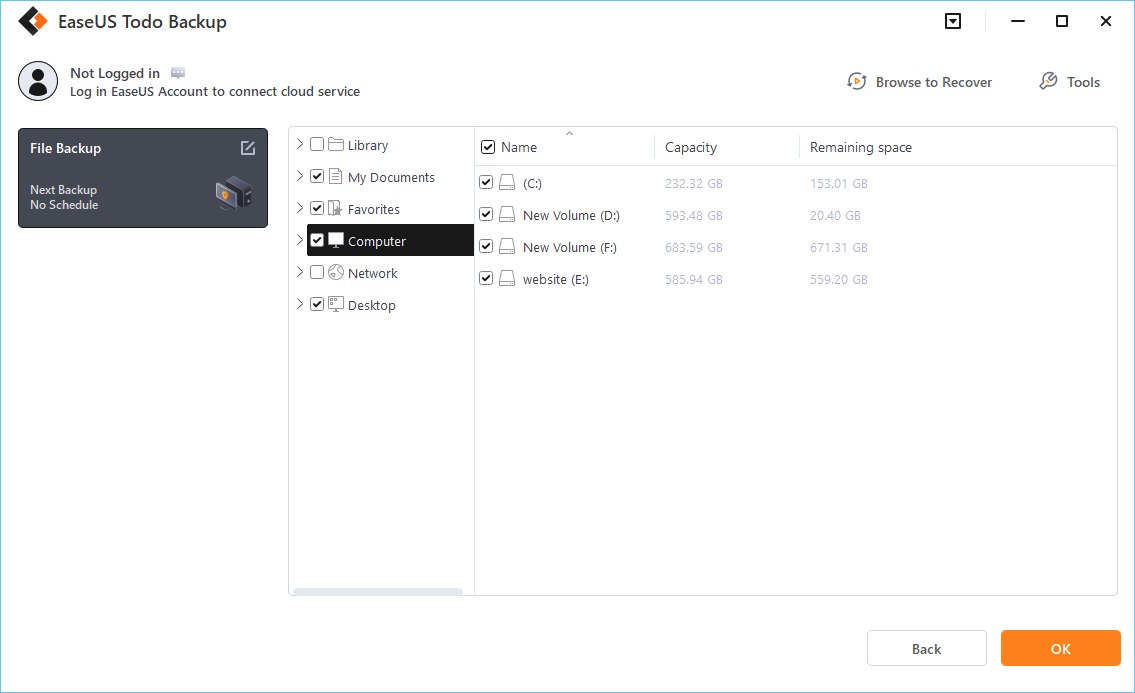 Step 4. Follow the on-screen instructions and choose a location to store the backup.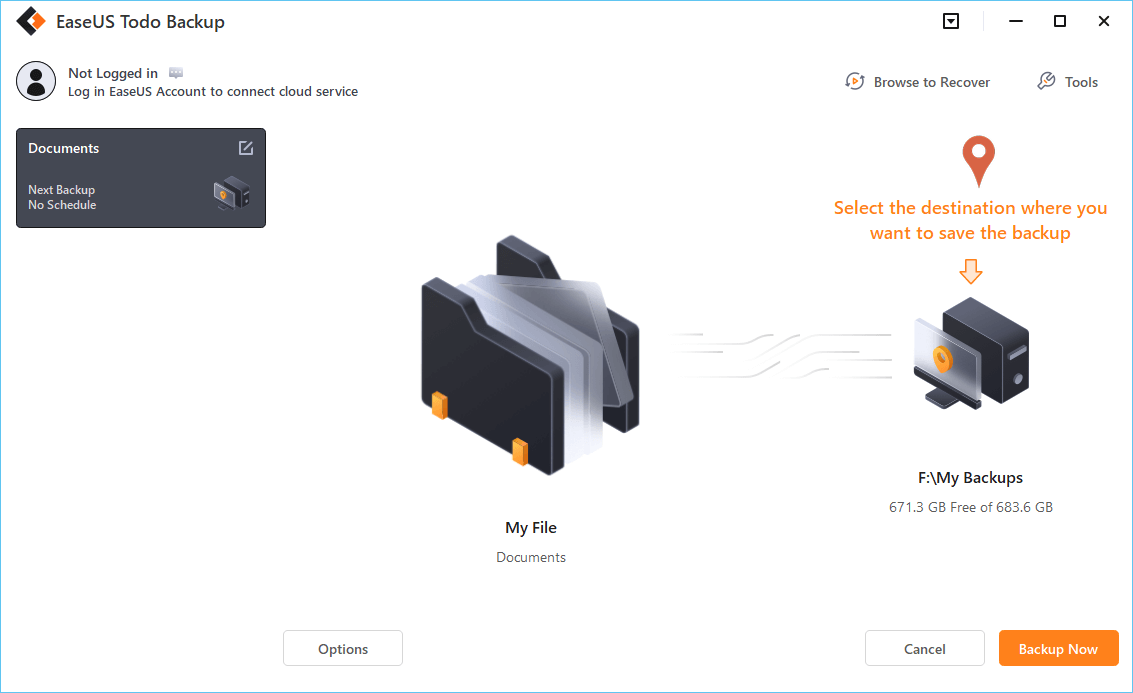 Click Options to encrypt the backup with a password in Backup Options, then click Backup Scheme to specify the backup schedule and start the backup at a certain event. There are also other additional choices you may choose to tailor the backup process to your requirements.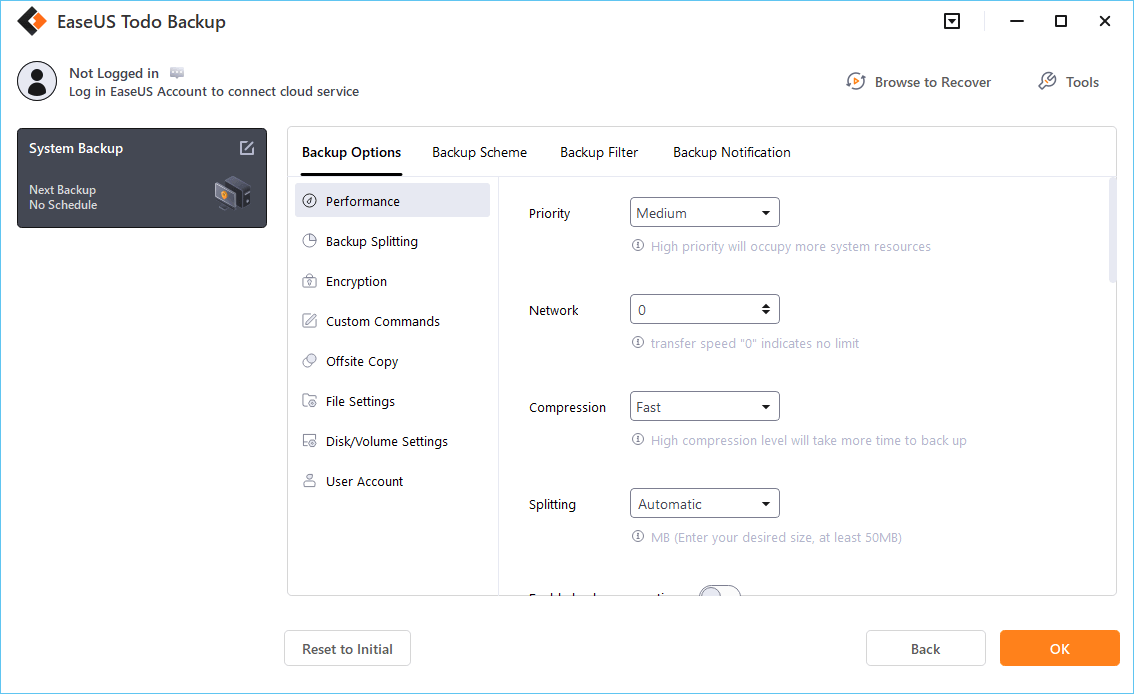 Step 5. The backup may be stored on a local disk, EaseUS' online service, or NAS.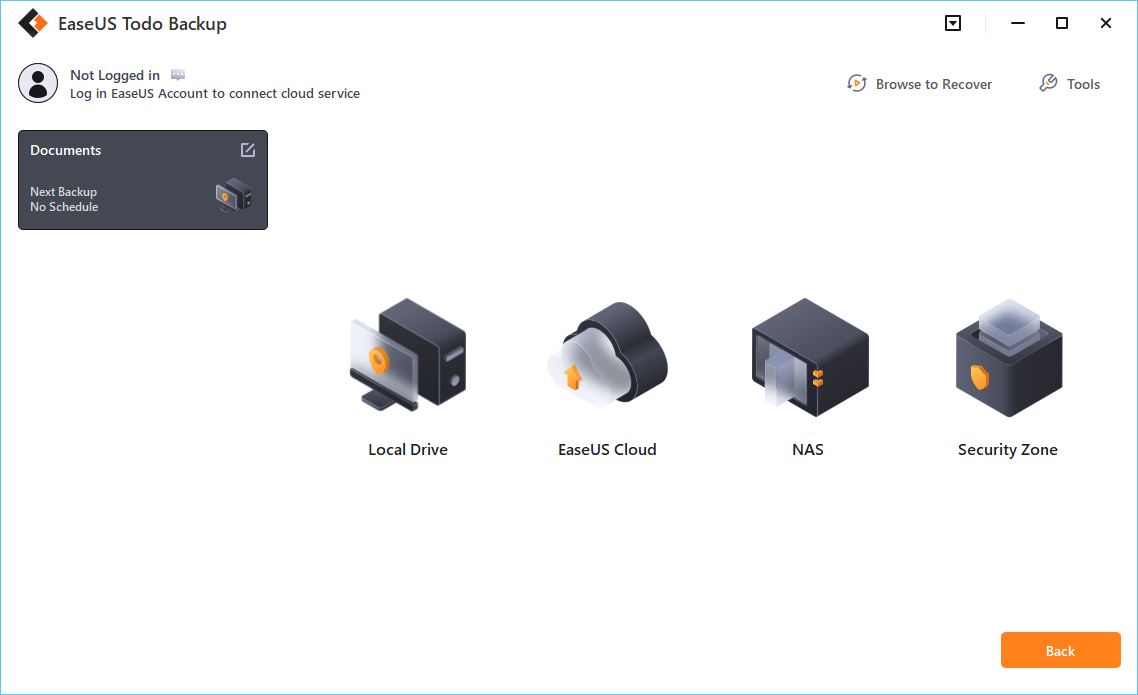 Step 6. EaseUS Todo Backup enables customers to back up data to a third-party cloud drive as well as its own cloud drive.
If you want to back up data to a cloud drive provided by a third party, choose Local Drive, scroll down to add Cloud Device, and then add and log in to your account.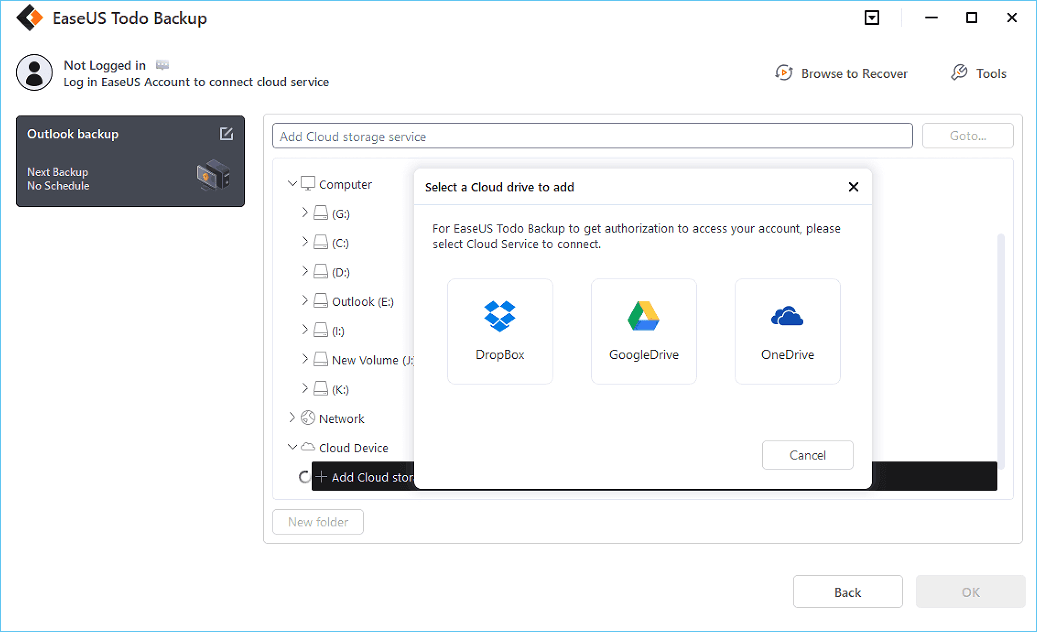 You can also choose the EaseUS cloud drive. Sign up for an EaseUS Account, then click EaseUS Cloud and log in.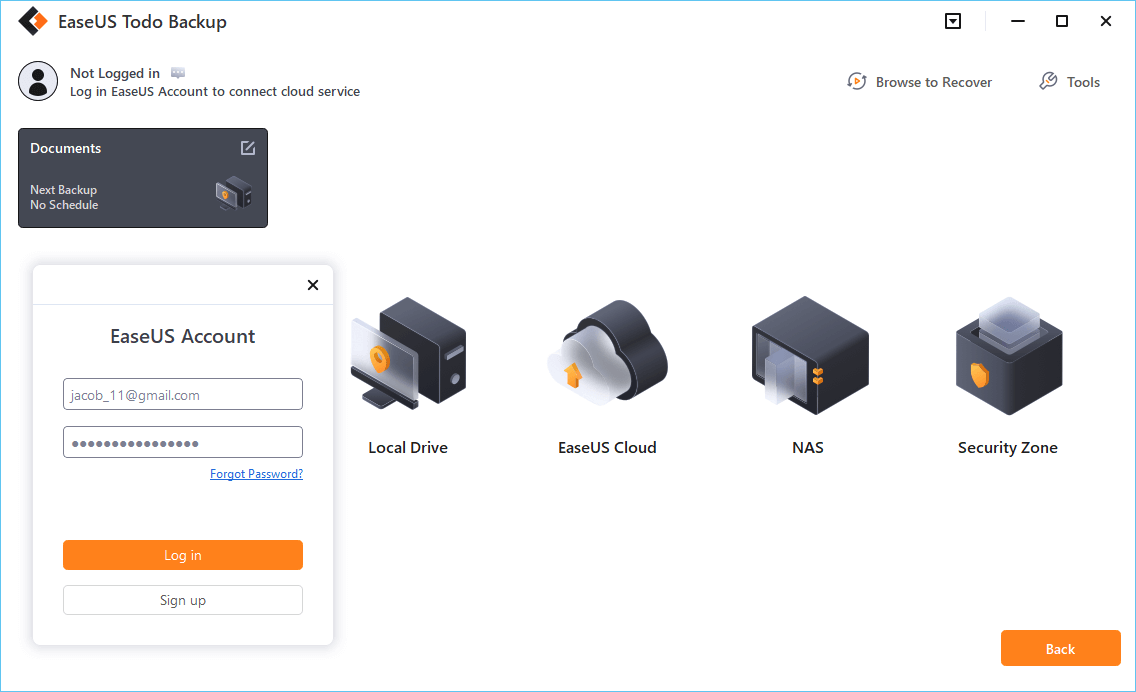 Step 7. Click Backup Now to begin the backup process. The backup job will be presented as a card on the left side of the panel after it has been finished. Right-click the backup job to handle it further.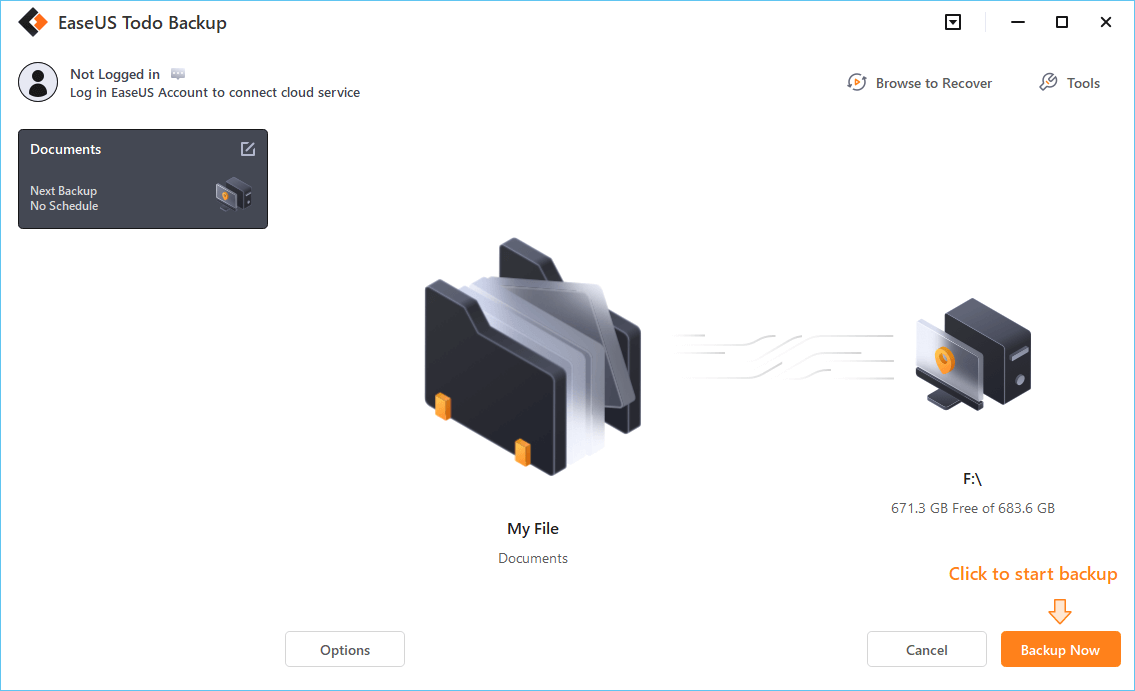 People Also Ask
1. How do I fix OneDrive sync problems?
Compress files and folders.
Choose the folders you want to sync.
Manually connect your OneDrive account to Windows.
Switch off the "Office upload" feature.
Unlink OneDrive from your system.
Manually reset the OneDrive program.  
2. Will I lose files if I uninstall OneDrive?
No. You won't lose any files by uninstalling OneDrive on your computer. Since OneDrive saves these files on the cloud, you can easily access them by signing into your OneDrive account from any other device.
Conclusion
Most OneDrive errors are easy to solve. To sign into this backup tool following a failed attempt, you can methods listed above. Any of these solutions can help address your OneDrive issue. To avoid the common errors associated with OneDrive, we recommend using a third-party tool known as EaseUS Todo Backup. Primarily, it grants you access to a 250GB free cloud storage space for your data. To get started EaseUS Todo Backup today.
Gemma is member of EaseUS team and has been committed to creating valuable content in fields about file recovery, partition management, and data backup etc for many years. She loves to help users solve various types of computer related issues.
Taking everything into consideration, we can say that EaseUS Todo Backup Home can offer you a little extra sense of security with a set of advanced tools. The interface provides quick adaptation, every process guiding you all the way through so you don't get stuck or further damage your system rather than keeping it safe.

 Read More

EaseUS Todo Backup Free lets you create backups of your important files or your entire computer through its streamlined interface. Just choose the backup type you'd like to get started, and let the program do the reset.

 Read More

EaseUS includes all the features I expect from backup software like versioning, incremental backups, and scheduling. For more advanced users, EaseUS allows you to install a pre-boot environment onto your hard drive so you can use it to restore files without burning a CD or putting it on an external USB drive.

 Read More

EaseUS Todo Backup
Smart backup tool for your files and entire computer in Windows 10/8/7.
Install Windows on Multiple Computers at Once? No Problem!
Learn how to install Windows 11/10/7 and special programs/software on a batch of computers. Use 10 minutes to do the 10 hours work without making a single mistake!
Get Free Solution!