What's the Difference between Differential and Incremental Backups
Updated by
Daisy
on Jan 22, 2021
Both differential and incremental backups are "smart" backups that save time and disk space by only backing up changed files. But they differ significantly in how they do it, and how useful the result is.
Most of the information on a computer changes very slowly or not at all. This includes the applications themselves, the Operating System and even most of the user data. Typically, only a small percentage of the information in a partition or disk changes on a daily, or even a weekly basis. For that reason, it makes sense only to back up the data that has changed on a daily basis. This is the basis of sophisticated backup strategies.
What is a differential backup
A differential backup is one practical method for backing up single files or folders that change every day in backup strategies. A differential backup backs up only the files that changed since the last full backup.
For example, suppose you do a full backup on Sunday. On Monday you back up only the files that changed since Sunday, on Tuesday you back up only the files that changed since Sunday, and so on until the next full backup.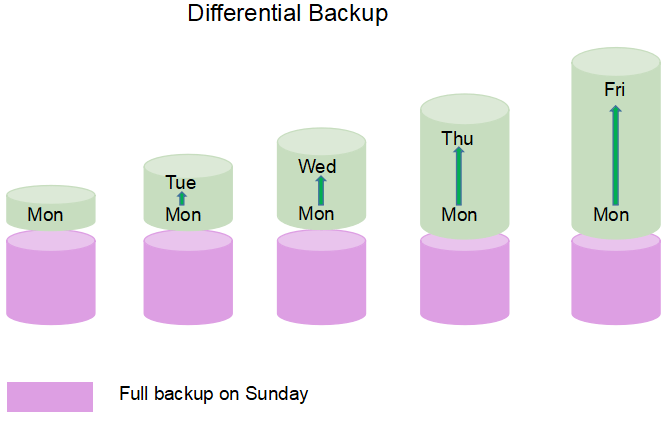 Differential Backup .vs Full Backup
Differential backups are quicker than full backups because so much less data is being backed up. But the amount of data being backed up grows with each differential backup task until the next full back up.
Differential backups are more flexible than full backups, but still unwieldy to do more than about once a day, especially as the next full backup approaches.
What is an incremental backup
Incremental backups also back up only the changed data, but it only backs up the data that has changed since the last backup -- be it a full or incremental backup. They are sometimes called "differential incremental backups," while differential backups are sometimes called "cumulative incremental backups." Confused yet? Don't be.
Let's suppose that you do an incremental backup on Tuesday, you'll only back up the data that changed since the incremental backup on Monday. The result is a much smaller and faster backup. The advantage of incremental backups is the shorter the time intervals between backups, with fewer data to be backed up.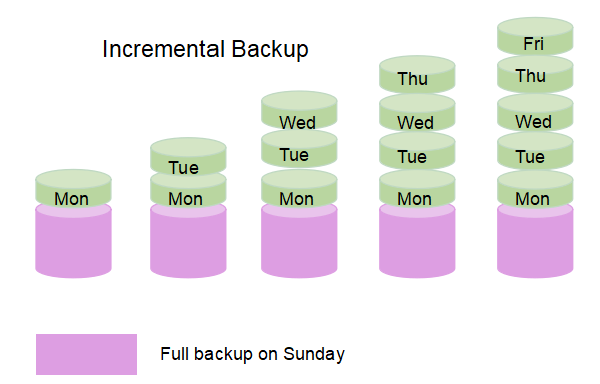 Differential Backup .vs Incremental Backup
If you are still not quite clear about the differences, check the VS comparison form to see it now:
Backup Strategy
Backup Basis
Backup Speed
Space Taken
Similarity
Media Required for Recovery
Full Backup
Full Backup
Slow
Big
/
Most recent backup only
Differential Backup
Full Backup
Medium
Big
Backup only files that have changed
Most recent full + most recent differential
Incremental Backup
Last Backup of Any Type
Fast
Small
Most recent full + all incremental since full
Compare with full backup, the incremental backup takes less backup time and produces a smaller image file.
And compare with differential backup, an incremental backup will save your space better. That's the main reason why most people choose to make an incremental backup.
Now that you've noted all these differences between Incremental and Differential backups, you should know which method to choose for backing up your files. And what is the best tool for executing these backup tasks?
RECOMMENDED: Best Incremental/Differential Backup Software
How to make use of incremental/differential backup to protect PC? We strongly recommend incremental/differential backup software - EaseUS Todo Backup to help you gain the best backup and restore solution.
To create an incremental backup of your files on Windows PC:
Step 1. Open EaseUS Todo Backup and select "File".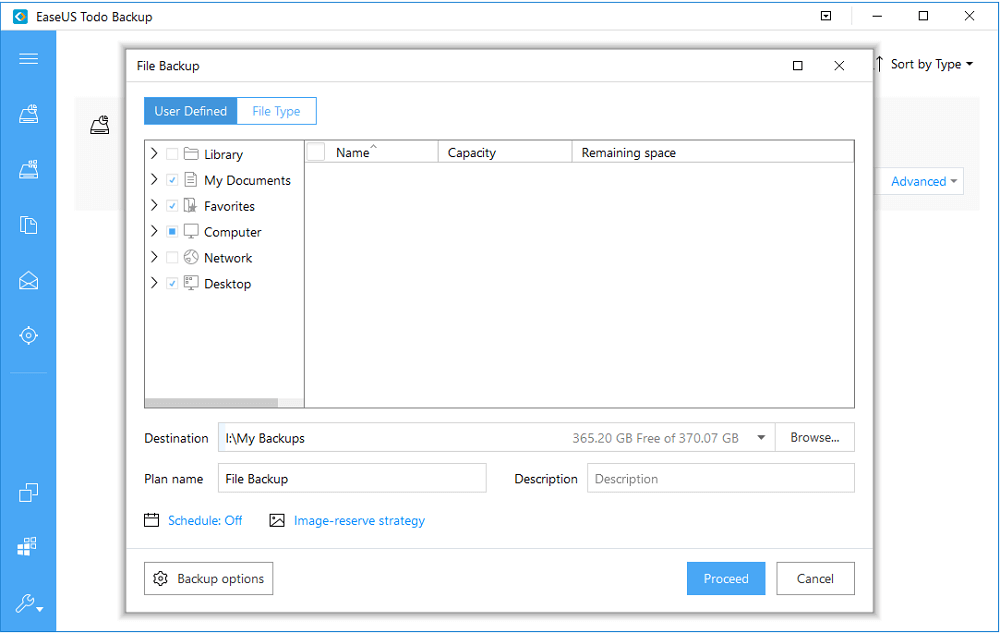 Step 2. Select the files that you want to back up.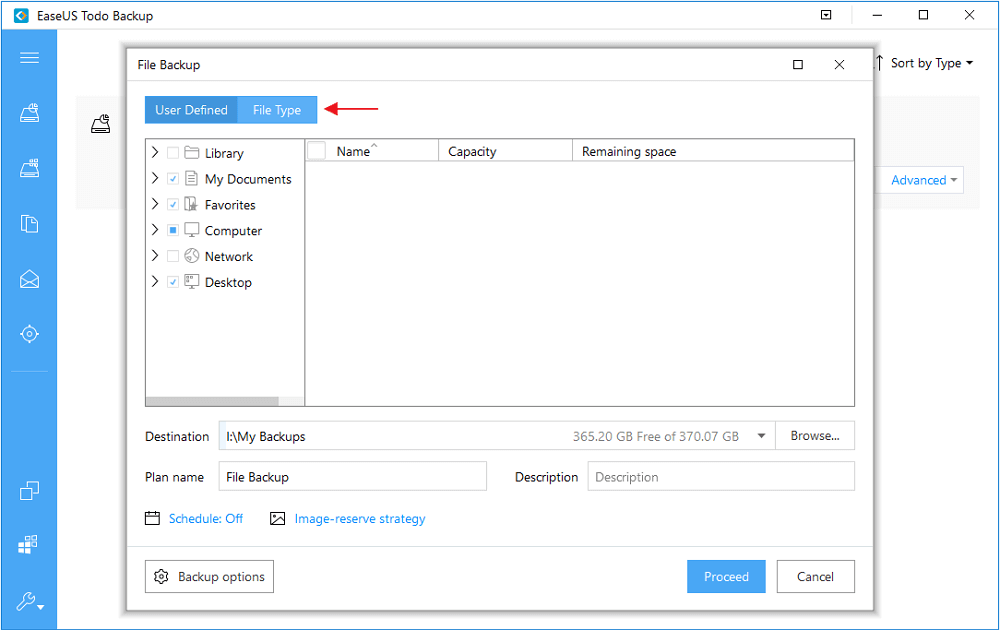 Step 3. Click "Browse" to select a destination to save your backup file.
 Product News

EaseUS Todo Backup now supports users to back up files to the cloud. All you need to do is sign up with an EaseUS account, then you could enjoy a large cloud storage space. More advantages of backing up to the cloud include accessing backup files anytime and anywhere, saving file copies offsite, so you don't need to worry about virus attacks or computer failures, and easier and faster backup and recovery operations.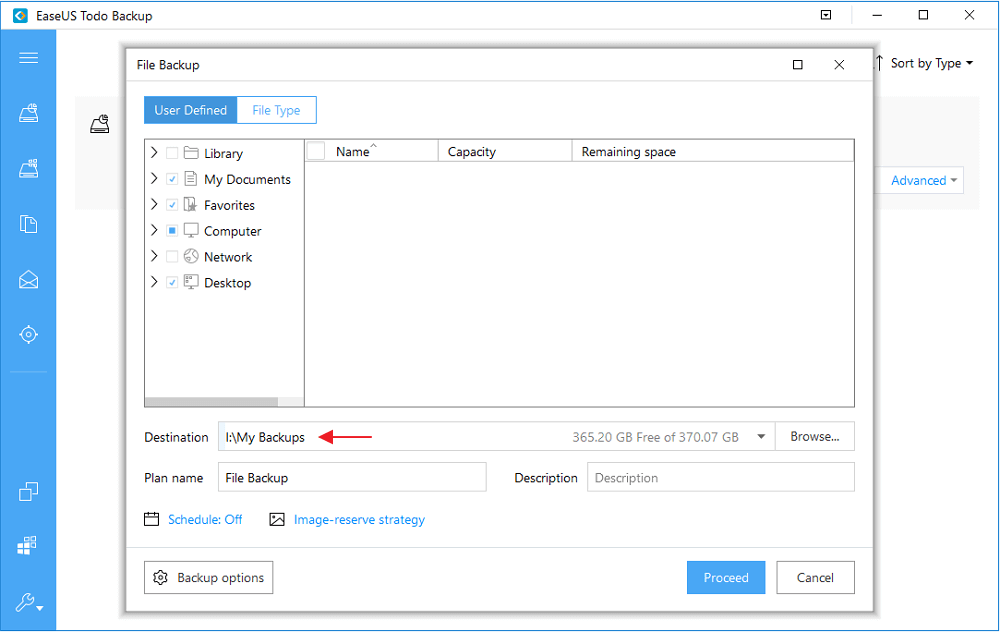 Step 4. Click "Schedule" to create an automatic incremental backup.
For example, if you want to back up these files every Sunday, select "Weekly", and select "Sun". Then, set the backup method as Incremental.
Our software will start with a full backup for the first time. After that, it will execute a backup task for only changed files every Sunday.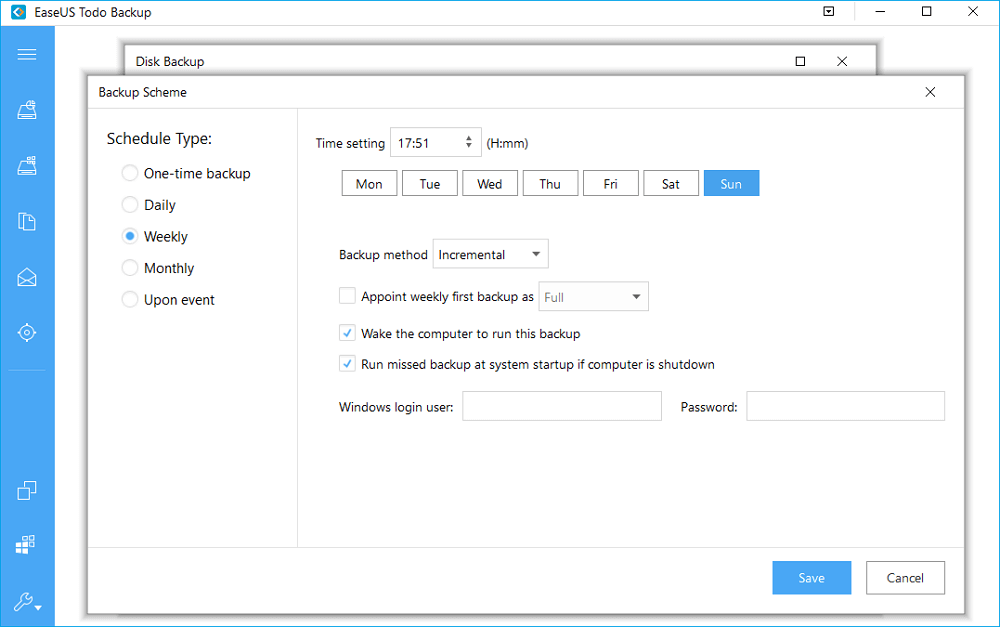  Notice:

Here's a warm tip for you. Since it's the first-time backup for creating a full backup image, the process normally takes longer as it needs to image all selected files. Have a little rest and wait patiently.
If you have enough space, you can also select the "Appoint weekly first backup as Full" option. This option enables you to take a full backup and an incremental backup at the same time. But it takes a lot of disk space.
Step 5. Click "Save" and then click "Proceed" to execute the full back up. 
Daisy is the Senior editor of the writing team for EaseUS. She has been working in EaseUS for over ten years, starting from a technical writer to a team leader of the content group. As a professional author for over 10 years, she writes a lot to help people overcome their tech troubles.

Author Jean has been writing tech articles since she was graduated from university. She has been part of the EaseUS team for over 5 years. Her special focuses are data recovery, disk partitioning, data space optimization, data backup and Mac OS. By the way, she's an aviation fan!
Taking everything into consideration, we can say that EaseUS Todo Backup Home can offer you a little extra sense of security with a set of advanced tools. The interface provides quick adaptation, every process guiding you all the way through so you don't get stuck or further damage your system rather than keeping it safe.

 Read More

EaseUS Todo Backup Free lets you create backups of your important files or your entire computer through its streamlined interface. Just choose the backup type you'd like to get started, and let the program do the reset.

 Read More

EaseUS includes all the features I expect from backup software like versioning, incremental backups, and scheduling. For more advanced users, EaseUS allows you to install a pre-boot environment onto your hard drive so you can use it to restore files without burning a CD or putting it on an external USB drive.

 Read More

EaseUS Todo Backup
Smart backup tool for your files and entire computer in Windows 10/8/7.
Install Windows on Multiple Computers at Once? No Problem!
Learn how to install Windows 11/10/7 and special programs/software on a batch of computers. Use 10 minutes to do the 10 hours work without making a single mistake!
Get Free Solution!