Both differential and incremental backups are "smart" backups that save time and disk space by only backing up changed files. But they differ significantly in how they do it, and how useful the result is.
Most of the information on a computer changes very slowly or not at all. This includes the applications themselves, the Operating System and even most of the user data. Typically, only a small percentage of the information in a partition or disk changes on a daily, or even a weekly basis. For that reason, it makes sense only to back up the data that has changed on a daily basis. This is the basis of sophisticated backup strategies.
What is a differential backup
A differential backup is one practical method for backing up single files or folders that change every day in backup strategies. A differential backup backs up only the files that changed since the last full backup.
For example, suppose you do a full backup on Sunday. On Monday you back up only the files that changed since Sunday, on Tuesday you back up only the files that changed since Sunday, and so on until the next full backup.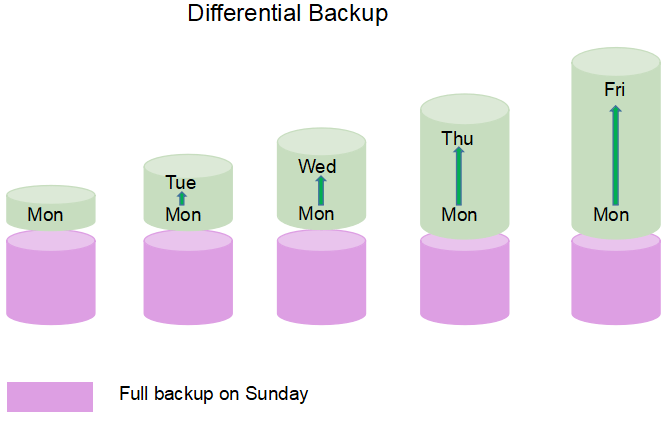 Differential Backup .vs Full Backup
Differential backups are quicker than full backups because so much less data is being backed up. But the amount of data being backed up grows with each differential backup task until the next full back up.
Differential backups are more flexible than full backups, but still unwieldy to do more than about once a day, especially as the next full backup approaches.
What is an incremental backup
Incremental backups also back up only the changed data, but it only backs up the data that has changed since the last backup -- be it a full or incremental backup. They are sometimes called "differential incremental backups," while differential backups are sometimes called "cumulative incremental backups." Confused yet? Don't be.
Let's suppose that you do an incremental backup on Tuesday, you'll only back up the data that changed since the incremental backup on Monday. The result is a much smaller and faster backup. The advantage of incremental backups is the shorter the time intervals between backups, with fewer data to be backed up.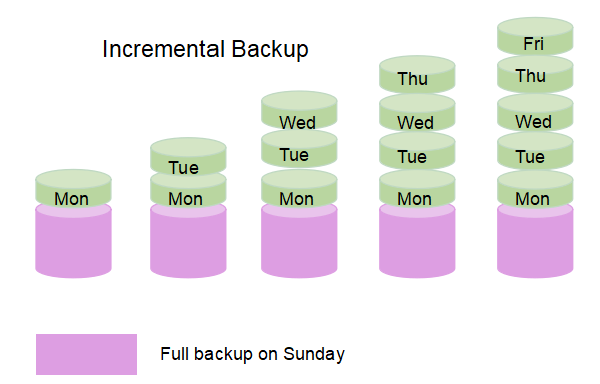 Differential Backup .vs Incremental Backup
If you are still not quite clear about the differences, check the VS comparison form to see it now:
Backup Strategy
Backup Basis
Backup Speed
Space Taken
Similarity
Media Required for Recovery
Full Backup
Full Backup
Slow
Big
/
Most recent backup only
Differential Backup
Full Backup
Medium
Big
Backup only files that have changed
Most recent full + most recent differential
Incremental Backup
Last Backup of Any Type
Fast
Small
Most recent full + all incremental since full
Compare with full backup, the incremental backup takes less backup time and produces a smaller image file.
And compare with differential backup, an incremental backup will save your space better. That's the main reason why most people choose to make an incremental backup.
Now that you've noted all these differences between Incremental and Differential backups, you should know which method to choose for backing up your files. And what is the best tool for executing these backup tasks?
RECOMMENDED: Best Incremental/Differential Backup Software
How to make use of incremental/differential backup to protect PC? We strongly recommend incremental/differential backup software - EaseUS Todo Backup to help you gain the best backup and restore solution.
To create an incremental backup of your files on Windows PC:
Step 1. Open EaseUS Todo Backup and select "File Backup".
You may have a large amount of vital data to be protected as time goes on, such as documents, pictures, music, and videos, etc. It is always a good habit to have a backup on a regular basis.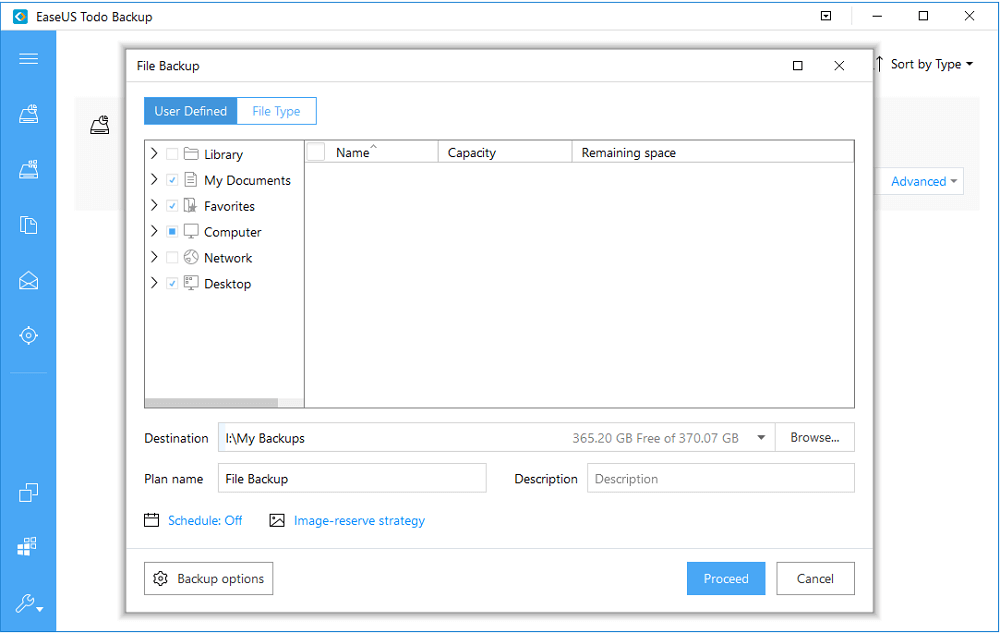 Step 2. Select the files that you want to back up.
If you just want to back up one or some specific file types from one folder, the option at the top right corner can help you exclude the others files.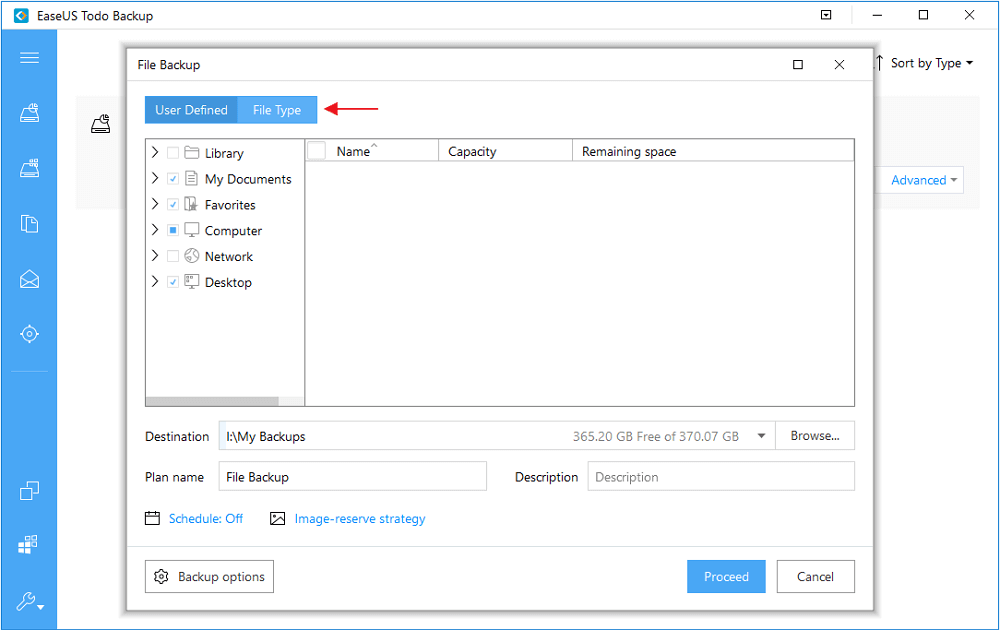 Step 3. Select a destination to save your backup file.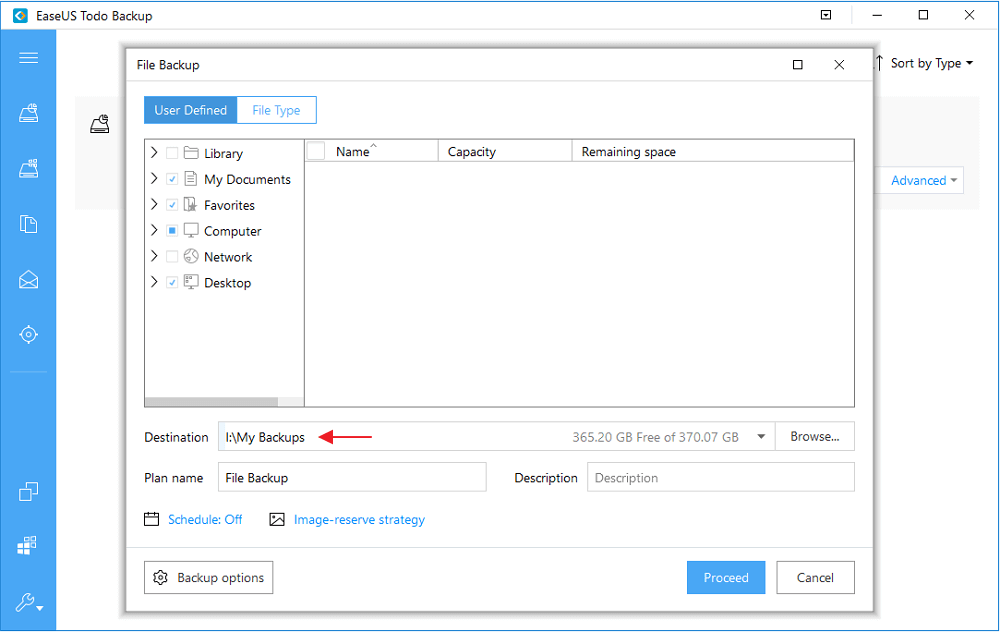 Step 4. Click "Schedule" to create an automatic incremental backup.
For example, if you want to back up these files every Sunday, select "Weekly", and select "Sun". Then, set the backup method as Incremental.
Our software will start with a full backup for the first time. After that, it will execute a backup task for only changed files every Sunday.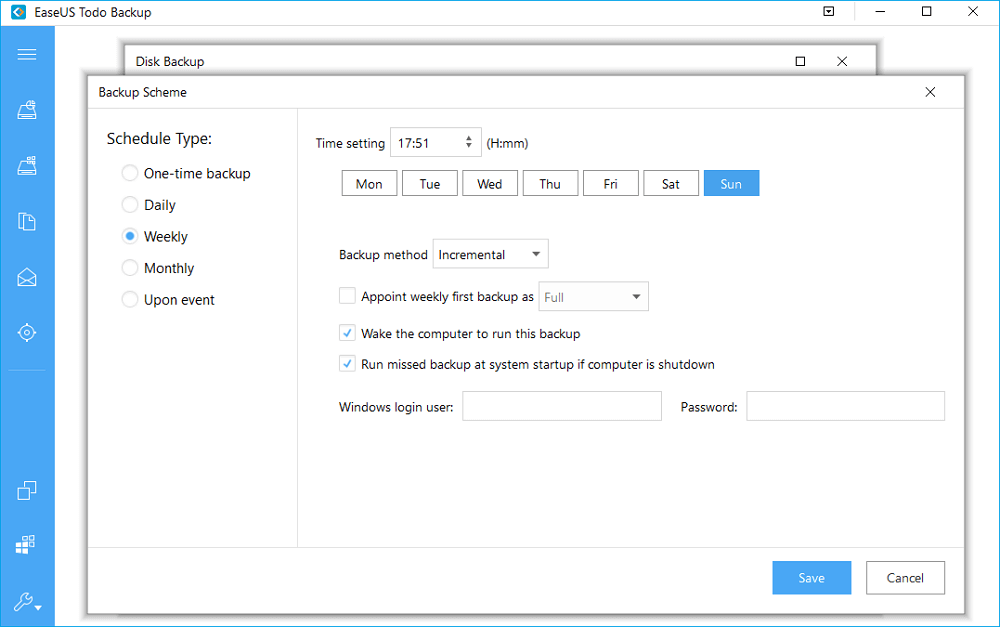  Notice:

Here's a warm tip for you. Since it's the first-time backup for creating a full backup image, the process normally takes longer as it needs to image all selected files. Have a little rest and wait patiently.
If you have enough space, you can also select the "Appoint weekly first backup as Full" option. This option enables you to take a full backup and an incremental backup at the same time. But it takes a lot of disk space.