What's the best strategy to retain data by chance exposing to a severe system crash, hardware failure, or virus attack? I'd rather say, a frequent backup of essential files. For individual users, taking care of the accumulating documents, pictures, videos, emails, plus operating system with custom configurations should place on the top priority list. Whereas for advanced users, businesses, or organizations, they usually need to set up a more sophisticated backup task as a job routine, which requires reliably capable, rapid and less-disk-consuming backup and recovery software.
And for a separate safeguard and energy-saving backup manner, which generally lasts for a-year long or even longer, it'll be fantastic to automatically back up files to an external hard drive, like a capacious HDD or USB drive.
Tips on Saving File Backups to External Storage
Windows Backup and Restore program is a native tool for users to back up or restore files as necessary. By going to the Control Panel > System and Security > Backup and Restore (Windows 7), you can manually set up the backup plan based on a fixed time interval, and you can also include a system image while creating file backups. Once the auto savings get done, each time you connected the backup drive to your computer, Windows will automatically run backup according to the schedule you set. In addition, you can change the previous settings at any time.
Likewise, not only the built-in Windows program but also the third-party backup utilities, they recommend that you choose an external hard drive over the primary drive to save your backup. I think I can tell you a couple of apparent reasons.
Pros: cheap, fast, size-flexible, and portable.
First and foremost, it's relatively safe. External devices are risk-free from computer problems, particularly operating system related issues that would shut your PC down forever. How do you access a local backup drive when you cannot even boot the system?
Second, disk space is at your disposal. You can buy a removable hard disk with whatever size you like, or combine a large one with a small one (like a cheap USB flash drive or SD card). You don't worry about low disk space on a computer internal drive.
Third, an external backup drive is portable. You can take it from office to home.
If you're thinking of a regular backup at the moment, consider the handy peripherals. It'll gain extra protection if you keep one more file backup to NAS (Network Attached Storage) devices.
Cons: require manual drive-to-PC connection
You may get used to occasionally connecting the drive to the computer and use the backup tool, or leaving it plugged in al the time so it'll back up automatically.
Hence, there is one problem. When the time hits the o'clock or day you set up as a schedule, you need to do it yourself to connect the drive to let it work. That's kind of tedious. However, the permanent connection is prone to damage by dust, fluid, or fire, which is unrecoverable.
What's Steadfast Auto Backup Software?
Is Windows Backup and Restore program in Windows 7 or Windows 10 a universal selection? Not any more. As a matter of fact, Backup and Restore is no longer a maintained feature on Windows 10. You can still use it, but in the future, it may stop working. Also, as a deprecated feature, the company can decide to remove this tool in future releases completely.
Alternatively, third-party Windows backup software - EaseUS Todo Backup is universally acknowledged and user-oriented, the developers of which have been working, improving and optimizing it year after year. Now it's intelligent enough to take over the dominated place of the Windows software.
Besides featuring with all-available features in Windows Backup and Restore (in Windows 7 and Windows 10) and File History (in Windows 8), the smart backup program offers a unique feature of automatically backup to the USB device when plugged in, which serves customers with utmost convenience when they are trying to do a backup on an external hard drive.
How to Back Files Automatically to An External Hard Drive
Prepare your USB hard drive or flash drive and correctly connected it to your personal computer. Run EaseUS Todo Backup and start your first-time auto file/folder backup.
Preparations:
Connect your USB to your computer
Download EaseUS Todo Backup
Step 1. Launch EaseUS backup software and choose "File Backup" option to make USB auto copy files when plugged in.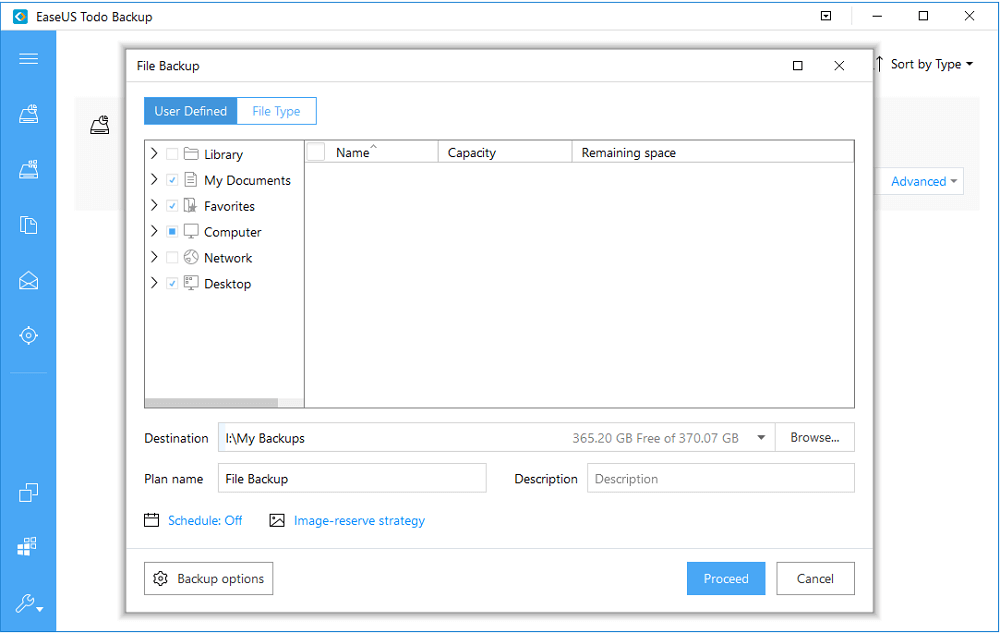 Step 2. Decide a backup image location to save your files. Be aware of the "Schedule" part, and go to start scheduled backup plan by setting "Upon event".
Upon event
The backup is to be automatically executed in the event of:
System startup - Backup runs automatically when the system starts up.
System shutdown - Backup runs automatically when the system is shut down.
User logon - Backup runs automatically when Windows logs in.
User logoff - Backup runs automatically when Windows logs off.
USB device plugged in - Backup runs automatically when the USB device is plugged in provided that it is set to be the destination.
Step 3. Choose start at "USB device plugged in..." and click "Save". Note the warning message, the automatic backup or copying will only happen to the exact device on which you created the task.
Step 4. After saving all changes, re-plug or reconnect your USB drive. Then when your computer recognizes the USB drive, the automatic copying and backup process starts.
Note: every new automatic backup plan requires the backup image saved at the last time, or else the backup software won't work as planned even it detects the same USB device.
100% of people found this article helpful.
Frequently Asked Questions
Why choose EaseUS Todo Backup?

"The easiest way to protect your data and system files." —techradar

"EaseUS Todo Backup Free is one of the most popular free data backup applications available. This software offers a myriad of features and is extremely user-friendly. It provides a full system backup, meaning you can back up your entire operating system." —TopTenReviews

"EaseUS ToDo Backup Home is a great backup program, well suited to the home and SMB space." —PCWorld
What is the difference between Clone and Backup? In what cases should I use Clone?

Clone will copy one disk to another or one partition to another (unallocated space is also supported). Usually, this option is used to upgrade the current disk by creating an identical copy. Backup will generate a .PBD image file containing the selected files or system that can be restored from the .PBD image if needed.
What is the difference between System Backup and Disk Backup?

System Backup will auto-select the system boot related partition(s) as the backup source to make sure the system image can be restored properly. Disk/Partition Backup will allow you to manually select a whole disk or speficy a certain partition as the backup source. You will get the same backup result as System Backup if you manually select the system and boot partitions with the Disk/Partition Backup option.
As a computer newbie, what features should I use to protect my computer?

You can use System Backup to back up the system and boot partitions, use Disk/Partition backup to back up the data partition and add plans to run an automatic backup. If you use the computer frequently or have software that may cause boot failure of the computer, we would suggest you back up the computer every 1 to 2 days. For other situations, you can backup the computer once a week. In addition, you can schedule File Backup to back up the files which are changed frequently.
What kind of storage service should I use to save my backup images?

EaseUS Todo Backup can save backup images to internal disks, external disks, network drives, or free cloud(Google Drive, Dropbox, and OneDrive) and CD/DVD. It is suggested to save the images to the internal/external/network drives to save time as those kinds of disks have a better read-write speed. It is suggested NOT to save the image on the source disk, because once the disk is damaged, all the files on the disk will become unavailable and you will be unable to restore the image.
As a company network administrator, what features should I use to protect our internal computers?

It is recommended that you use the SQL Backup feature to back up your company's SQL server and Exchange Backup feature to back up the Exchange server. In addition, you can execute System Backup to back up the system and boot partitions on every computer and set a plan to execute the backup once a day or twice a week to ensure that the computer can be restored timely when it has boot issues. File Backup feature can be used to back up important user data. If there are a large quantity of computers, you can purchase EaseUS Backup Center to manage the backups on the client computers centrally.
About EaseUS Todo Backup
Be it a file, system, partition, or disk, EaseUS Todo Backup will help you back up or clone the item and provide you with multiple backup plans.