There is no doubt that Sims 4 is one of the most famous simulation games of all time. Although it has been released for 8 years, it still has a huge fan base due to the constantly updated DLCs. Meanwhile, in October 2022, EA officially launched the free download version of Sims 4. This has further expanded the Sims 4 player community and greatly increased the richness and diversity of content creation in the Sims 4 community.
However, although the free plan has brought a lot of new blood to Sims 4, how to backup Sims 4 saves is an urgent problem for these new players. Learning how to back up Sims 4 files can not only help players solve various disasters of data collapse easily but also facilitate players to transfer Sims 4 saved games to another computer to continue playing.
This article will give you step-by-step guides to solve this problem. Whether you are a Mac, Windows PC, PS, or Xbox user, you can find the corresponding Sims 4 saves backup scheme in this article.
Maybe you're interested in:
The Importance of Backing Up Sims 4 Saves
Here are some reasons why Sims 4 saves backup is so important.
Data Loss
When your computer is invaded by viruses or encounters hardware failures and system crashes, Sims 4 game files may face the risk of being damaged, causing you to be unable to load the saves. How to prevent the loss of game data is a required course for every game player.
Install Mods and CC to Sims 4
Adding rich mods and customized content(CC) to Sims 4 is one of the core playing methods of Sims 4, which greatly increases the game's playability. However, every time Sims 4 is updated or the game developer adds a corresponding patch, your mods or cc may cause errors in the game code, making the game impossible to run.
Backing up Sims 4 saves and mods files regularly can not only avoid saves damage but also help you find problematic mod files in time to make the game run normally.
Transfer Sims 4 to Another Device
When you want to change your device to continue playing Sims 4, you need to transfer Sims 4 files saved in the old device to the new device. Backing up Sims 4 files to an external hard drive/USB or Cloud storage space in advance can help you accomplish this goal quickly.
Solutions to Backup Sims 4 on Multiple Platforms
In the following content, you can respectively find Sims 4 saves backup methods for Mac, Windows PC, PS, or Xbox. Except these, we also offer you the best alternative Sims 4 saves backup plan for you.
For computer users, the Sims 4 saves file location is the same: Document >Electronic Arts > The Sims 4 > saves. However, due to system differences, Windows and Mac have slightly different file navigation methods.
How to Backup Sims 4 Saves on Mac
Step 1. Open Finder and hit "Document"
Step 2. Select Electronic Arts > The Sims 4
Step 3. Choose the saves file, copy and paste it to another location as a backup
How to Backup Sims 4 Saves on Windows PC
Step 1. Open File Explorer and hit "Document"
Step 2. Select Electronic Arts > The Sims 4
Step 3. Copy the saves file using the command prompt to another location as a backup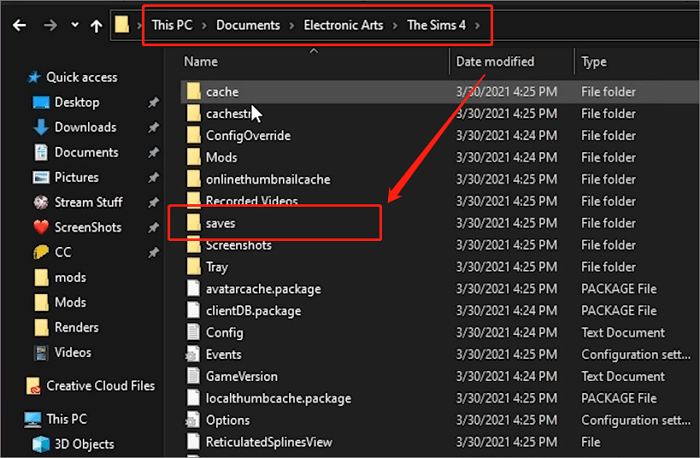  Tip

The Mods and Trays files contain the data on clothes, hairstyles, accessories, Households, Lots, Rooms, etc., that you have added. If you want to continue the previous Sims 4 progress on another computer or avoid data risks, we suggest you back up them too. 
How to Backup Sims 4 Saves on PlayStation
PS provides users with manual and automatic game backup solutions
Automatic Backup
PlayStation has the function of automatically backing up game files, but it is only available to users who have handled Plus membership (60 $/Year). It provides 100GB of Cloud storage space and can automatically backup Sims 4 saves data for you.
Here are some steps to enable this function.
Step 1. Navigate to Settings >Application Saved Data Management
Step 2. Hit the Auto-Upload option and check Enable Automatic Uploads
Step 3. Check Sims 4 and the PS system will back up the Sims 4 saves in on/rest mode.
Please note that automatic backup needs to keep your PS online.
Manual Backup
If you do not have PS Plus, you can manually back up Sims 4 saves. Please select Settings>System>Back Up and Restore>Back Up PS4 in order, and back up the Sims 4 data to the external hard drive.
How to Backup Sims 4 Saves on Xbox
Unlike PS, Xbox does not need to subscribe to additional services to provide automatic saving services for all players. Xbox can provide increasing Cloud storage space for your games and synchronize Sims 4 saves to the Cloud for secure backup under the condition of networking.
The Best Alternative Backup Plan for Sims 4
The steps of backing up Sims 4 saves are easy to follow, but the saves will continue to change as your game progresses. 
Most of the above methods need to be manually operated, if you make a saves file backup every time after playing Sims 4, it may be too difficult for PC players and players who do not subscribe to PS Plus. Let's meet EaseUS Todo Backup Home, the best backup plan for Sims 4.
EaseUS Todo Backup Home is a professional and excellent offline backup software, which can easily complete the backup tasks of systems, files, disks, and App data. For game players, these characteristics determine that it is the best helper for players to backup game saves.
The following are simple steps to back up the Sims 4 saves file with EaseUS Todo Backup Home.
Step 1. To initiate a backup, click the Select backup contents option.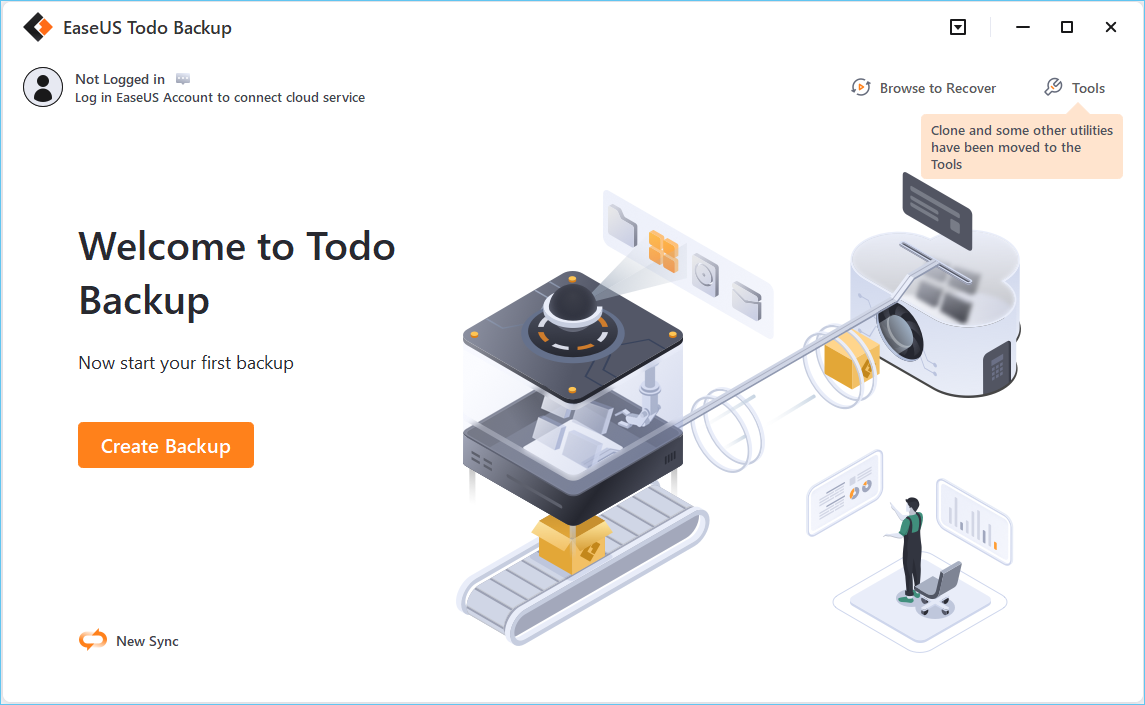 Step 2. There are four data backup categories, File, Disk, OS, and Mail, click File.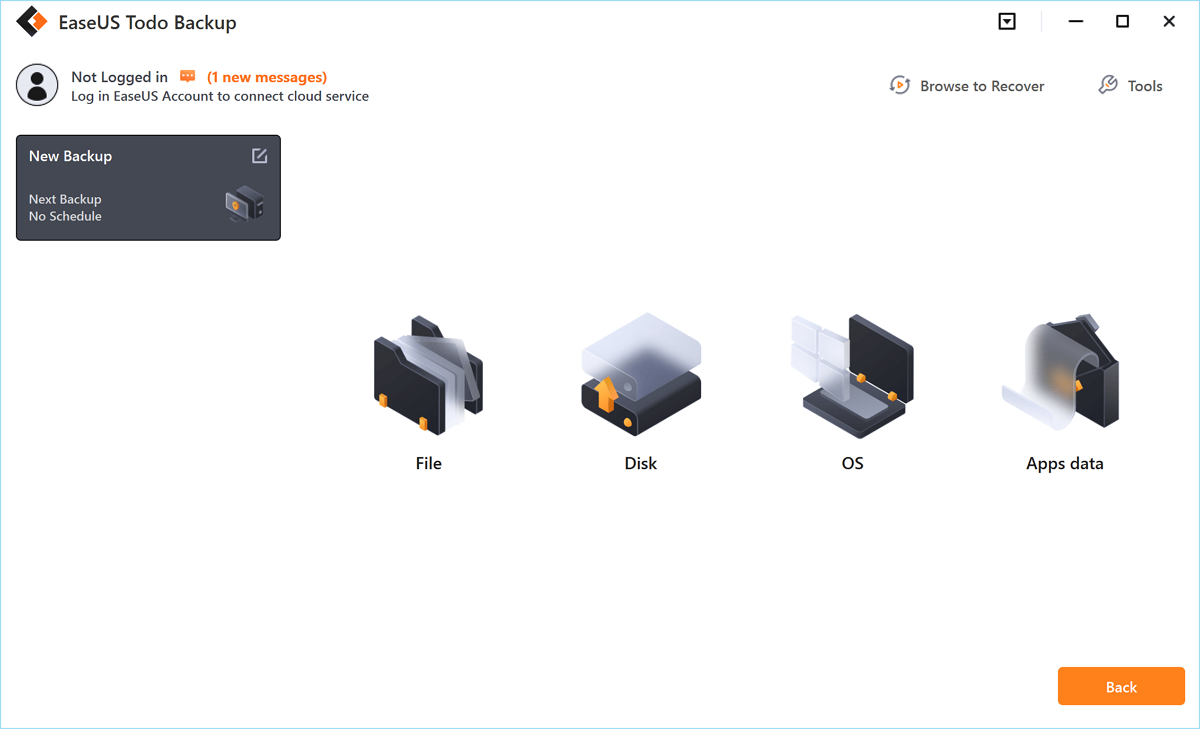 Step 3. On the left, both local and network files will be shown. You may extend the directory to pick the backup files.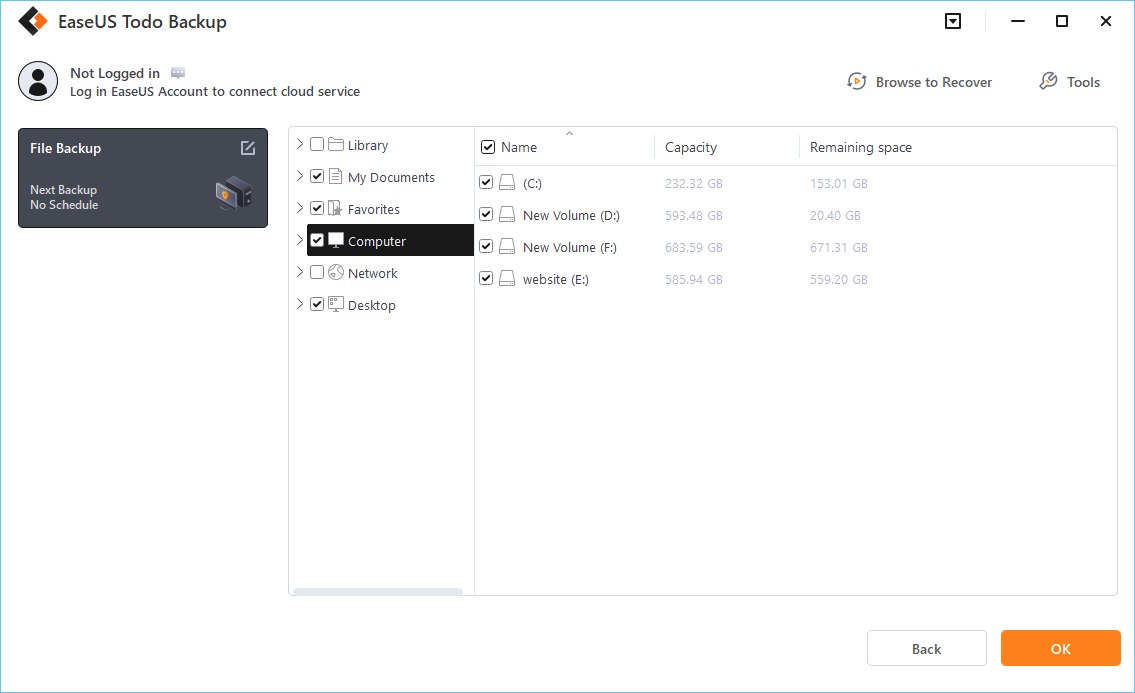 Step 4. Follow the on-screen instructions and choose a location to store the backup.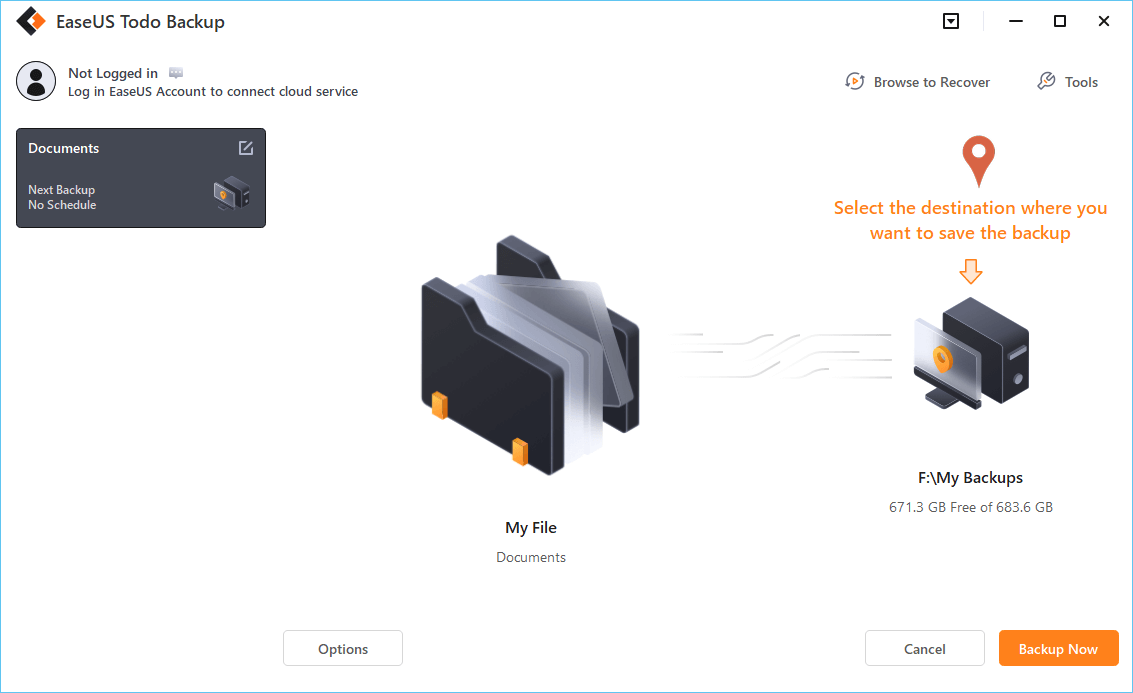 Click Options to encrypt the backup with a password in Backup Options, then click Backup Scheme to specify the backup schedule and start the backup at a certain event. There are also other additional choices you may choose to tailor the backup process to your requirements.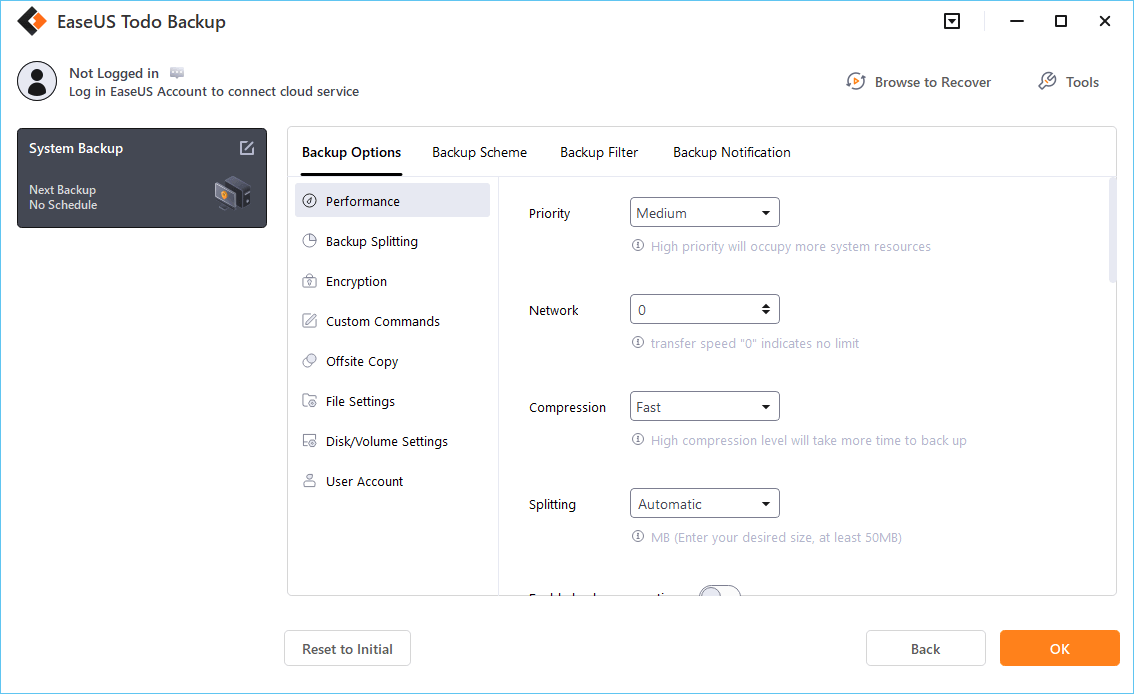 Step 5. The backup may be stored on a local disk, EaseUS' online service, or NAS.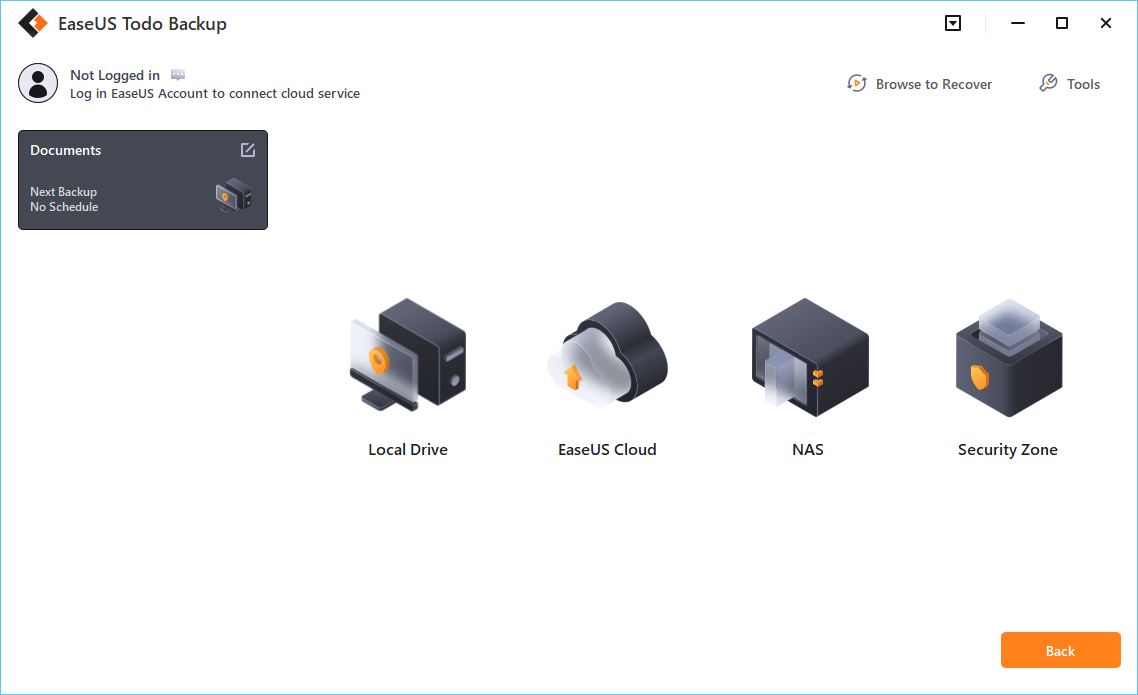 Step 6. EaseUS Todo Backup enables customers to back up data to a third-party cloud drive as well as its own cloud drive.
If you want to back up data to a cloud drive provided by a third party, choose Local Drive, scroll down to add Cloud Device, and then add and log in to your account.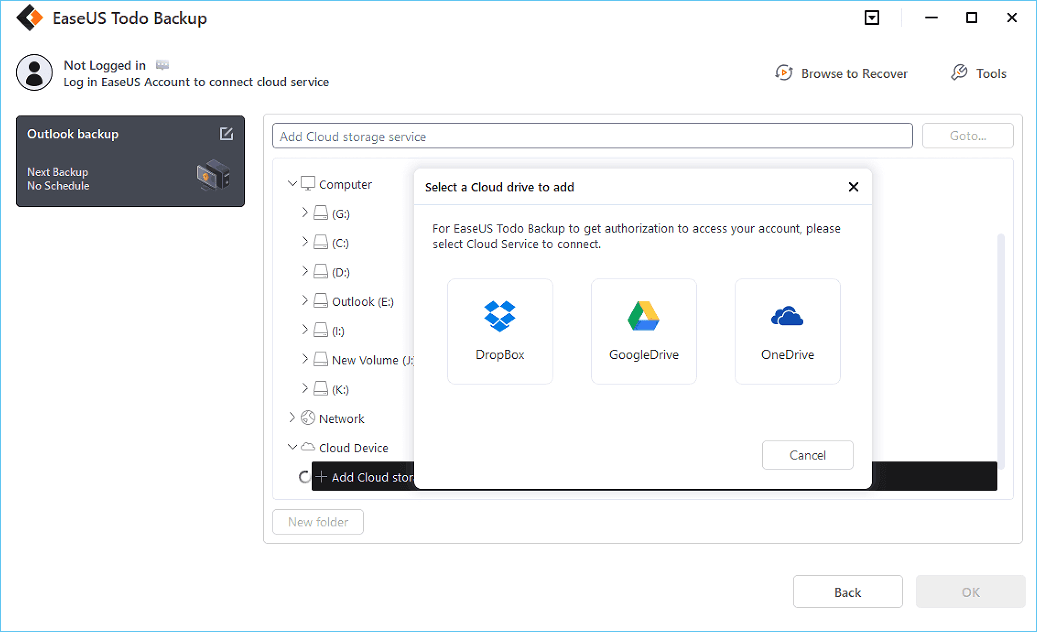 You can also choose the EaseUS cloud drive. Sign up for an EaseUS Account, then click EaseUS Cloud and log in.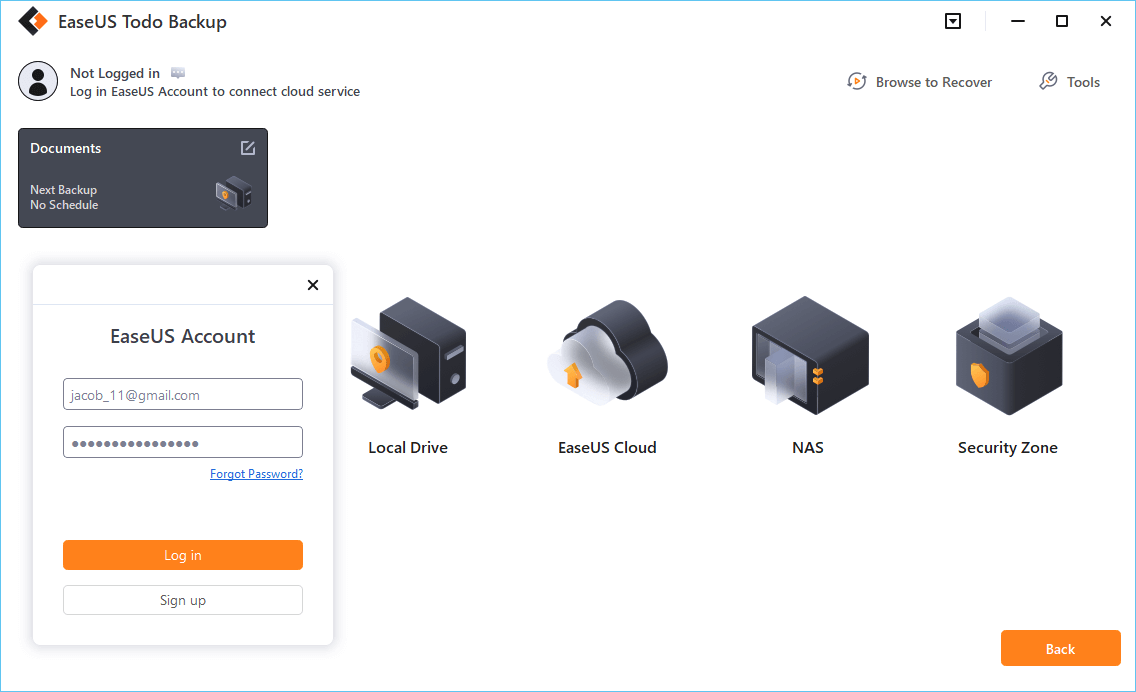 Step 7. Click Backup Now to begin the backup process. The backup job will be presented as a card on the left side of the panel after it has been finished. Right-click the backup job to handle it further.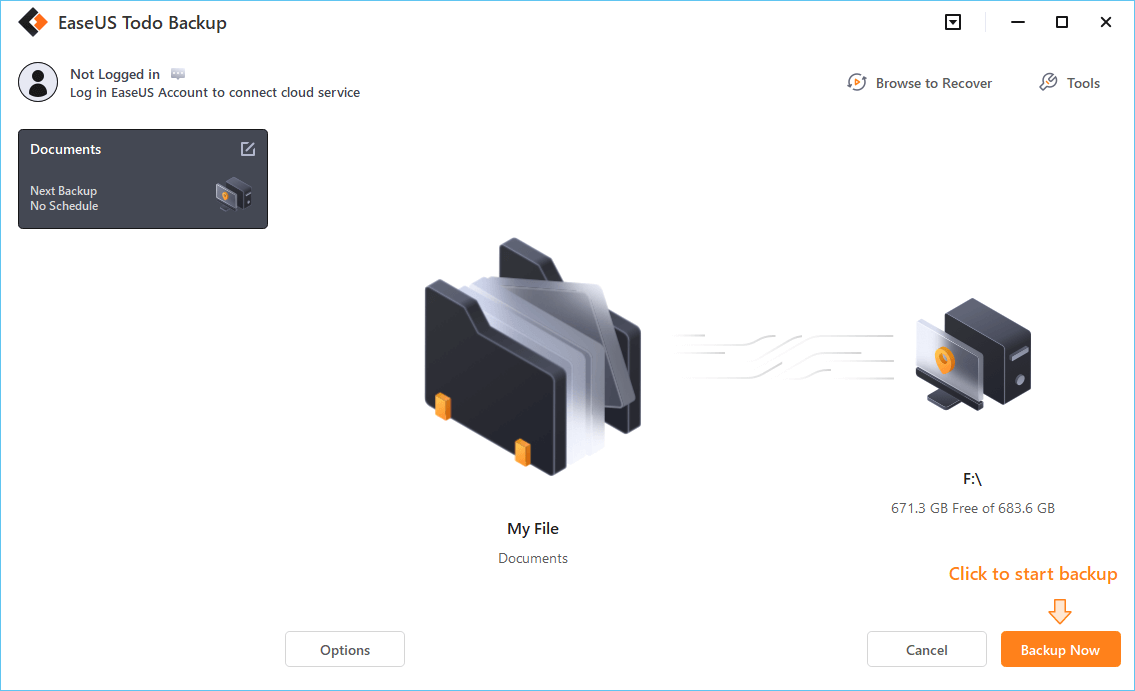 Conclusion
It is very important to learn how to back up Sims 4 saves. This article points out the Sims 4 saves file location for you and introduces the 5 backup methods applicable to different platforms. To reduce your backup pressure and improve the game experience, we recommend that you use EaseUS Todo Backup Home to create an automatic backup scheme for your game.
FAQs
1. Can I transfer my Sims 4 saves to another computer?
Yes, you can. You can navigate to the Sims 4 saves file location: Document >Electronic Arts > The Sims 4 > saves, copy the saves file and paste it to a USB or external hard drive, and then transfer it to another computer. If you installed any mods and CCs in Sims 4, you'd better copy the Mods and Tray files too.
2. Does Origin backup Sims 4 saves?
No, Origin does not backup Sims 4 saves. You should go to the Sims 4 saves file location: Document >Electronic Arts > The Sims 4 > saves, and back up it manually or use a professional backup software like EaseUS Todo Backup Home to backup Sims 4 saves automatically.

Jean has been writing tech articles since she was graduated from university. She has been part of the EaseUS team for over 5 years. Her special focuses are data recovery, disk partitioning, data space optimization, data backup and macOS. By the way, she's an aviation fan!
Taking everything into consideration, we can say that EaseUS Todo Backup Home can offer you a little extra sense of security with a set of advanced tools. The interface provides quick adaptation, every process guiding you all the way through so you don't get stuck or further damage your system rather than keeping it safe.

 Read More

EaseUS Todo Backup Free lets you create backups of your important files or your entire computer through its streamlined interface. Just choose the backup type you'd like to get started, and let the program do the reset.

 Read More

EaseUS includes all the features I expect from backup software like versioning, incremental backups, and scheduling. For more advanced users, EaseUS allows you to install a pre-boot environment onto your hard drive so you can use it to restore files without burning a CD or putting it on an external USB drive.

 Read More

EaseUS Todo Backup
Smart backup tool for your files and entire computer in Windows 10/8/7.
Install Windows on Multiple Computers at Once? No Problem!
Learn how to install Windows 11/10/7 and special programs/software on a batch of computers. Use 10 minutes to do the 10 hours work without making a single mistake!
Get Free Solution!