
Table of Contents

About the Author

Reviews and Awards

Best Data Recovery Software for 2021
There are two popular choices when people planning to buy a portable storage device, one is the USB flash drive, and the other is the external hard drive. Users might get confused, is a USB flash drive the same as an external hard drive, what is the difference between these two, and which one should I buy? In this article, we will tell you the answer one by one. Please keep reading.
What is a USB Flash Drive and What is an External Hard Drive?
A USB flash drive is a data storage device that includes flash memory with an integrated USB interface, and it's also called a pen drive and thumb drive. 
An external hard drive is a hard disk storage product that emphasizes portability and realizes large-capacity data exchange between computers.
Both devices can be connected to any PC or laptop using the USB port. Most operating systems are compatible with the external hard drive, so you can simply plug and play the device. Once connected, the external hard drive will appear as another drive on the system.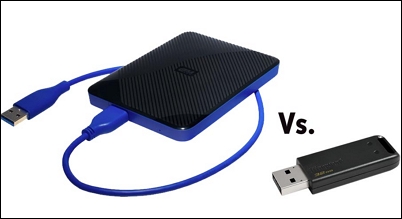 What's The Difference between USB Flash Drive and External Hard Drive?
Although both of the two devices are used for data storage, they differ from each other in many aspects. Here we have listed the six most concerning aspects for you to check the differences.
Capacity
Generally, external hard drives have a larger capacity than USB flash drives. The storage size of an external hard drive can range from 150MB to 2TB. It is worth mentioning that the capacity of external hard drives is constantly increasing. In the external hard drive, there is an option to choose a hard drive or a solid-state drive (SSD).  
While a USB flash drive has no moving parts. Information is stored in the form of bits on the semiconductor material on the chip. The storage size of a USB flash drive can range from 500MB to 32GB. Now the capacity of USB is also increasing, users now can find USB flash drives of 128GB and 256GB in the market.
The reason why the USB flash drive has a smaller capacity is that it uses TLC memory particles. There are three main types of flash memory particles: SLC, MLC, and TLC. Flash drives usually use TLC, while external hard drives usually use MLC or even SLC. Each memory cell of SLC can store 1 bit of data; MLC can store 2 bits; TLC can store 3 bits. Storing more data in each unit allows manufacturers to use fewer flash memory chips to produce high-capacity products, but on the other hand, this reduces the speed of products.
Lifespan
Compared with USB flash drives, external hard drives enjoy a longer lifespan. That's because USB flash drives' master does not have wear-leveling technology, and often does not support trim, and are only suitable for intermittent short-term writing of data. The wear-leveling technology is an algorithm integrated into the firmware of the master controller, making each storage block used averagely to avoid some specific storage blocks from forming bad blocks due to overuse. Lack of this technology will make the frequently-updated blocks worn out more quickly and affect the service life of USB flash drives.

Speed
Another thing users concern about is the transfer speed of these two devices. Comparing external hard drives and USB flash drives, the former is much faster in bulk data transfer while the latter may be faster when transferring small bits of data. The reason why external hard drives perform better is that they are more likely to come with USB 3.0 connectors, which help optimize performance. Some USB flash drives also have USB 3.0 today. But keep in mind that speed won't be affected unless your computer has a USB 3.0 port. Here we also list the maximum transmission bandwidth of USB 2.0 and USB 3.0 so that you can feel the difference in transfer speed more intuitively.
USB 2.0 maximum transmission bandwidth: 480 Mbps, namely 60 MB/s
USB 3.0 maximum transmission bandwidth: 5.0 Gbps, namely 500 MB/s
Portability
Speaking of portability, USB flash drives are definitely the winner. It wins mainly in these two respects: size and weight. USB flash drives can shape like many kinds of things, but the core part of a flash drive is a small memory stick. Generally, a USB flash drive only weighs 20 to 50g.
While external hard drives are shaped like hard drives because they're meant to replace internal hard drives. Usually, there are three types of external hard drives: 3.5-inch desktop hard drives, 2.5-inch notebook hard drives, and 1.8-inch mini hard drives. Their weight is also reduced in order.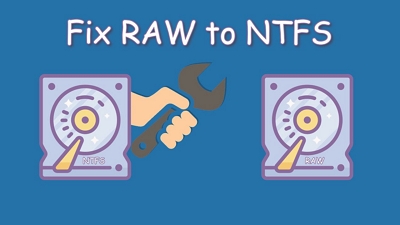 Management
Another difference between a USB flash drive and an external hard drive is reflected in how users manage these two devices. On the computer, only the external hard drive can be partitioned. Even if you can try to partition the USB flash drive, you can only see one partition in the disk management.
Price
In most cases, the price of an external hard drive is higher than that of a USB flash drive. But for some large USBs (such as 256GB), the price is even higher than a 1TB external hard drive.
Which One Should I Buy, USB Flash Drive or External Hard Drive?
Both USB flash drives and external hard drives perform great in data storage, to decide which one suits you best, you should first think about what you need. Your choice depends on how much storage you need, what do you buy it for, and how much you're willing to spend.  
Bonus Tip: Recover Lost Data from USB Flash Drive/External Hard Drive
No matter you are using a USB flash drive or an external hard drive, data loss can happen to your device. Several scenarios would lead to data loss, such as accidental deletion, formatting, partition loss, OS crash, virus attack, etc.
When you have trouble recovering lost data, you should seek help from delicate data recovery software. Here EaseUS Data Recovery Wizard is a good choice. It can scan all of your lost data and recover it to your computer safe and sound with a few clicks. If you are interested in this tool, the detailed guide is given below. 
Step 1. Choose the exact external hard drive and click "Scan".
Step 2. After completing the scanning process, use "Filter" or the Search bar to quickly find lost external hard drive data.
Step 3. Double-click to preview files you want to retrieve. Then click "Recover" and choose another location to save the desired data.
Conclusion
In this article, we have told you the main differences between the USB flash drive and external hard drive. We can boldly say that there is no better choice between the two, and both of them work well on data storage. If you need a large drive with partition function, you can choose an external hard drive. If you want a portable storage device, then the USB flash drive suits you better.
USB Flash Drive and External Hard Drive FAQs 
1.Which is better, the USB flash drive or external hard drive?
Both USB flash drive and external hard drive performs great in data storage. The external hard drive enjoys a larger capability, quicker transfer speed, and longer lifespan. But it's also more expensive. Now you can find larger USB flash drives in the market. Compared with the external hard drive, it's lighter and more portable.   
2.Are USB flash drives good for backup?
Yes, you can back up your files, pictures, and OS to a USB flash drive. You can even create bootable media with a USB.
3.The difference between USB 2.0 and USB 3.0.
The main difference between USB 2.0 and 3.0 is the maximum transmission bandwidth, which means the transfer speed.
USB 2.0 maximum transmission bandwidth: 480 Mbps, namely 60 MB/s
USB 3.0 maximum transmission bandwidth: 5.0 Gbps, namely 500 MB/s
Gemma is member of EaseUS team and has been committed to creating valuable content in fields about file recovery, partition management, and data backup etc for many years. She loves to help users solve various types of computer related issues.
EaseUS Data Recovery Wizard is a powerful system recovery software, designed to enable you to recover files you've deleted accidentally, potentially lost to malware or an entire hard drive partition.

 Read More

EaseUS Data Recovery Wizard is the best we have seen. It's far from perfect, partly because today's advanced disk technology makes data-recovery more difficult than it was with the simpler technology of the past.

 Read More

EaseUS Data Recovery Wizard Pro has a reputation as one of the best data recovery software programs on the market. It comes with a selection of advanced features, including partition recovery, formatted drive restoration, and corrupted file repair.

 Read More