Overview of Lexar USB format & repair
Sometimes, Lexar JumpDrive USB flash drive brings you troubles when it is corrupted, becoming inaccessible, failing to work, refusing to format due to write protection or other unknown reasons, not showing full capacity, etc.
When any of these problems occur, a Lexar USB format is required to repair the Lexar JumpDrive USB flash drive so to make it work properly.
Following are some of the irritating situations that can be fixed by formatting.
Lexar USB flash disk doesn't show full capacity in disk utility.
Windows was unable to complete the format Lexar USB flash drive.
Lexar USB flash drive is not formatted, do you want to format it now.
Can't delete partition or copy files, because Lexar USB flash drive is write-protected.
Lexar USB flash drive is not working, detected or recognized in Windows 10/8.1/8/7/XP/Vista.
Actually, those examples are far away from what Lexar USB format tool can help troubleshoot as most of them would result in data loss issue. So, how can you keep all your data intact during the formatting process if you have important data on the device?
Strategies to protect data during Lexar USB format & repair
For most users, it's really a problem. All you need is to restore essential data in advance, then apply Lexar USB format and repair tool for help.
So, on this page, powerful data recovery software and Lexar USB flash drive repair tool with disk format feature are ready here to help. Whenever you have formatted or accessed problems with Lexar USB drive, just download the program and follow the tips below for help.
How to repair and format Lexar USB flash drive without losing data
Steps to fix your Lexar USB:
# 1. Recover data from 'corrupted' or inaccessible Lexar USB flash drive
To prevent data loss disaster that might happen during Lexar USB flash drive repair process, many users are trying to find way teaching how to fix a corrupted flash drive without formatting. But actually, it is no that way! All you can do is trying to recover your data from the Lexar USB flash drive before formatting. Here EaseUS disk data recovery, a reliable tool for Lexar flash drive recovery is what you need.
 Notice:

Please stop using your USB flash drive once you lose files on it, in case newly produced data overwrite entries to the lost files.
Step 1. Connect USB to your PC and run USB data recovery software.
Connect the USB flash drive on which your files to your computer and launch EaseUS USB data recovery software - Data Recovery Wizard on your PC.
Select your USB drive under External Devices and click Scan to start finding your lost files.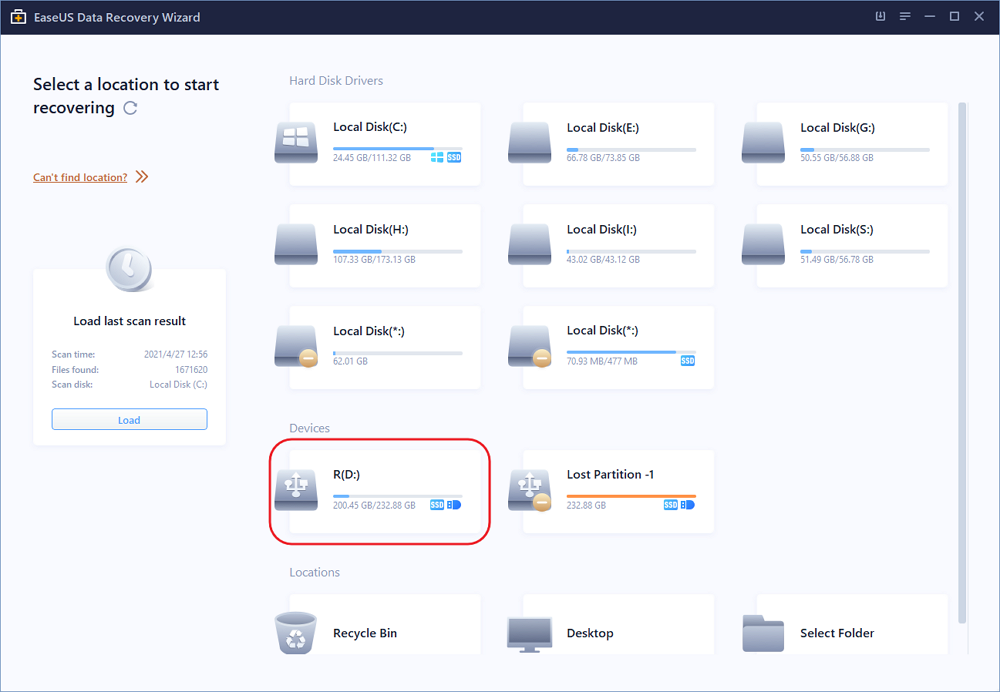 Step 2. Scan to find all lost files from USB.
EaseUS Data Recovery Wizard will thoroughly scan your USB flash drive and find all your lost data on it.
Step 3. Restore all lost files from USB.
After the scanning process, you can check and preview found USB files in this program.
"Deleted Files" is for you to find deleted files. And "Lost Partition Files" is quick access to find formatted data.
Double-click the files to preview and choose available ones, click "Recover" to save them to a secure location on your PC or other external storage devices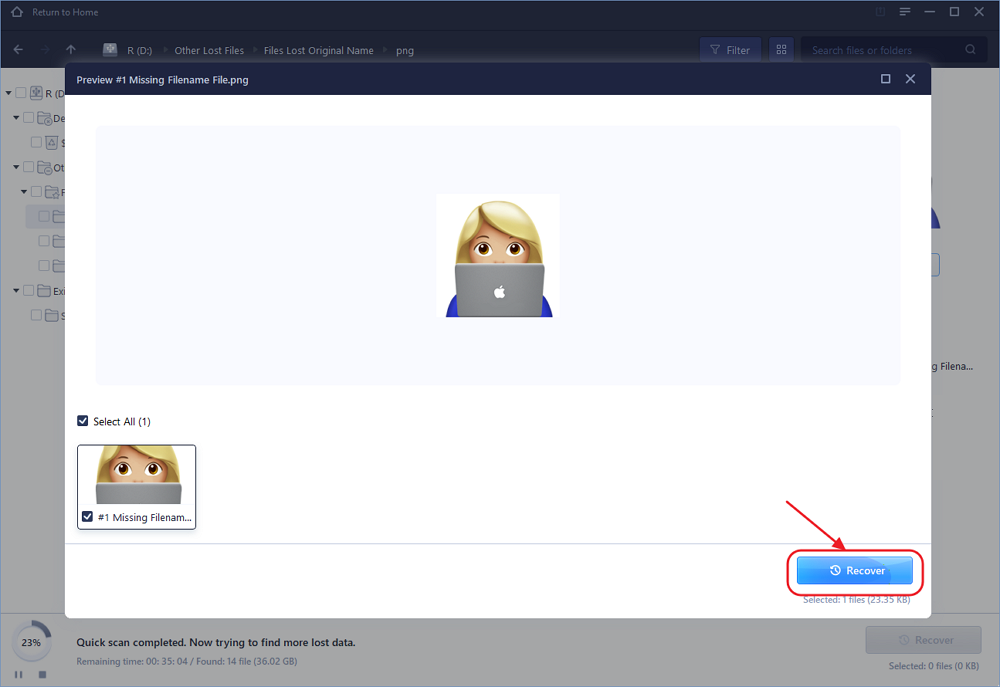 # 2. Format Lexar USB to fix your problem
After retrieving your data, you can fix the Lexar USB drive by formatting it with Windows disk management tool. Here if Windows cannot format the flash drive due to certain reasons, just download and try EaseUS partition tool. This alternative software can help you deal with all disk-related jobs in some complex situations with ease.
1. Connect the Lexar USB flash drive to PC, download and launch EaseUS Lexar USB format tool, right-click the flash drive and choose "Format partition".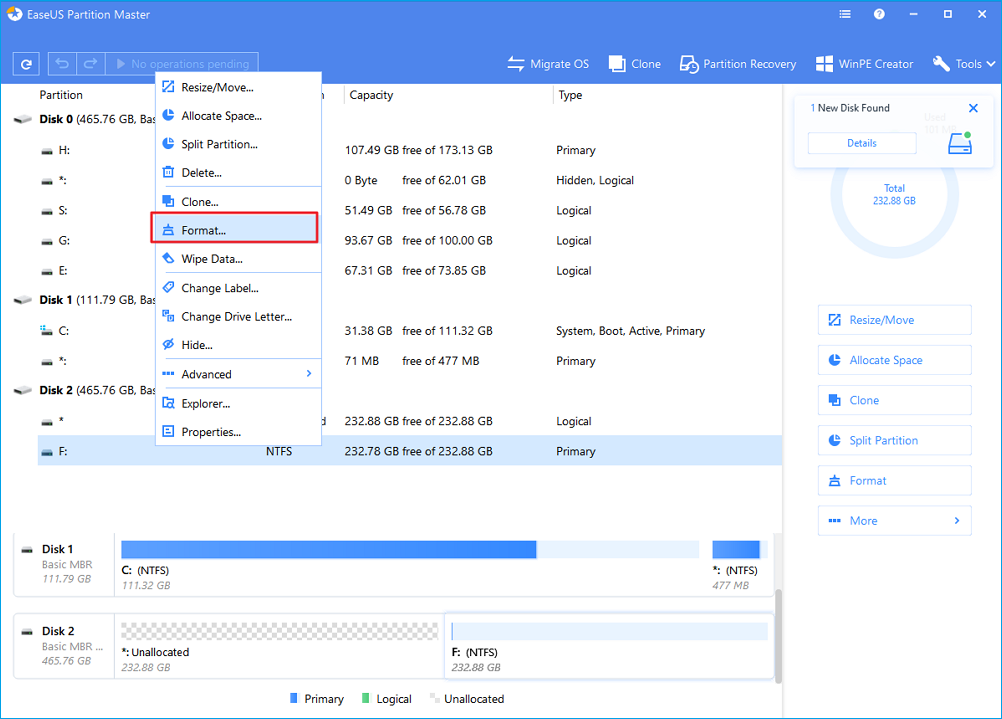 2. Configure the label you want in the Partition Label box and then select a file system in the "File System" drop-down list for the Lexar flash drive.
3. Choose the Cluster Size (512 bytes, 1, 2, 4...64KB) in the "Cluster Size" drop-down list and click "OK".
4. Click "Apply" to format the Lexar USB flash drive.
Note: If the Lexar USB drive is write-protected and unable to format, please try to remove the write-protection before formatting it with EaseUS Lexar USB format tool. For more details, please refer to The disk is write-protected.