Summary
If the external hard drive shows the wrong capacity, you will see less space than actual. Why your drive is not showing full capacity has many reasons. Figure out real causes by reading through this article, and find solutions to restore its full size on both Windows and Mac. The troubleshooting operation might cause data loss, so you need to download EaseUS Data Recovery Wizard for important data recovery.
"Why is my Seagate external HDD not showing the true capacity? I use a 4TB external hard drive to create a recovery drive and regular backups. Now with a new laptop, I decided to reformat the drive but Windows says it has only 32GB on it. What's going on with the rest free space?"
Have you ever met the situation when your external hard drive is not showing the full capacity on your Windows PC or Mac? As investigated, most hard drives of Seagate, Lacie, Western Digital or Sandisk hard drive larger than 2TB have this common problem. Yes, it common to see your 2TB hard drive shows only 500G, 200G, 127G or 32G when connected to a computer. But, a hard drive that is under 2TB also has the same problem. What's the reason? Can you reclaim the full capacity?
Why does external hard drive not show full capacity?
Most times, it's because your hard drive has been initialized to a wrong partition table. As we know, MBR partition table cannot address to the space that exceeds 2TB. That's why owners of 3TB and 4TB hard drives are likely to see less hard drive space than it should be. To solve this type of problem, you need to convert MBR to GPT.
But hard drives less than 2TB is not restricted by the MBR limitation, why they still have the incorrect size information? This time you should check the hard drive errors.
Any driver and firmware issues would result in an improper recognization for Windows. Also, computer virus and hidden recovery partition are also prone to cause similar issues.
How to fix wrong capacity issues in Windows [3 fixes]
Mostly, when a storage device is not showing the right capacity or space on Windows PC, the most proper cause of this issue is that the external hard drive driver or firmware are out of date. So, to regain the full capacity displaying on your computer, Method 1and Method 2 for updating drive driver and firmware are highly necessary.
Fix 1. Convert MBR to GPT
We introduce two free-to-use methods for you: Windows Disk Management and EaseUS free partition manager. This video tutorial teaches you how to convert MBR to GPT with both tools.
NOTE: You must delete the partition first and then initialize to GPT in Windows Disk Management. EaseUS Partition Master is able to convert MBR to GPT without data loss, but it needs you to download and install in Windows 10/8.1/8/7.
Fix 2. Update external hard drive driver
Step 1. Keep your external hard drive connected to your PC, right-click on This PC/My Computer and choose Properties.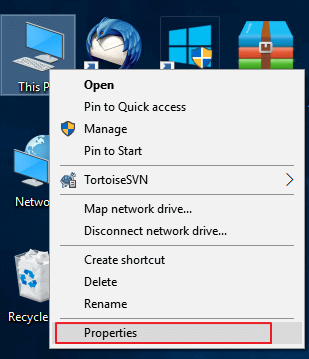 Step 2. Click "device manager" on the left pane and expand USB Serial Bus controller.
Then you'll see a yellow exclamation mark, and right click on it and select "Update driver" or "Update driver software".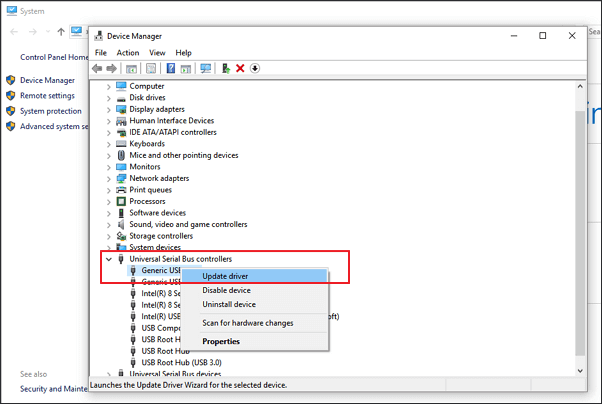 Step 3. Click "automatically search for driver software online"...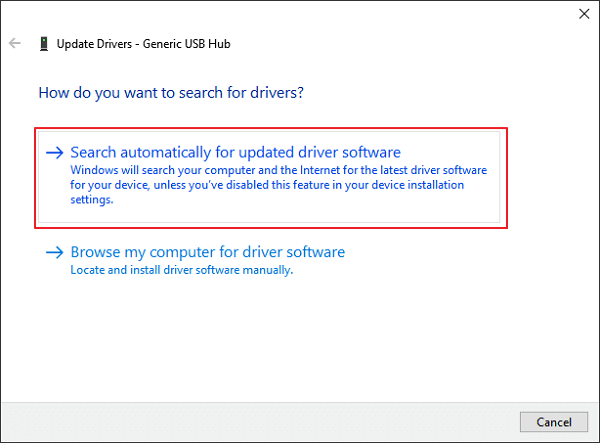 Fix 3. Update firmware of external hard drive
Step 1. Check the firmware version of your external hard drive
1. Connect your external hard drive to your PC and right-click on Windows icon and select Device Manager.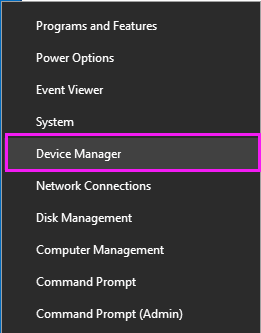 2. Select Disk Drivers, expand it, then find and right-click on your external hard drive, select Properties.
3. Click Details and then select Hardware IDs from the Properties drop-down menu.
The manufacturer and firmware version information will appear in the Value box.
Step 2. Download the firmware update of your external hard drive
1. Go to the website of your external hard drive's manufacturer and enter the support page of the company or searching download drivers on the website.
2. Click on Support, Download or Drivers.
3. Then enter the model number of your external hard drive or hard drive in Search Knowledgebase, Search Downloads or Model / Parts ID to find the right one.
4. Check for update firmware.
If the new firmware of your drive is available, click Download, Install or Download Firmware to download and install it to a portable USB drive.
Step 3. Burn downloaded ISO and upgrade the firmware
1. Open the portable USB which saves your firmware ISO of the external hard drive and right-click on the ISO file, select Burn Disk Image.
2. Insert a writable disk or USB to your PC and select the optical drive from the Drive Burner and click Burn.
3. Restart your PC and the burned disk or USB drive, press F2, F10, F12 or Esc to bring up BIOS.
4. Select your optical or USB drive using the arrow keys and hit Enter.
5. Follow the firmware upgrade instructions and when you complete the upgrade process, you'll get a working external hard drive with full capacity by then.
How to recover data after restoring hard drive to its full size (Windows & Mac)
If operations bring data loss issue while fixing the concerned problem, and you don't have a backup at hand, download and install EaseUS Data Recovery Wizard to recover lost, deleted or formatted data on the hard drive. The software has both Windows and Mac OS X/macOS versions. Download the correct version depending on your own device.
Step 1. Choose the external hard drive
Since you're going to recover data from the external hard drive, run EaseUS Data Recovery Wizard and under the External Devices tab, choose the exact drive where you lost data. Click Scan.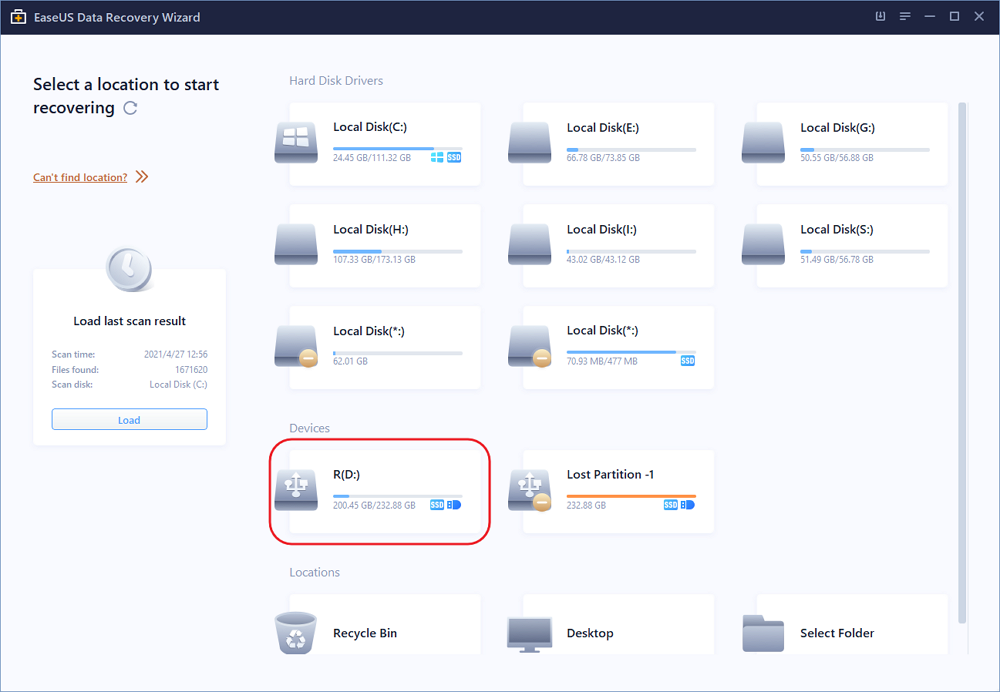 Step 2. Scan for lost data
The software will start immediately to scan all over the selected drive for all lost data. During the scan, you could see more and more data showing up in the results.
Step 3. Preview and recover data
After the scan is over, check the scan results for the desired data. You can preview the file by double-clicking on it. Click Recover and choose another location to save the recovered data.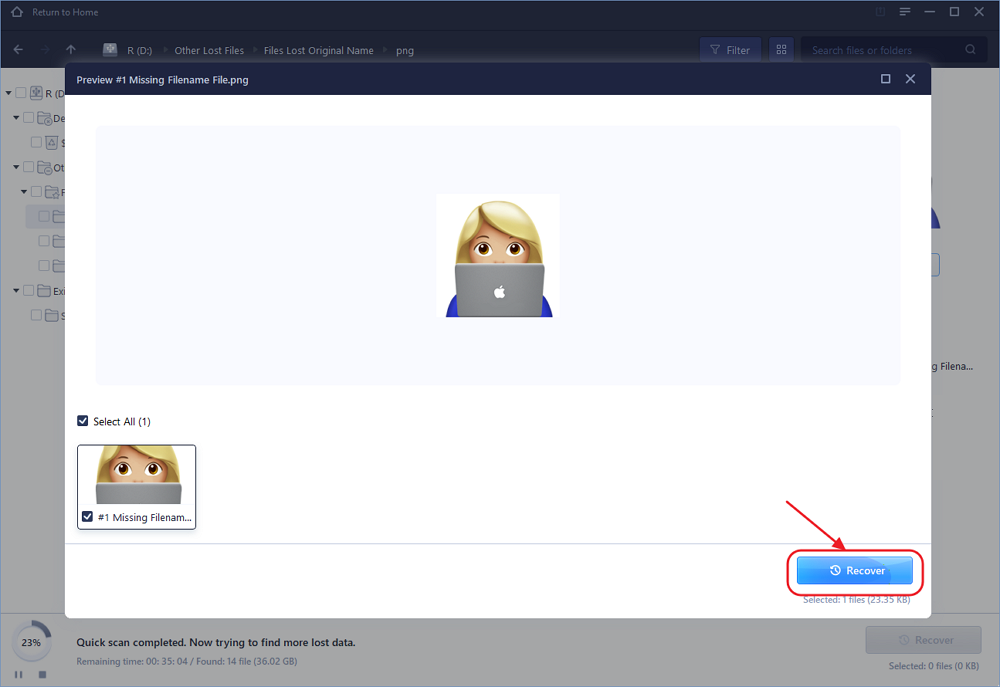 100% of people found this article helpful.
Frequently Asked Questions
1. Why choose EaseUS Data Recovery Wizard?

"EaseUS Data Recovery Wizard is the best we've seen. It's far from perfect, partly because today's advanced disk technology makes data-recovery more difficult than it was with the simpler technology of the past, but it's fast and efficient..." —PCMag

"The first thing you'll notice about EaseUS Data Recovery Wizard Pro is that its interface is very clear and uncluttered, with only a small collection of self-explanatory controls. You won't find lots of extra options hidden in a system of hidden menus, either; what you see really is what you get." —techradar

"Recover lost files, even after deleting a partition or formatting your drive." —Macworld
2. Why cannot I recover 2GB data for free?

It is recommended to check the version installed is Free or Trial because they are different versions.

Trial has data preview function but cannot save any files, while the Free version enables to recover 2 GB files. The default free space is 500 MB and you may share the product on social media to get another 1.5 GB.
3. Why cannot the recovered files be opened?

A file is saved as 2 parts on the storage device: directory info (which is comprised by file name, time stamp and size info, etc.) and data content.

If the files with original file names and folder structures cannot be opened, one possible reason is the corrupted directory info. There is still a chance to recover the data content with the RAW Recovery method in our software.
4. Why isn't it suggested to recover the files back to the original drive?

The storage structure of the lost files would be altered or damaged by any changes on the drive. If you save the recovered files back to the same drive, the original data structures and data content would be corrupted or overwritten, which causes permanent data loss. So you should prepare another disk to save the files.
5. How can I check whether my data is recoverable or not before purchase?

The Free version helps you save 2GB files to better verify the recovery quality of our product before purchase.
6. How long does it take to scan the drive?

It strongly depends on the capacity of your hard drive and the performance of your computer. As reference,most drive recoveries can be completed in around 10 to 12 hours for a 1-TB healthy hard drive in general conditions.
About Data Recovery Wizard
It's super easy to recover 250+ types of files after deletion, disk formatting and virus infection. Click the links and compare the difference of each version.